Netmail service "Filemail" that can transmit files of up to 2 GB free of charge without user registration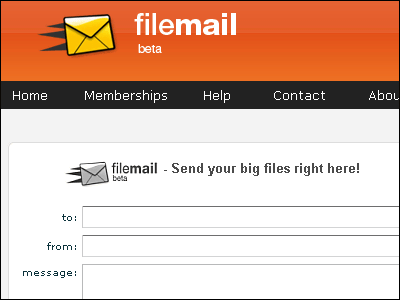 There are many ways to send files of huge capacity to your opponent, but if you can, you want to send it more easily, surely, and safely. It is this free service "Filemail" that will fulfill such requests quickly. Since it can be used without user registration, it can be used immediately. And it's free so it's not burdensome and the threshold is very low.

So for details on how to use it please see below.
Filemail.com - Sending large files has never been easier!
http://www.filemail.com/

As a mechanism, a file is uploaded to several servers of Filemail.com (located in Oslo in Norway), and an address to which the file can be downloaded is sent to the other party. File is 128 bit AES encrypted. You can also specify the number of times the file is downloaded and the expiration date and time.

First, enter the email address of the person you want to send to "to", your email address to "from", and the message to "message". Even if they are not separately OK. If you do not enter it you will be taught yourself an address.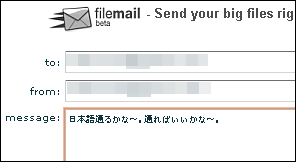 Click "Browse for files" to upload the file




After deciding the file to be uploaded, click "Advanced"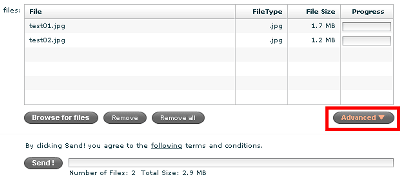 "Download limit" is the number of times, "days available" is the number of days after automatic deletion.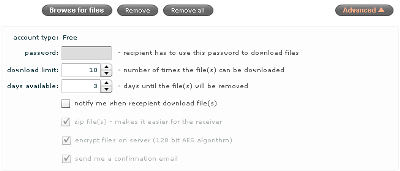 Finally click "Send!"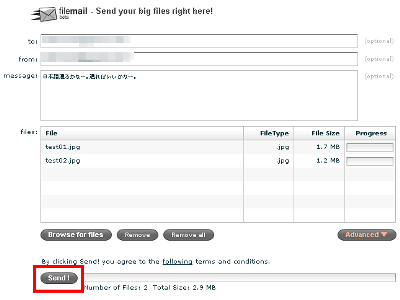 Uploading. About 40 KB / sec. Currently it is still in beta version so we are speed limiting, but when it comes to the official version it seems that speed restrictions are relaxed.




When the upload is completed the sound will beep and will tell. Convenient to the ground. This screen will appear when the upload is completed. The address is written in "Click here". If you did not specify the other party's mail address first, you can tell this person yourself this address OK.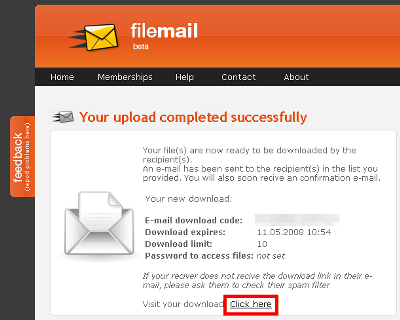 If you have entered the mail address of the other party, you will receive such HTML mail. Click on the address to go to the download page.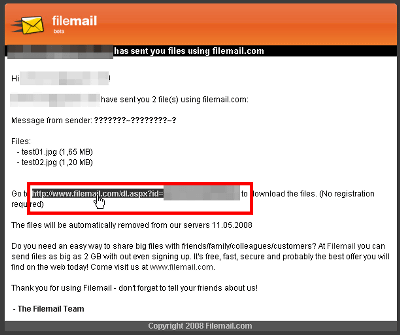 Like this. By clicking "All files in a. ZIP file" at the bottom, you can download multiple files in a compressed state as a ZIP file.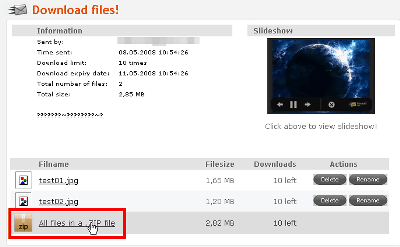 Click "Save"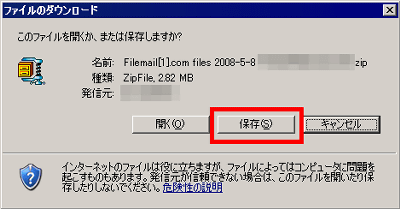 Downloading. It is quite fast because it is about 400 KB / sec.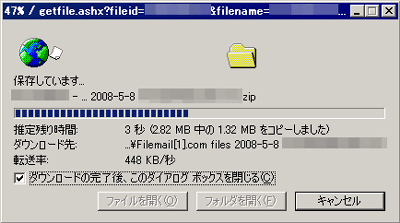 Incidentally,Paid planThere is also the following function if it is "Premium" account of 2.91 dollars per month.

· Maximum file size from 2 GB to 5 GB
· The number of files that can be downloaded per 20 files from 100 files
· The deadline for files to be automatically deleted from 7 days to 14 days
· Password protected
· Personal address book is available

It seems that it will be expanded to 25 GB if it is a higher Corporate plan, so it may be quite a good service if you take the orbit.