500MB free online storage "Windows Live Folders" Japanese version planned to start this summer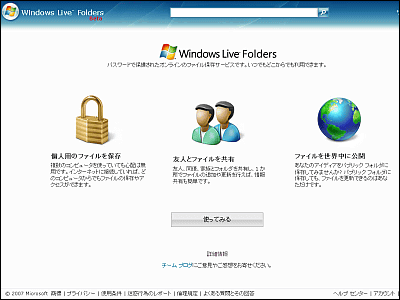 Microsoft's free online storage service "Windows Live FoldersIt is said that it will be an official version from the beta version this summer.

Already only the entrance for the Japanese version is prepared, and the total capacity that can be used is 500 MB. The maximum size per file is 50 MB, and you can also publish it to users who do not have Windows Live ID. Therefore, it may be useful when handling large size files at work.

Details are as follows.
Windows Live Folders
http://folders.live.com/

CharacteristicAs an access right to each folder such as personal folder, shared folder, public folder etc. can be set. Personal folders are protected with the password of Windows Live ID and can not be accessed by others. In addition, all the transferred files are specified to be protected by SSL.

For shared folders, permissions can be set for each user. Therefore, it is possible to allow a certain user to view only, and allow another user to add or delete files ...... File sharing uses a unique Windows Live ID for each user.

Public folders can be accessed by all users on the Internet. However, editing is impossible. A web address is assigned to each folder and each file, so that you can publish the file to other users just by sending the link.

Incidentally,This articleAccording to the report, 5,000 users are currently using it on a trial basis. I want you to start official version quickly ....