"Tayori" that can install customer support by setting free inquiry form and FAQ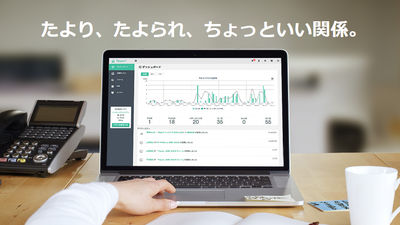 In managing the website, if there is a "FAQ page", the customer can look up the product and if there is "inquiry form" it can receive the contact from the customer. Both are tools for customer service that should be introduced to make people who visit the website understand the products and services, but a new service that can build such customer support services free of charge on company website or personal blog "Tayori"is.

Tayori - Customer support service anyone can start free of charge surprisingly easily
http://tayori.com/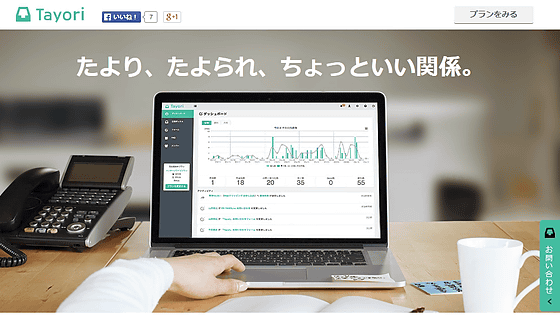 "Tayori" is a service that provides "inquiry form" and "FAQ page" on every website from personal blog to business site. You can customize form design and input items freely and basic functions are available free of charge.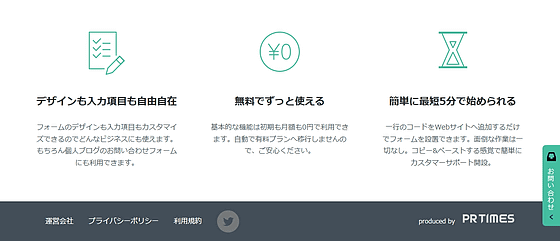 To install the form just paste and paste one line of code on the website. You can select the format of the form optimized for the display device such as PC and smartphone, and there are three kinds of form setting method "code embedding button" "iframe display" "link pasting".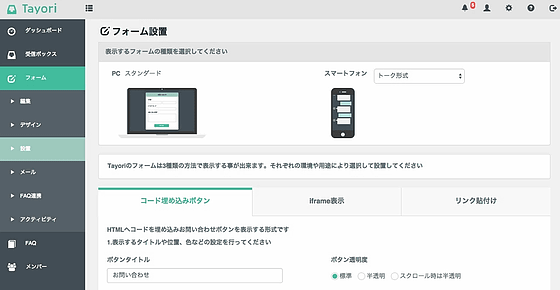 It actually looks like this when contact comes through the form. You can see the interactions between yourself and the other party in thread form, and "not completed" is displayed for threads whose correspondence has not been completed.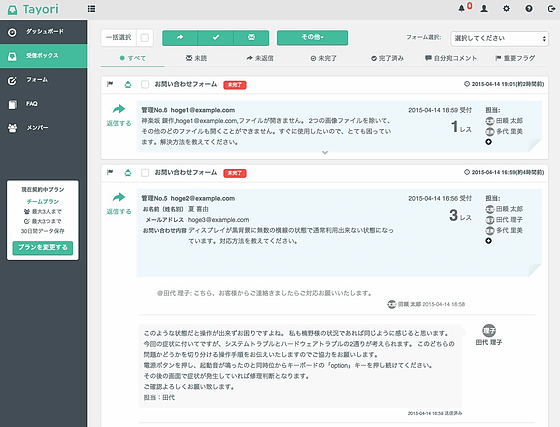 In "Dashboard", correspondence status of inquiries is displayed as a graph, "Activity" allows you to check the reply history with the name of the corresponding person in charge. It seems convenient to be able to manage detailed data on customer support free of charge.



The page of "form design" that creates a form to install is like this. It is now possible to design inquiry forms even without special skills, by writing form names and headings, changing the background color and setting buttons in the form.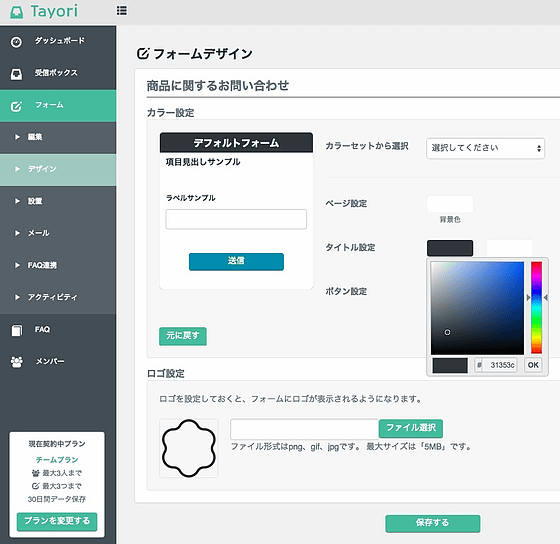 Although the basic function of "Tayori" can be used for free, the number of forms and FAQs that can be created with "Free Plan" is one each. In the "team plan" of 3700 yen per month, the form · FAQ creation number becomes 3 each, and it is possible to share the account with 3 users and use it. If it is "standard plan" monthly amount of 8000 yen, each form · FAQ creation number becomes 5 each, the number of users becomes 5, and when it becomes the "enterprise plan" monthly amount of 27,000 yen, the number of users who can share with the form · FAQ creation number It can be used without limit. Communication is encrypted with SSL in any plan, and security measures are also taken.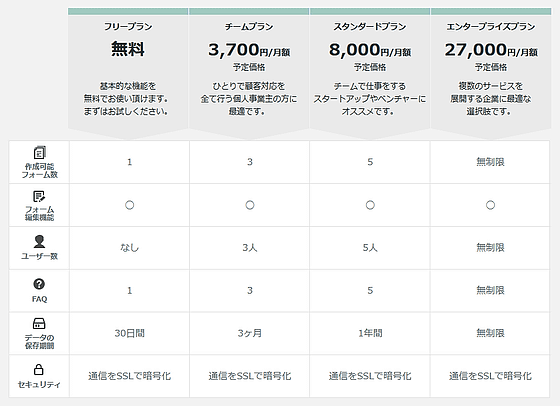 The official version of Tayori will be available from Wednesday July 1, 2015. If you register your e-mail address in advance, you will be able to use "team plan" of 3700 yen per month and "Standard plan" of 8000 yen per month for free for only 60 days from the start of offering. To pre-register, click "Pre-register" on Tayori's top page.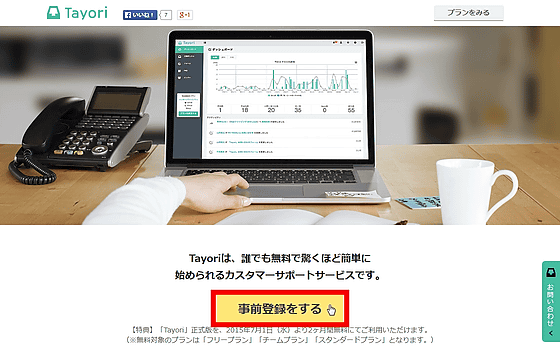 After entering your e-mail address and clicking "Complete pre-registration" registration is completed. Since it is said that invitation of "preview version" may arrive before publishing the official version when registering mail address, there is a possibility that Tayori can be used as soon as you register if you are interested.