Fight money over 30 billion yen in 36 minutes, Mayweather VS Pacquiao What is the battle of the century?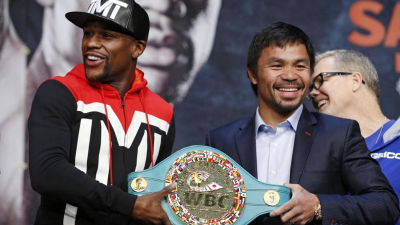 There are players who receive as a reward the big money who can not imagine ordinary people in the sports world such as Major League winning multi-year contract of 10 billion yen or more. However, it will be held in Las Vegas, USA on May 2, 2015 (Japan time May 3)Floyd Mayweather Jr.WhenManny PacquiaoIn boxing world welterweight championship unification game, a huge sum of fight money +3 billion dollars (about 36 billion yen) together for just one match title match +PPVPayment is expected to be paid.

Even if you fight a full round (12 rounds), you earn about 1.5 billion yen per round, that is, you earn about 8.3 million yen per second, if you decide to win in one round, at least 1 per second It is a sports event of the century that blown away "to earn 100 million yen at the speed of" in realism of 100 million yen. The fight against Mayweather · Pacquiao this time was the highest amount of tickets in historic one game in boxing in the past 2002Mike TysonVSLennox LewisBeyond the world heavyweight title match, the regular watching fee is $ 1500 (about 180,000 yen) to $ 7,500 (about 900,000 yen). The race side seat ticket with the regular price of about 900,000 yen was priced as much as 38,000 pounds (about 7 million yen) at the UK ticket selling site, so how this game won many attention I know where he is. The ringside seat of 7 million yen was sold out in 15 minutes.

◆ Two superstars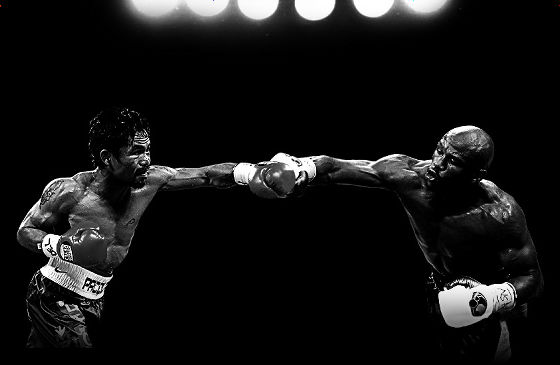 In the first place, why this one round gets attention is exhausted as it is a dream confrontation between boxers who remain in the outstanding history of Mayweather and Pacquiao. Their biographical background is as follows.

· Floyd · Mayweather · Junior
Father, trainer Floyd Mayweather · Senior is former world ranker, uncle's Roger Mayweather was born in a boxing family called WBA world junior lightweight, WBC world junior welterweight champion, Mayweather is America As a representative he took part in the Atlanta Olympics and converted to a professional after winning a bronze medal. Without being defeated, he dominated five ranks such as WBC world super featherweight, WBC world light class, WBC world super lightweight, WBC world welterweight, WBC world super welterweight, and the result is spectacular boxing I am proud of my career.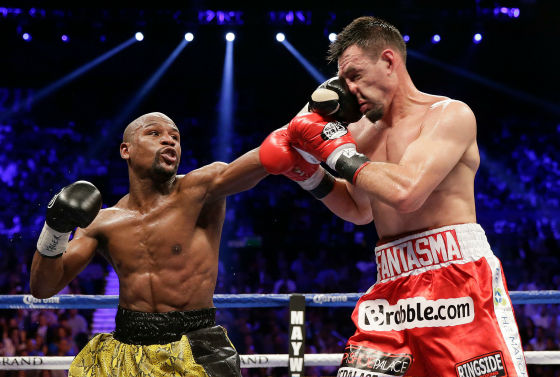 Mayweather's boxing style to win over with overwhelming speed and genius defense without doing anything without doing anything can be understood with a single shot, if you look at the following movie.

Floyd Mayweather - Greatest Hits - YouTube


Mayweather is a defense of not declining speed and iron wall even if raising the class, in the 2nd class winningArzlo Gatti, Of the 6th rankOscar De La Hoya, 2nd class winningRicky Hatton, Of the 4th rankVan Manuel Márquez, Three class dominationShane Mosley, Of the 4th rankMiguel CottoSuch as superstars one after another, through all classes the strongest "Pound for poundI want the title of "I want it."

· Manny · Pacquiao
Pacquiao on the other side also continued the breakthrough of bamboo since the professional debut. In 2003 the superstar had been considered the strongest featherweight at the timeMarco Antonio BarreraIn the spotlight after taking a big upsold KO victory in a game against, Juan Manuel Marquez, the fourth-class winnerEric MoralesDefeated the powerful Mexican such as such as one after another. Pacquiao, who originally started the career from lightweight light flyweight (upper limit 48.988 kg), originally won the world title of the six classes to the super welterweight (upper limit 69.853 kg), while practically increasing the weight more than 20 kg I won the eight ranks.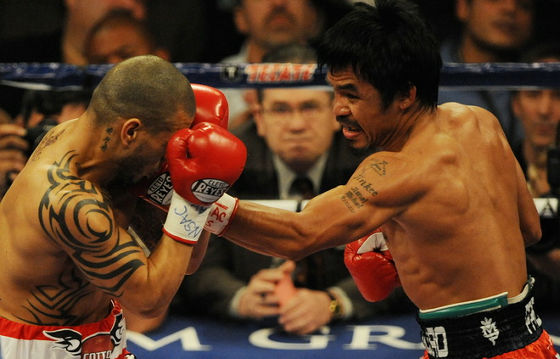 BySunriserjay Appr'ciates all str 'mers, always NEW.!

Pacquiao's success story can be confirmed in the following movie.

Greatest Hits: Manny Pacquiao (HBO Boxing) - YouTube


Oscar De La Hoya, Miguel Cotto,Antonio MargaritoPacquiao who knocks down the powerful riders over the body size and so on gains worldwide popularity with the nickname of "Pacman". It was a Pacquiao that made a sense of super match regardless of opponent and made sensational scenes when defeated or knocked down, but the only partner who did not realize a match until now is Mayweather.

◆ Realization of big match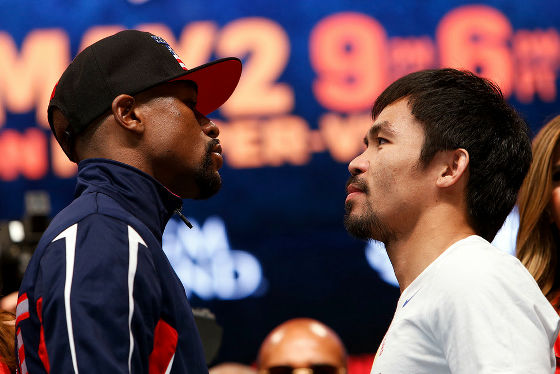 While both of Mayweather and Pacquiao have survived the super star starvation middle class fierce Savai Mull match, the simple question of "Which is stronger?" Has risen, but the "battle of the century" Matchmaking in the negotiations is difficult to overcome for distribution of compensation. The big match plan floated and it disappeared repeatedly. Pacquiao rejected doping tests requested by Mayweather, due to the method called blood test on the day before the game, although negotiations have broken down, although the Las Vegas hosting plan of March 2010 has been on the verge of agreement.

The month and day will flow without realizing the dream confrontation and then Pacquiao will have a shocking KO defeat in the fourth match with Marquez and so on while the two have reached the late years of boxing careers, It is a title match. The signing ceremony was finally held on May 1, 2015, with the doubts of boxing fans all over the world who doubt whether doubts will be realized because the planned closing date is approaching, It was decided that both of them would interact.

After the press conference at Las Vegas MGM Grand at the match venue, you can see how the two faces stand side by side with the following movie.

Floyd Mayweather vs. Manny Pacquiao Staredown - YouTube


◆ Big Money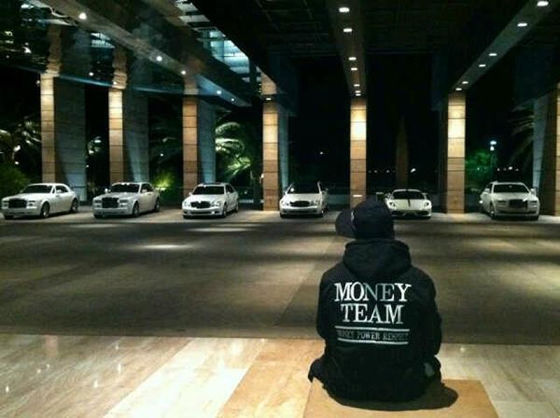 The fight money paid for this big match is May 120 million (about 14.4 billion yen) for Mayweather and 80 million dollars (about 9.6 billion yen) for Pacquiao. As a fight money for 12 rounds 36 minutes, it is a big money of unexpected, but the reward that two people will get is not just fight money. In the United States, paid broadcasting called PPV is common, and in the watching TV of sports events such as NFL etc., a mechanism is adopted that pays a viewing fee for each event. Part of this PPV revenue will be distributed to both Mayweather and Pacquiao, so both are supposed to earn a lot of money equal to fight money.

The PPV viewing fee of Mayweather VS Pacquiao of the century is set at 89.95 dollars (about 10,800 yen), high-quality version is set at 99.95 dollars (about 12,000 yen). The highest number of PPV subscriptions ever recorded is 2.48 million of the game against Mayweather · De La Hoya in 2007, but if there is a similar number of contracts against Mayweather · Pacquiao, the sales on PPV broadcasting will be at least about 27 billion yen It will be. As for the Big Match PPV broadcast this time it is an exceptional double relay as well as the former Tyson Lewis fight that both broadcast stations of HBO contracting with Mayweather and contracted with Pacquiao will relay together I will.

While the total amount of fight money plus PPV reward combined is said to be more than $ 300 million (about 36 billion yen), the big money moves in addition to this one game. First of all, in addition to the ticket sales at the Las Vegas MGM Grand Arena at the match venue, the total ticket revenue combined with the $ 150 ticket price (about 18,000 yen) live viewing done at the hotel of the MGM Grand series is 74 million dollars (About 8.9 billion yen) is estimated to be.

In addition, the premium gathered in bookmakers who cast money by anticipating the winning and losing of the one of the century will be huge. With the expectation that sales of only Las Vegas book makers will reach $ 80 million (about 9.6 billion yen), we can not imagine the total amount of big money collected in bookmakers around the world. The book makerWilliam HillMayweather VS Pacquiao's odds of winning and losing predictions are 1.57 vs 2.75 at the time of article creation and Mayweather dominate.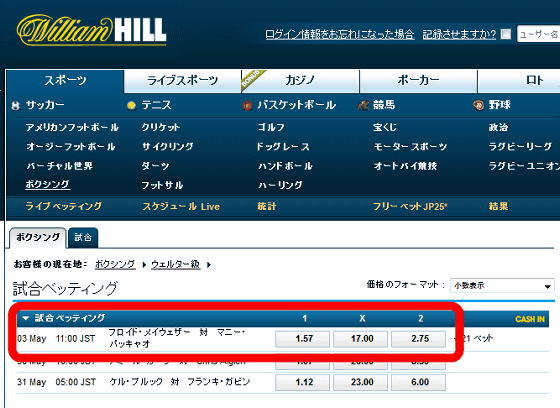 Not to mention boxing fans, even those who are not interested in boxing, one big event not interested in the possibility of 100 million yen moving per second, WBA · WBC · WBO world welterweight championship unification game, Floyd · May Weather VS Manny · Pacquiao's century battle took place on May 2, 2015 in Las Vegas, USA, Japan time from 10 am on May 3, 2015WOWOW liveIt will be live on.

Excite Match ~ World Professional Boxing | WOWOW Online
http://www.wowow.co.jp/sports/excite/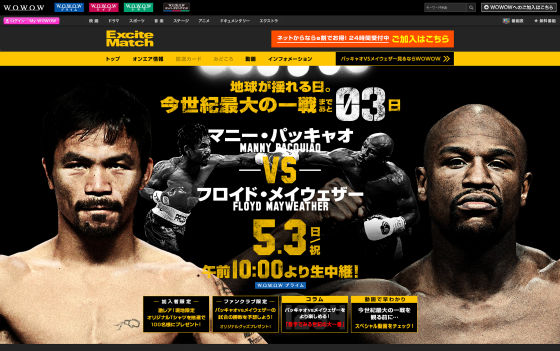 ◆ 2015/05/03 13 hour 50 minutes postscript
WBA · WBC · WBO World welterweight championship unification game, Floyd · Mayweather VS Manny · Pacquiao's century battle ended after 12 rounds judgment, 116 - 112, 116 - 112, 118 - 110 3 - 0 Mayweather Has won.

◆ 2015/05/13 additional note
The organizer announced that the purchase number of PPVs in the 1st round of the century reached 4.4 million, far exceeding the previous record, with sales of 400 million dollars (about 48 billion yen). Ticket sales of the MGM Grand · Garden · Arena totaled 71 million dollars (about 8.6 billion yen), combined with overseas PPV purchase, live viewing income, goods sales, etc., box office revenues were 500 million dollars (about 60 billion yen ) Is exceeded.