I tried calling Yoshinoya about a movie making "Tera pork bowl" at Yoshinoya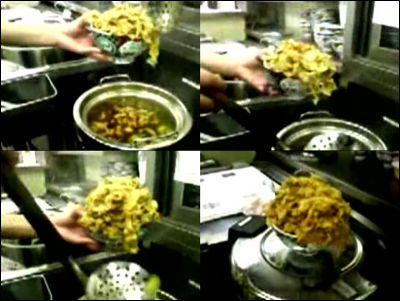 The meat that is three times as ordinary as the usual house "Meat beef bowl"Has become a hot topic, but those who think that they are doing bite jobs at Yoshinoya against it are more than mega pork bowls, giga pork bowls Monster menu"Terra pork bowlWhen I shoot movie shooting, making it to Nico Nico video, I heard big echoes in a different meaning, and it seems to spill over and over. Moreover, if you look closely at the image that appears around the 4th second, GIGAZINE's "Meat beef bowl"It was the same as the image in the article of.

So, I called Yoshinoya and asked about various things about this case.
First of all, I am reviewing the case of this time. The starting point is this video. ※ The comment of the person who has already been deleted but uploaded remains.

Nico Nico Douga (RC 2) - [at Yoshinoya] I tried a Tera pork bowl against mega beef bowl 【Freedom】

Unfortunately because it is late in the night because it is a portable pork bowl, it is intensely poor picture quality · · · · p p the main is not fine to eat because it is too thin (because if it eats it is really a masui) so meat that you can not use was delicious by cooking . Salad is also similar. It is a work of the Lord P, if you wish please w
Below is what someone uploaded to YouTube again.

YouTube - Yoshinoya \ (^ o ^) / Owata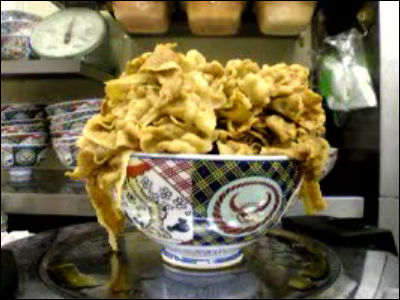 It is quite spectacular.

Below, I answered Yoshinoya by telephone and I heard it is a question and answer.

Question # 1: There is a topic on 'Netera Pork Bowl' on the net, and there is already written on the net that I contacted Yoshinoya, did you already know?
I understand.

Question 2: How many inquiries have come about this subject?
There are hundreds.

Question 3: In writing on the net, it was said that "an emergency meeting was held at the Yoshinoya head office to identify and dispose of bytes that released this video," but was the disposal done Is it?
not yet.

Question # 4: What is the disposition as if disposal is done?
I do not know yet, but since I am sorry for many customers when I can identify it first, I would like to announce it along with my apologies on the net.

Question 5: Does Yoshinoya usually give "Makoto" to those who are doing a part-time job?
There is no doubt, but it is not free. In the case of directly managed stores, it will be 7 discounts. Three years ago it was free.

Question # 6: "Tera Shira Bowl" on this web is just a topic, and even though Sukiya got a mega bean bowl a lot, I hit it very much, but Yoshinoya gets out more than the similar special pricing Is there a schedule?
There are no plans.

So it seems that there will be some announcements on the net soon. I am paying attention to what is going on.

2007/12/03 21:05 Addendum

"About our response to video posting"(PDF file), it is announced at the official Yoshinoya site around 14:41. It seems that it is investigating in a serious mode considerably also because it says "to identify the applicable store / employee throughout the company."


Dear Sir or Madonna, I would like to thank you for your continued good health. Thank you very much for your generous expense at Yoshinoya.

Well, this time we uploaded a video "Tera pork bowl" using our product, posted on the web, apologize from the bottom of our heart for making you feel uneasy / uncomfortable.

As a result of checking the contents of the video, it seemed to be an excessive scarecrow during duty using our store facilities / ingredients, currently we are specifying the corresponding stores and employees throughout the company, and we can confirm the facts We will strictly dispose as soon as it is available.

In our company, we will continue to thoroughly train our employees again.

We look forward to your continued patronage, Yoshinoya, thank you for your continued patronage.

Best regards