"AUTO GEAR" free software to speed up by automatically changing the priority of software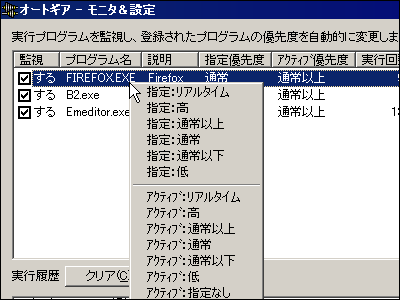 Actually, various software that starts up on Windows has "Priority". All of the normally activated software are set to "normal", but if you use the Task Manager, you can change the priority to "normal or better", "high", "real time", etc., make it operate faster It is possible.

However, it is troublesome to use the task manager every time, and if possible, I want you to raise the priority only for the currently active software that is active in the front, and lower the priority for other inactive software ... A free software that fulfills such wishes is called "AUTO GEARThat 's why.

For example, let's raise the priority of the browser, lower the priority of the mail software, but at the time of writing e-mails, on the contrary the priority of the mail software is raised, the priority of the browser is lowered ... Such a technique becomes possible. It is quite recommended as it makes it a level where you can feel a crisp feel.

In addition, because it is possible to change priorities of applications that can not normally be changed by the task manager, such as "service" of Windows 2000 or XP, it is also useful in environments where servers are mixed.

Actual usage is as follows.
First of all, you download from the following.

Auto gear (Windows 95/98 / Me / Utility)

After downloading it, decompress it and put all the files that came out in the appropriate folder. When "AutoGear.exe" is executed, the following window will appear, so click "Add"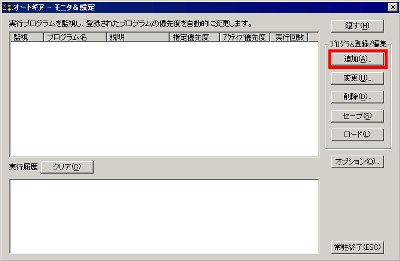 Click "List"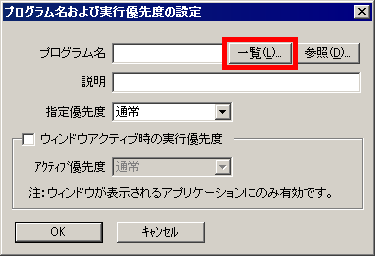 As the list of currently running software appears, select the software whose priority you want to change and click "OK"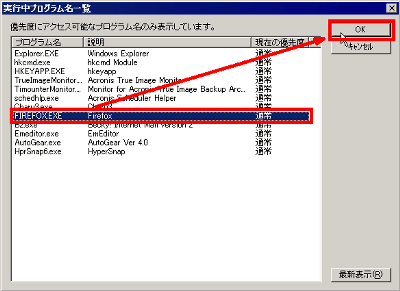 Select priority from "Designated Priority". For this time, I normally set it to "Normal" and set it to "Normal or higher" only when active (while the window is in front)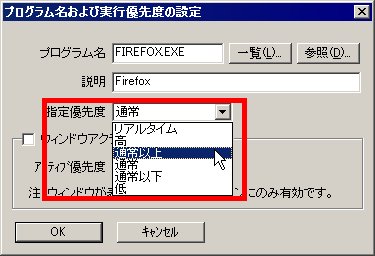 Check "Execution Priority at Window Active" and select "More than normal", you can register by just clicking "OK".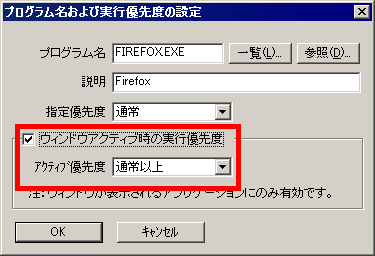 Let's click "save" when confirming that it is registered, it will be saved with this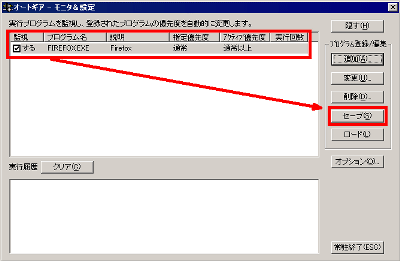 When you finish registering the software you normally use for such a feeling, click "hide"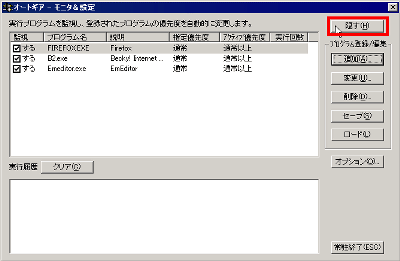 Then it is stored in the task tray like this. I only let you stay as it is.




You can also customize it more conveniently by clicking "options"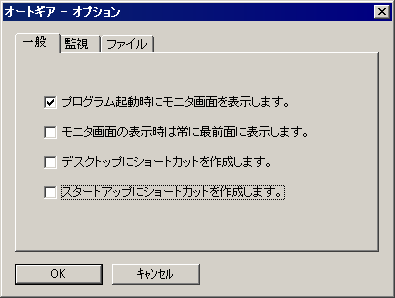 First, check "put a shortcut to startup" so that it will start automatically when Windows starts up, and "To display the monitor screen at program startup" so that the task tray will be automatically entered at startup Uncheck the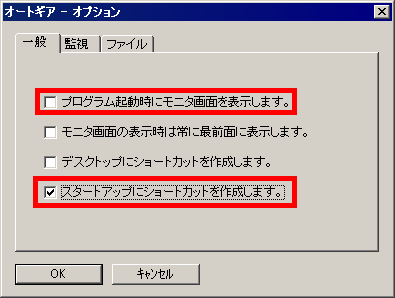 To register a service If you select "Allow all applications to change their priorities", they will be displayed in the list at the time of additional registration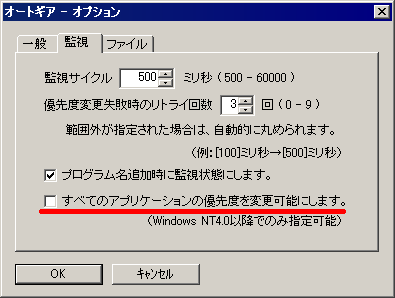 Also, if you check the autosave and autoload, you do not have to save and load every time, so it will be quite useful when auto gearing is automatically activated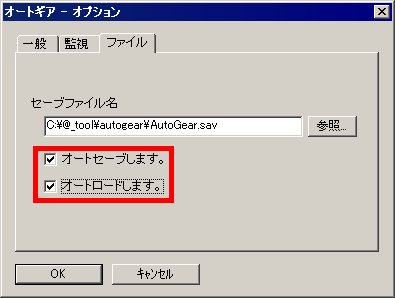 As described in the following article, you can also use it to make comfortable crisp playing by lowering the priority of fraud countermeasures software resident in online games and the like. That is, it specifies software that is resident but you do not want to raise the priority.

Jellyfish ChangeLog - nPro can be avoided or lightened "AUTO GEAR"

In the case of Mac, the following software seems to have the same function.

WIRED VISION / Compiler / Speed ​​Freak to speed up Mac applications