"Free USB Drives" free software that makes USB memory unusable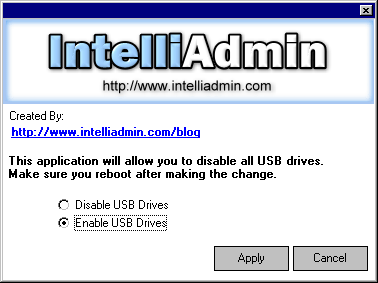 If you activate the software, select "Disable USB Drives" and press "Apply", USB memory can not be used on that computer. To restore it, just start up this software, select "Enable USB Drives" and click "Apply".

Very easy. It can be realized just by fiddling the registry.
Remote Administration For Windows - Windows administration tricks and tips .: Disable USB Drives
http://www.intelliadmin.com/blog/2006/04/disable-usb-drives.html

The following part of the registry is what this software is talking about.

HKEY_LOCAL_MACHINE \ SYSTEM \ CurrentControlSet \ Services \ UsbStor

If the value of "Start" in this is set to "4", the USB memory can not be used, and if it is set to "3", the USB memory can be used. This software makes this switch easy.