How India Transformed into an E-Payment Powerhouse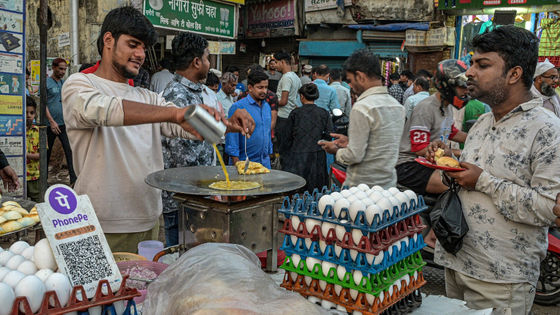 by Atul Loke for The New York Times

Since the introduction
of the Unified Payment Interface (UPI)
in 2016, India has rapidly spread electronic payment systems that allow payments to be made simply by scanning a QR code. The New York Times has released a report on what makes the Indian government's digital financial policy successful and how electronic payments are permeating the lives of Indians.
India Embraces Digital Payments Over Cash, Even for a 10-Cent Chai - The New York Times
https://www.nytimes.com/2023/03/01/business/india-digital-payments-upi.html
According to the report, boards and paper printed with QR codes for electronic payments are now seen everywhere in India. For example, a board sticking out of a tree next to a roadside barber getting a haircut, a board sticking out of a pile of roasted peanuts on a snack cart, or a donation box in front of a street performer. is leaning against it. Even beggars who approach cars on the street and ask for money have QR codes.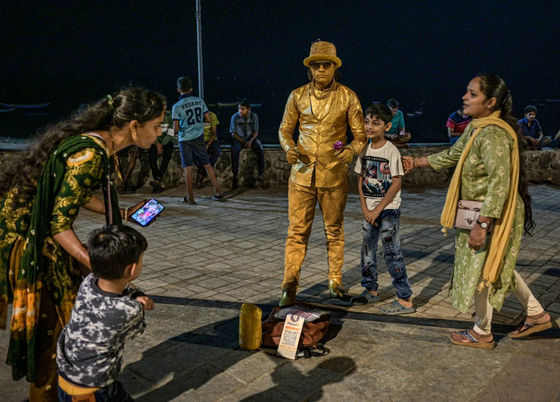 by Atul Loke for The New York Times

This QR code belongs to the instant payment system that has revolutionized commerce in India. This homegrown digital network has made doing business in India exponentially easier, and many Indians who used to live in the informal economy are now participating in the formal economy.

Prime Minister Narendra Modi, an advocate of digital public infrastructure, told finance ministers around the world at the 2023 G20 meeting under India's presidency: 'Our digital payments ecosystem will It has evolved as a public good, which has fundamentally changed India's governance,
financial inclusion
and liveability.'
At the core of India's digital infrastructure is a national identification number system called
Adal
. Initiated in 2009 by his predecessor, former Prime Minister Manmohan Singh, the initiative was carried over to Prime Minister Modi and surged ahead over legal challenges that had stalled the initiative for years due to privacy concerns. .
According to government announcements, as of 2023, 99% of Indian adults will have a biometric-based identification number, and more than 1.3 billion IDs have been issued so far. Nandan Nilekani, founder of Infosys Technologies, a major Indian IT company, who has been involved in India's digital identity system from the beginning, said, ``India was able to achieve new developments because it was a blank slate. 'He said that the lack of old digital infrastructure, which was a relic of the past, was a factor in its success.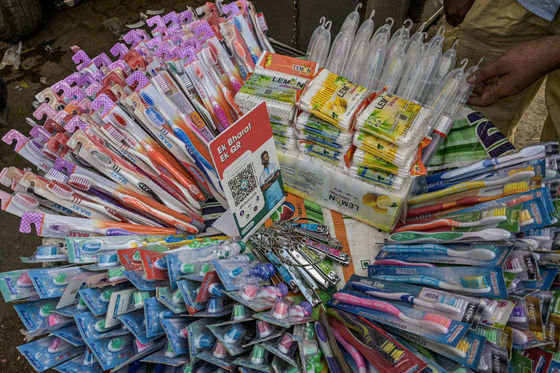 by Atul Loke for The New York Times

Thanks to Ardal, anyone can easily have a bank account, and UPI, a real-time payment system, has also spread. According to the Indian Payments Corporation (NPCI) announcement, about 8 billion transactions, worth about $ 200 billion (about 27.325 trillion yen), were made on UPI in January 2023 alone. The payment system is growing exponentially, with nearly 300 million individuals and nearly 50 million merchants already using the system, NPCI said.

The people who feel the benefits of the spread of electronic payments most strongly are the general public in India, who repeatedly make micropayments in their daily lives. India has had a cash-based economy for a long time, but Prime Minister Modi suddenly announced the abolition of high-denomination banknotes in 2016, citing underground money and the eradication of counterfeit bills. While this policy dealt a huge blow to cash-based businesses, it also served as a drastic remedy for promoting a cashless society at once.

Furthermore, when the pandemic of the new coronavirus infection arrived, the government used ID numbers to administer vaccinations and provided economic support to the economically disadvantaged. I was feeling more and more. In addition, the easy-to-understand Siri-like voice that tells you how much money has been deposited as soon as the payment is completed is said to have played a role in eliminating the distrust of merchants who are accustomed to cash transactions.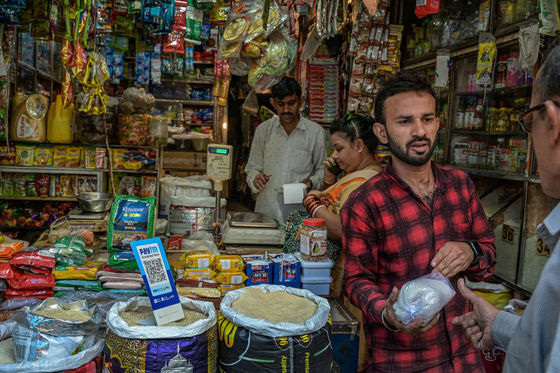 by Atul Loke for The New York Times

Rajesh Kumar Srivastha, an autorickshaw driver in India's capital, Delhi, told The New York Times, ``I used to like cash, but the lockdown in 2020 made it hard to keep cash on hand. When I ran out, I realized the convenience of electronic payment.'

Of course, privacy concerns have not gone away. India's Supreme Court ruled in 2018 that the use of Adal was constitutional, but said, ``The authoritarian rule of Prime Minister Modi has led to a sharp decline in checks on power and the abuse of identity databases. There is still a deep-rooted voice of concern.

``Data belongs to individuals, and individuals have the right to consent to all transactions they make,'' said Amitabh Kant, who coordinator of the G20. He said he found a good balance between