Bitcoin hits record high for the first time in 3 years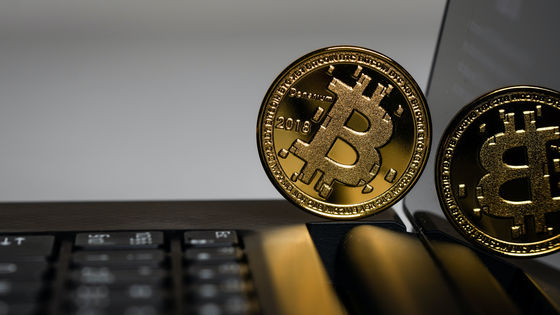 The price of the
cryptocurrency
'
Bitcoin
' updated the high price of $ 19,783 per bitcoin recorded in December 2017 (about 2.2 million yen at the rate at that time) for the first time in about 3 years, 1 We recorded 9,850 dollars (about 2.1 million yen).
Bitcoin Climbs to Record High --The New York Times
https://www.nytimes.com/2020/11/30/technology/bitcoin-record-price.html
Traditional investors are fueling the latest Bitcoin rally
https://www.techspot.com/news/87789-traditional-investors-fueling-latest-bitcoin-rally.html
Bitcoin Hits New Record, This Time With Less Talk of a Bubble --Slashdot
https://slashdot.org/story/20/11/30/1818241/bitcoin-hits-new-record-this-time-with-less-talk-of-a-bubble
The price of Bitcoin has been rising since the first half of 2020, and on November 17, 2020, the price per Bitcoin reached $ 17,864 (about 1.9 million yen), and it will soon reach a record high. It was said that it would be done.
Bitcoin hits the highest price in about 3 years, market capitalization also records record high --GIGAZINE

And on Monday, November 30, 2020, Bitcoin hit a record high for the first time in about three years. In 2020, due to the pandemic of the new coronavirus, the price of Bitcoin fell by nearly 4,000 dollars (about 420,000 yen), but since March the price has risen rapidly and finally reached the highest ever on November 30. Will be updated.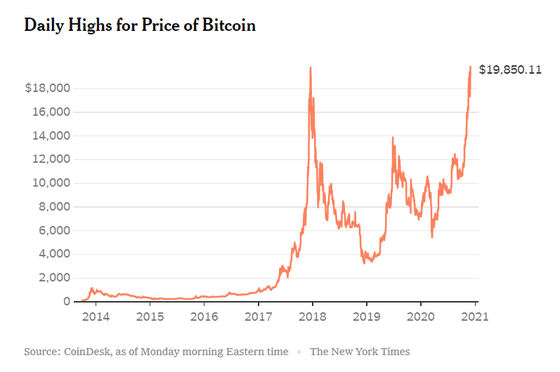 According to The New York Times, the rise in Bitcoin prices at the end of 2017 was 'driven by Asian investors who began to show interest in cryptocurrencies.' However, investors at the time were skeptical about Bitcoin's growth, and the price surge quickly peaked.

On the other hand, the growth of Bitcoin in recent years is supported by a wider range of people. According to data analysis firm Chainalysis, companies and other investors consider Bitcoin as a valuable asset as gold. In addition, investors are beginning to treat Bitcoin as part of a portfolio that is unaffected by the government and the traditional financial system, rather than buying and selling it quickly, Chainalysis said.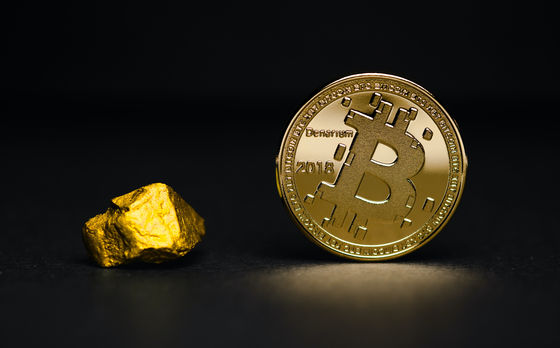 The New York Times points out that behind the rise in Bitcoin prices is the support of regulators and financial companies trying to make cryptocurrencies more secure and accessible. The US regulator, the Currency Audit Authority (OCC), will allow banks to hold cryptocurrencies for their customers in the summer of 2020.

In addition, in October 2020, following the payment service Square, PayPal announced that it will be able to use several cryptocurrencies, including Bitcoin, on the platform. According to PayPal, more than one million users were on the waiting list to use cryptocurrencies by announcing that they would support cryptocurrencies.

PayPal Launches New Service Enabling Users to Buy, Hold and Sell Cryptocurrency --YouTube



in Note, Posted by logu_ii