Bitcoin hits the highest price in about 3 years, market capitalization also records record high


The price of the virtual currency '
Bitcoin
' has been rising since the first half of 2020, and reached $ 17,864 (about 1.86 million yen) on November 17, 2020. It is said that prices may continue to rise, approaching the record highs recorded in December 2017.
Bitcoin Goes Parabolic in Retracement of 2017 Record Highs --Bloomberg
https://www.bloomberg.com/news/articles/2020-11-17/bitcoin-tops-17-000-for-first-time-since-december-2017
Bitcoin just hit $ 17,000 for the first time in almost 3 years
https://www.cnbc.com/2020/11/17/bitcoin-just-hit-17000-for-the-first-time-in-almost-3-years.html


Bitcoin, which is gaining popularity among investors, is known for its volatile prices. In 2017, it soared by 1375% in one year and reached a record high of $ 19,665 (about 2.22 million yen at the rate at that time), but in 2018 the Bitcoin market crashed and the beginning of the year It has dropped by 70% from.

In November 2018, the price of Bitcoin plummeted by 40% in just two weeks, and it was reported that some investor groups questioned the soundness of Bitcoin. I will.


Bitcoin price plummets 40% in just two weeks-GIGAZINE

by
Steven Millstein
However, in 2019, the price of Bitcoin gradually started to rise, and by the beginning of 2020, it exceeded 7,000 dollars (about 730,000 yen). In March 2020, affected by the pandemic of the new coronavirus, it temporarily
plummeted to the $ 5,000
level, but prices have continued to rise since then.
It has been on a record upward trend since October 2020, and on November 17, the price rose by 7% in one day to reach $ 17,864 at one point. The graph below is a
chart
showing the price movement of Bitcoin in 2020. Since the bottom price was recorded in March, the price has risen steadily, and it can be seen that the price has risen by nearly 150% since the beginning of the year.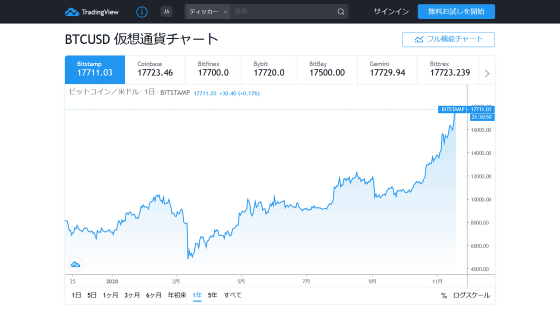 According to industry insiders, the rise in prices in 2020 is a combination of multiple factors, including the impact of the government's economic stimulus policy following the pandemic and the growing interest of well-known investors in Bitcoin. 'The gap between the crypto world and traditional financial institutions has dramatically narrowed, resulting in the current market player,' said Charles Hayter, CEO of CryptoCompare, a crypto market data company. Can trade in the digital asset market without any problems. '

Some experts predict that Bitcoin could reach $ 20,000, surpassing the record high of $ 19,665 in December 2017. Market strategist Miller Tabak said, 'This Bitcoin price increase is a surprise.' 'The World God Only Knows where the highest price will be.'

In addition, the market capitalization of Bitcoin reached 329.91 billion dollars (about 34.34 trillion yen) on November 17, 2020, a record high of 328.89 billion reported on December 16, 2017. It was reported that the dollar (about 34,230 billion yen) was exceeded.

Why Bitcoin's market cap just hit a new record high before the price did

https://cointelegraph.com/news/why-bitcoin-s-market-cap-just-hit-a-new-record-high-before-the-price-did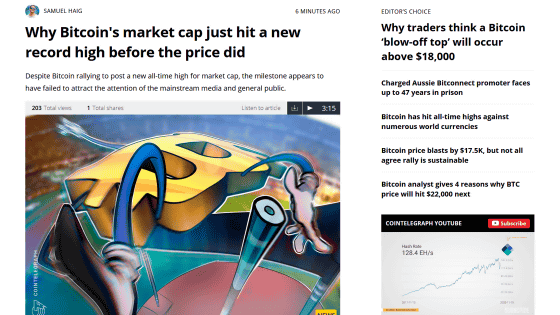 Bitcoin is continuously mined by mining, and at the time of writing the article, the total amount of Bitcoin is larger than in 2017, so the price per bitcoin is lower than at that time. There were about 16.7 million Bitcoins on December 16, 2017, but at the time of writing the article, it exceeded 18.5 million Bitcoins, and the total amount of mined Bitcoins has reached about 90%.

Bitcoin virtual currency, about 90% mined and less than 2.5 million BTC remaining
https://coinpost.jp/?p=185971


in Note, Posted by log1h_ik