Bitcoin hits a record high of over $ 67,000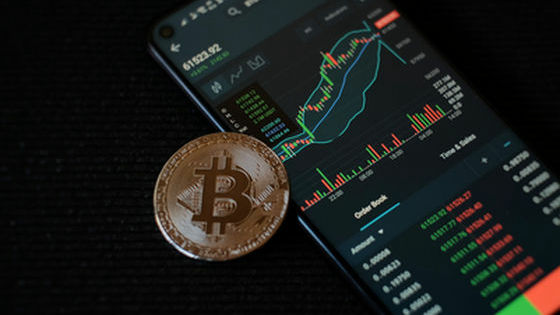 Bitcoin, a virtual currency (cryptographic asset), temporarily exceeded $ 67,000 (about 7.7 million yen) in price per bitcoin, setting a new record high.

Bitcoin Hits All-Time High Above $ 66K on Strength of ProShares ETF Debut

https://www.coindesk.com/markets/2021/10/20/bitcoin-hits-new-all-time-high-above-65k-as-etf-goes-live/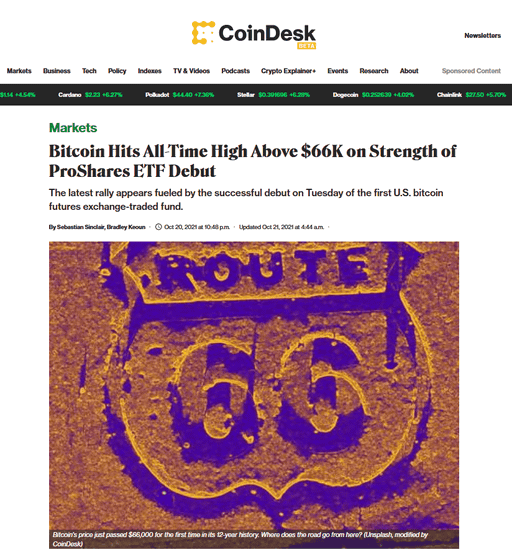 Bitcoin jumps to new high above $ 66,000 after landmark US ETF launch
https://www.cnbc.com/2021/10/20/bitcoin-jumps-to-new-record-high-above-65000-after-landmark-us-etf-launch.html
Bitcoin Just Hit an All Time High Price: $ 67,000
https://www.vice.com/en/article/v7d47b/bitcoin-just-hit-an-all-time-high-price-dollar67000
JPMorgan Says Bitcoin's Record Run Is Being Driven by Inflation --Bloomberg
https://www.bloomberg.com/news/articles/2021-10-20/jpmorgan-says-bitcoin-s-record-run-is-being-driven-by-inflation
On Wednesday, October 20, 2021, the day after the Bitcoin Exchange Traded Fund (ETF)
ProShares ETFs went live, Bitcoin's all-time highs were hit.
The highest price recorded this time was $ 67,016.50, which is several thousand dollars higher than the record of $ 64,895.22 in April 2021.
Technology media Motherboard cites two reasons why Bitcoin prices are rising: 'Internet memes and groupthinks' and 'Bitcoin ETFs started the day before.' In fact, as Bitcoin prices rise on the 21st, legendary trader Paul Tudor Jones said, 'Bitcoin will be a great hedge.' Assets are clearly outperforming the competition with gold at this point, which I think would be a very good inflation hedge, so at this point it's my preference over gold, 'said Bitcoin. We are pushing for a better investment destination.
In addition, JP Morgan Chase commented on the soaring price of Bitcoin, saying, 'The fact that Bitcoin is being recognized as an inflation hedge superior to gold is the main reason for the current soaring price, which will occur after September 2021. We recognize that the 'afterwards from gold ETFs to Bitcoin funds' has continued. '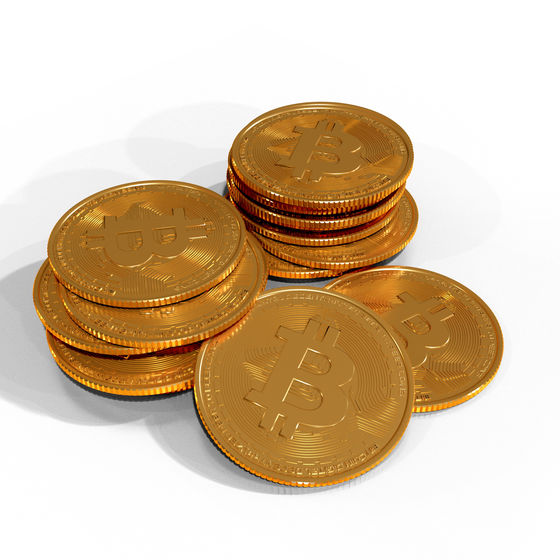 Meanwhile, PayPal founder Peter Thiel said of the soaring Bitcoin price, 'I don't know if all the money should be converted to Bitcoin for $ 60,000 per Bitcoin right now.' The fact that it costs $ 60,000 per coin is a very hopeful sign. The Bitcoin market is the most honest market we have in the United States and has a dilapidated regime ... ... it's like telling us that it's about to explode, 'he said, suggesting that it's also a sign that the American political and financial system is about to collapse.


in Note, Posted by logu_ii