India aims to invalidate large bills is a "cashless society"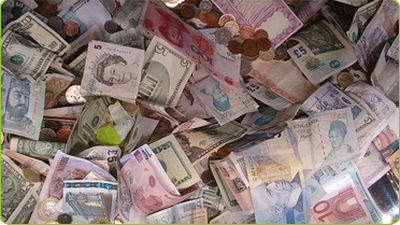 ByBlatant World

On November 8, 2016, Prime Minister Narendra Modi of India announced that it will stop circulation of 500 rupees (about 815 yen) and 1000 rupees (about 1630 yen), which are high bills, from November 9. this isPurpose of eradicating counterfeit banknotes and unauthorized accumulation. Prime Minister Mohdi is calling out "It is true that it is impossible to make it a" 100% cashless society ", but aim for a small cash society."

Bharat bandh: Day ahead of nation-wide protests, PM Narendra Modi, opposition spar over demonetisation - Times of India
http://timesofindia.indiatimes.com/india/Day-ahead-of-nation-wide-protests-PM-Narendra-Modi-opposition-spar-over-demonetisation/articleshow/55652577.cms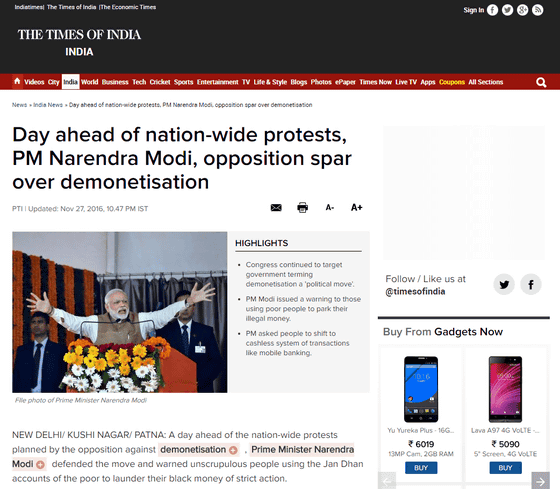 India's Modi calls for move towards cashless society | Reuters
http://www.reuters.com/article/us-india-modi-digital-payments-idUSKBN13M07Z

Prime Minister Mohdy declared that he will invalidate high bills from 0 o'clock on the next ninth day in the television address he went on November 8. Distribution volume of invalid banknotes has reached 80% of the total, people rushed into banks to exchange for new bills and deposit old bills at ATM. Since bill exchange at the counter was canceled on November 24th, after that we will make an account in the bank and deposit it.

India abolished high bills, discontinue window exchange of old banknotes and new notes 1 photo International News: AFPBB News
http://www.afpbb.com/articles/-/3109169

Mr. Mohdi said that he took the promise of fighting against the pledge of fighting "corruption and fighting" Black Money "in the general election in 2014 and winning the prime minister, so this measure was a promise.

According to the Wall Street Journal, 4 billion rupees of money circulated in India are fake bills,One thousand rupee banknotes are counted on 4,000 copiesIt is said that. The probability of finding out if it is a counterfeit bill is 80%, and if it can be raised to 90%, the distribution volume of counterfeit bid was expected to be reduced by half in 3 to 5 years, but it is the form that we went to the root at a stretch.

As stated above, confusion is brought about by this policy, but Chairman Deepak Parekh of the housing development finance company said, "Reform by Prime Minister Mody is destructive and inconvenient, but very good measures from the medium term perspective It is said.

The problem is that many people in India are not rooted in "using non-cash". According to a survey of Google India and the Boston Consulting Group, in the United States and the UK, the percentage of cash settlement that is 25% of the total from 20% to 78% in India. According to the Nihon Keizai Shimbun,Of the population of about 1.3 billion people, only 2% have credit cards, Bank account utilization rate is also 50%, "Tansu deposit" is overwhelming. The taxpayer of income tax seems to be 3% of the total.

With this in mind, as money gets to pass through banks, it will be possible to prevent the outflow of money to terrorists by grasping the flow.

In the Nordic countriesTransition to a cashless society is advancing at a rapid speedAlthough it is said, even if India also spreads digital payment due to the spread of smart phones, it may truly join the ranks of cashless society.
in Note, Posted by logc_nt