I tried playing games and drawing pictures with a high-end VR headset 'Meta Quest Pro' that supports MR for over 220,000 yen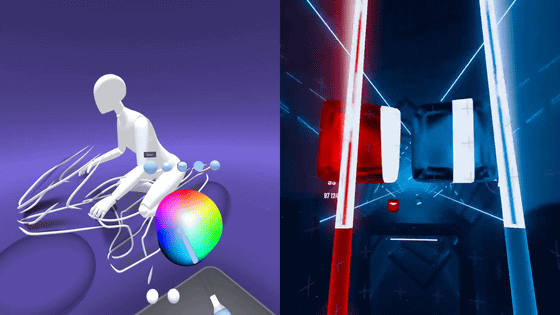 On October 26, 2022,
Meta Quest Pro
, a stand-alone VR headset that can operate independently without the need for Meta's PC connection, appeared. Quest Pro, which has been developed under the codename '
Project Cambria
', is a full-color pass-through MR (Mixed Reality) device that allows you to experience not only VR (Virtual Reality) but also AR (Augmented Reality). The device is also capable of eye tracking and face tracking that captures facial expressions. I tried playing various games and apps with such Quest Pro.
Meta Quest Pro: Series' cutting-edge new VR headset | Meta Store | Meta Store
https://www.meta.com/jp/quest/quest-pro/
You can see what the Quest Pro looks like by reading the following article.
High-end model 'Meta Quest Pro' photo review of stand-alone type VR / AR headset with over 220,000 yen - GIGAZINE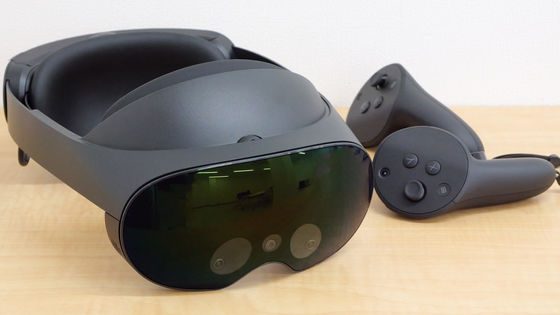 In addition, the specifications of Quest Pro are summarized in the following article comparing it with the lower model
Meta Quest 2
.
I compared Meta's high-end VR headset 'Meta Quest Pro' with the lower model 'Meta Quest 2' - GIGAZINE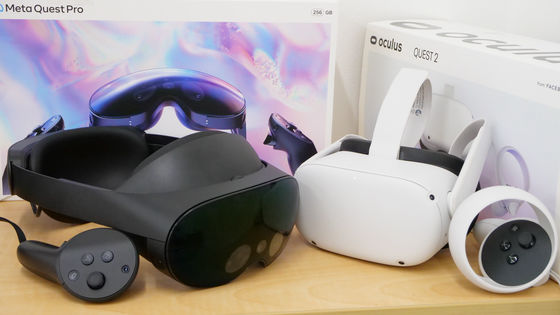 The eye-tracking and face-tracking functions can be made compatible with avatars that can be used in the VR space. The following movie shows how the avatar actually corresponds to eye tracking and face tracking.
Change avatar's expression with Quest Pro's face tracking / eye tracking - YouTube
The lobby of the virtual environment that can be activated and accessed has a mirror that allows you to see your own avatar.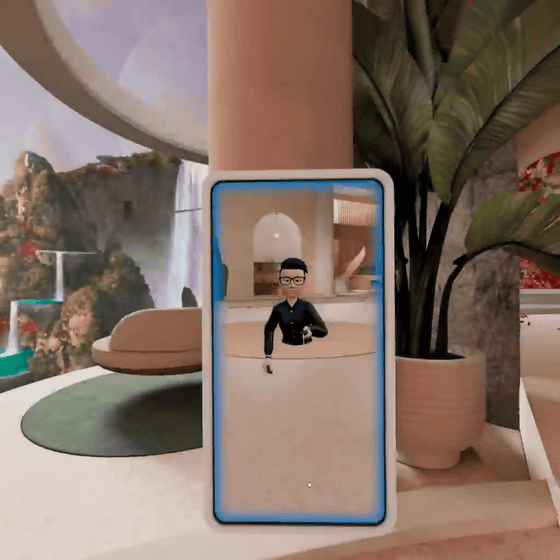 Only the upper body is shown. It was also possible with Quest 2 to reflect the tilt and movement of the head and the position of the hands.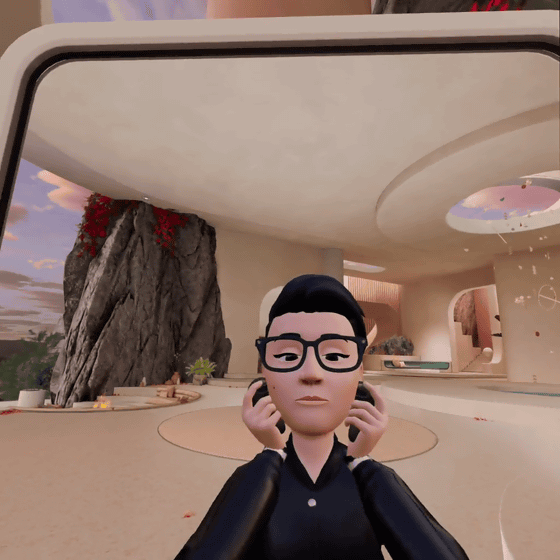 Below is where I opened my mouth. If you actually move your mouth while wearing Quest Pro, the avatar will also move your mouth. It doesn't just open and close the mouth, it reflects the opening and shape of the mouth properly, and I felt that the accuracy was quite high.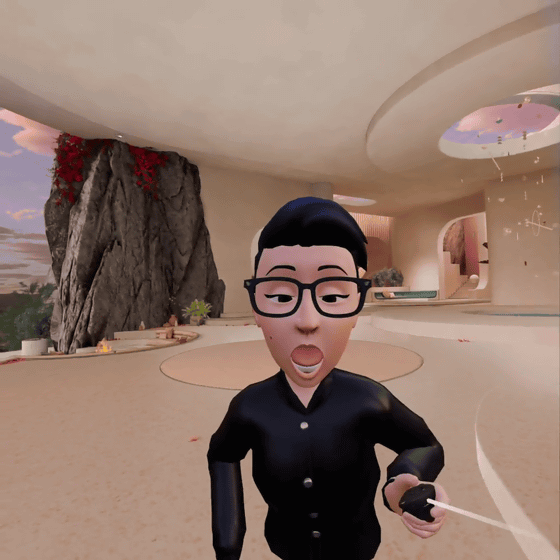 Also, the position of the pupil is not directly in front, but it is moving in the direction you are looking properly. As a result, communication such as ``pointing something with your eyes'' and ``expressing your intentions with your facial expression'' that is difficult to understand with conventional avatars is fully possible.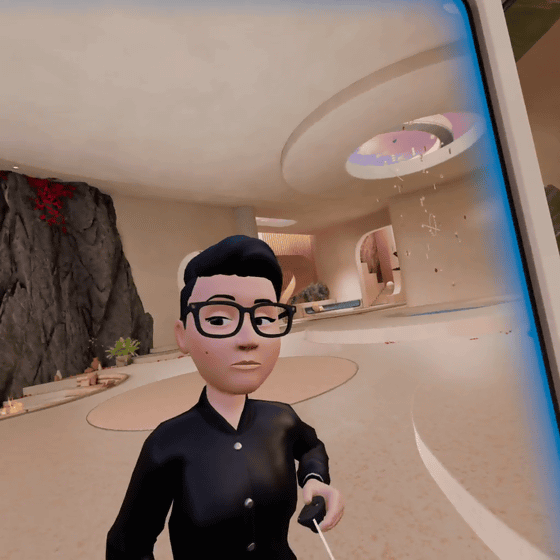 In Metaverse using avatars such as '
Meta Horizon Worlds
' where remote collaboration can be performed, in addition to communication by avatars, it is possible to use the real desk as a work space. In that case, you can specify desks within the range with the controller as follows. Below is where to set the desk range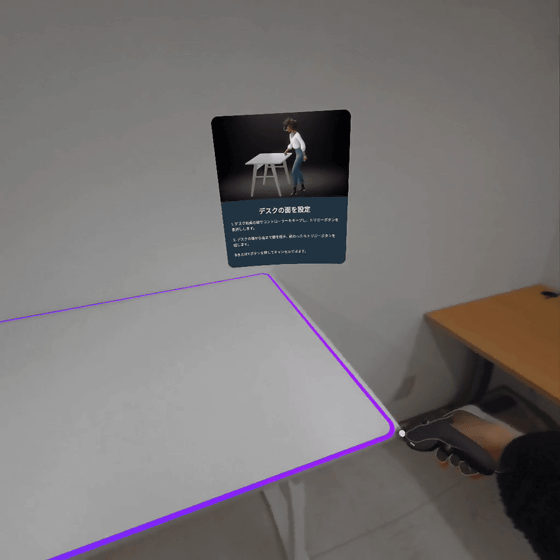 Then set the desk height.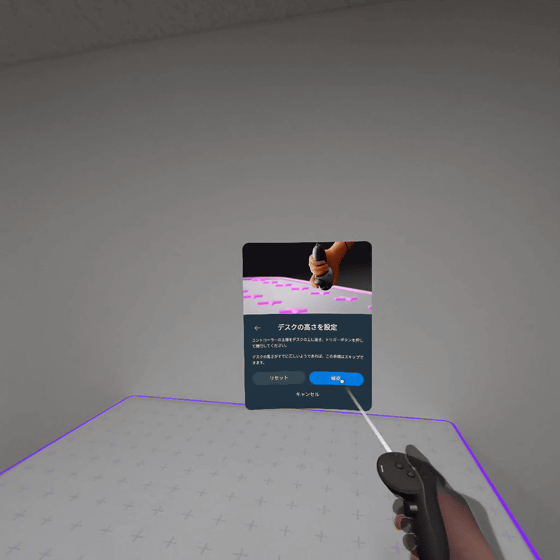 Also, not only the controller but also the operation using hands is possible.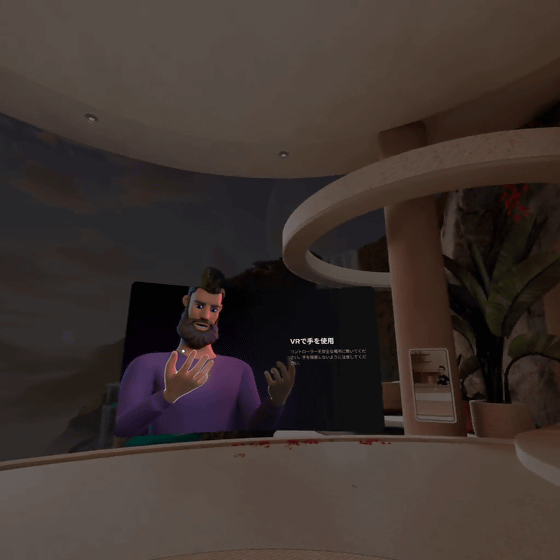 The hand operation is that various operations can be performed in the form of a hand, and it was also possible with Quest 2. However, the hand tracking accuracy is clearly higher than Quest 2, and I felt that the accuracy of the movement of the avatar's hand is also improved.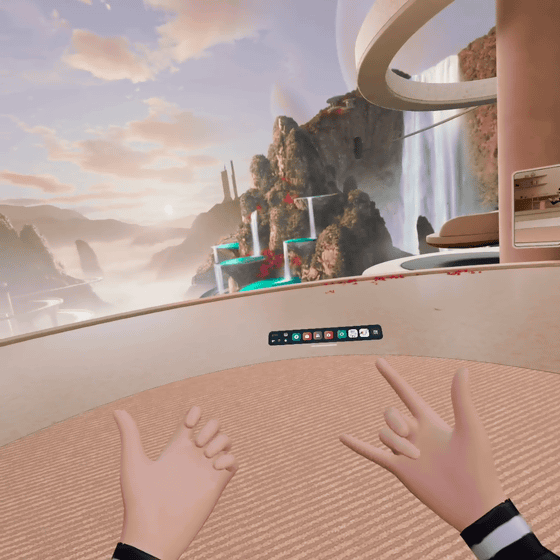 Like Quest 2, Quest Pro can download content from the VR platform's Oculus Quest Store. Downloads can be done directly from your device or from an app on your smartphone.

Oculus Store: VR Games, Apps & More | Oculus

https://www.oculus.com/experiences/quest/?locale=en_JP
'Meta Quest' on the App Store
https://apps.apple.com/gb/app/oculus/id1366478176
Oculus-Apps on Google Play
https://play.google.com/store/apps/details?id=com.oculus.twilight
First, I played the VR rhythm game '
Beat Saber
'.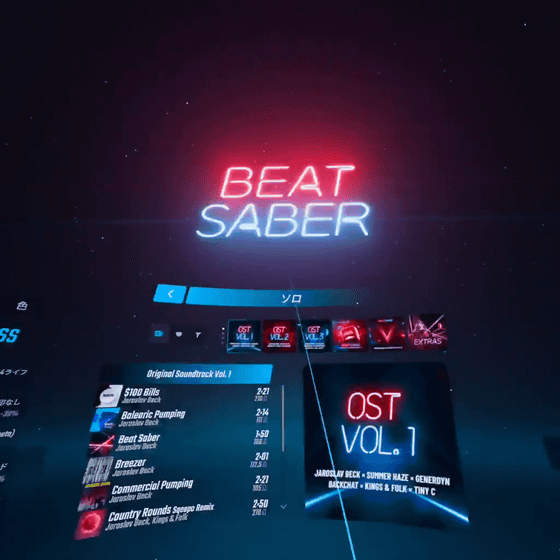 The following movie is where I actually played Beat Saber.


I tried playing 'Beat Saber' with Quest Pro - YouTube
Basically, you can play crisply like Quest 2 or other VR. However, the Quest Pro's Touch VR controller is about 15g heavier than the Quest 2 controller, and the impression is that the sense of stability when shaking the controller is increasing.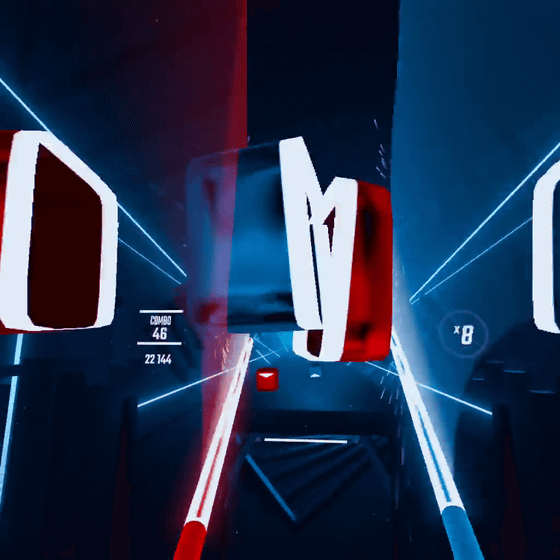 Next, play
Resident Evil 4 VR
.
I tried playing 'Resident Evil 4 VR' with Quest Pro - YouTube
The Quest Pro holds the headset firmly in place between the front and back of the head, so I felt that it was very stable when I turned my head around to look around.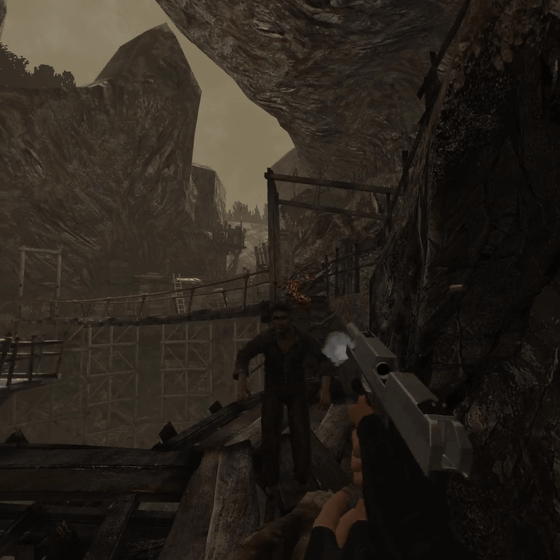 Below is a
quick time event
when grabbed by an enemy, shaking both controllers up and down.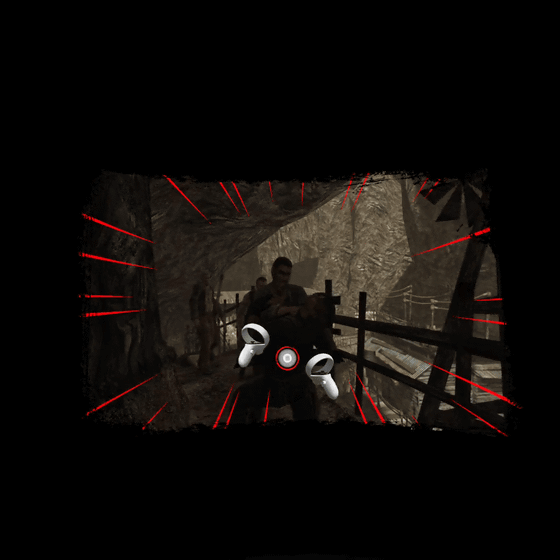 In Resident Evil 4 VR, you actually move your hands to switch weapons and reload guns, but with the increased accuracy of Quest Pro's controller tracking, it feels like there are fewer operational mistakes than Quest 2. I was. Compared to Quest 2, it is clearly smoother and stress-free, and the impression is that it is easier to play.



Next, I tried
Virtual Desktop
, which uses VR as work. It is possible to remotely operate a PC with the Virtual Desktop application installed from within the VR space, so I tried operating the PC at home from Quest Pro.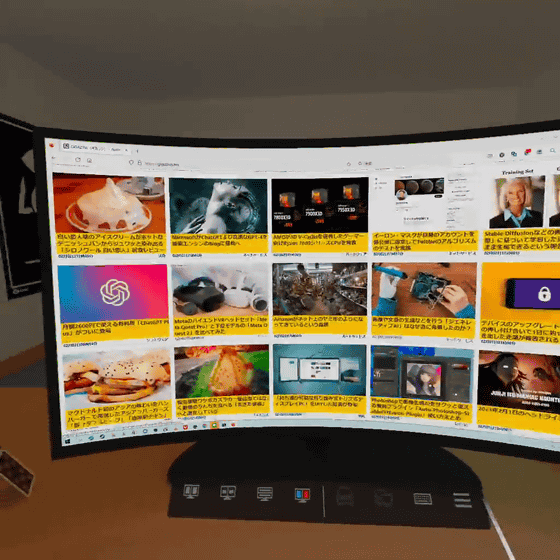 The Quest Pro has a wider viewing angle than the Quest 2, and the pixel density of the Quest 2 was 20, which is 10% higher than the pixel density of 22. In addition, contrast is improved by 75%, and visual sharpness is improved by 25% in the center and 50% in the periphery. As a result, fine print is easier to read than the Quest 2, making it easier to work in VR space.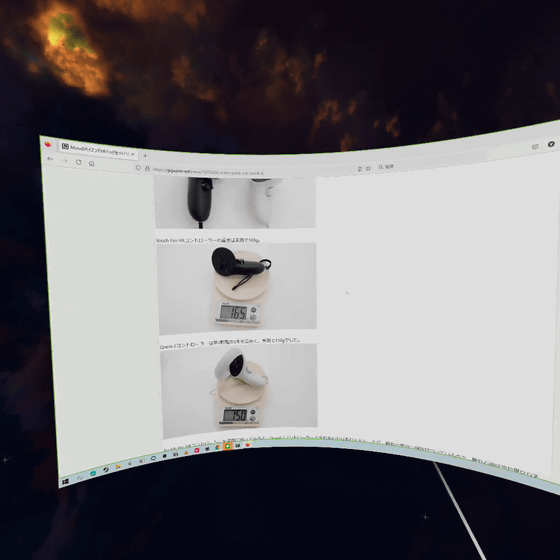 With Arkio
, which allows you to share your design work in a VR space, we were able to make full use of full-color pass-through and place architectural models in the real world.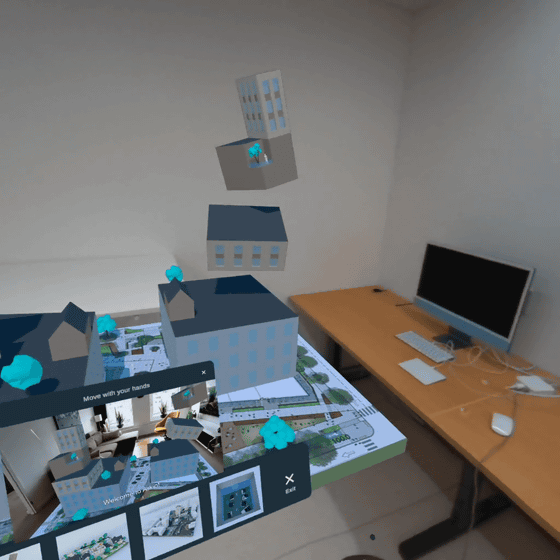 The pass-through video on the Quest 2 was black and white, but on the Quest Pro it's full color and the surrounding reality is projected as it is in the headset. You can actually touch and move the displayed architectural model.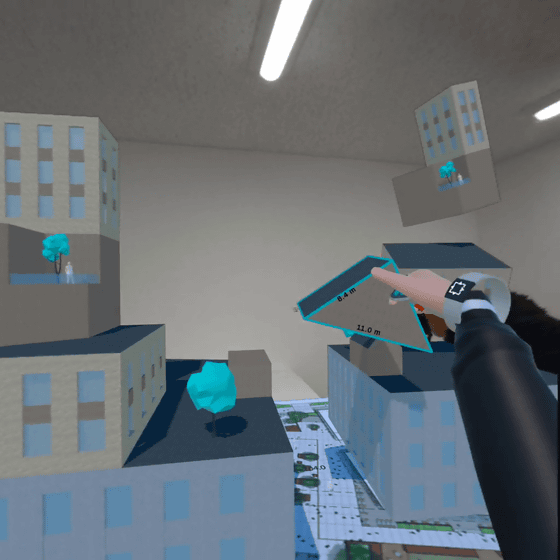 Then, I drew a picture with ' Gravity Sketch ', which allows you to draw pictures in space.

I tried playing ``Gravity Sketch'' that allows you to draw in the air in the VR space with Quest Pro-YouTube


The Quest 2 controller was infrared tracking, but the Quest Pro's Touch VR controller is tracking with a built-in sensor camera, so it is possible to track with a high degree of accuracy. Smooth and three-dimensional curves can be drawn smoothly.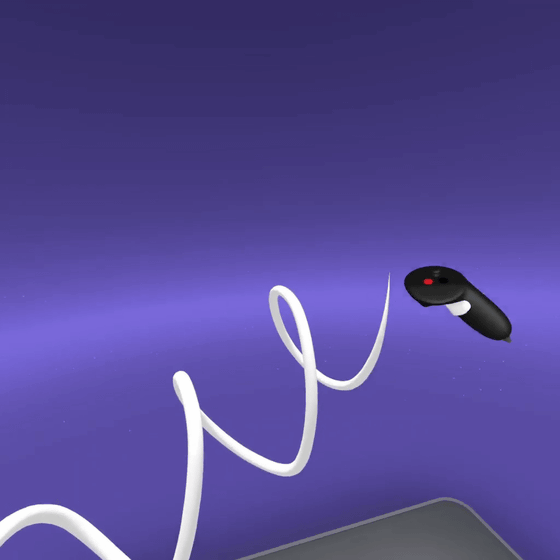 I will draw a picture of a three-dimensional motorcycle by tracing the model of the given motorcycle.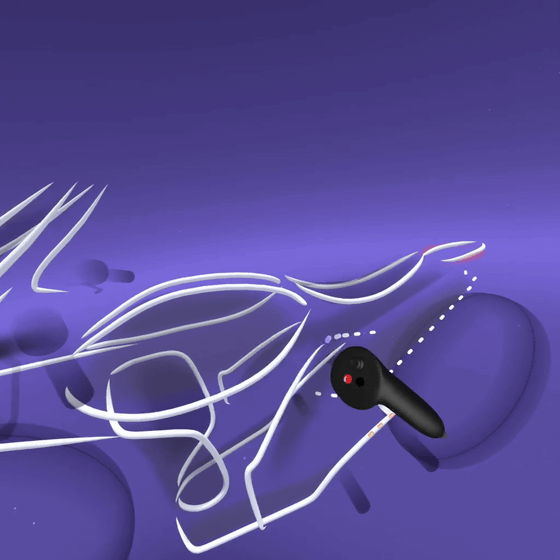 The drawn 3D model can be saved in OBJ format, FBX format, and IGES format.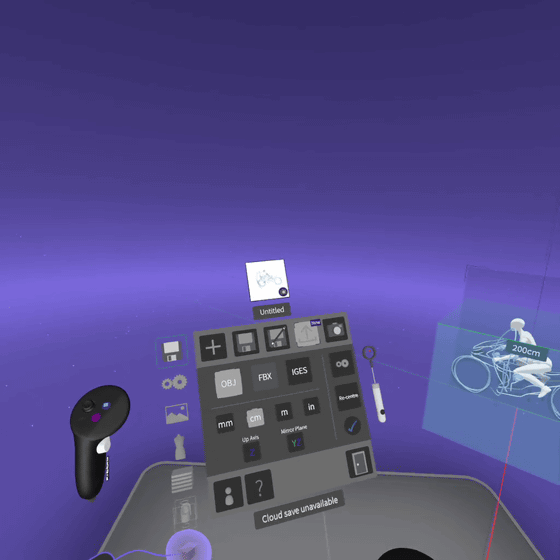 When I actually touched games and apps with Quest Pro, I thought that although the basic parts are the same as the lower model Quest 2, the fine operability and the readability of characters have definitely improved. For game play, such strict accuracy is not required, but the Quest Pro is a device that is also expected to be used for business purposes, so it is a major feature that it specializes in detailed work and communication. . The price of 226,800 yen can be said to be quite high compared to Quest 2, but the stress that occurs when touching VR and AR is reduced, so if you want to use VR or AR for work as well as games Quest Pro is an ant.

Meta Quest Pro is 226,800 yen including tax and can be ordered on Meta's official website. Delivery is free of charge.

Meta Quest Pro: Series' cutting-edge new VR headset | Meta Store | Meta Store
https://www.meta.com/jp/quest/quest-pro/