More than 100 wrong calls are made in Japan in a month due to the iPhone's collision accident detection function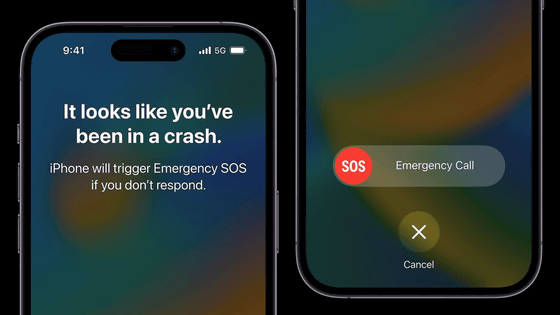 The iPhone 14 series is equipped with a collision detection function that automatically contacts emergency services when a collision is detected. False reports of this collision accident detection function are increasing, and it is reported that there were 134 false reports in just one month at the fire department in charge of mountain rescue in Japan, and it has become a hot topic overseas.

iPhone crash detection feature makes 100 false calls in a month to Japanese Alps emergency services - 9to5Mac
https://9to5mac.com/2023/01/29/iphone-crash-detection-false-positives-japanese-alps/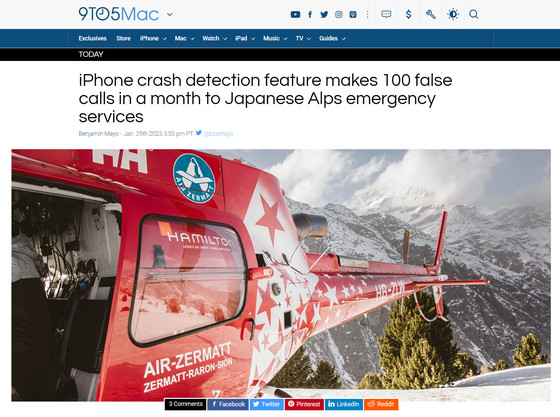 iPhone 14's Collision Detection feature emits an audible alarm when a car collision is detected, and if there is no response for a certain period of time, automatically connects to an emergency call service, reports an accident, and provides device location information. It is a function that will send .

However, since this collision detection function uses a gyro sensor and an anti-gravity acceleration sensor to detect collisions, there is a problem that sudden acceleration or deceleration may be misidentified as an accident. In the United States, it was reported that there were multiple incidents in which the collision detection function was activated on a roller coaster at an amusement park and the police were misreported.

If you ride a roller coaster with iPhone 14, you will be reported to the police - GIGAZINE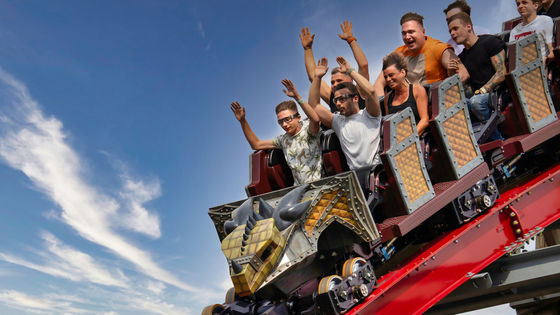 According to the Yomiuri Shimbun, the Northern Alps Regional Fire Department Headquarters, which has jurisdiction over five municipalities in Nagano Prefecture, including Hakuba Village, received 919 calls from December 16, 2022 to January 23, 2023. 134 cases were false reports by the iPhone's collision accident detection function. In addition, at the Gujo City Fire Department in Gifu Prefecture, 135 of the 351 reports received from January 1 to 23, 2023 were false reports.

Smartphone falls over, automatically ``119'' ... ``False reports'' frequently occur from the slopes to the fire department: Yomiuri Shimbun Online
https://www.yomiuri.co.jp/national/20230129-OYT1T50013/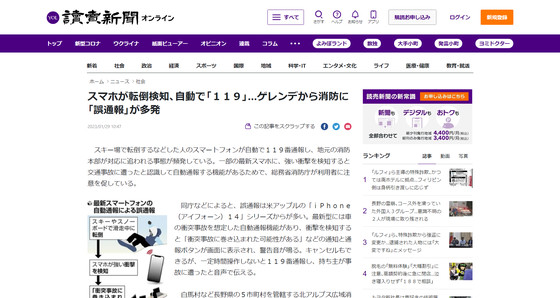 There have also been reports of crash detection malfunctioning during winter sports in the United States. It is believed to work.

Normally, a warning sound should sound when the collision detection function is activated, but if you are riding a roller coaster or skiing, you may not hear the warning sound and may not notice the malfunction. In addition, when the fire department in Japan receives a report, it calls back to confirm the situation, but in many cases, the call back is not answered without noticing it, resulting in a burden on the fire department. It is

Apple also seems to be aware of the crash detection function malfunction problem, and in the iOS 16.1.2 update released at the end of December 2022, ``Optimization of collision detection on iPhone 14 and iPhone 14 Pro models'' is taking place.

On the other hand, in January 2023, when a four-wheel-drive vehicle crashed into a tree, one of the crew members had an iPhone with a collision detection function that reported the accident. was rescued. In this way, there were cases where the collision detection function was actually useful for quick rescue, and the fire department also said, ``Since it is an effective function in the event of a really serious accident, we should turn off the collision detection function. I can't say I want it,' he commented.