Tesla's Model Y recaptures the number one selling car ranking in Europe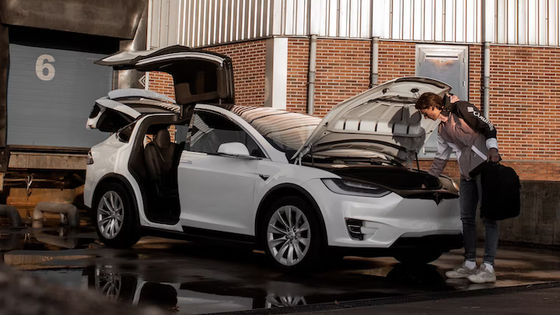 Tesla's SUV 'Model Y', which has been pointed out that
demand is declining in China, has
surpassed Volkswagen's 'Golf' and others in Europe to become the top selling car in a month. rice field.
Tesla Model Y passes VW Golf as Europe's top-seller | Automotive News Europe
https://europe.autonews.com/automakers/tesla-model-y-passes-vw-golf-europes-top-seller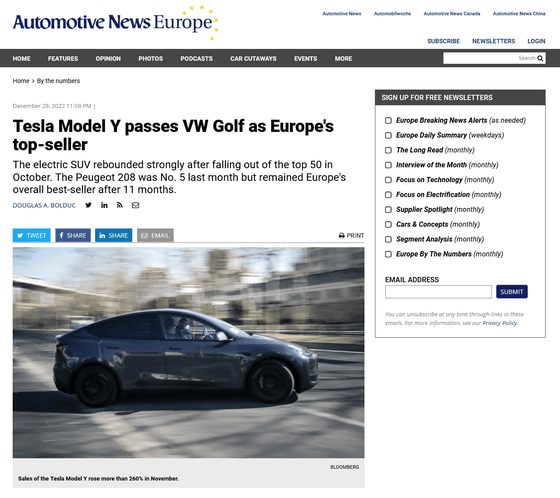 Tesla Model Y is now the best-selling car in all of Europe | Electrek
https://electrek.co/2022/12/29/tesla-model-y-is-now-the-best-selling-car-in-all-of-europe/

According to the automotive industry paper Automotive News Europe, Model Y sales in Europe in November 2022 were 19,144 units. Model Y was number one in September 2022, but dropped significantly in October and disappeared from the top 50. In November, we recaptured the top position with a V-shaped recovery of 261.4% compared to the previous month.

Automotive news site electrek has analyzed that the time when Model Y became popular in Europe coincided with the time when the number of production at Berlin's Gigafactory increased.

Model Y sales are expected to grow further in December, but on the other hand, it is pointed out that the lack of shipments from China affected the sluggish ranking in October. Tesla plans to reduce production at the Shanghai factory from the end of 2022 to the Chinese New Year in 2023, and I am wondering if it can be covered by increasing the number of production at other factories and how the impact will come out. is.

According to the data from January to November 2022, the first place is Peugeot 208 with 193,743 units, the second place is Dacia Sandero with 180,553 units, and the third place is Volkswagen T-Roc with 164,628 units. stand. Tesla Model Y is 20th with 105,283 units.


in Ride, Posted by logc_nt