The project ``Unstable Diffusion'' that creates pornographic images with AI is blocked from seeking investment at Kickstarter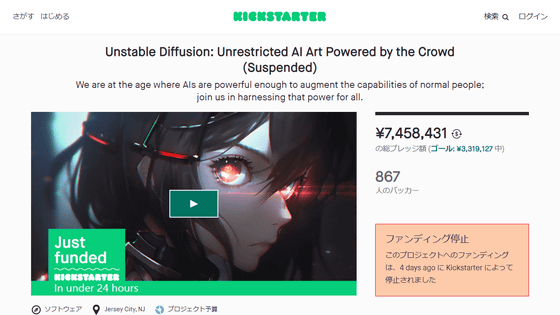 The community `` Unstable Diffusion '' that creates pornographic content using the image generation AI `` Stable Diffusion '' has stopped the project to solicit investment that was being done on the site due to changes in the guidelines of the crowdfunding site Kickstarter. .

Our Current Thinking on the Use of AI-Generated Image Software and AI Art
https://updates.kickstarter.com/ai-current-thinking/

Kickstarter shut down the campaign for AI porn group Unstable Diffusion amid changing guidelines | TechCrunch
https://techcrunch.com/2022/12/21/kickstarter-shut-down-the-campaign-for-ai-porn-group-unstable-diffusion-amid-changing-guidelines/

Unstable Diffusion is seeking investment on Kickstarter and has collected over 7.4 million yen from 867 supporters. This investment amount is about twice the target amount. However, on December 22, 2022, the Unstable Diffusion project was stopped by Kickstarter.

Unstable Diffusion: Unrestricted AI Art Powered by the Crowd (Suspended) by Unstable Diffusion — Kickstarter
https://www.kickstarter.com/projects/unstablediffusion/unstable-diffusion-unrestricted-ai-art-powered-by-the-crowd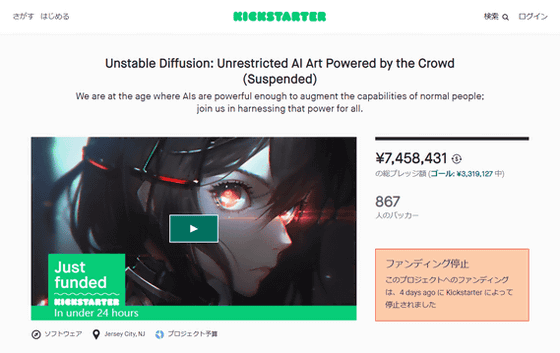 The reason Unstable Diffusion's project was stopped by Kickstarter was because Kickstarter changed its guidelines for AI image generation tools and AI-generated images. Kickstarter announced on December 21, 2022, 'Many creators on Kickstarter are understandably concerned about the impact on the creative community, so we wanted to share our thoughts on the development of AI-generated images. I will."

Kickstarter has participated in the community advisory board and has carefully read the feedback received for the service through social media. Kickstarter said the feedback was helpful because, 'Kickstarter needs to be on the side of creative work and the people behind it, and we need to continue to do so. We help creative work succeed.' It's there to help you.'

Based on feedback, Kickstarter raised the following two points in handling AI image generation tools and AI generated images.

・Whether the project copies or imitates the artist's work
You need to assess not only whether the work has a simple copyright claim, but also the circumstances under which it is not very clear. For example, if an image owned or created by someone else is not on your project on Kickstarter, but is included in the training data for an AI tool that creates an image that is served as your work.

・Whether the project exploits a particular community or endangers anyone
Kickstarter's rules prohibit projects that promote discrimination, bigotry, or intolerance against marginalized groups, and in some cases decisions are made to protect the integrity and integrity of Kickstarter.

It seems that the Unstable Diffusion project will be stopped as it conflicts with these two points. However, Kickstarter said, ``Since AI image generation tools are really new, we don't have all the answers. We would like to have an ongoing conversation with creators and users.'

Therefore, TechCrunch, a technology media, pointed out that Kickstarter intentionally vaguely explains the change in guidelines for AI image generation tools.

In addition, before Kickstarter blocked the Unstable Diffusion project, some creators pointed out that the AI image generation tool threatened the creator's career, and on Twitter, `` Kickstarter should stop the Unstable Diffusion project. was also rising.

He @Kickstarter so you're just gonna let a AI project that's main premise is generating (potentially non consensual) porn and main sales pitch is that folks can steal from Greg Rutkowski? https://t.co/26nTl4dTNM

— Karla Ortiz ???? (@kortizart) December 10, 2022


Manga artist Sarah Andersen, who has 950,000 followers on Twitter, said, ``Kickstarter that allowed Unstable Diffusion to be crowdfunded should be ashamed. We are trying to fund tools that allow you to create great content,' he tweeted.

Shame on @Kickstarter for allowing the Unstable Diffusion crowdfund. You are enabling blatant theft and are funding a tool that can create abusive content such as nonconsensual pornography.

—Sarah Andersen (@SarahCAndersen) December 11, 2022


One of the reasons why artists have a sense of crisis about AI image generation tools is the illustration by Greg Rutkowski, known as the official illustrator of Dungeons & Dragons, which was done when Stable Diffusion first appeared. This is an attempt to imitate with Stable Diffusion . Stable Diffusion mimics Rutkowski's distinctive touch very well, but Rutkowski did not agree to have his work used for Stable Diffusion training.

In addition, Unstable Diffusion, which has stopped the project, will collect about 25 million anime and cosplay images if it can collect the target amount of 25,000 dollars (about 3.3 million yen) when soliciting investment with Kickstarter. He mentioned that it would be possible to train new models on a high-quality image database consisting of 25 million art images and about 25 million photos.

Unstable Diffusion also told TechCrunch, 'Unstable Diffusion has opened a new website so that backers can directly support us in creating and releasing new, more powerful and artistic AI systems than ever before. We are responding to the call to stop the lobbying of artists who seek to outlaw all AI art.With the support of our backers, we are increasingly well-funded and organized to lobby. It will be possible to challenge, "commented. In addition, we are soliciting donations directly on the website and have already revealed that we have already succeeded in collecting $ 15,000 (about 2 million yen).