ASUS Gaming Gravo 'TUF-RTX4090-24G-GAMING' with GeForce RTX 4090 Appearance Review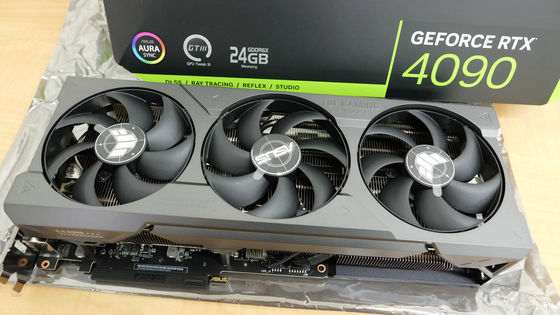 The ' GeForce RTX 4090 ' announced by NVIDIA in September 2022 adopts the 'ADA Lovelace' architecture, which is the third generation RTX architecture, and in addition to conventional processing, it is equipped with dedicated hardware for ray tracing and AI. GPUs. Since I had the opportunity to actually touch ASUS's gaming graphic board ' TUF-RTX4090-24G-GAMING ' equipped with this GeForce RTX 4090, I first took a close look at its appearance.

ASUS TUF Gaming GeForce RTX® 4090 24GB GDDR6X | Graphics Card | ASUS Global

https://www.asus.com/jp/motherboards-components/graphics-cards/tuf-gaming/tuf-rtx4090-24g-gaming/
The cosmetic box of TUF-RTX4090-24G-GAMING looks like this.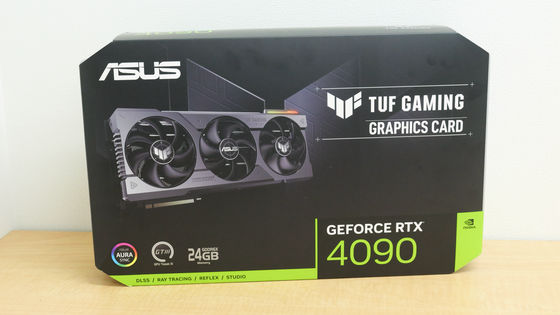 In the corner of the box, the LED lighting function '
ASUS Aura Sync
' installed in ASUS gaming products, the GPU monitoring tool '
GPU Tweak III
' support, and 24GB GDDR6X VRAM were appealing.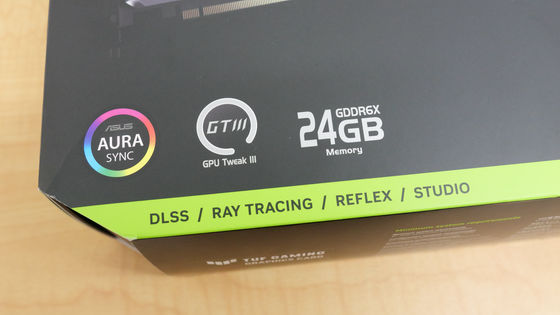 Taking out the middle box from the vanity case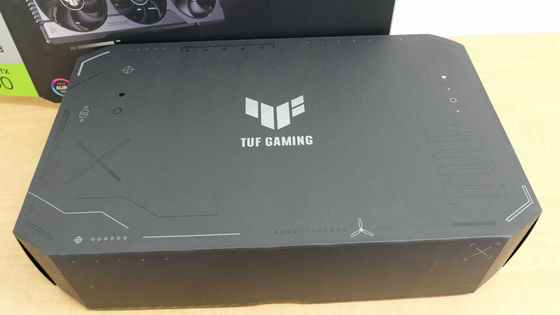 When you open the middle box, TUF-RTX4090-24G-GAMING in an antistatic bag appears.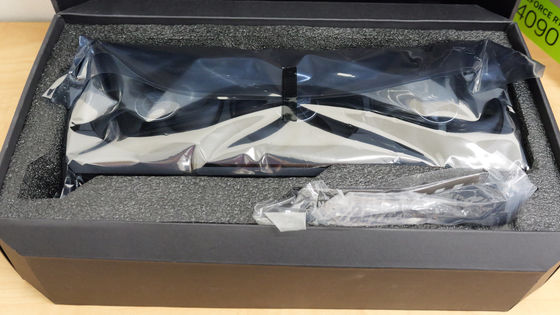 The main body of TUF-RTX4090-24G-GAMING is removed from the antistatic bag. The size is 348.2 mm × 150 mm × 72.6 mm, which is quite huge. Since it is necessary to store a graphic board near 35 cm, it is necessary to prepare a fairly large case when installing it on a PC.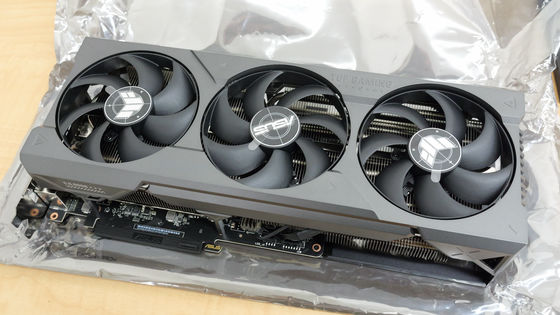 Actual weight is 2.35kg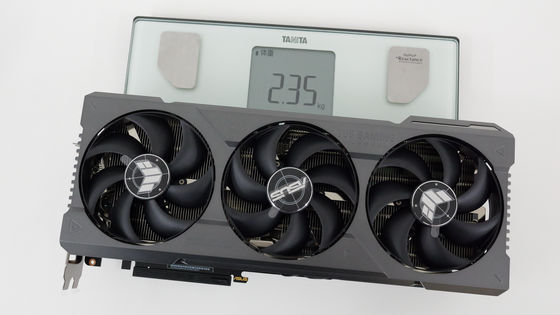 The path interface is PCI Express (PCIe) 4.0. The power connector is 1 x 16pin.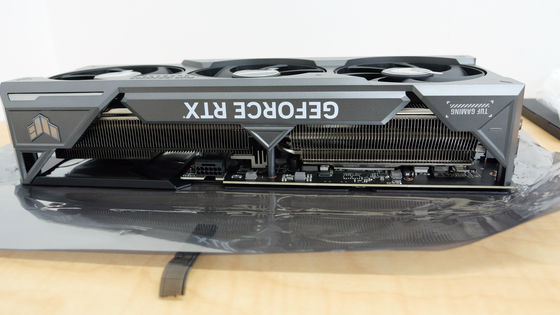 From the side, you can see that most of its bulk is the heatsink and fan.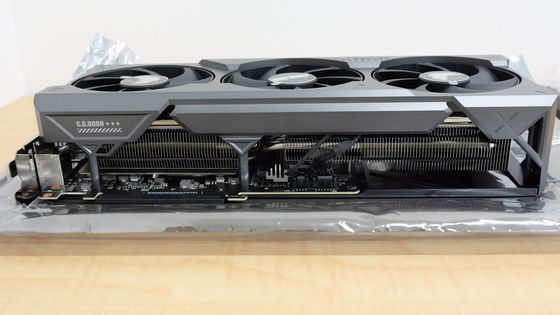 A top view of the three fans. The fan has the ASUS logo and the logo of one of ASUS's gaming brands, TUF Gaming.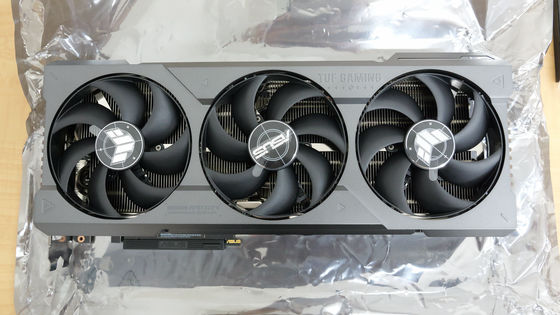 TUF-RTX4090-24G-GAMING is '3.65 slot', which is quite thick. Two stages of PCI slot covers are installed, but the fan part protrudes nearly two more stages. The input and output terminals are 3 DisplayPort 1.4a ports and 2 HDMI 2.1a ports.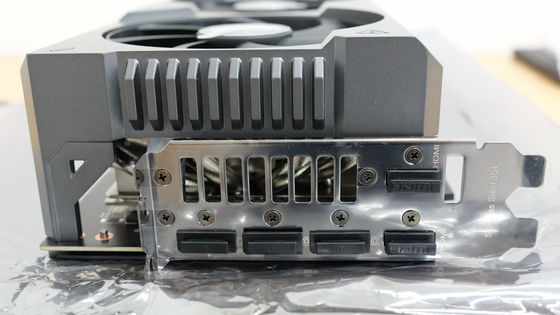 On the opposite side of the side with the input and output terminals, there were screw holes for attaching metal fittings to support a huge graphic board.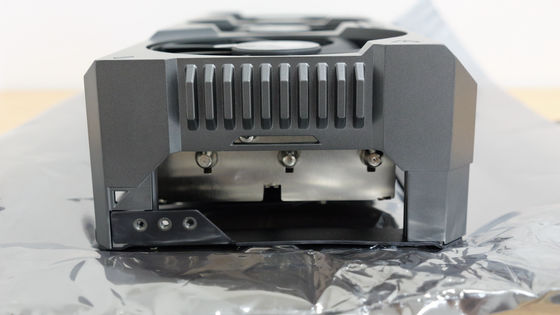 Included with the main unit were an explanatory document and a power connector, a cable binding band written as 'TUF GAMING', and a stick for simply supporting the graphic board.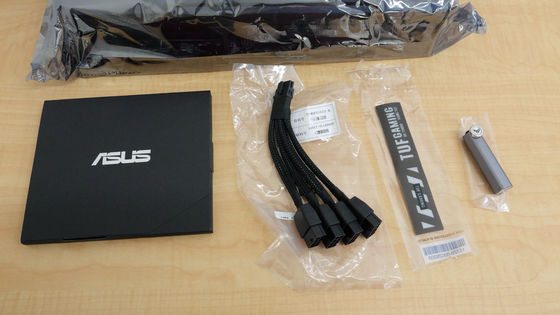 The power connector is a 4-crotch cord that is divided into 4 8-pin terminals from 1 x 16-pin.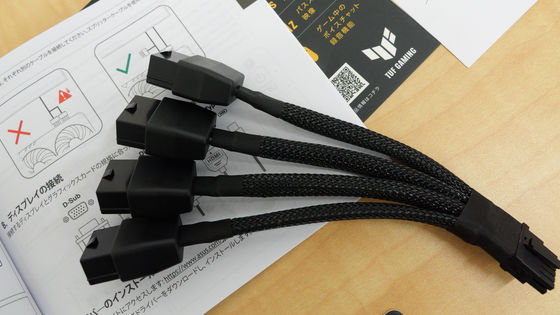 Also, a TUF-RTX4090-24G-GAMING card was included along with the instructions.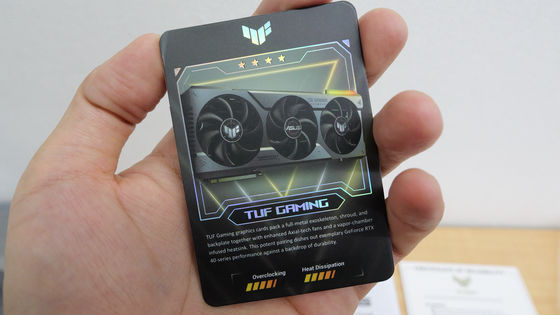 TUF-RTX4090-24G-GAMING is also available on Amazon.co.jp, but it was out of stock at the time of article creation.

Amazon | ASUS NVIDIA GeForce RTX 4090 equipped video card 24GB GDDR6X / TUF-RTX4090-24G-GAMING Japanese regular distribution | ASUS |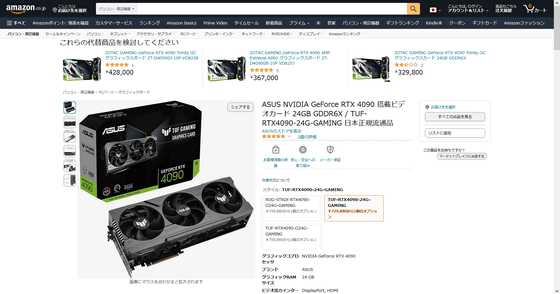 Next time, we plan to actually install it on a PC and benchmark it.

[to be continued]