The world's first approval in China for an inhaled new corona vaccine that does not use a syringe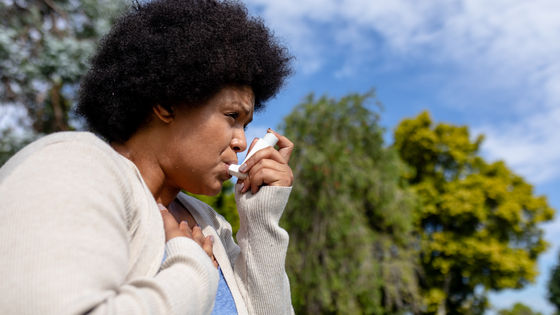 As of September 2022, the percentage of people who have completed the required number of vaccinations in Japan exceeded 80%. Most of the vaccines used worldwide are administered by injection, but it has become clear that China has newly approved an inhaled vaccine as an emergency.

CanSinoBIO CanSinoBIO

https://www.cansinotech.com/html/1///179/180/1100.html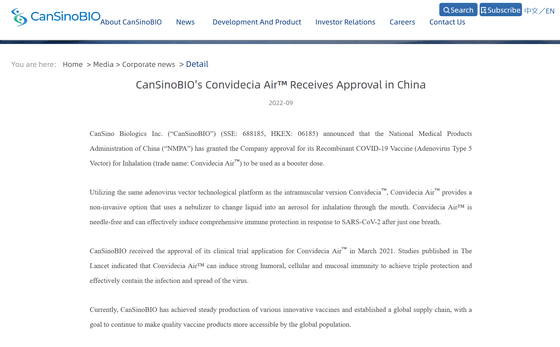 CanSino's inhaled COVID-19 vaccine gets emergency use approval in China | Reuters

https://www.reuters.com/world/china/cansinos-inhaled-covid-19-vaccine-gets-emergency-use-approval-china-2022-09-04/
China Approves World's First Covid Vaccine You Inhale - Bloomberg
https://www.bloomberg.com/news/articles/2022-09-05/world-s-first-covid-vaccine-you-inhale-is-approved-in-china
The vaccine approved in China is a vaccine called 'Convidecia Air' manufactured by China-based CanSino Biologics. China's National Medical Products Administration has urgently approved Convidecia Air as a booster vaccine.
According to CanSino Biologics, in March 2021, Convidecia Air received regulatory approval and is conducting clinical trials, which induces strong humoral and mucosal immunity, effectively preventing viral infection and spread. It was shown that it can be suppressed to The results of the study were
published
in the scientific journal The Lancet.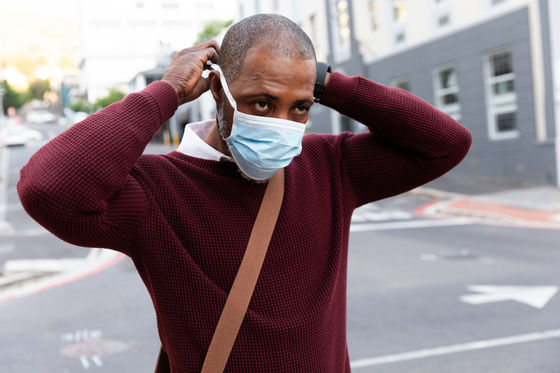 CanSino Biologics had already developed an injectable vaccine in China, Mexico, Pakistan, etc., but said in a statement that it had improved this vaccine and finished it as an inhaler. CanSino Biologics wrote, ``The inhalation type does not use a needle and can be self-administered, so it is easy to appeal to people who avoid vaccines, and it may be possible to alleviate the pressure on medical care.''

It is unclear when Convidecia Air will be available, as further government approvals are required to bring it to market. CanSino Biologics said, 'We have achieved stable production of various innovative vaccines and established a global supply chain, and our goal is to continue to make high-quality vaccine products more accessible to people around the world. ' said.