Google announces new regulations on full-screen ads and spoofing apps for apps and games, banning full-screen ads that can't be closed after 15 seconds


Google Play for new developers on July 27, 2022 to regulate full-screen ads (
interstitial ads
) displayed in-game and other apps that impersonate companies, government agencies, and people. Announced policy. Google is aiming to improve user security and app experience through a series of changes, but some changes have been made to features such as
DuckDuckGo
's 'tracking blocker by app', which develops a privacy-oriented search engine. It has been pointed out that it may have an impact.
Developer Program Policy: July 27, 2022 Announcement-Play Console Help
https://support.google.com/googleplay/android-developer/answer/12253906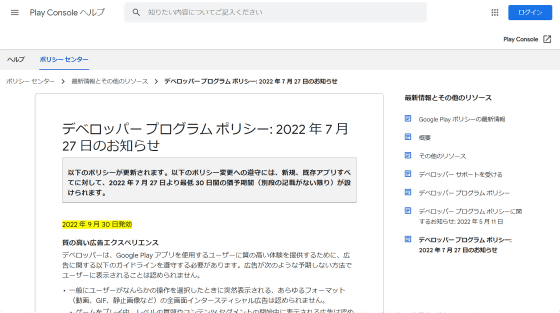 Google announces new Play Store policies around intrusive ads, impersonation and more | TechCrunch
https://techcrunch.com/2022/07/28/google-announces-new-play-store-policies-around-intrusive-ads-impersonation-and-more/
Google's new Play Store rules target annoying ads and copycat crypto apps --The Verge
https://www.theverge.com/2022/7/28/23282447/google-android-play-store-policy-unskippable-ads-rules
Play Store lays out new rules to curb intrusive full screen ads
https://www.androidpolice.com/play-store-lays-out-new-rules-to-curb-intrusive-full-screen-ads/
The new changes announced by Google are:
◆ Interstitial ads displayed in apps and games
Google has a new policy prohibiting full-screen ads from being displayed in 'unexpected ways' that interfere with normal interactions in the app, such as when the app is first loaded, while playing an active game, or scrolling through content. doing. It is also prohibited to display full-screen ads that cannot be closed within 15 seconds.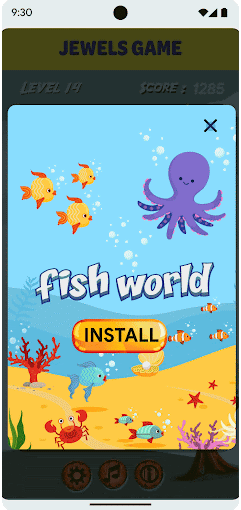 Please note that this policy does not apply to banner ads or ads embedded in content that do not interfere with apps or games. In addition, if the user explicitly selects to watch the advertisement for the purpose of earning in-game rewards or canceling additional functions, it is possible to display a full-screen advertisement for 15 seconds or more. This policy will come into effect on September 30, 2022, and developers will need to respond by then.

◆ Apps that impersonate governments, companies, and individuals
In order to eliminate fraudulent spoofing apps from Google Play, a new 'app that hints at a relationship with an unrelated government, company, individual, or another app and misleads the user' is explicitly prohibited. rice field. If you look at what Google has illustrated, you can see that it is an arrangement of the originally existing application icon ...



You can see that it is prohibited to copy characters of virtual currency websites and TV programs without permission and misunderstand that they are related to users. This policy will come into effect on August 31st.




◆ Misinformation about health
As part of its crackdown on misinformation about health, Google will launch 'a misleading effect-and-effect app that contradicts medical consensus or may harm users' from August 31st. Prohibit. In particular, there are examples of vaccine-related misinformation, unapproved harmful treatments, and conversion therapy for people with LGBTQ.

◆ Subscription cancellation
Starting September 30, Google has explicitly disclosed how to manage or cancel subscriptions and has made it possible for apps to access easy ways to cancel online. To meet this requirement, you can add a 'link to the Google Play subscription center' or a 'link that gives you direct access to the cancellation procedure' to your app's account settings.

◆ Respect for FLAG_SECURE
FLAG_SECURE is a flag that prevents screenshots and recordings in the app to prevent passwords, account data, copyrighted content, etc. from being captured. For security and privacy reasons, Google has stipulated that after November 1st, FLAG_SECURE shall be respected and no means of circumventing it for all apps distributed on Google Play.

◆ Requirements for monitoring apps
Google Play allows the distribution of surveillance apps for employees or children only, but after November 1st, tracking apps will be required to explicitly state their capabilities to Google, as well as tracking. Hiding features from users is prohibited.

◆ VPN built into the app
Some apps use a virtual private network (VPN) built into the app to access remote servers, but after November 1st, VPNs are used for the purpose of collecting user information and monetizing operations. It is prohibited to use. DuckDuckGo has introduced a protection feature that blocks Google and Facebook trackers using a VPN connection, but new regulations could affect this feature.

DuckDuckGo's Android app introduces privacy protection that blocks trackers such as Google and Facebook-GIGAZINE