YouTube advertising revenue slows growth at about 1 trillion yen & Google search related revenue increases, Google parent company Alphabet announces financial results for the second quarter of 2022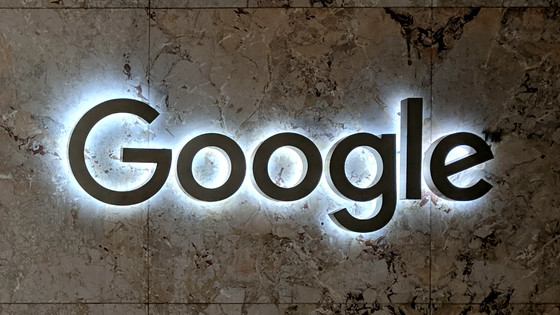 by
Sikander Iqbal
Google's parent company Alphabet has released its financial results for the second quarter of 2022 (April-June). Total sales were $ 69,885 million, an increase of 13% year-on-year. Revenues from Google Search, Google Ads, and YouTube Ads also increased year-over-year, but growth wasn't slowed as YouTube advertising revenue fell below investors' expectations. It has been pointed out.
GOOG Exhibit 99.1 Q2 2022 --2022 Q2_alphabet_earnings_release.pdf
(PDF file) https://abc.xyz/investor/static/pdf/2022Q2_alphabet_earnings_release.pdf
Alphabet Q2 Earnings: YouTube Ad Revenue Up 4.8% to $ 7.34 Billion --Variety
https://variety.com/2022/digital/news/youtube-q2-2022-earnings-alphabet-1235326214/
According to Alphabet, total sales for the second quarter of 2022 were $ 69,885 million, operating income was $ 19,453 million, and net income was $ 16,002 million. It was 190 billion yen). Total sales increased 13% year-on-year (up 16% year-on-year), operating income increased 31% year-on-year, but net income decreased approximately 14% year-on-year. I did. In addition,
diluted EPS
for the second quarter of 2022 was $ 1.21 per share.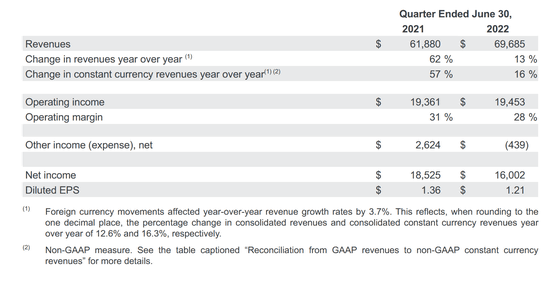 The breakdown of total sales of $ 69,885 million is as follows. 'Google Search & other' that makes up 'Google Advertising' is $ 40,689 million (about 5.57 trillion yen), 'YouTube ads (YouTube ads)' is $ 7.34 billion ( Approximately 1 trillion yen), 'Google Network' is $ 8,259 million (approximately 1,130 billion yen), and 'Google other' sales are $ 6,553 million (approximately) 988 billion yen), Google Cloud related $ 6,276 million (about 860 billion yen), and Alphabet's venture companies such as
Waymo
and
Verily
and private companies, 'Other Bets' is $ 193 million (about 193 million yen) Hedging gains from investment was 375 million dollars (about 51.4 billion yen). The number of employees was 174,014, about 30,000 from the same period of the previous year. Increased has.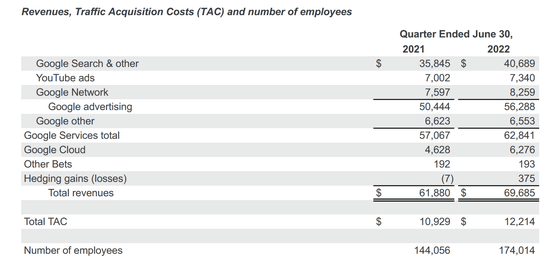 The breakdown of operating income of 19,453 million dollars is that 'Google Services', which includes Google advertising, Google search related, YouTube advertising, Google network related, and Google's other businesses, is 22.77 billion dollars (about 3.12 trillion yen). ) Is the only surplus. Google Cloud has a deficit of $ 858 million, Other Bets has a deficit of $ 1,686 million, and unallocated head office costs are $ 737 million. It is in the red (about 106 billion yen). Revenue of Google Cloud increased by about 36% year-on-year, but operating income was in the red as in the previous year, and the deficit is also increasing, so we can see an increase in expenses related to Google Cloud. ..




Google Ads is still the center of Google's revenue. The biggest of these is Google Search, Alphabet Chief Financial Officer Ruth Polat said, 'This quarter's earnings report shows the strength of the search and the momentum of the cloud.' 'Increased travel and retail inquiries have led to higher Google search-related revenue,' said Philip Schindler, Google's chief operations officer.

YouTube advertising revenue increased 4.8% year-on-year, but entertainment news media Variety said, 'Wall Street saw YouTube advertising revenue up 7% year-on-year to $ 7.49 billion (1.27 trillion). I expected it to be (yen), 'he said, pointing out that growth was slowing as profits fell below this forecast.

Variety speculates that one of the reasons for the slight drop in YouTube advertising revenue is the popularity of YouTube Shorts, which share short movies of just a few tens of seconds, like TikTok. increase. According to Google , as of June 2022, YouTube Shorts had more than 1.5 billion monthly login users, which is about three-quarters of YouTube's worldwide monthly login users. In response, YouTube has announced the introduction of ads on YouTube Shorts.

Introducing ads to 'short videos' where YouTube is watched 30 billion times a day --GIGAZINE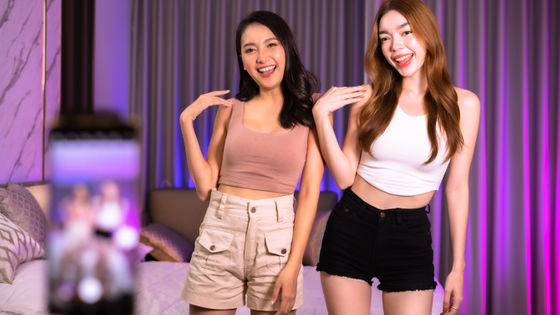 Polat explains that YouTube's advertising revenue appears to be slowing because it compares to the unusually high growth rate of the second quarter of 2021. In fact, from 2020 to 2021, the number of users of Internet services such as YouTube increased sharply due to the demand for nesting due to the global epidemic of the new coronavirus, and the background was that profits far exceeded expectations.

However, this 'YouTube advertising revenue' does not include subscription revenue from YouTube Premium and YouTube TV. As a result, YouTube's own revenue is likely to be much higher than $ 7.34 billion.

In addition, Alphabet CEO Sundar Pichai said in early July 2022 that 'the pace of hiring will slow down in the second half of 2022' and that hiring except for engineering and technical positions will be almost suspended. It is reported that he explained to the employees. "We need to be more urgent, more focused and hungry in the future," said Pichai. "In some cases, it means consolidating overlapping investments and streamlining the process. It also means suspending development and reinvesting resources in higher priority areas. It's up to us all to make the company more efficient. ' Suggested the possibility of reorganization.

Alphabet's 2022 Q2 financial results report is also available on YouTube.

Alphabet 2022 Q2 Earnings Call --YouTube
https://www.youtube.com/watch?v=kBgHioOKpvI