Intel's new process node 'Intel 4' achieves 21.5% performance improvement & 40% reduction in power consumption with the same power as the conventional product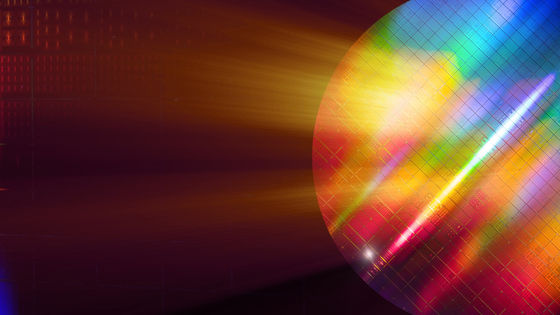 The 'Intel 4' process node used in products scheduled to be released in 2023 at the '
2022 IEEE Symposium on VLSI Technology & Circuits
', a conference in the field of semiconductors that Intel started on June 13, 2022 local time. Announced the details of.
Intel Debuts Intel 4 Technologies Among 13 Papers at the 2022 VLSI Symposium
https://www.intel.com/content/www/us/en/research/news/2022-vlsi-symposium.html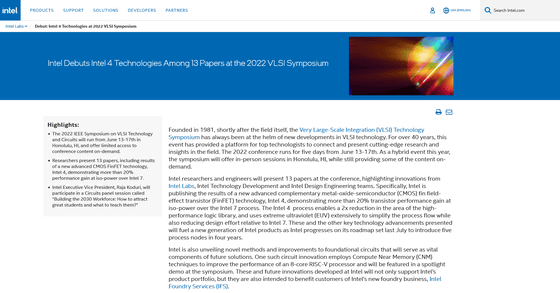 Intel Debuts Meteor Lake Die,'Intel 4'Node: 20% Higher Clocks at Same Power, 2X Area Scaling | Tom's Hardware

https://www.tomshardware.com/news/intel-debuts-meteor-lake-die-intel-4-node-20-higher-clocks-at-same-power-2x-area-scaling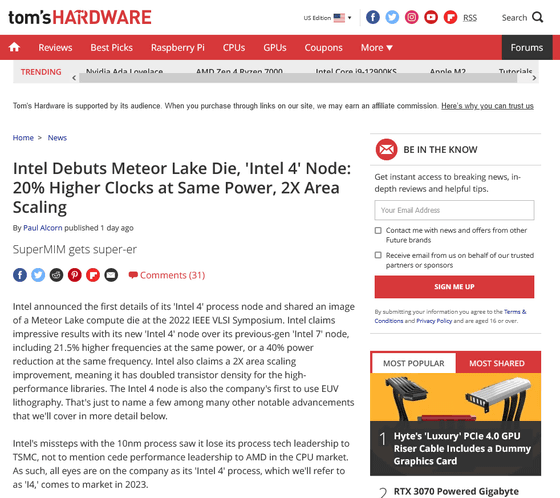 Intel 4 Process Node In Detail: 2x Density Scaling, 20% Improved Performance
https://www.anandtech.com/show/17448/intel-4-process-node-in-detail-2x-density-scaling-20-improved-performance

Intel advances to make upcoming chips faster, less costly • The Register
https://www.theregister.com/2022/06/13/intel_4_chips/

Intel tries to get its chip manufacturing back on track with "Intel 4," due in 2023 | Ars Technica
https://arstechnica.com/gadgets/2022/06/intel-tries-to-get-its-chip-manufacturing-back-on-track-with-intel-4-due-in-2023/

'Intel 4' was called '7nm process node' '7nm process rule', and it is revealed that process development is delayed in 2020, but somehow the CPU for PC scheduled to be released in 2023 ' It will be used in 'Meteor Lake' and 'Granite Rapids', a chip for servers.

According to Ben Sel, who is in charge of Intel 4 development, Intel 4 has the same power as Intel 7 and the performance is improved by about 21.5%. It can provide the same frequency level with 40% less power. For this reason, Meteor Lake and Granite Rapids are expected not only to improve performance but also to improve efficiency.

The biggest improvement by Cell's development team is the adoption of EUV lithography, which uses short-wavelength UV light to etch small patterns on silicon wafers, which simplifies the process and has five layers that were previously required for etching. It is said that the layer of was reduced to one layer.

In the future, Intel wants to avoid the delay and yield problems suffered by the conventional Intel 7 by migrating Intel 4 to 'Intel 3' which is even denser.