Elon Musk slams poop emoji '????' on Twitter CEO to blame anti-spam policy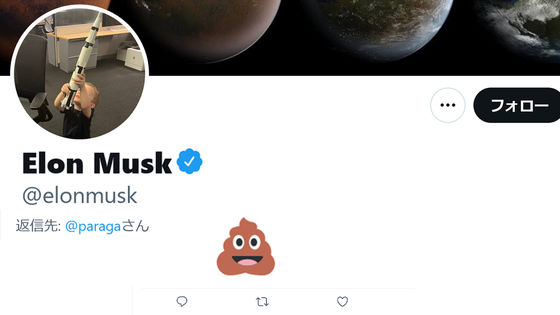 Twitter announced on April 26, 2022 that it
had agreed to an acquisition offer by Elon Musk,
but on May 13, 'Twitter has spam or fake accounts accounting for 5% of all users. It is
reported
that the acquisition transaction was temporarily put on hold because of 'is.' When Twitter CEO Parag Agrawal explained in response to Mr. Musk's tweet that criticized Twitter's anti-spam policy, Mr. Musk replied only the poop pictogram '????' to Mr. Agrawal's tweet. I expressed my dissatisfaction.
????

— Elon Musk (@elonmusk) May 16, 2022


The origin of this is the following content tweeted by Mr. Musk on May 13, 2022. 'Twitter has announced that less than 5% of users have spam / fake accounts,' Musk quoted from Reuters in the United Kingdom. 'Twitter actually has 5% of users with spam / fake accounts. We are holding details to support the calculation that it is less than, 'he said. If there are actually about 5% of spam / fake accounts, it is expected that the acquisition price of Twitter will be reduced.

Twitter deal temporarily on hold pending details supporting calculation that spam / fake accounts do indeed represent less than 5% of users https://t.co/Y2t0QMuuyn

— Elon Musk (@elonmusk) May 13, 2022


In response, Twitter CEO Agrawal responded with more than 10 tweets in a row on the spam issue.

Let's talk about spam. And let's do so with the benefit of data, facts, and context…

— Parag Agrawal (@paraga) May 16, 2022


Because spam is harmful to real users, Twitter detects and deals with spam as much as possible every day, suspending 500,000 accounts a day before users can see it, and authenticating to be human. The fact that millions of accounts that cannot be cleared are suspended each week ...

We suspend over half a million spam accounts every day, usually before any of you even see them on Twitter. We also lock millions of accounts each week that we suspect may be spam – if they can't pass human verification challenges (captchas, phone) verification, etc).

— Parag Agrawal (@paraga) May 16, 2022


The estimate of '5% spam / fake accounts' explains that randomly sampled accounts are reviewed using IP addresses, registered phone numbers, geographic locations, and more.

Our estimate is based on multiple human reviews (in replicate) of thousands of accounts, that are sampled at random, consistently over time, from * accounts we count as mDAUs *. We do this every quarter, and we have been doing this for many years.

— Parag Agrawal (@paraga) May 16, 2022


In addition, Agrawal said that further details will not be open to the public because they are related to personal information, and we will discuss details with Mr. Musk regarding the estimation of spam accounts.

Unfortunately, we don't believe that this specific estimation can be performed externally, given the critical need to use both public and private information (which we can't share). Externally, it's not even possible to know which accounts are counted as mDAUs on any given day.

— Parag Agrawal (@paraga) May 16, 2022


In response, Mr. Musk responded with only the poop emoji '????'.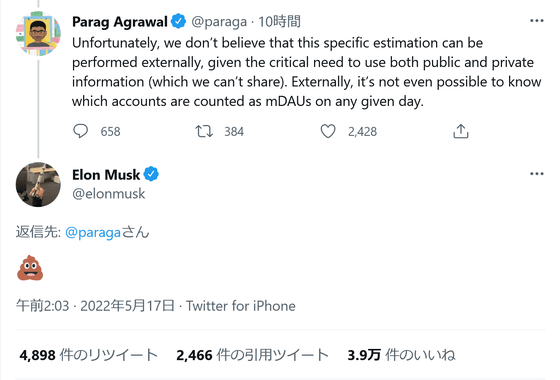 In response to Agrawal's tweet, 'I can't disclose the details to the outside because it's related to personal information,' Musk said, 'Then, how advertisers are getting value for the fees they paid.' Can you find out? ', He accused the anti-spam policy.

So how do advertisers know what they're getting for their money? This is fundamental to the financial health of Twitter.

— Elon Musk (@elonmusk) May 16, 2022
in Note, Posted by log1e_dh