Interview with director Rion Kujo of 'Shin Ikki Tousen' depicting a new death battle of high school girl hyper battle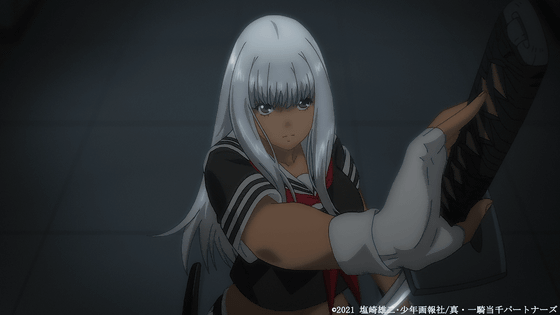 Yuji Shiozaki's manga '
Shin Ikki Tousen
' serialized in Young King Ours will be animated, and the main broadcast will start on the night of May 17, 2022 (Tuesday). The 8th work in the series is the 5th work in the series, '
Ikki Tousen Shutsuba Warrior Blood Wind Record
' and '
I want to be the strongest in the world!
'
The Devil Aesthetics of the Hagure Hero
' '
Tomorrow's Goodness!
'
Rion Kujo
, who was the director of the film. We asked him how he visualized 'Ikki Tousen,' which became 'true.'
TV anime 'Shin Ikki Tousen' official website
http://www.ikkitousen.com/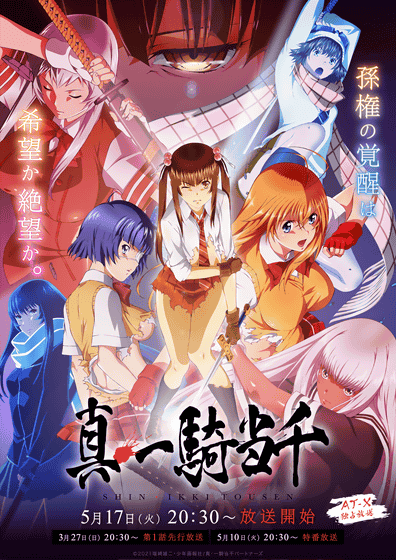 GIGAZINE (hereinafter, G):
When did you come to the director Hisagi to ask you to direct this film?

Director Rion Kujo (hereinafter referred to as Kujo):
It was a while ago, so I don't remember the details, but I thought, 'I'm sure the director of this series is going around' (laughs).

G:
Carry around (laughs)

Hisagi:
The staff of the 'Ikki Tousen' series is relatively common, but
Takashi Watanabe
, the general director of the previous work '
Ikki Tousen Western Wolves
', was the director of the first animation, so next is '
Ikki Tousen Dragon Destiny
'. I wonder if
Koichi Ohata
did such things. I wondered if the story came to me because the schedule didn't fit (laughs). I think it was about a year and a half ago.
G:
How do you get the offer?
Hisagi:
It's very normal. The producer of Etchu asked me, 'Why don't you do a new work?', Just like one of the Yotaro stories.
G:
It was a very light glue.
Hisagi:
I was also working on pachinko machines, and I was close to how the work was done, so at first I thought, 'It's about the next pachinko machine,' not anime. This time, the title was 'True', so I thought 'Oh !? What is this !?' (laughs)
G:
Mr. Hisagi was working on the OVA 'Ikki Tousen Shutsuba Warrior Blood Wind Record' released in 2012, and in this way he will be directing the new work of 'Ikki Tousen' again for the first time in 10 years. Were there any changes or, on the contrary, things that haven't changed?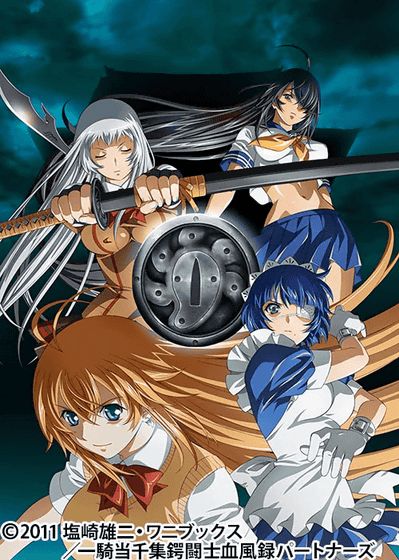 Hisagi:
It doesn't mean that 'the work' Ikki Tousen 'is', but the content of the previous 'Tsuba Warrior Blood Wind Record' is an original story, and
Hideyuki Kurata
from the words 'Himiko' and 'Kansai' that remained as words. It was assembled with Mr. In that respect, since there is an original work this time, I felt that it was a big difference from there. 'Oh, you can use the original!'
G:
I see (laughs) Is it easier to do this time with the original?
Hisagi:
I think the existence of the original has advantages and disadvantages. If you want to make an original story, you can protect what you have to protect, but you can also add a sharpness to remove it greatly. If there is an original, there will be a part to be tied up, but the answer as a picture is there. Some people have already seen the original, so if it deviates from the original, you have to clearly state that 'it will deviate from here.' However, it's not that it's difficult to do, so for me, it doesn't matter if it's easy to do with or without the original.
G:
What kind of part was 'the place you have to protect' in the case of 'Shin Ikki Tousen'?
Hisagi:
It may not be a straightforward answer, but as far as I read the story that was out in the world at the time of production, it was not in a state where it was possible to calculate back from the ending due to the series composition, so first decide the ending and then there I thought about how to assemble it. It's a voluminous story, so it's about where to leave and where to cut.
G:
Oh, I see.
Hisagi:
The rest is the expression part. You can tear your clothes, but for example, you shouldn't cut your body, so I'm thinking about that.
G:
Are the staff members of this work selected after Mr. Hisagi became the director? Or was the staff already decided?
Hisagi:
This time, the title is 'True', but since it follows the flow of the previous work 'Ikki Tousen Western Wolves', many staff members remain the same. In particular,
Masaya Honda
, the series composition and screenplay, knows the flow, so I think it's okay to leave it as it is. Of course, other staff members should know 'Ikki Tousen', so I had no idea of making a big change from the beginning.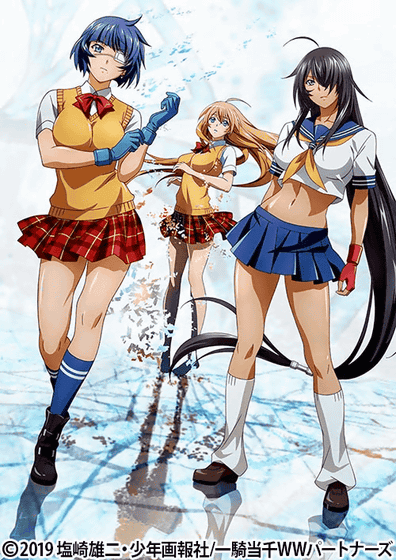 G:
I see.

Hisagi:
I think that Ikki Tousen was the original 'Blood Record' that I was involved in first, so I think I don't know the most 'Ikki Tousen' among all the directors of all time (laughs).

G:
(smile)

Hisagi:
So, I thought that the more people around me knew 'Ikki Tousen', the more they would cover it. I had watched the series before I did 'Blood Record', but since I was watching it from the viewer's point of view, it would be helpful if there were people who actually knew the production site.

G:
Did you ever work on the production of this work and say, 'I was grateful that there was a staff member who was still in charge of the past series?'

Hisagi:
I was saved in terms of 'style'. In terms of painting,
Tsutomu Miyazawa
, a character designer, just arranged the painting. Also,
Yasuharu Takanashi
of music. There were too many songs (laughs), and it was the same at the meeting, but it was in the form of 'I'll leave it to you.' And so is the actor. It was very helpful because there are many people who have been in charge for a long time. I can easily understand the characters that appeared in the 'Blood Wind Record' that I was in charge of in the past, but in the case of a character that did not appear, thanks to the character image that the actor showed me, 'This is it!'.
For example, Masumi Asano, who plays the main character and Sun Ceremony from the first work, has been in charge of the same character for about 20 years.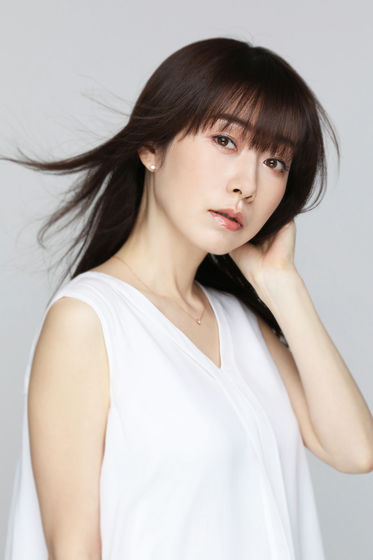 G:
Certainly, when you think about it that way, it may seem that the director was thrown in from the outside (laughs) Is there any pressure?

Hisagi:
I wasn't worried about the staff at all, but I was a little pressured to see the 'true' in the title. I was joking, 'Let's make'true'in katakana,' but I thought, 'I don't like jokes!' (Laughs)

G:
Mr. Miyazawa's name came out earlier, but what was the point that you found difficult in drawing in this work?

Hisagi:
First of all, is it that the current picture of Professor Shiozaki has changed from when the character table for 'Ikki Tousen' was created? I was afraid to change from the character table suddenly, so I consulted with Mr. Miyazawa. Mr. Miyazawa's suggestion is the processing of the character's eyes, but the times have changed since the early series was broadcast, and the needs for digital are rising, so while brushing up, Professor Shiozaki now. I don't think I was aiming for the middle, but Mr. Miyazawa protected such a line. Also, I think I'll say this for the first time, but I'm a fan of Mr. Miyazawa, so I'll leave it to you.

Compared to the main visual of the first period, I feel a change in character design.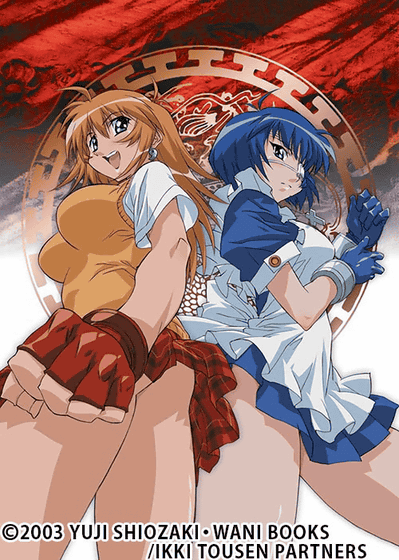 G:
What kind of place are you a fan of Mr. Miyazawa's paintings?

Hisagi:
It's usually erotic (laughs)

G:
It's straightforward (laughs) Certainly, when I look at various works, I sometimes come across 'Oh, this is good'. Where does this make a difference when it comes to 'whether or not you can draw erotically'?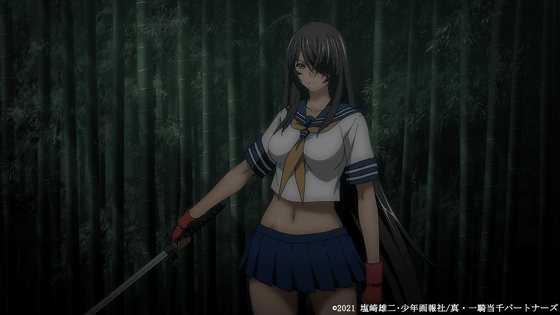 Hisagi:
I think it's almost a fetish, but I personally think it's a waist. Roughly speaking, the chest tends to be drawn with the feeling that 'it should be big', but I think that the 'waist' is erotic when it comes to the waist. When you go down to your legs, you will find someone you like there (laughs), but I think your waist is important for balancing.

G:
When I actually saw the work this time and compared the original again, I was convinced that 'I see, did you configure it like this?' This time, Mr. Honda is in charge of the series composition following the previous work, but how did you decide on this subtle change?

Hisagi:
If you start from the first volume of 'Shin Ikki Tousen', it will start from the episode of Sun Quan, but since the animation consists of all three episodes, it will be a little difficult if it is left as it is. There was a talk about 'what to do, who should be the axis', and since entering would have to be Sun Quan, I told Mr. Honda that we should change the character to be featured according to the number of stories. Did. In that way, I straddled multiple characters and tried to reach a certain point in the main story of the original. That's why it was this form that Mr. Honda arranged for easy viewing after deciding the characters to be featured for each story.

G:
It was a cut that featured the character, I see.

Hisagi:
The main visual also highlights Sun Quan, Sun Ceremony, and Lu Meng, which are featured in each episode.



G:
It may overlap with the story that the staff are common, but why is the animation production '
Arms
' notation that is no longer a company?
Studio Signpost Nozaki Producer (hereinafter Nozaki):
The animation production of the 'Ikki Tousen' series has been made by a company called Arms, and the name has changed as a company, but I am relieved to see that it is made by the 'Ikki Tousen' staff from the previous work. Just like that. Rather than changing the name of the animation production and thinking 'The staff have been completely replaced !?', it's better to understand clearly that the system is being followed.
G:
I see, it means that it is called 'Arms' in the form of a brand name. Also, is there any request from the original author, Mr. Shiozaki, or Mr. Shiozaki this time?
Hisagi:
This seems to happen every time, but basically it's up to you. I have never met Dr. Shiozaki, but when I was doing the scenario, I just asked 'What about that?' And got the answer.
G:
What was the point of doing the scenario and saying, 'I have to ask Mr. Shiozaki about this'?
Hisagi:
I remember that I had some ideas and choices about how to interpret them in a relatively small part. I tried not to be in a state that does not match the flow in the original.
Nozaki:
Well, I felt like reading the original and asking if this interpretation was correct.
Hisagi:
I remember hearing it almost every week (laughs)
Nozaki:
I was asked about the depiction of really detailed manga, 'Is this the right interpretation?' Professor Shiozaki said, 'I'll leave it to you as long as it doesn't deviate too much.'
G:
Speaking of 'Ikki Tousen', there are often scenes where clothes are torn. These days, such depictions are sometimes refrained from, but how was the treatment around that?
Hisagi:
There is an orthodox baseline as to whether TV is suitable for broadcasting ethics, and in the case of this work, I knew that it would be NG if it became a 'disconnection' as I said earlier. .. On the other hand, regarding the direction in which clothes are torn, even in 'Blood Wind Record', while putting light on the bust top, it was included in the PV, so I thought 'I wonder if it's not good.' I tried to do it like 'Ikki Tousen' except where it was NG as a base. It was like, 'It's fine to tear clothes.'
G:
As a director, where do you feel like 'Ikki Tousen'?
Hisagi:
Is it a composition that makes you lick from the buttocks and you do not know who the character is? Even though I thought, 'It's too hard, that's it!', It seems that 'Ikki Tousen' is included. And of course, so is 'breaking'. In the first episode, Sun Quan was brilliantly broken, isn't it? It's almost naked (laughs)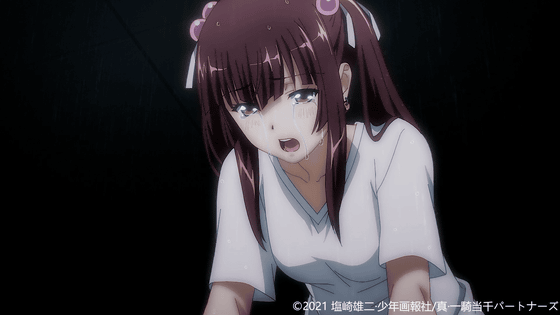 G:
(Laughs) It's a topic that is a little different from the work, but this time I saw various materials when I talked to Mr. Hisagi, but there are not many detailed interviews on the Internet, so how do you aim for the animation industry? I was wondering if it was done. What was the trigger?

Hisagi:
The trigger was the opening of ' Metal Armor Dragonar '. I wondered if it was about 3 high that I longed for Kenichi Onuki and Masami Obari and thought, 'I will also be a mechanical animation director!'

G:
How did you get to 'Dragner'?

Hisagi:
I think it was the setting picture of the new program that was published in the anime magazine. When I saw the proportions, I had the impression that it was like Bifam , but when I saw the program, it looked like a super robot, and I remember being surprised, 'Can I do this !?' It's becoming a pleasure to watch. The time when the Western movie ' Top Gun ' became popular was just around the corner, and since it was the opening of 'Top Gun', I thought 'I want to do something like this', so I did a lot of copying.

G:
I see. From there, as I longed for, I went to the animation industry.

Hisagi:
I wanted to do a video, but at first I was doing the finishing because I wanted to learn 'what is a finishing-friendly video?' After that, it became a video, but I got tenosynovitis and left the industry once, and after that, when I saw that I was looking for production at Piero, I said that I would not use my hands for production again. It's a feeling. I've been in the game industry around the time of PlayStation and Sega Saturn.

G:
Oh, it's amazing.

Hisagi:
Even when I was in the game industry, I was doing original drawings as a part-time job, and on the extension of that, I also did 'Neon Genesis Evangelion' once. It was ridiculous if I thought 'If it's a late-night robot anime, no one is watching it, so it's okay', and since it was the movie 'DEATH & REBIRTH', the names of all the staff will be credited ...

G:
Ah ... (laughs)

Hisagi:
Your name flows from left to right. I thought it was dangerous, but it was called 3 days after the release. However, since the company was already in a state of being crushed by the downfall, 'I do not say that I should not work part-time considering my livelihood, but at least I want you to change the name.' That's why I decided to use the name 'Rion Kujo'.

G:
How, such a background.

Hisagi:
Actually, this name is the name of my wife's friend, a manga artist. Mr. Hisagi, the head family, also has other names as a cartoonist and uses them properly, and if the other party asks for a storyboard, or if I get a manga job, the people around me will I was confused, so I was asking to return the name, but since then there has been no particular confusion, so I'm leaving it as it is.

G:
So, when I'm researching, I hear stories like 'I used to be a manga artist in the past.' When you hear the story, you said that you originally entered the industry from the direction of drawing and actually did it, but what made you start directing?

Hisagi:
When I met
Hayato Date
, the director of '
NARUTO
', and learned about the fun of directing, I felt like I decided to leave the mechanical animation director behind and try directing.
G:
What kind of part was 'this area is an interesting part of the production'?
Hisagi:
Basic, editing and recording, that is, dubbing. It's the point where you get involved at the moment when the film turns into something. As for the production itself, I haven't listened to the BGM of the work all the time, the song is decided by the director and the sound director, and the production confirms that SE etc. are sounding at the appropriate place. The impression when I look around and then when I fix it, 'It's not like that' may change. Suddenly ... 'It's going to get excited without permission' (laughs). In other words, it 'transforms'. It's fun to be there.
G:
Oh.
Hisagi:
As an aside, I directed the 23rd episode in '
Scryed
' directed by
Goro Taniguchi
, but when I was recording, I was half crying only once afterwards. Even though it's my job.
G:
Half cry! What happened?
Hisagi:
It's a story of 'tears,' but when I witnessed the recording work without any prior knowledge and looked through it, I realized that I was half crying. If this wasn't seen, I hid and held my eyes.
G:
How many such 'ghosts' are there?
Hisagi:
The big monsters up to this point are rare, but when you compare the beginning and the end, they are often monsters. I think it's a production that people in the field of sound also feel like they are riding, and you can see the film changing with the positive effect. If it's drawing, you can't go to the place of recording work.
G:
Do you feel that you will be involved in the other editing as well?
Hisagi:
This is what I learned from Mr. Date, but it's a 'ma play'. Previously, when I was working on a work called '
Kaze no Yojimbo
', I used to make a picture so that when the cut was switched, I would start talking from the beginning, but I changed it to talk silently for 2 seconds from the cut head. Then, when I asked Mr. Date later, 'Why did you leave it for 2 seconds?', 'This is a man's room.'
G:
Oh, it's cool ...
Hisagi:
I don't talk about anything right away, breathing varies from person to person, and if I have emotions when I breathe, it will take some time before I say the next word. I was asked to measure the space after one line by myself, and then I started thinking about the space. However, since there is a lot of volume in this 'Shin Ikki Tousen', I had the opposite idea and decided to stuff it anyway.
G:
I see.
Hisagi:
It was said that the first episode would not fit in the standard size when the scenario was completed, and even the content I asked Mr.
Sugishima
was out of the range, so I felt like pushing it in when I brought it to editing. Everyone was surprised that they had already entered. This is also a pleasure. When I'm in the field, I see this kind of thing, so it's just fun for me.
G:
Is there anything that young people aiming for the anime industry should do or know about?
Hisagi:
In my case, it was a complete match, so I didn't feel like I knew it because I was doing this kind of thing ... It depends on what part of the anime industry you are aiming for, but that's the mecha. The person who was aiming to be the director is directing and directing (laughs)
G:
(smile)
Hisagi:
However, I think it's better to know clearly what you like and what you don't like. If you hate it, you hate it, and you should understand what you hate. If you know what it is, it will be your own drawer to use it though it is a disliked expression.
G:
If you've been in the industry for a long time, you may have had a hard time switching to digital, but how did you overcome that?
Hisagi:
The turning point in that industry was when I was in another industry. What I was doing was also a contest, but because it was a game company, it was a Photoshop-based story, saying, 'When you make a video using a PC, this is OK, this is NG.' I do, but I felt like I remembered it and came back. When I came back, it was the timing when the cell was changed to digital, so I decided to get the company on track by entering as a director when the digital department was launched.
G:
Oh, the experience of going to another industry was useful.
Hisagi:
that's right. So I was comfortable moving to digital, but as a matter of fact, I had a hard time deciding how much paper to use.
G:
What was the difficulty?
Hisagi:
This time I'm the director, but since it was a style of doing the original picture and the second original picture, I thought, 'When I'm doing the original picture, I have to use a pencil.' …. I think I can't cover my work when I have all the digital equipment.
G:
Hmmmm.
Hisagi:
There was a time when the conte was digital and the original picture was a pencil. Even though I had some knowledge, it was difficult to divide because the surrounding environment was not created. The transition to digital itself is still in the middle of the animation industry, so it's a difficult place.
G:
Is the difficulty in switching from the familiar method? Or is it difficult to mix the analog parts?
Hisagi:
There are both ... The finishing and shooting were mercilessly transferred to digital, but there was a period when it was OK even if the drawing and directing did not switch immediately. I think the hardest part was finishing, shooting, and editing. When it comes to exchanging data, do you make a self-investment? Do you buy the equipment yourself or have the company buy it? In the case of finishing, I think that there were many people who did it themselves without thinking about it, but there were many opinions that the company would be ready for drawing.
G:
Looking at this work, it is a very tremendous action, and I feel that the density of the picture, or the cleanliness, has improved over the series.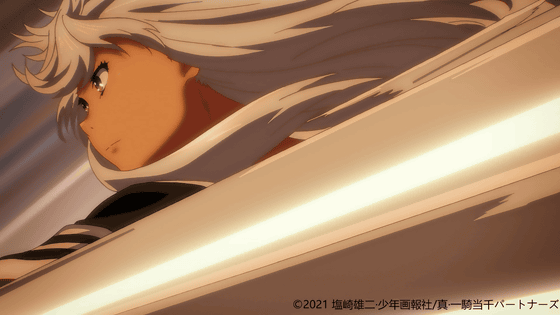 Hisagi:
Since this work is orthodox as a way of making it, I think that the cinematographer Asakawa and others have brought a screen so that what the drawing director put out can be seen, and it looks better. ..

G:
What are the points to recommend to those who are interested in a new work that bears 'true'?

Hisagi:
As a work, it is a sequel to the previous work 'Ikki Tousen Western Wolves', but I think that it can be seen from here as well by starting with a new form centered on Sun Quan. Also, after this, I will return to the main line, so I think that it will be fun for people who are waiting for the continuation of the series, so please take a look.

G:
Thank you for today.

'Shin Ikki Tousen' will be broadcast exclusively on AT-X from 20:30 on May 17, 2022 (Tuesday).

Anime 'Shin Ikki Tousen' PV / 5/17 (Tuesday) start broadcasting --YouTube

©2021塩崎雄二・少年画報社/真・一騎当千パートナーズ