Among Us server down for over 48 hours due to DDoS attack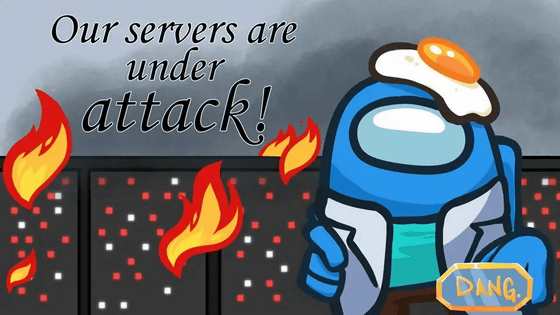 'Of Us' is a world-famous human wolf game -type action game that 'cooperates with a crew trapped in a spaceship to identify and expel an alien-parasitic inposter .' According to the developer Innersloth , servers for online games have been hit by DDoS attacks and have been unplayable for a long time in North America and Europe.

DDoS Update: Is Among Us Still Down On PC, PS5, Switch, Xbox?
https://kotaku.com/among-us-down-servers-ddos-update-innersloth-attack-sab-1848709508

From March 24th, 2022, Among Us players started reporting server glitches that eventually made it impossible to connect or play online at all. Shortly thereafter, Innersloth confirmed that the server was down and admitted that it had been hit by a DDoS attack through Among Us' official Twitter account.

we have a sabotage going on lol

???? NA and EU servers are getting DDoS'd ????

service will be offline while the team works on fixing it, but might take a bit, hang tight !!!!! sorry !!!

— Among Us ???? servers maybe ok now? (@AmongUsGame) March 25, 2022


A DDoS attack is a type of cyber attack that uses multiple devices that are used as stepping stones using malware to attack a specific server all at once. In recent years, there are many games such as Among Us that are premised on online play using a server, and there are increasing cases where DDoS attacks are launched on game servers.

More than 48 hours after the announcement of Innersloth, the server could not be restored, and it continued to be impossible to play by connecting to the official server. 'The server is still unstable and can go online or offline while you're fighting a DDoS attack,' says Innersloth.

servers are still down while we work to fix the DDoS sabotage

they may come on / off but will update u when we think they're stable, sorry !!! pic.twitter.com/vMmb74ttbJ

— Among Us ???? servers maybe ok now? (@AmongUsGame) March 26, 2022


Even though the server was hit by a DDoS attack, Among Us' official Twitter account said, 'Is it true that someone launched a DDoS attack at the end of work? I wanted to take a nap at 5 pm, but it's rude.' I couldn't believe I was working on Saturday, even though I was supposed to pick it up. ' Some people are angry about not being able to play Among Us, but most players are waiting for the server to recover with jokes, just like official accounts.

someone really had to DDoS us at the end of my work day ??? smh ???? it's 5pm i wanted to nap this is so rude

— Among Us ???? servers maybe ok now? (@AmongUsGame) March 25, 2022


Innersloth told Kotaku, a game-related news site, that 'We are working to solve the server problem, but there is no concrete progress beyond that.' When asked who was attacking, Innersloth jokingly answered, 'Maybe the criminal is angry that he was banished from the spacecraft.'