Google announces 'Android 12 L' optimized for folding smartphones and tablets


Google has announced ' Android 12L ', which is an updated version of Android 12. Android 12L has a number of features that make foldable smartphones like tablets and '
Galaxy Z Flip
' simpler and easier to use.
12L: A new look for Android's larger screens
https://blog.google/products/android/12l-larger-screens/
Android 12L will come to Samsung, Lenovo, and Microsoft devices --The Verge
https://www.theverge.com/2022/3/7/22965155/android-12l-update-release-devices-lenovo-microsoft-samsung-google
Android 12L is official as "Android 12.1," rolling out now to Pixel phones | Ars Technica
https://arstechnica.com/gadgets/2022/03/tablet-focused-android-12l-update-rolls-out-just-not-to-any-tablets/
Android 12L optimizes the display of home screen, lock screen, notification area, device setup screen, setting screen, etc. for large screen terminals. This will improve the appearance of the above screen even on large screen terminals such as tablets and foldable smartphones. For example, the most common reason to display the notification area is to check / delete the notification, but in Android 12L, the notification and quick tile are displayed in a dedicated column, so the display area of the notification and the area for swiping are displayed. Will increase.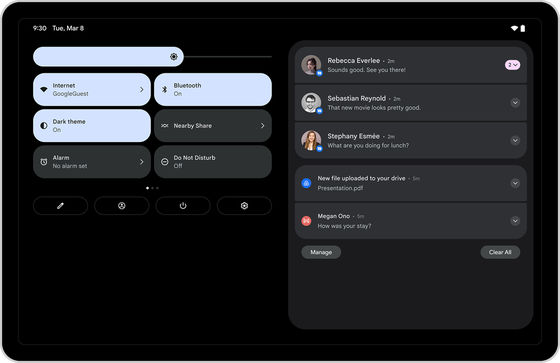 The screen when setting up the device also has a two-column layout, which allows more information to be displayed. For example, if you want to change the wallpaper, you can tap 'Wallpaper & style' from the left navigation panel and change the wallpaper or base color in the right display area.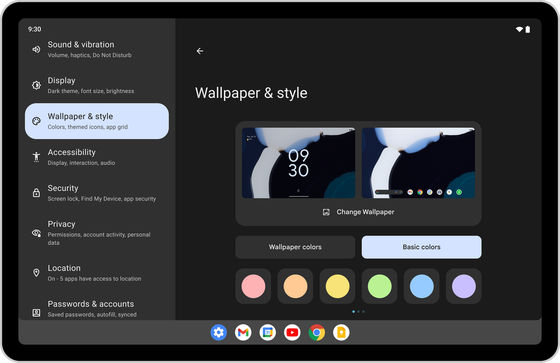 In addition, a taskbar will be displayed at the bottom of the screen to make it easier to multitask on large screen devices. You can easily switch to split screen mode at any time by dragging and dropping any app from the taskbar onto the screen, which makes it easier to use two apps at the same time.

You can see how the Android 12L taskbar actually transitions to split screen mode in the movie that plays when you click the image below.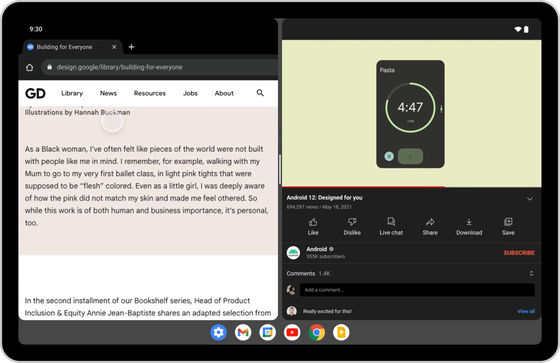 Android 12L will be released for Samsung, Lenovo and Microsoft devices in late 2022 and will be available on your favorite tablets and foldable smartphones. In addition, Google says, 'We plan to build more functions so that we can make the best use of large screen devices even on Android 13 and later.'

In addition, Google has announced the 10th edition of 'Pixel Feature Drop,' which releases new features for the Pixel series. The 10th edition of Pixel Feature Drop will only update devices from Pixel 3a to Pixel 5a (5G) .

Snap at night, type responses in calls and more from Pixel
https://blog.google/products/pixel/feature-drop-march-2022/


Hey #TeamPixel —

Your Pixel just got better—with our 10th Pixel Feature Drop *.

These updates start rolling out to Pixel 3a through Pixel 5a (5G) today. Pixel 6 and Pixel 6 Pro will get updates later this month.

Learn more on our blog: https://t.co/bUgH6CEXVY pic.twitter.com/1EmeNaDtYh

— Made By Google (@madebygoogle) March 7, 2022


The following are announced as new features.

・ Night Sight can now be used on Snapchat
・ Live Caption (automatic transcription) during a call
・ New stickers in the message app
・ More languages are available with Live Translate
・ Addition of new widget
-Direct My Call and waiting time function are now available on Pixel 3a and later devices
・ Italian / Spanish transcription is possible on Pixel 6 and Pixel 6 Pro by using the recorder app.
· Pixel 6 and Pixel 6 Pro now available in Spanish, Italian and French with Google Assistant quick phrases