Steam's mobile gaming PC 'Steam Deck' overseas review summary, hardware is popular, but 'Don't buy yet' is one after another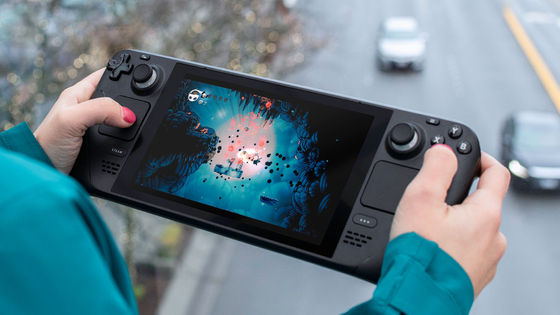 The official portable gaming PC ' Steam Deck ' of the world's largest game distribution platform '
Steam
' was released on February 25, 2022. This machine was released as a 'portable gaming PC sent by Steam' with a lot of noise, but overseas IT news sites have been saying 'Don't buy it yet' one after another.
Steam Deck review: it's not ready --The Verge
https://www.theverge.com/22950371/valve-steam-deck-review
Steam Deck: The comprehensive Ars Technica review | Ars Technica
https://arstechnica.com/gaming/2022/02/steam-deck-the-comprehensive-ars-technica-review/
Steam Deck review: A strong start to an exciting new hardware category for game devs
https://www.gamedeveloper.com/business/steam-deck-review-a-strong-start-to-an-exciting-new-hardware-category-for-game-devs
Steam Deck Review: Valve's Handheld Has Big PC Energy | Tom's Hardware
https://www.tomshardware.com/reviews/steam-deck-valve-gaming-handheld
Steam Deck is a portable gaming PC released by Valve, which operates Steam, on February 25, 2022. In addition to the specifications that it works comfortably even with the latest AAA titles, portability that operates standalone, comfort provided by joysticks and track pads designed for long-term play, USB Type-C terminal, Wi-Fi & Bluetooth Valve is said to be 'the most powerful and full-featured portable gaming PC in the world' because it has expandability that can be used like a PC for connection and monitor output.
Steam Deck
https://www.steamdeck.com/ja/

However, the overseas media that reviewed the actual machine have been saying 'Don't buy yet' to Steam Deck one after another. The reason is that Steam Deck is a very high standard in terms of hardware, but there is a problem that the implementation on the software side has not caught up.
Looking at the specifications of Steam Deck, the display adopts a diagonal 7-inch IPS liquid crystal panel with a resolution of 1280 x 800 pixels, a compatible refresh rate of 60 Hz and a maximum brightness of 400
nits
. The CPU is AMD Zen 2 with 4 cores and 8 threads, and the GPU is RDNA 2 with 8 cores. RAM is 16GB LPDDR5, storage is 64GB eMMC / 256GB NVMe SSD / 512GB NVMe SSD selectable. It has a 40Wh battery and is equipped with a DisplayPort USB Type-C and UHS-I microSD reader that supports USB 3.2 Gen 2. And with 3.5mm headphone jack as audio, dual array microphone and stereo with built-in DSP, it supports dual band wireless Wi-Fi 5 and Bluetooth 5.0, but weighs only 669g.
The Steam Deck is priced at $ 399 for the 64GB storage model, and The Verge describes it as 'powerful and high-quality hardware at an exceptional price.' Ars Technica praises not only the specs but also the comfort of the cross key, joystick, and various buttons, 'the best trackpad ever', 'a joystick comparable to the
Xbox Elite controller
in terms of movement, tension, and sensitivity', 'all fingers' 'It's a perfect fit,' 'It's heavier than the Nintendo Switch, but it doesn't bother me because it's well-balanced.' 'It's a beautiful game console with excellent specs and robustness.' Tom's Hardware has also received very high praise in terms of hardware, saying that 'everything except the side seams is of high quality' and 'I especially liked the feeling of operation.'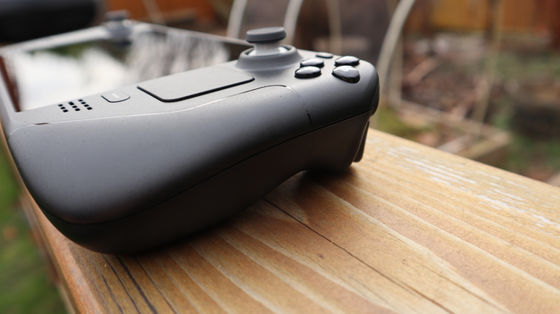 Still, each media has concluded that 'don't buy yet' because of the software side. At the pre-launch review stage, errors, bugs, crashes, black screens, UI bugs, and
regressions
occurred frequently, and on the eve of the release, even fixes were made to modify the entire function. Regarding a series of problems, The Verge said, 'I don't know how many times I restarted or reconnected due to a problem with Bluetooth, Wi-Fi, or SD card.' He even reported that the entire library disappeared. '' When I restarted during the freeze, the SD card was damaged and could not be used. '' There was a game that could not be played without online connection due to DRM. ' Ars Technica also reported about the same symptoms, 'The whole system crashed when I tried to enter desktop mode' '
Grand Theft Auto V
is displayed as playable, but when I actually start it, it is 6 consecutive times
Crashed
. It started the 7th time, but crashed 4 times when the setting change was completed. ' Is frequent and killed by monsters during the freeze. '' Rather, it was always painful during the trial. ' Tom's Hardware also reports similar issues as 'Halo Infinite doesn't start at all' and '
Cyberpunk 2077
starts but often gives errors'.
In addition, it seems that the display connection is inferior to the Nintendo Switch in terms of smoothness, Game Developer said, 'Although Valve promises improvement, the function as a stationary machine is one step lower than the function as a portable device. 'I wish I could play Cyberpunk 2077 on a large-screen OLED display ... maybe not,' he said.
According to Valve, a series of bugs are being fixed sequentially due to problems on the Steam OS side. There are some bugs that have actually been fixed, so we can expect it in the future, but at the time of release, there are still bugs, so each media reports that 'don't buy yet.' Ars Technica even says, 'If you buy it early, you'll feel like a beta tester.'
As for other ara, Ars technica said 'The display has a light color reproduction and the light bleeding is noticeable', Tom's Hardware 'The optimization for Windows is still sweet', The Verge 'The battery is 2 hours at the best performance' I only have it. It's normal to have only 2 hours, but I'm worried about a year or two after the battery deteriorates. ' In addition, the operation noise of the fan is also noisy, and The Verge said, 'It is noisy although I know that the fan is doing its job in that the main body does not get hot.'