The central bank has stopped withdrawing and remittances of cash because it is popular because it can protect personal property even if the virtual currency 'Tether' becomes a refugee in Ukraine.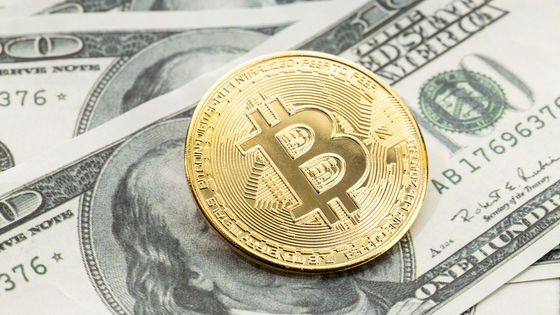 In Ukraine, where the Russian army, which started invading on February 24, 2022, is approaching the capital Kiev and is in the midst of a war, the existing financial system such as bank ATMs can be used even if the existing financial system is squeezed, and the price is stable. It is reported that the currency ' Tether ' has gained popularity and is temporarily trading at a price that is 10% higher than the US dollar.

How Ukrainians are fundraising in cryptocurrency --The Verge
https://www.theverge.com/2022/2/26/22952357/ukraine-bitcoin-ethereum-donation-vitalik-buterin

Ukranian bank suspends e-cash transfers, bolstering crypto use case
https://www.cnbc.com/2022/02/24/ukranian-bank-suspends-e-cash-transfers-bolstering-crypto-use-case.html

On February 24, Ukrainian President Volodymyr Zelensky issued a national state of emergency on the grounds that a Russian attack had begun. In response, the National Bank of Ukraine, the central bank of Ukraine, announced on the same day that it would limit cash withdrawals, suspend the foreign exchange market, and temporarily restrict the issuance and distribution of electronic money. It is believed that this is intended to freeze the assets of fiat currencies deposited in PayPal, Venmo, etc. and curb financial turmoil during the war.

Refugees evacuated from Ukraine have also said that they have lost access to the deposits left in the country. A Twitter user who is a Ukrainian photographer said, 'Ukrainian credit cards can no longer be used. It's physically safe because I'm in Kazakhstan, but all my deposits are gone. The only money left for me is Since there are only virtual currencies, Bitcoin, Ethereum and Non-substitutable Tokens (NFTs) are the ones that will save my life before I can go home without exaggeration. '

My Ukrainian credit cards don't work anymore. I'm safe physically in Kazakhstan, but all my savings are gone.

Crypto is the only money I still have, and today I can say without exaggeration that $ BTC , $ ETH , and #NFT are going to save my life while I can't come back home.

— ARTYOM FΞDOSOV ???????? (@usleepwalker) February 25, 2022


Ukrainian people are reportedly beginning to look at cryptocurrencies as Ukrainian money is no longer available and Russian troops are besieging the whole of Ukraine. In particular, at Kuna, a popular cryptocurrency exchange in Ukraine, tether, which is a stable coin pegged with the US dollar, is popular.

In Ukraine, where there is a strong distrust of the government and financial authorities due to corruption, not only the Ukrainian hryvnia , which is the home currency, but also the dollar has been in circulation for some time. Ukraine is also known as a technology nation with more than 200,000 IT engineers, and many Ukrainians are familiar with cryptocurrencies. Against this background, the demand for tethers increased sharply in Ukraine, and the price of one tether (USTD) rose to about 32 hryvnia, which was temporarily traded at about $ 1.1 in dollars.

The international crypto community responds to the crisis in Ukraine with a message in favor of Ukraine. Russian-Canada Vitalik Buterin, the creator of Ethereum, said on February 24, 'President Putin's decision to abandon the possibility of peacefully resolving the conflict with Ukraine and start a war instead. I am very resentful. This is a crime against the people of Ukraine and Russia. I cannot help praying for the peace of the people, knowing that it is not peaceful. Glory to Ukraine. '

Очень расстроен решением Путина отказаться от возможности мирного решения спора с Украиной и вместо этого начать войну. Это преступление против украинского и русского народа.

Хочу желать всем безопасности, хотя знаю, что не какой безопасности не будет.

Слава Украине.

— Vitalik.eth (@VitalikButerin) February 24, 2022


In addition, Russian performance art group ' Pussy Riot ' announced on February 25 that it has launched 'Ukraine DAO', a Ukrainian support fund using blockchain technology.

welcome to @Ukraine_DAO .

our goal is to raise funds to donate to Ukranian civilian organizations who help those suffering from the war that Putin started in Ukraine.

we'll be buying an NFT of Ukrainian flag.

much support and love to Ukraine ???????????? @TrippyLabs @PleasrDAO pic.twitter.com/cxVS7OiP2K

— ???????????????????? ???????????????????? (@pussyrrriot) February 24, 2022


In addition, CEO Sam Bankman-Fried of crypto exchange FTX said in a tweet on the 25th, 'I just distributed $ 25 (about 2800 yen) to Ukrainians at FTX. Let's do what we should do.' Announced.

we just gave $ 25 to each Ukrainian on FTX

do what you gotta do do what you gotta do

— SBF (@SBF_FTX) February 24, 2022