The crispy texture of walnuts and the refreshing acidity of strawberries accentuate the sweetness of chocolate.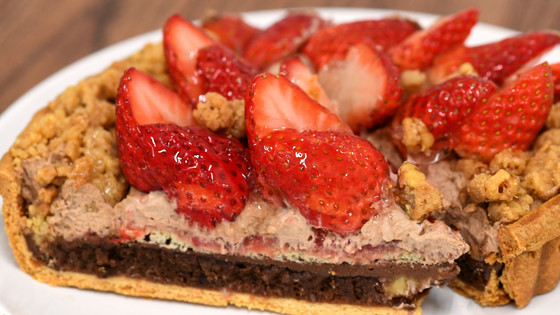 A limited-time tart ' ' Red Hoppe 'and walnut crumble tart-chocolate flavor- ' has appeared in the tart specialty store Qu'il fait bon from February 1st to February 14th, 2022. Slowly baked cocoa-flavored almond cream, homemade strawberry jam using
red hoppe
and chocolate cream are layered, and it is said that it is a tart decorated with red hoppe and walnut
crumble
, so it is actually a tart prior to Valentine's Day. I tried it.
[New] Shizuoka Prefecture 'Red Hoppe' and walnut crumble tart ~ chocolate flavor ~ | Grand Front Osaka store | Menu | Special tart and cake shop. Qu'il faitbon
https://www.quil-fait-bon.com/menu/detail.php?tsp=19&tmn=1597


I bought a 25cm hole of 'red cheeks' and walnut crumble tart ~ chocolate flavor ~.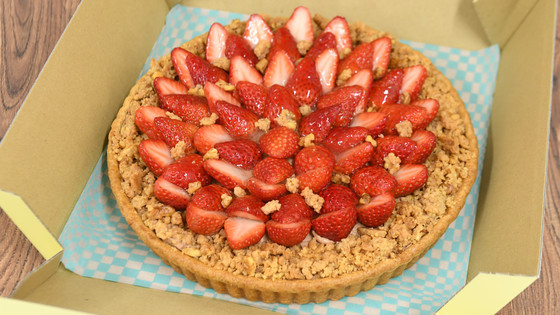 Strawberries are coated with syrup. Walnut crumble is spread in the gap.



I cut one piece with a knife.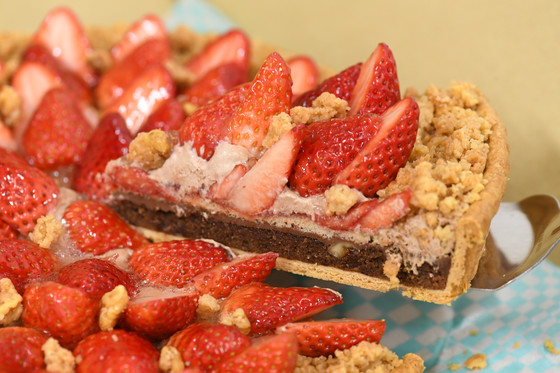 Looking at the cross section, underneath the strawberries is chocolate cream and strawberry jam, and underneath is a layer of chocolate brownies. If you look closely, walnuts are kneaded into the brownie.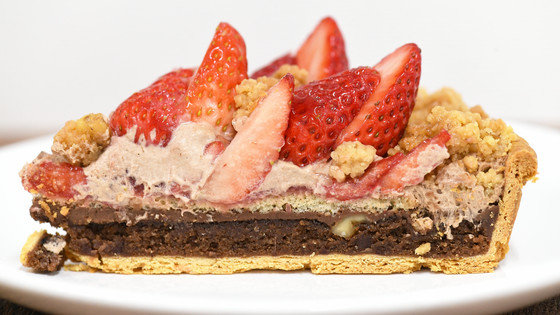 When I tried it, the sweet and sour taste of strawberries spread in my mouth. Red cheeks have a stronger refreshing acidity than sweetness, and the sweetness of chocolate cream stands out in it. The crunchy texture of the walnut crumble was more pleasant than the tart dough, and the aroma of the walnut was felt after the acidity had subsided. And there is also the scent of cardamom kneaded into walnut crumble. The editorial staff who tasted it highly evaluated that 'the balance of texture and taste is quite high', but there are also people who said 'I'm glad that the scent of cardamom was fluffy at the end' where the tastes are divided. There was also a comment saying, 'The scent of cardamom that I felt when I ate the first bite was unexpected, and I might choose a person because it is too changing.'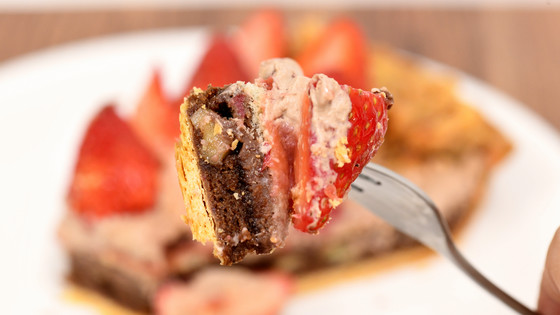 'Red cheeks' and walnut crumble tart ~ chocolate flavor ~ is served from February 1st to February 14th. The main unit price is 770 yen for one piece, 7700 yen for the 25 cm hole, and 3600 yen for the 17 cm hole, excluding tax.