I tried Matsuya 'Yaki Kimchi Beef Rice' where rich kimchi and rich takkarubidare bring out the taste of meat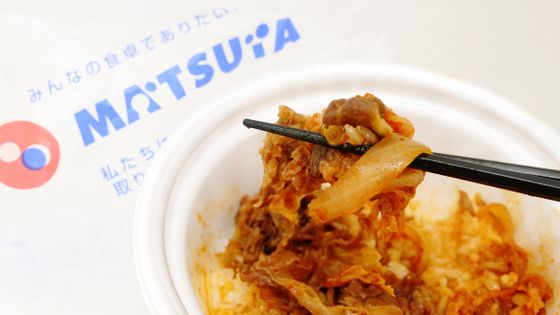 Matsuya's 'Yaki Kimchi Beef Rice ', which brings out the flavor of rich kimchi and gochujang-based takkarubidare, is available for a limited time from January 18, 2022 (Tuesday).
It is a dish that adds kimchi to the limited menu 'Grilled beef rice
' that is deeply popular and often reprinted, so I tried to see what kind of taste it was finished.
The protagonist of this time is 'Matsuya's exquisite kimchi', 'Kimchi beef pot' and 'Sukiyaki kimchi beef rice' newly released | Matsuya Foods
https://www.matsuyafoods.co.jp/matsuya/news_lp/220111.html
Arrived at Matsuya.


There is a poster on the shop front that promotes 'Sukiyaki beef rice' and '
Kimchi beef pot' that appeared on January 11th.


This time, I brought back 'Grilled Kimchi Beef Rice' (normal: 480 yen including tax) with 'Toro-ri Raw Egg' (70 yen including tax) topping. In addition, miso soup is included when eating and drinking in the store, but miso soup is not included when taking out.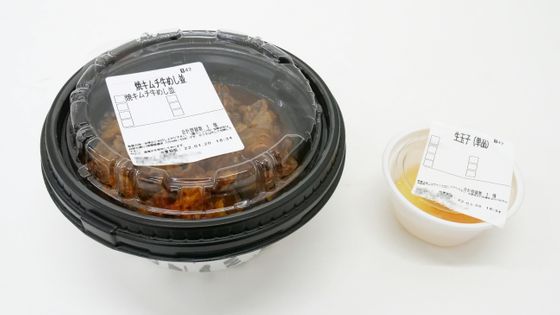 The upper part of the container is divided into ingredients and the lower part is divided into rice.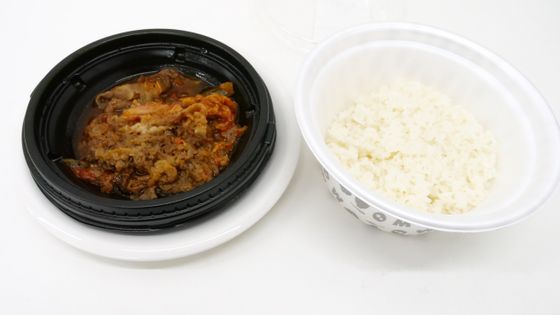 Put the ingredients on the rice and you're done.



When you eat it immediately, the spicy aroma of kimchi and the umami of the meat spread in your mouth, and the spicy takkarubidare and garlic flavors also stimulate your appetite. Before I ate it, I thought, 'Isn't there a little bit of ingredients for the amount of rice?', But the taste is so strong overall that I think that when I start eating, I'm rather short of rice.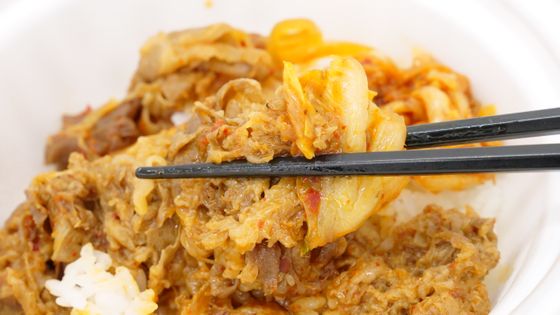 Also, drop the raw egg topping ...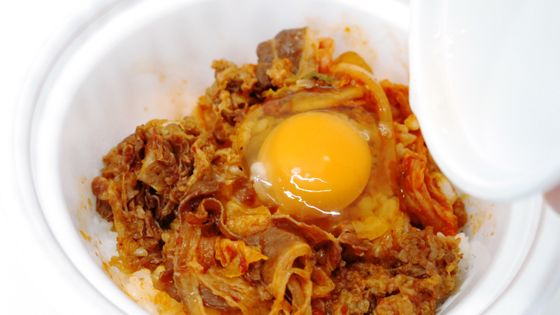 When it was broken and entwined with the whole, the spiciness of kimchi and takkarubidare was wrapped in the mellow sweetness of the egg, and the impression of the taste changed.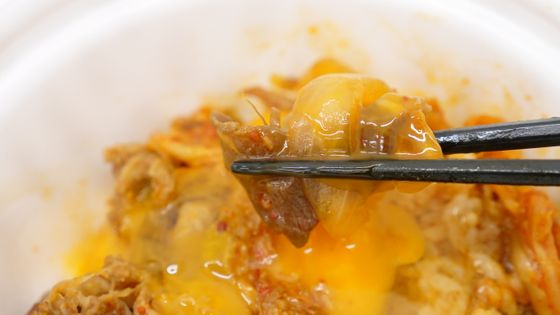 'Yaki Kimchi Beef Rice' can be ordered at Matsuya nationwide except for some stores for a limited time from January 18, 2022 (Tuesday). The price is 480 yen for regular serving and 630 yen for large serving, and miso soup is included free of charge for in-store eating and drinking.