The ad blocking browser 'Brave' has surpassed 50 million monthly users, doubling the number of users for the fourth consecutive year.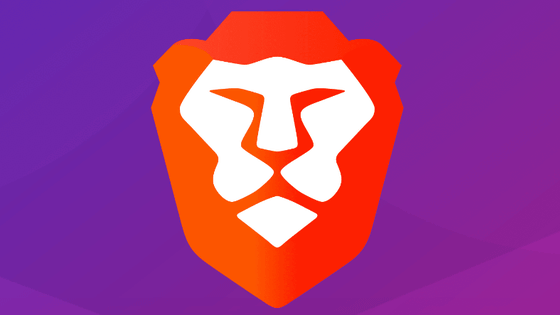 On January 5, 2022, Brave,
a privacy-focused browser equipped with an ad blocking function as standard, announced that the number of monthly active users exceeded 50 million.
Brave Passes 50 Million Monthly Active Users, Growing 2x for the Fifth Year in a Row | Brave Browser
https://brave.com/2021-recap/
According to Brave's announcement, the number of monthly active users at the end of December 2021 was about 50 million, doubling from 24 million at the end of the same month of the previous year. In addition, the number of daily active users, which is the number of users per day, reached a record high of 15.5 million.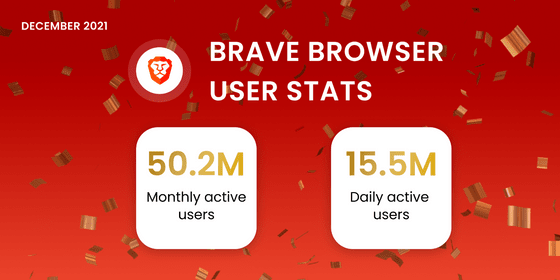 This is the fourth consecutive year that Brave users have more than doubled from the previous year.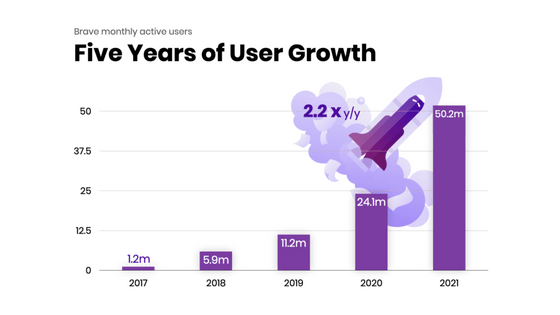 Brave is showing significant growth not only in user numbers, but also in other metrics. For example, Brave released its own search engine in June 2021, with search queries reaching 190 million monthly in just half a year, reaching an annual rate of 2.3 billion.

Brave is also building an ' ecosystem where users can select and view ads themselves instead of ads that invade privacy and receive their own virtual currency (Basic Attention Token: BAT) in return.' Advertising platform has quadrupled revenue over the past year. The number of users who receive BAT with Brave Rewards has exceeded 8 million, and the number of creators who distribute content with Brave Rewards has reached 1.3 million, an increase of 30% from the previous year.

Brave CEO and co-founder Brendan Eich said, 'The breakthrough of 50 million monthly active users is a huge milestone for Brave and the strength of the quest for alternatives to the surveillance economy. We aim to double the growth in 2022 by paying instead of tracking users, helping creators directly, and engaging with users who want a privacy-focused Internet. I would like to deepen it further. '