Some specs of the world's first stand-alone VR headset with Linux 'Simula One' will be released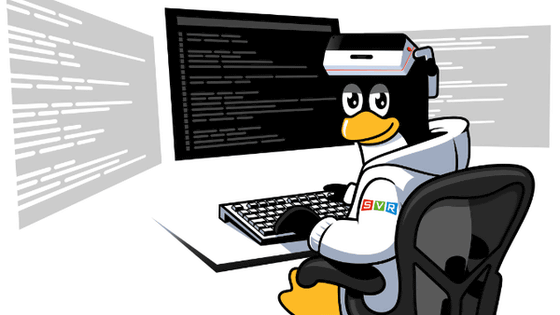 American startup Simula VR announced
the world's first Linux-based standalone VR headset '
Simula One
' on December 11, 2021. The Simula One will be available on Kickstarter in January 2022, but no detailed specs have been disclosed so far. However, some of the specifications of Simula One have finally been released in comparison with other competing models.
VR Comparison: Simula One vs. Valve Index vs. Quest 2 --SimulaVR
https://simulavr.com/blog/vr-comparison/
Technical overview of Simula's VR Computer --SimulaVR
https://simulavr.com/blog/technical-overview/
The Simula One looks like this.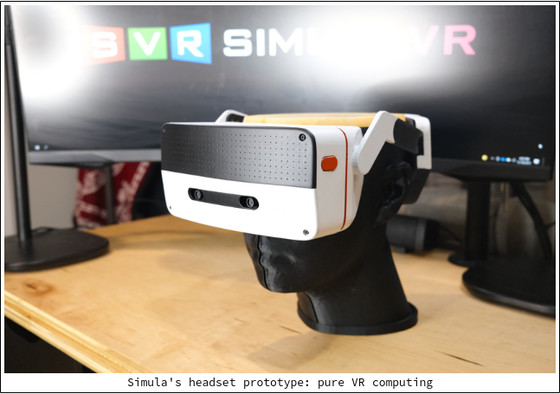 The OS 'Simula' installed in Simula One is a Linux distribution developed for VR devices, and it is characterized by being able to execute Linux applications as they are on VR. You can understand what kind of OS Simula is by reading the following article.

Open source software 'Simula' that can display and work on the Linux desktop in VR space --GIGAZINE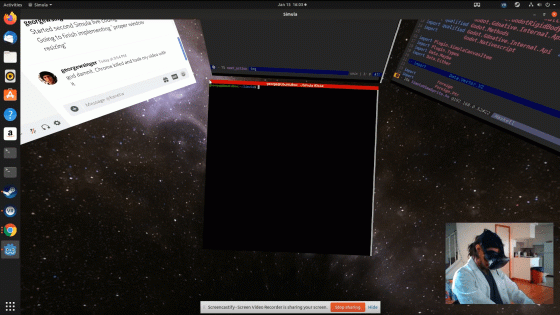 Simula One is a VR device equipped with this Simula, and although it is in the prototype stage at the time of article creation, some of the specifications are released in comparison with Valve Index and Oculus Quest 2 as shown in the table below.


Valve Index
Oculus Quest 2
Simula One
Manufacturer
Valve
Meta
SimulaVR
Terminal
PC connection type VR
Standalone VR
Standalone VR
platform
SteamVR
Oculus Home
Steam VR
Linux
weight
809g
(Including head strap)
503g
(Including head strap)
to be decided
lens
Dual element fresnel lens
Fresnel lens
Triple element non-Fresnel lens
screen
liquid crystal
liquid crystal
liquid crystal
Subpixel layout
Striped RGB
Striped RGB
Striped RGB
resolution
One eye 1440 x 1660 pixels
One eye 1832 x 1920 pixels
One eye 2448 x 2448 pixels
Resolution per degree of viewing angle
11.07
20.58
35.5
Refresh rate
144Hz
120Hz
90Hz
Adjustment range of interpupillary distance
58 ~ 70mm hardware adjustment
58-68 mm hardware adjustment
55-77mm hardware adjustment
Pass through
960 x 960 pixel pass-through
Grayscale pass-through with tracking camera
Full color pass-through with high-resolution wide-angle camera
colour
black
White & black & orange
White
Degree of freedom
6DoF
6DoF
6DoF
Eye tracking
none
none
to be decided
Face tracking
none
none
none
Hand tracking
none
can be
to be decided
Body tracking
none
none
none
Built-in speaker
can be
can be
none
Built-in microphone
can be
can be
none
3.5mm audio terminal
can be
can be
can be
port
USB (3.0) Type-A x 1
USB Type-C x 1
USB4 / Thunderbolt 4 x 1,
USB Type-C (USB3.2 Gen 2) x 3-4
Video connection
DisplayPort 1.2
Oculus Link (via USB Type-C)
DisplayPort 1.4a
Wireless support
none
Wi-Fi 6
Wi-Fi 6
Chipset
Qualcomm Snapdragon XR2
-
CPU
none

Octa-core Kryo 585

Intel Core i7-1165G7
GPU
none
Adreno 650
Iris Xe graphics
memory
none
6GB
16GB
storage
none
128GB / 256GB
1TB NVMe M.2 SSD
SD card slot
none
none
to be decided
Battery capacity
none
3640mAh
to be decided
Continuous use time
none
About 3 hours
to be decided
charging time
none
About 2 hours and 30 minutes
to be decided
Announcement date
April 29, 2019
September 15, 2020
December 14, 2021
Release date
April 30, 2019
October 12, 2020
Scheduled for January 2022
price
VR kit: 138,380 yen Headset + controller: 104,280 yen
128GB model: 37,180 yen
256GB model: 49,280 yen
to be decided
The prototype of Simula One is based on Intel's
11th generation NUC
, and the CPU is equipped with Intel Core i7-1165G7 with 4 cores and 8 threads. There is also a DisplayPort slot for connecting to an external monitor. In addition, Simula VR has a good possibility of switching to the 12th generation NUC after considering issues such as battery life.
Three lenses are stacked and the viewing angle is 100 degrees with a single eye. According to SimulaVR, Simula One also supports pass-through, which allows you to see the surrounding landscape while wearing it, and uses two high-resolution wide-angle cameras on the front to provide high-quality, full-color pass-through. It is said that AR mode will be feasible. In addition, since it has a built-in hand tracking input device 'ultralaep' developed by the manufacturer of
Leap Motion, it is possible to apply the movement of the hand as it is to input.
Furthermore, motion tracking is theoretically possible by using an external sensor. However, due to power and cost issues, it is unclear if it will be implemented at the time of writing the article.