Quietly finished 21 years after the appearance of Google Toolbar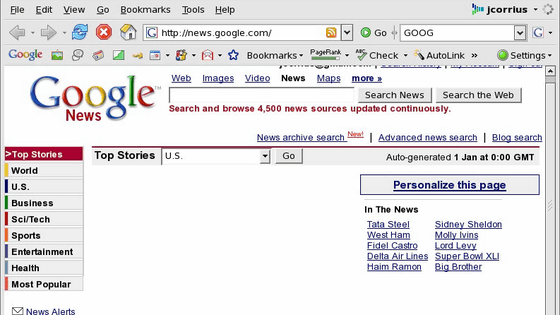 by
Jesús Corrius
It turns out that the 'Google Toolbar', which can extend the UI of the web browser to add fields for Google search and call other functions, has quietly ended 21 years after its appearance in 2000. I did.
Install Google Toolbar-Toolbar Help
https://support.google.com/toolbar/answer/81376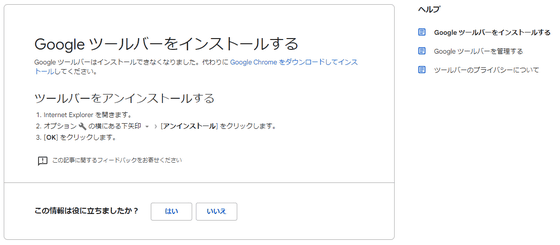 Take one last look at Google Toolbar, which is now dead | Ars Technica

https://arstechnica.com/gadgets/2021/12/happy-21st-birthday-to-google-toolbar-which-inexplicably-still-exists/
'Google Toolbar' is a web browser extension tool that was born on December 13, 2000. As of 2021, Google Chrome is in the top position with a big difference to the second place and below, but in 2000, when it comes to web browsers, the share of Internet Explorer, which is installed as standard in Windows, is overwhelming. At the target, other browsers were fighting for how to steal share from IE.
The 'Google Toolbar' was just that. Once installed, it appeared at the top of the Internet Explorer screen and at the bottom of the address bar, displaying fields for Google search and buttons to access various tools. The reason why adding a search field was useful is that the address bar up to Internet Explorer 5 is for entering and displaying the address of the website as its name suggests, and it does not have a search function like modern web browsers. It's because of it.
The following is a guide image that was used until the end, but it is a page that has not been actively updated
because the Google logo remains old and the link to Google+ that ended in April 2019 remains.
You can see that.


At the time of writing the article, the Google Toolbar will no longer have a link to the page to download and will prompt you to install Google Chrome.

According to Ars Technica, a news site that claims to be the last hands-on before the end of the Google Toolbar, as of early December 2021, by launching Internet Explorer 10 on Windows 10, the Google Toolbar It was possible to install. However, at the end, it seems that nothing worked except search and login.

Microsoft's support for Internet Explorer is scheduled to end on June 15, 2022.


Microsoft finally ends support for Internet Explorer-GIGAZINE