Eight Chinese Quantum Computing Companies Added to US Export Blacklist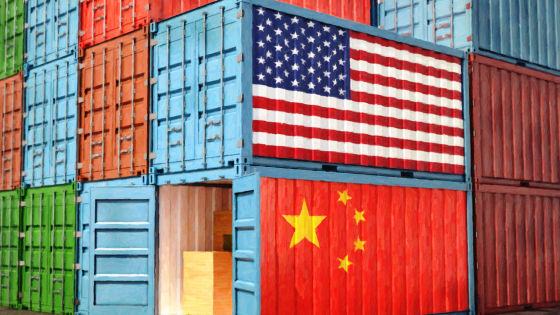 A new quantum computing-related Chinese company has been added to the 'Entity List ' that restricts the export and transfer of technology from the United States to foreign countries. This is a judgment concerned about the possibility that the technical information of the United States will be used by China and the encryption will be broken.

Commerce Lists Entities Involved in the Support of PRC Military Quantum Computing Applications, Pakistani Nuclear and Missile Proliferation, and Russia's Military | US Department of Commerce
https://www.commerce.gov/news/press-releases/2021/11/commerce-lists-entities-involved-support-prc-military-quantum-computing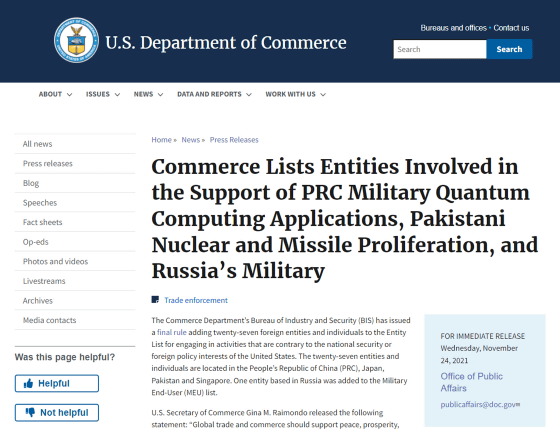 US blacklists Chinese quantum computing companies | Financial Times
https://www.ft.com/content/f1a4f2da-fe08-4c24-80cb-eb6fbc759f35

The Bureau of Industry and Security (BIS) of the United States Bureau of Industry and Security's trade restriction list 'entity list' is said to be a de facto export blacklist. Under the Trump administration, it became a hot topic to put smartphone makers Huawei and Xiaomi on the entity list, and after moving to the Byden administration, seven companies and organizations related to China's supercomputer development have 'national security concerns. It was added to the blacklist as 'Yes'.

US blacklists seven Chinese supercomputer-related entities as 'national security concerns'-GIGAZINE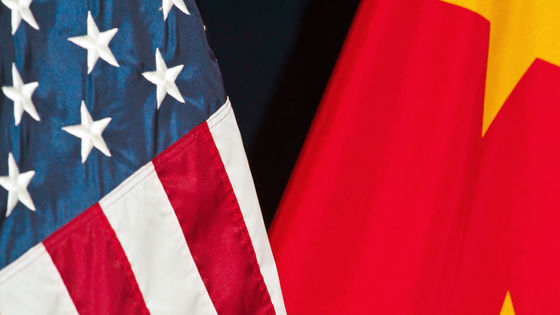 As of November 24, 2021, 27 companies in China, Japan, Pakistan, Singapore, etc. have been announced to be newly added to the entity list. Eight of them are aiming to block access to advanced quantum-related technologies. Regarding the addition of these eight companies, BIS said that emerging US technology will be used for military application development in China, US encryption will be broken, and conversely, unbreakable encryption technology will be developed. I explained that the purpose is to prevent it.

In addition, 16 organizations and individuals operating in China and Pakistan have been added to the list because of their involvement in nuclear activities and ballistic missile programs in Pakistan.

Japanese companies have also been added to the list, but this is an affiliated company of Corad Technology that was added to the list in 2019. These affiliates were newly added by selling US and European technology to Iran's military and space programs, North Korean dummy companies, and subordinate organizations of the Chinese government and defense industry.

In addition to the above, BIS has added Russia's Moscow Physical Technology Institute to the 'Military End User List (MEU List)' based on the production of military products for military end users.

Regarding this list addition, former CIA employee Martijn Rasser said, 'This is a very wise move, but it also makes us think about the scale and scope of China's attempt to develop technology aimed at security erosion in the United States. '.

in Note, Posted by logq_fa