US blacklists seven Chinese supercomputer-related entities as 'national security concerns'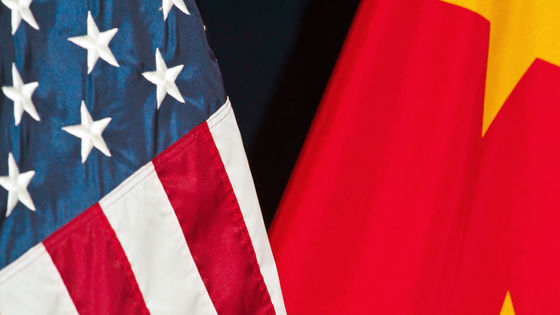 by
US Department of Agriculture
In recent years, the trade war
between the United States and China has become fierce, and the US government has
blacklisted China's largest semiconductor foundry, SMIC,
and drone's largest
DJI
, and has taken bans. On April 8, 2021, the
United States Department of Commerce
was found to have added seven new companies and organizations related to China's supercomputer development to the blacklist as 'national security concerns.'
Commerce Adds Seven Chinese Supercomputing Entities to Entity List for their Support to China's Military Modernization, and Other Destabilizing Efforts | US Department of Commerce
https://www.commerce.gov/news/press-releases/2021/04/commerce-adds-seven-chinese-supercomputing-entities-entity-list-their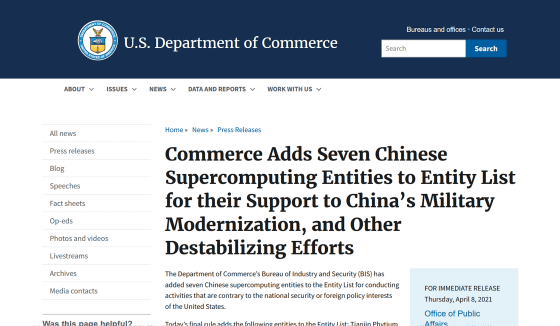 US blacklists 7 Chinese supercomputing entities
https://www.cnbc.com/2021/04/08/us-blacklists-7-chinese-supercomputing-entities.html
US Blacklists Two Major Chinese CPU Developers | Tom's Hardware
https://www.tomshardware.com/news/us-doc-blacklists-two-cpu-developers-supercomputer-centers-from-china
Under former US President Donald Trump,
many Chinese companies, including Huawei
and
Xiaomi
, have been blacklisted, with US government agencies and carriers buying products from these companies, and US companies buying parts from them. It was forbidden to export. It was also pointed out that the blacklist could be lifted after Mr. Trump moved to President Joe Biden, but the Commerce Department added seven new Chinese entities to the blacklist on April 9. Was announced.
Tianjin Phytium Information Technology, Shanghai High-Performance Integrated Circuit Design Center, Sunway Microelectronics, the National Supercomputing Center Jinan, and the National Supercomputing Center have been added to the US economic blacklist because of 'national security concerns'. Shenzhen ・ the National Supercomputing Center Wuxi ・ the National Supercomputing Center Zhengzhou.
Both companies are companies and organizations involved in supercomputer development, and the Ministry of Commerce was involved in 'military modernization efforts to destabilize Chinese military personnel and the construction of supercomputers to be used in mass destruction weapons programs. '. U.S. officials have long accused Chinese companies of collecting personal information on behalf of the military and taking part in espionage with the support of the Chinese government. He said he was wary of the relationship.
Regarding this announcement, Secretary of Commerce Gina Raimondo said, 'Supercomputing functions are essential for the development of almost all modern weapons such as nuclear weapons and supersonic weapons and national security systems. China is in these unstable military modern times. The Ministry of Commerce will make the most of its authority to prevent the use of American technology to support its efforts. '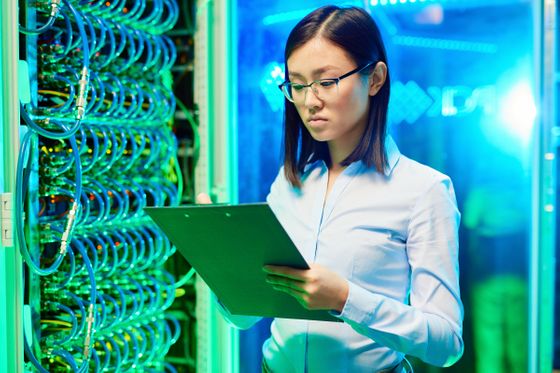 Following this blacklist, rules for exporting products to targeted entities by American companies will come into effect immediately. However, this rule does not apply to products that have already been shipped from an American supplier and are in transit.

At the time of writing the article, the Chinese Embassy in Washington, DC did not respond to requests for comment from the US news broadcaster CNBC.


in Note, Posted by log1h_ik