Announcement of next-generation Apple Silicon 'M1 Pro & M1 Max' that evolves Mac into a high-performance terminal for professionals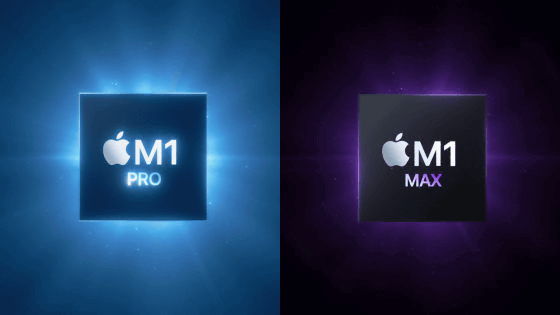 Apple has announced the M1 Pro and M1 Max, the proprietary silicon to bring the MacBook Pro for professional use to the next generation of performance.

Apple Events-Apple (Japan)
https://www.apple.com/jp/apple-events/

Apple Event — October 18 --YouTube


Apple's first proprietary silicon, the M1 chip, which received a storm of praise from the media, is the perfect chip for the word breakthrough.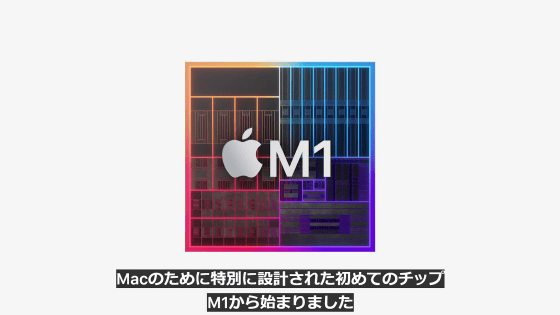 By balancing amazing performance with exceptional battery life ...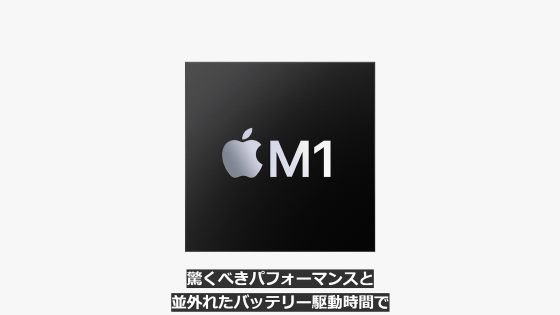 It changed the Mac completely.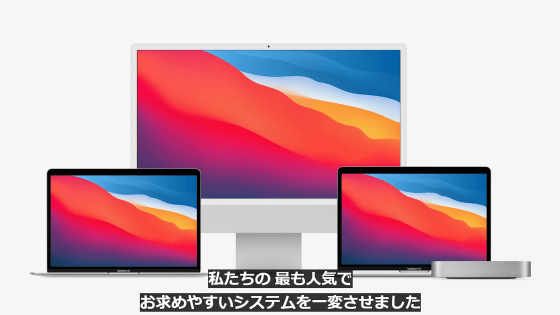 With the advent of the M1 chip, the Mac has swept the PC market. And today, CEO Tim Cook announces the new Apple Silicon.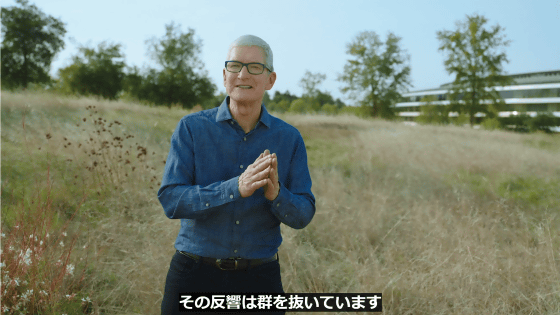 Apple sells the MacBook Pro, which has long been loved by professional users.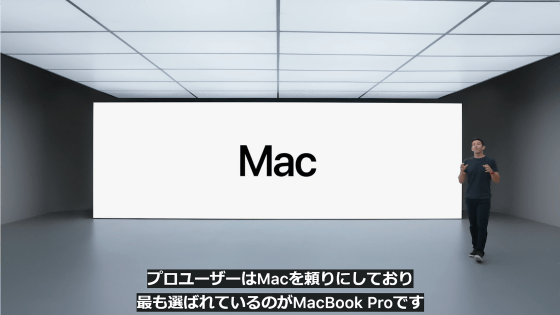 Professional users can develop applications ...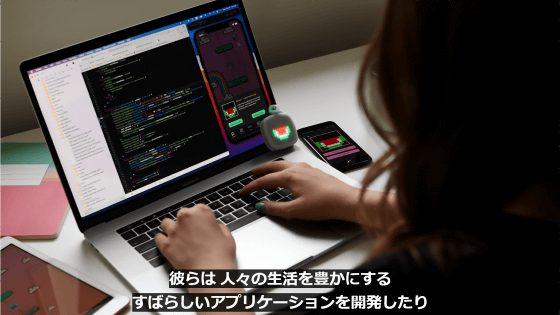 I use a MacBook Pro for video production.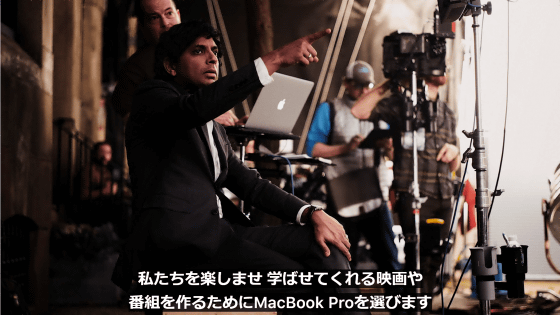 We will evolve such a MacBook Pro into a more powerful terminal.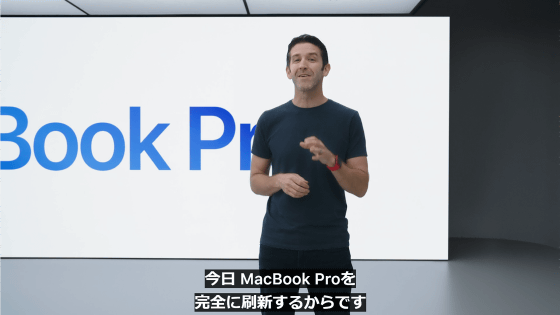 That's why Apple Silicon's first professional chip, newly designed for the new MacBook Pro, is here.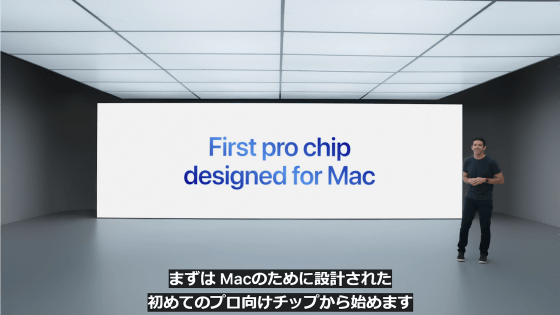 'The first professional chip designed for the Mac'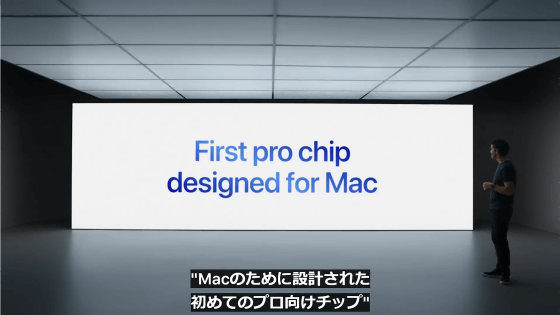 That is the 'M1 Pro'.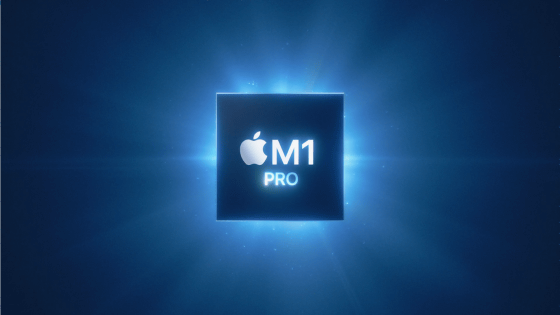 A chip bearing the same 'M1' name as the M1 chip announced by Apple in 2020.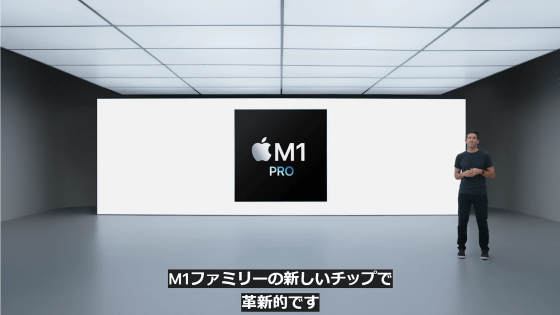 The reason Apple moved from Intel processors to its own Apple Silicon is to bring amazing performance, custom technology, and power efficiency to the Mac.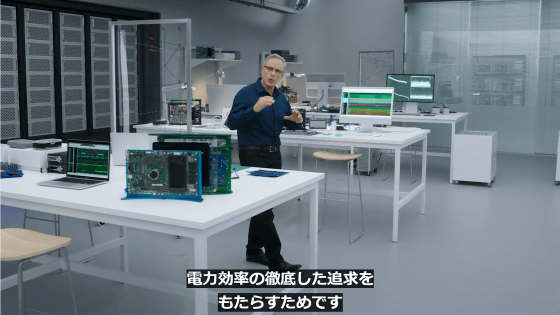 With the M1 chip, we succeeded in achieving exactly that, and we succeeded in receiving praise from many users.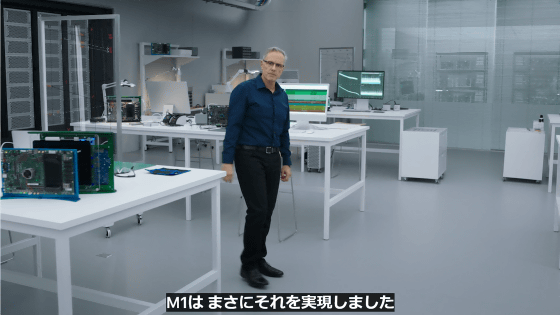 However, professional users need more than an M1 chip.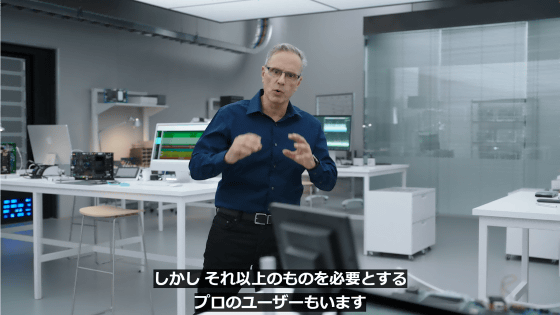 The M1 Pro was created for such professional users.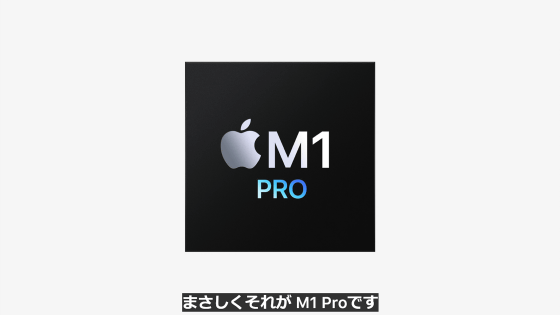 Traditional professional laptops have used CPUs and discrete GPUs that consume a lot of power.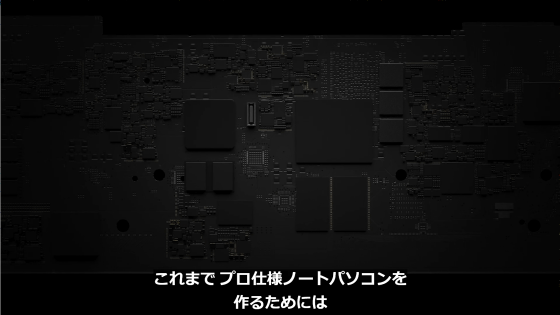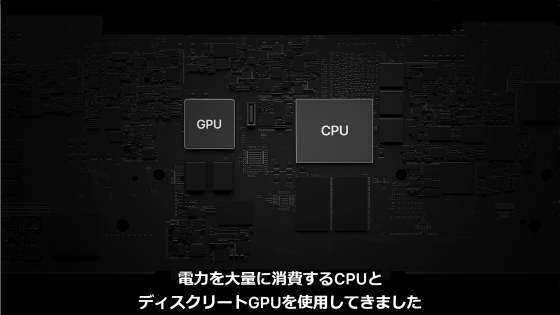 However, the two-chip architecture requires more power and cooling.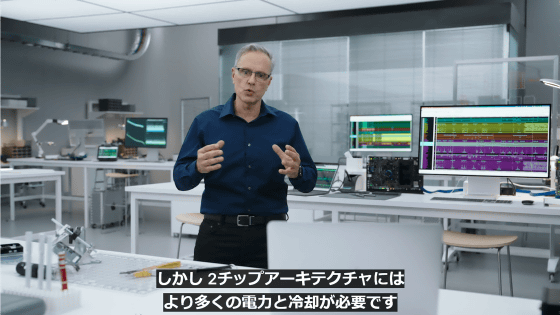 Another problem is that data communication is slow because the CPU and GPU each have a memory pool.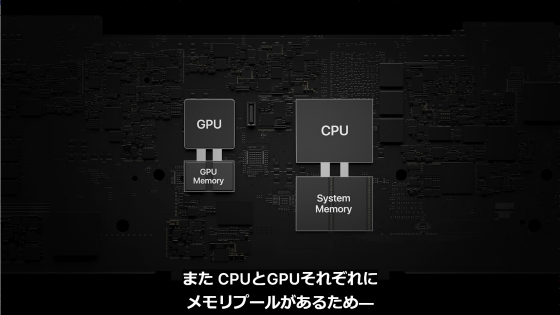 M1 Pro brings system-on-chip (SoC) design to professional systems for the first time.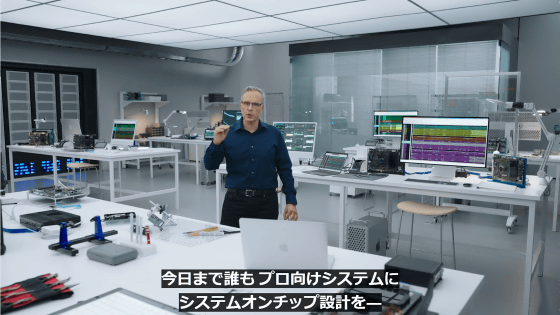 Of course, the base is M1.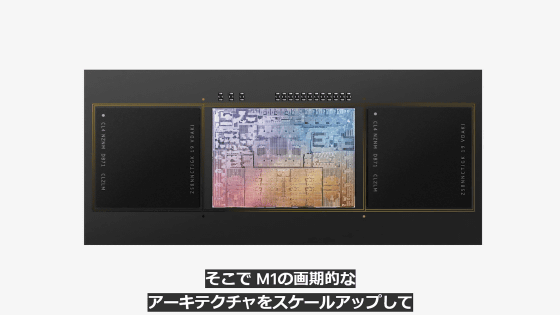 By doubling the memory interface width and adopting faster DRAM, the M1 Pro achieves up to 200GB / s of memory bandwidth.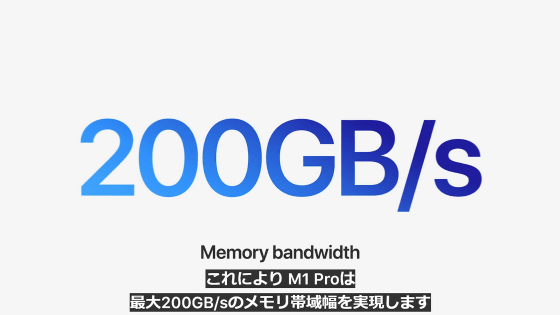 In addition, it supports up to 32GB of unified memory.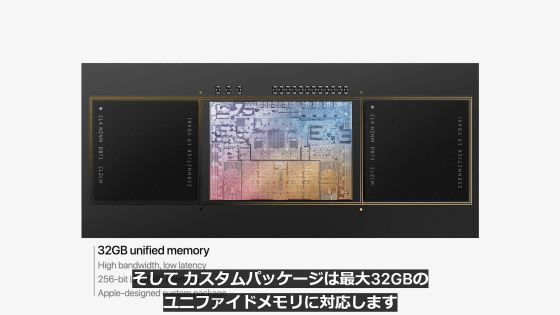 The process rule is 5nm.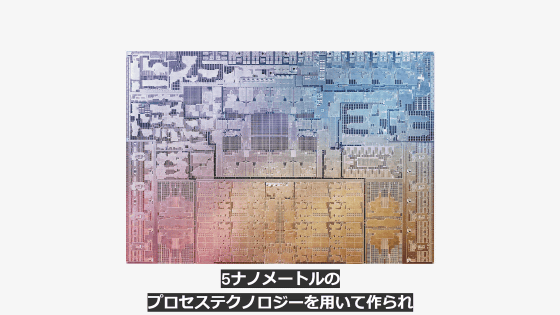 Equipped with 33.7 billion transistors, which is more than double the M1.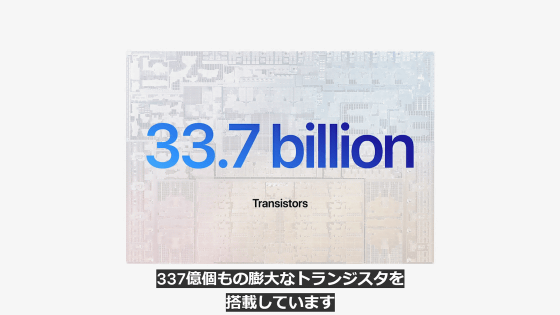 Equipped with a 10-core CPU consisting of 8 high-performance cores and 2 high-efficiency cores ...



Achieves 70% higher CPU performance than M1.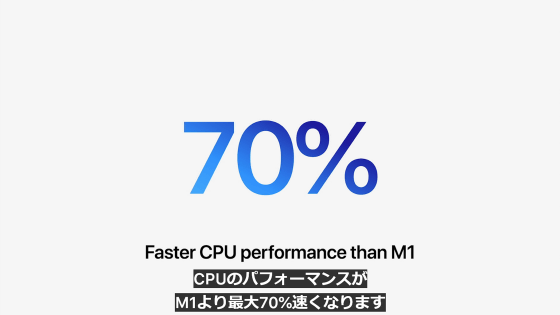 GPU is 16 cores ...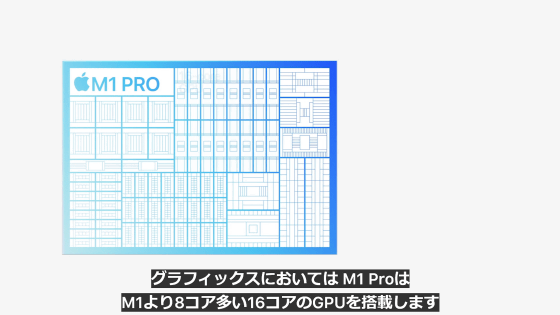 Graphic performance is twice as fast as M1.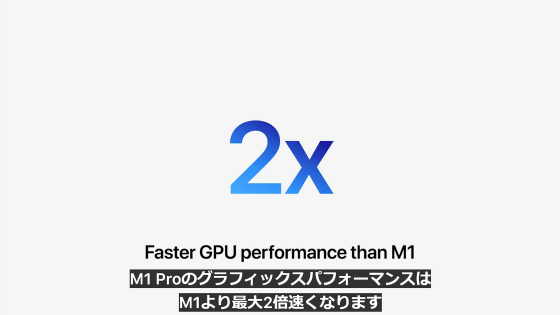 You can even accelerate video processing with the industry-leading media engine.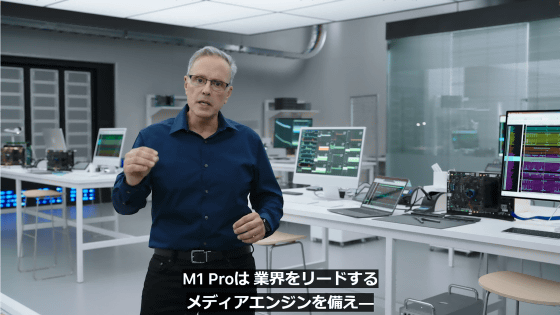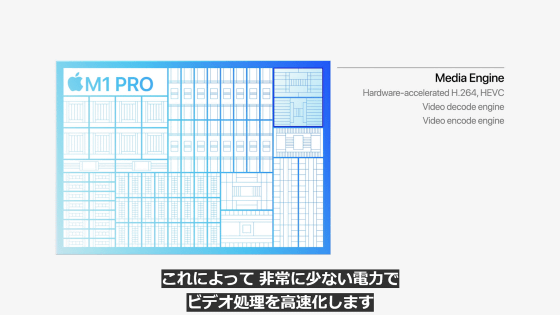 Further speed up video processing with the high-quality codec 'ProRes'.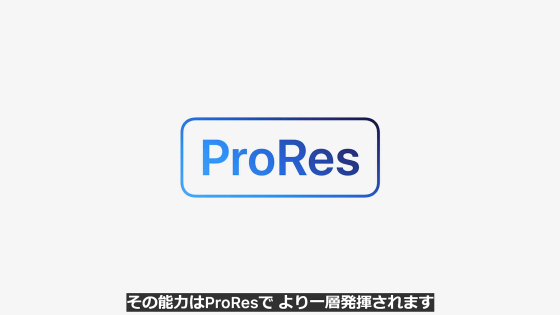 You can also play 4K and 8K movies with a little power.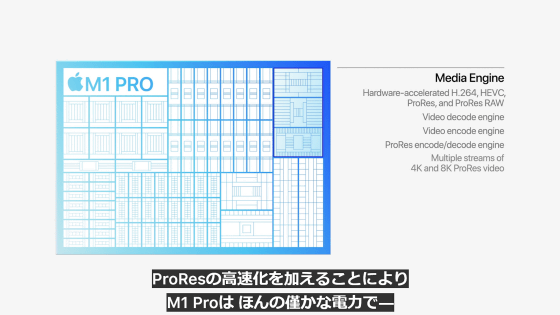 It seems that these small points are also an advantage of adopting original silicon.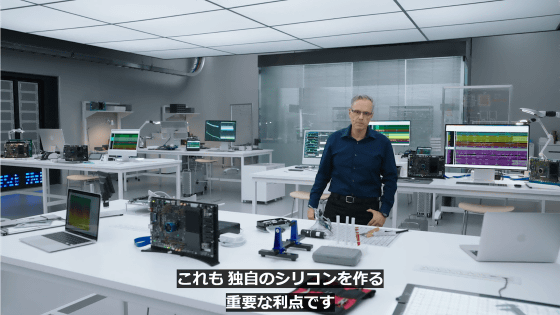 In addition, a powerful engine for operating multiple displays ...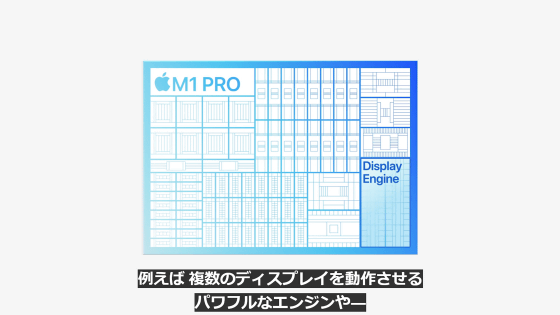 Added Thunderbolt controller to improve I / O bandwidth.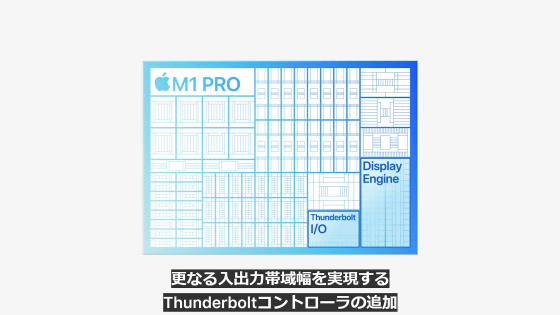 There are many other things.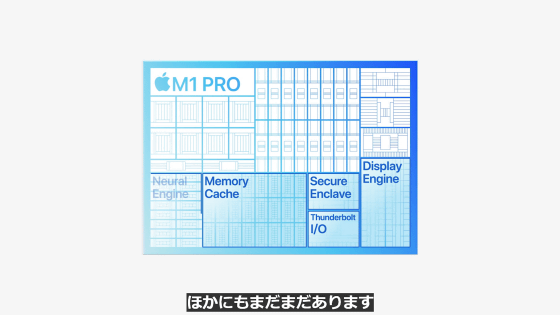 So, it is a fairly high performance M1 Pro, but in order to further evolve the performance of Apple Silicon ...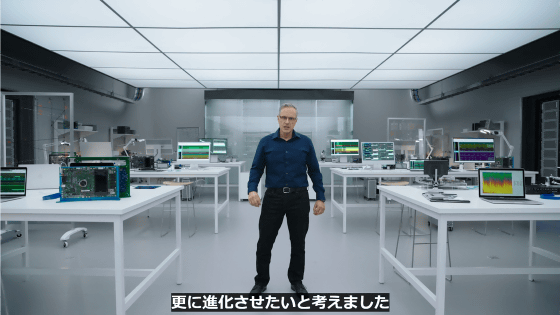 'M1 Max' is also announced as another new chip.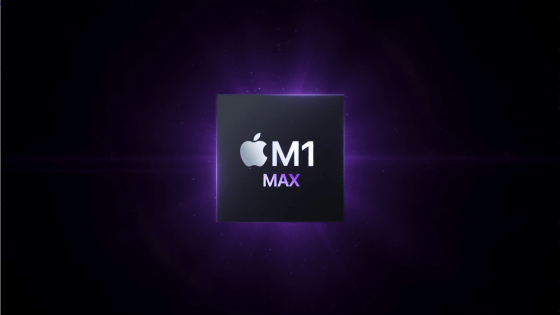 The M1 Max will take the performance of the M1 Pro to new heights.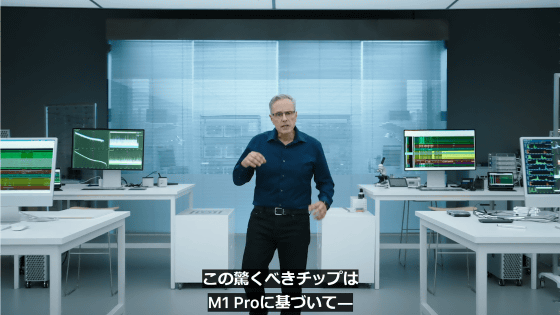 The memory interface width is doubled to 400GB / s.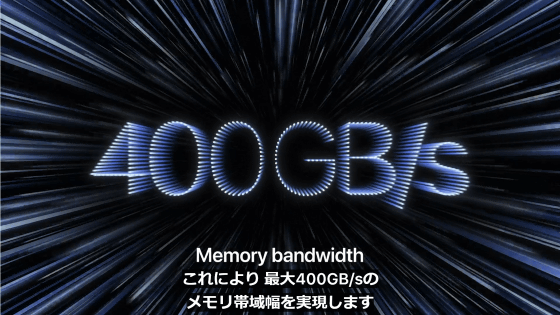 It's twice the bandwidth of the M1 Pro, which is six times the bandwidth of the M1.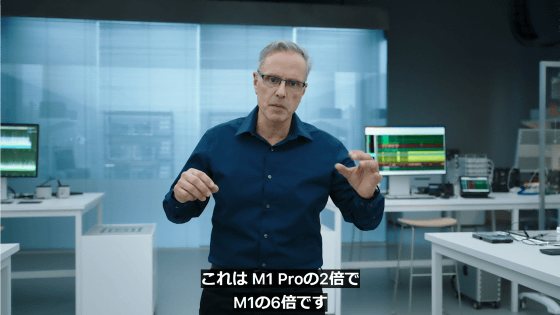 In addition, the unified memory supports up to 64GB.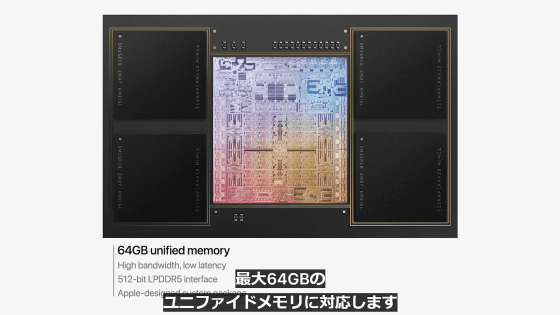 The number of transistors is 57 billion.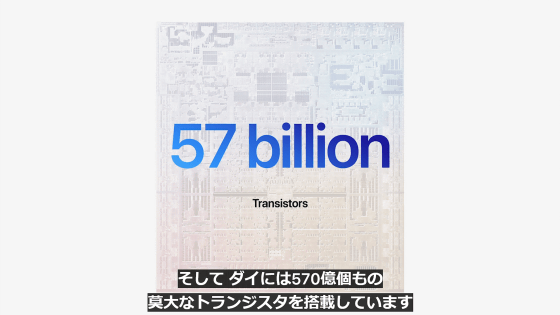 The number of transistors is 1.7 times that of M1 Pro and 3.5 times that of M1.



'By far the largest chip we have ever made,' he said.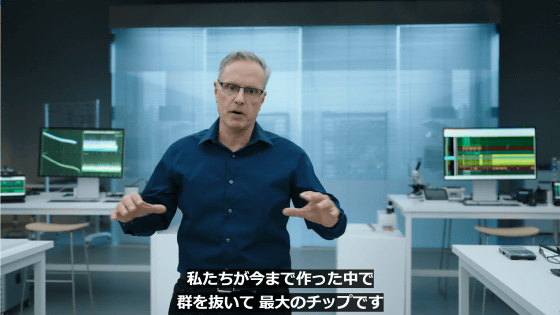 The number of CPU cores is 10 like the M1 Pro, but ...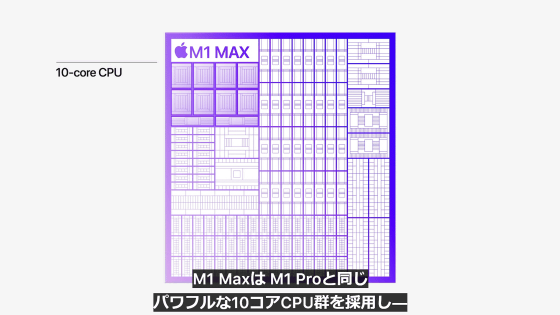 The number of GPU cores is 32 cores, which is twice that of M1 Pro.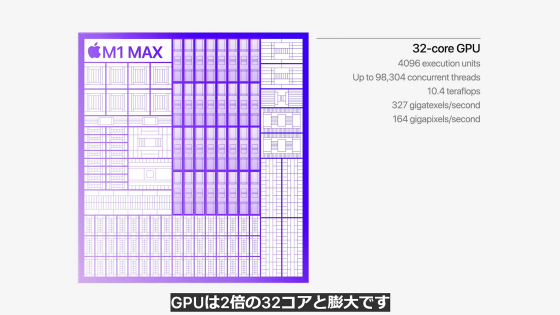 This gives GPU performance about four times that of the M1.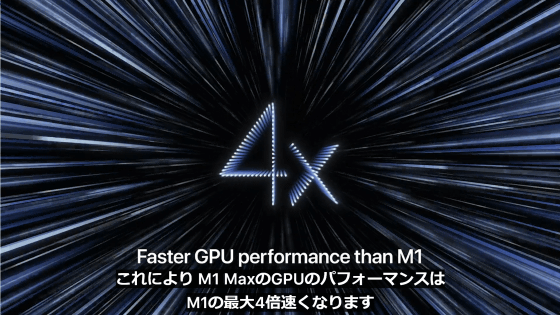 Other media engines capable of up to 2x faster video encoding ...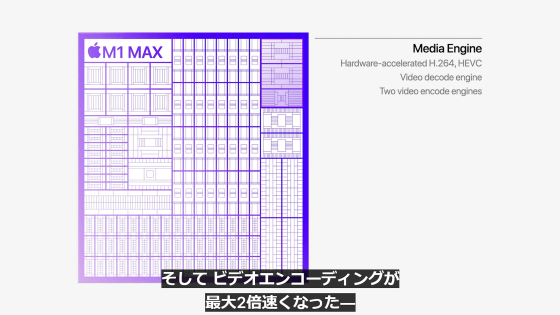 Equipped with two ProRes accelerators.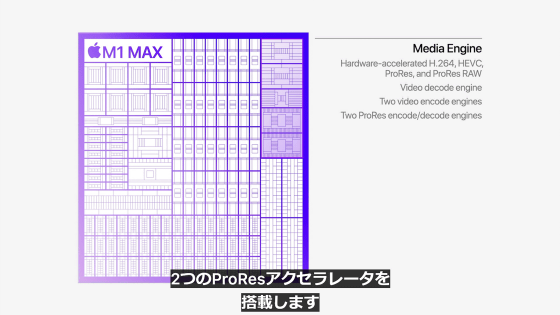 This performance is achieved with industry-leading performance per watt.



'That's why M1 is groundbreaking.'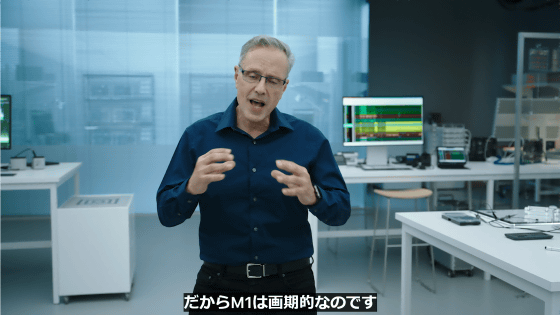 From here, we will compare the performance of the M1 Pro and M1 Max with the chips that have been installed in Macs in the past. First, compare it with the M1 that appeared in 2020. The M1 continues to overwhelm the latest 4-core chips for notebook PCs in terms of CPU performance with respect to power.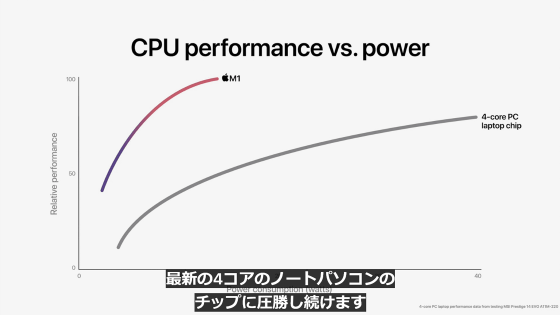 In contrast, the M1 Pro and M1 Max perform even better.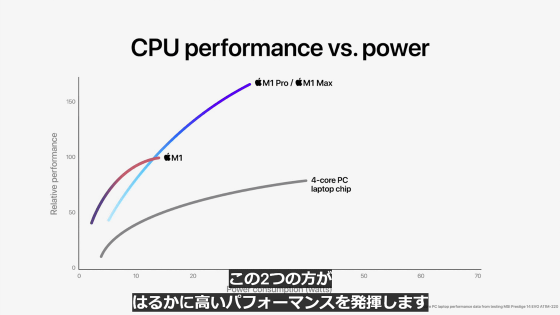 The graph is as follows when the 8-core notebook PC chip is added. Not only can you achieve high performance (vertical axis of the graph), but it is obvious that the performance per watt (horizontal axis of the graph) is significantly better.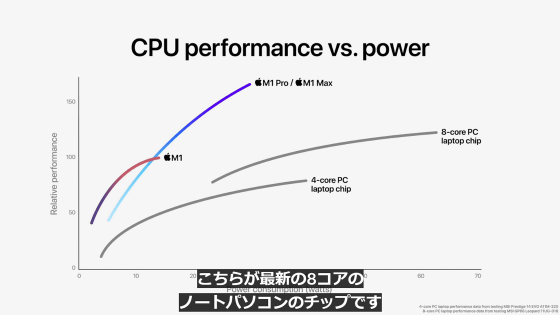 'M1 Pro and M1 Max perform better at any power level.'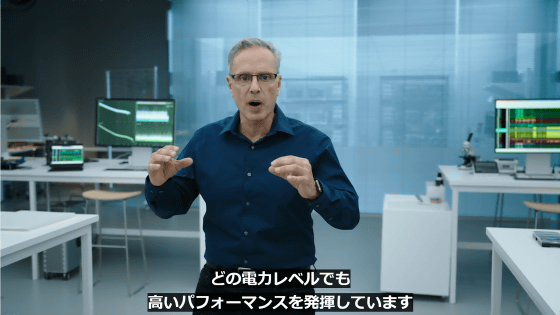 At peak times, it delivers 1.7 times more performance than laptop chips at the same amount of power.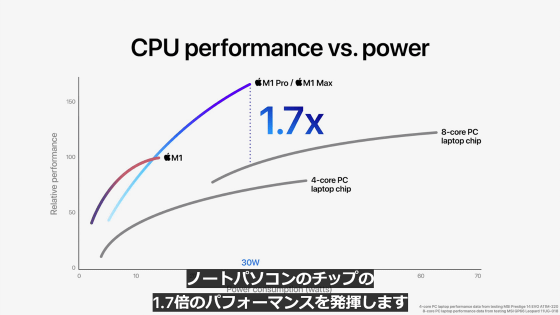 In addition, the same performance as the peak time of notebook PC chips can be achieved with 70% less power.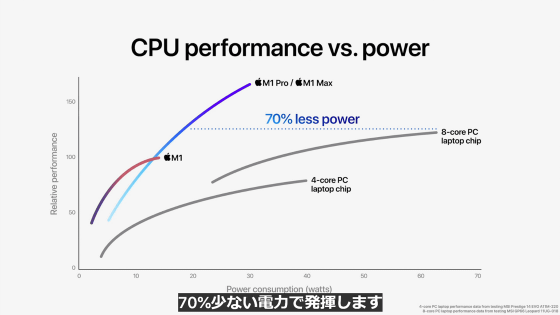 Now compare GPU performance. First, the M1 that appeared in 2020. It delivers superior performance with much less power than integrated graphics on an 8-core chip for laptops.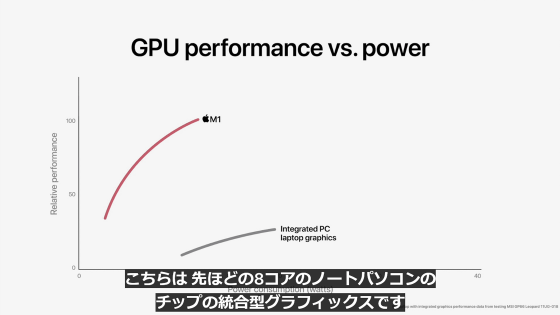 The M1 Pro delivers more than 7 times the performance of integrated graphics for laptops.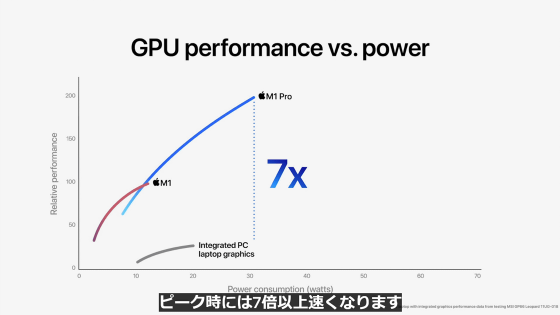 The M1 Pro delivers better performance with 70% less power than laptops with powerful discrete GPUs.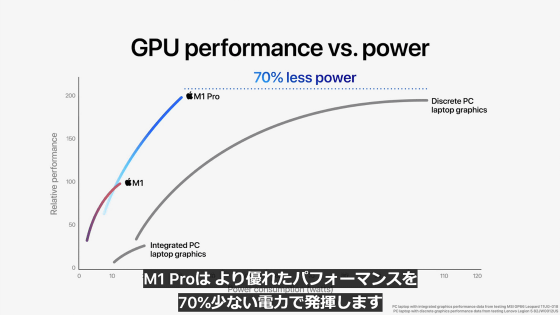 Professional notebook PCs with high-performance discrete GPUs that consume a lot of power consume enormous power ...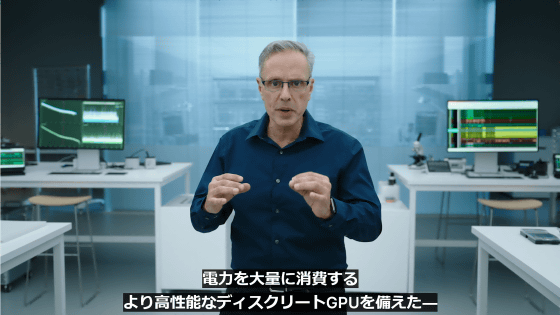 The fan noise is noisy and the battery life is shortened.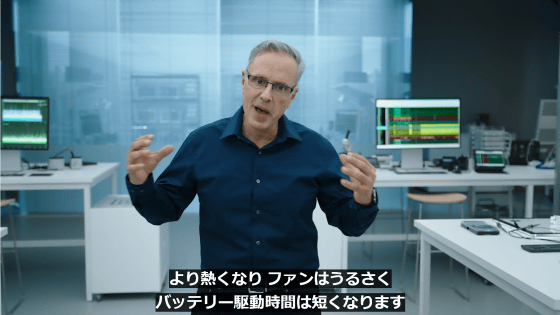 However, with the M1 Max, the same performance can be achieved with 40% less power.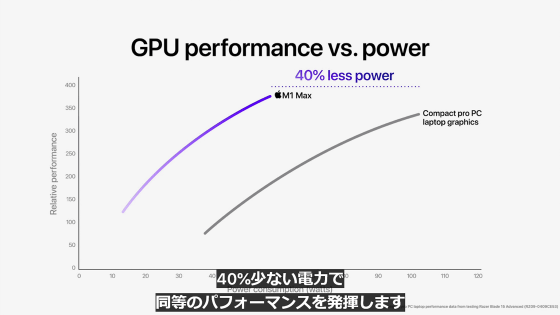 Comparing the chips running on the fastest laptops on the market with the M1 Max ...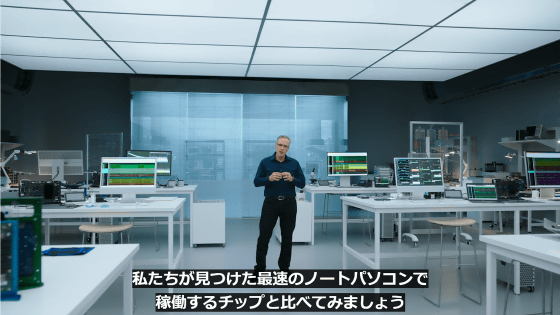 Laptop chips are fast but consume a lot of power.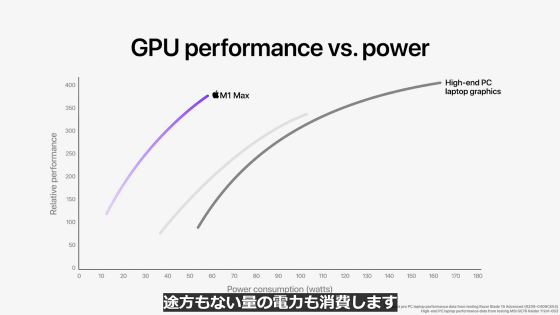 M1 Max can deliver the same performance with 100W less power.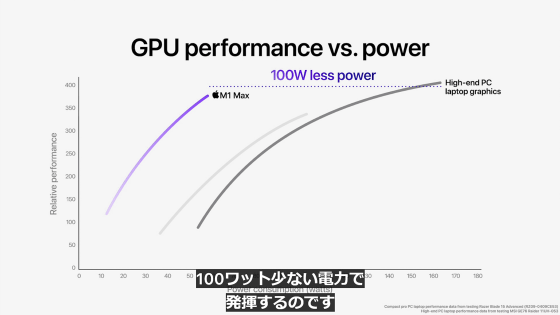 In addition, the M1 Max is 2.5 times more powerful than the battery-powered compact professional laptops.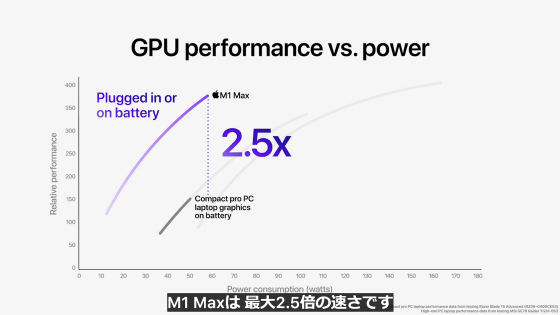 Comparing the GPU performance of high-end notebook PCs and battery-powered ones, it is more than three times faster.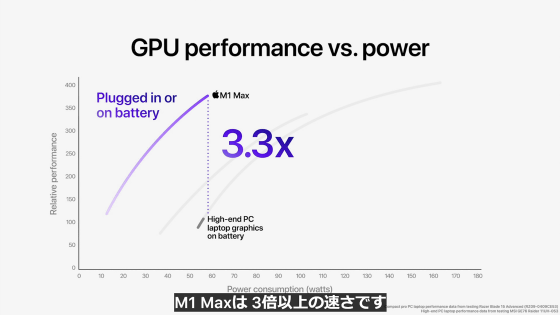 That's why the M1 Max is by far the most capable chip that Apple has made.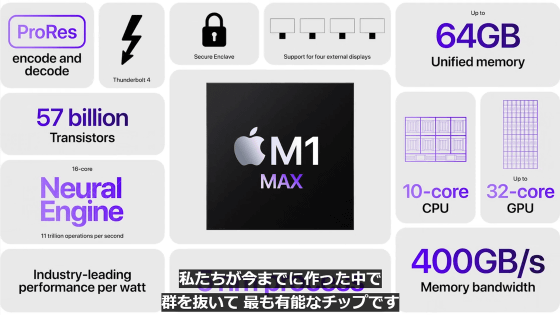 Furthermore, by designing macOS for Apple Silicon, we have succeeded in taking the user experience to a new level.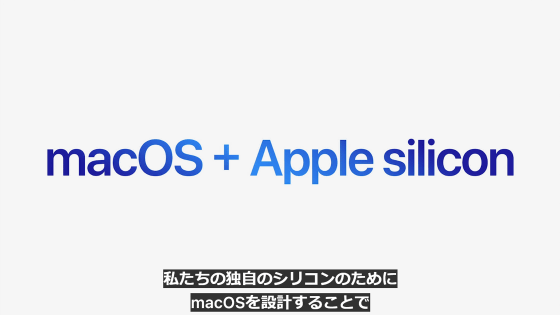 'Everything is surprisingly fast and responsive.'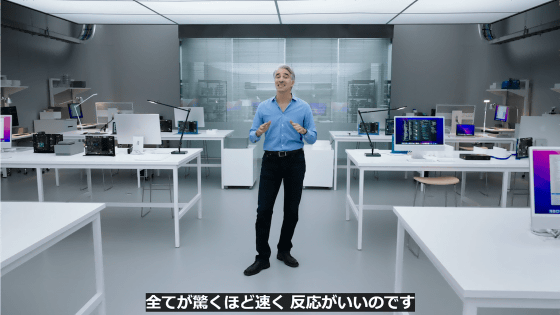 The application can be launched instantly and wakes up very quickly.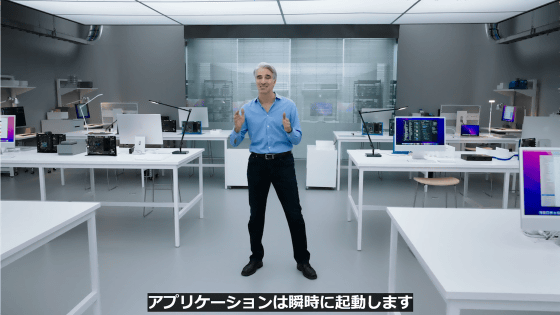 This is achieved by optimizing how multithreaded tasks are assigned to CPU cores.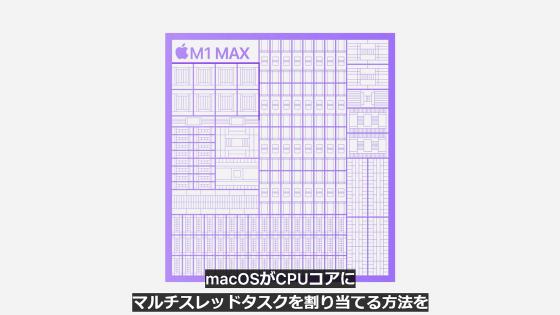 The power management function has also been improved, and by wisely using the high-performance core and the efficiency core properly, both high performance and long battery life are achieved.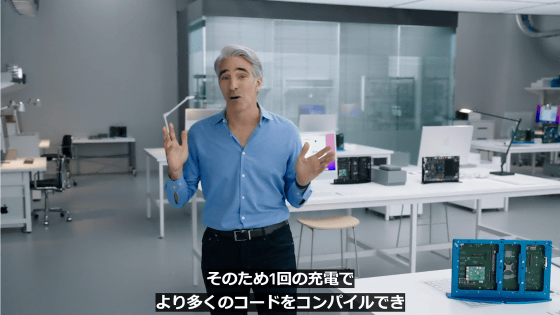 Because macOS is designed to take advantage of the M1 family's Unified Memory Architecture ...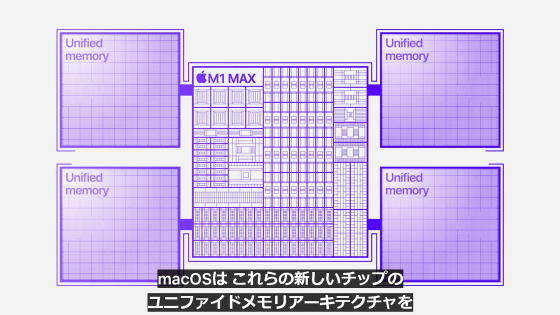 Professional applications can process large image and video streams and move them between the CPU and GPU without copying them.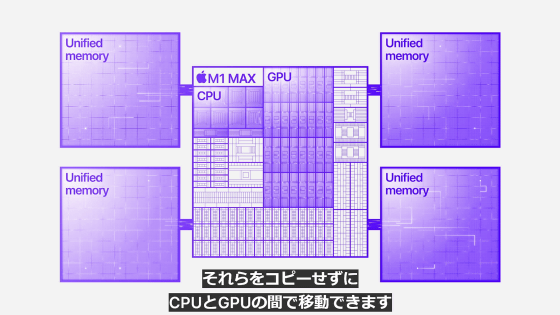 In addition, Core ML optimization makes the processing speed of machine learning models more than three times faster than the MacBook Pro with Core i9.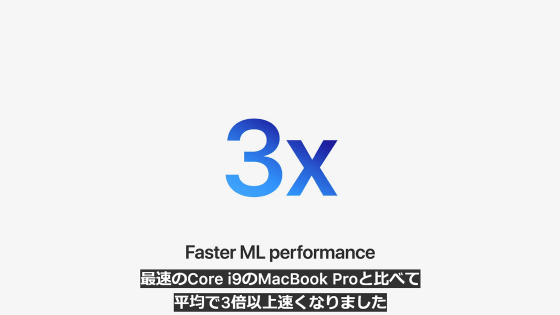 Depending on the machine learning model, it can be processed 20 times faster.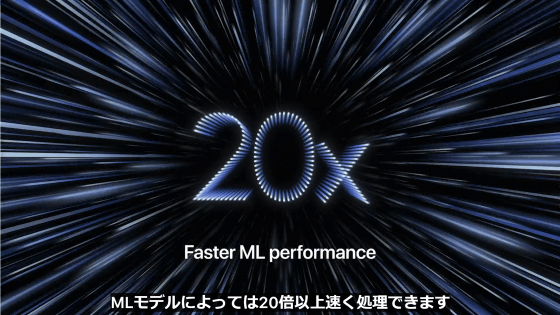 M1 Pro and M1 Max are also industry leaders in security.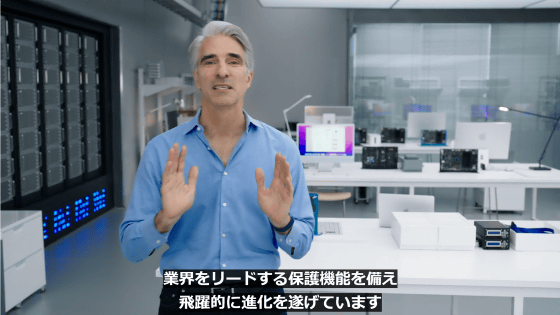 For example, it supports secure boot by hardware authentication, runtime exploit countermeasure technology, and inline encryption for all files.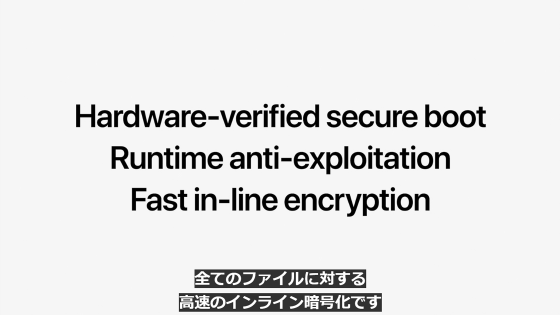 All Apple applications are optimized for Apple Silicon, so they can work natively.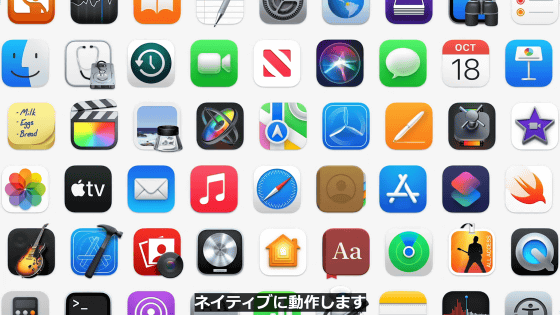 And Intel-based applications run nimblely through Rosetta 2.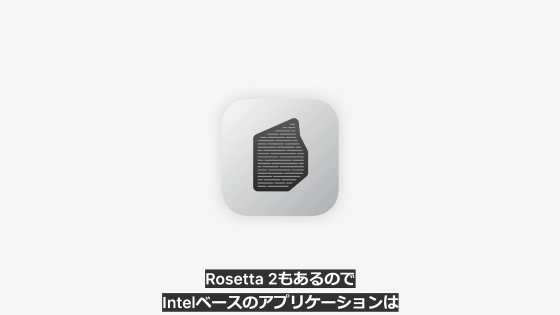 Applications that call macOS technologies such as Meal, even when run on Rosetta, are speeded up by optimizations for Apple Silicon.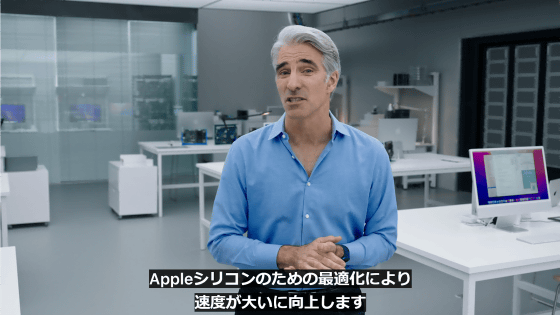 It is also possible to run applications for iPhone and iPad on Mac.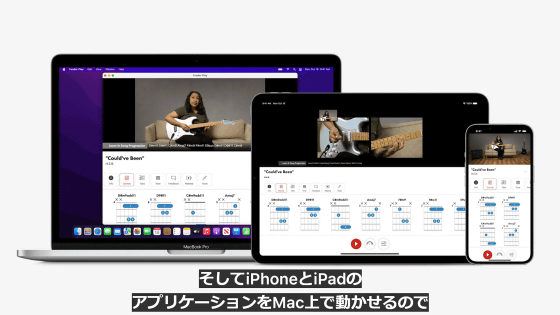 You can also recompile to get your application to work natively.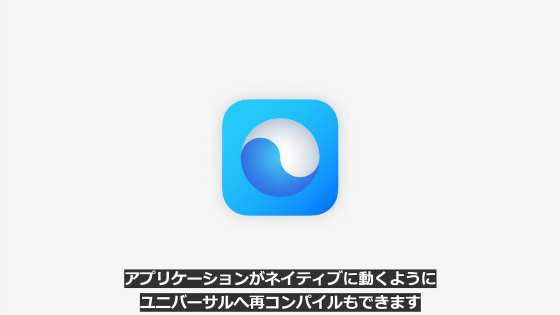 All Apple professional applications are universal.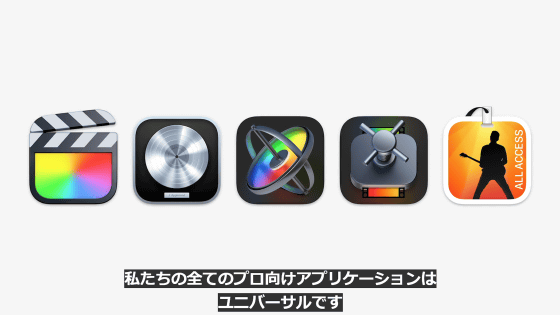 In addition, it plans to provide professional applications with updates that improve performance on M1 Pro and M1 Max.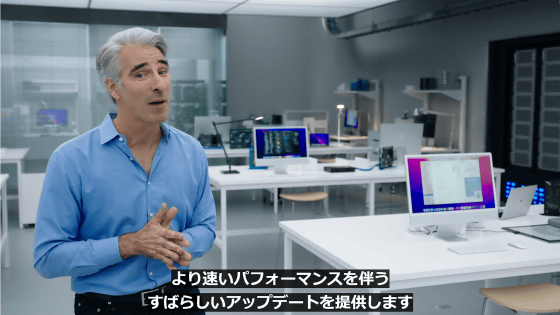 Logic Pro allows you to create spatial audio mixes in your notebook.



Video analysis for object tracking in Final Cut Pro is up to 5x faster.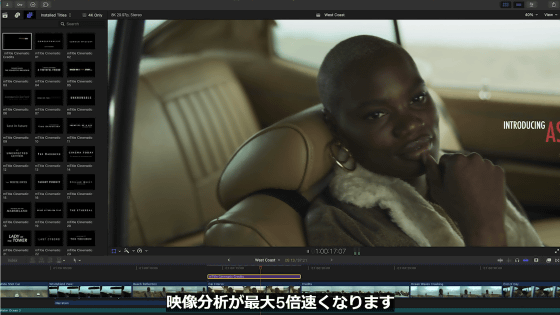 Compressor makes ProRes video transcoding up to 10x faster.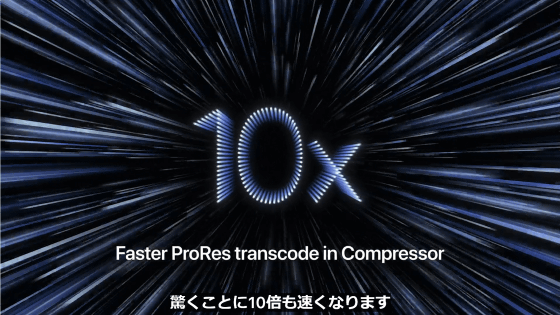 Many third-party developers, not just Apple, are updating for Apple Silicon, with over 10,000 universal applications and plugins supported.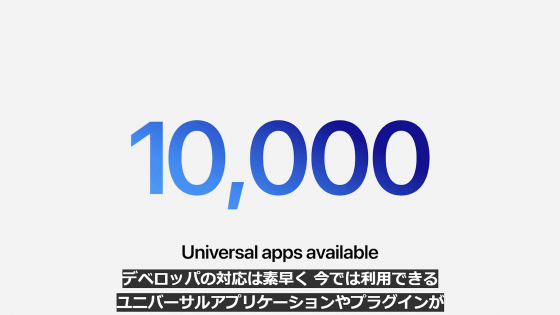 Compatible applications include Lightroom Classic, Cinema 4D, Capture One, and Sletch.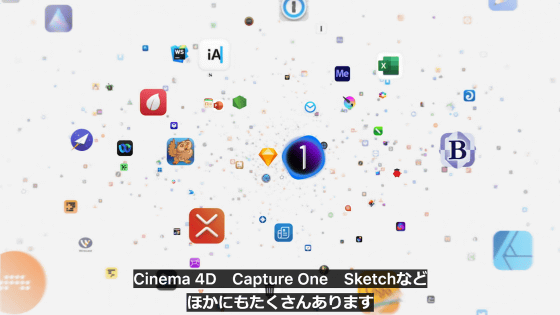 In order to showcase the abundance of Apple Silicon compatible applications, Apple has released a movie that conveys the voice of developers.

Pro apps. Pushed to the max. | Apple --YouTube