Finally, the official release of 'Windows 11' has started, and free upgrades from Windows 10 will be provided sequentially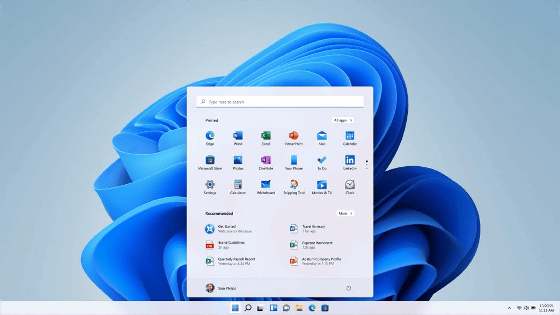 The official release of the latest Windows OS '
Windows 11
' has started when the time zone for each country is October 5, 2021 (Tuesday). Windows 10 devices that meet the requirements can be upgraded to Windows 11 for free, and PCs with Windows 11 pre-installed can be purchased from the same day.
Windows 11: A new era for the PC begins today | Windows Experience Blog
https://blogs.windows.com/windowsexperience/2021/10/04/windows-11-a-new-era-for-the-pc-begins-today/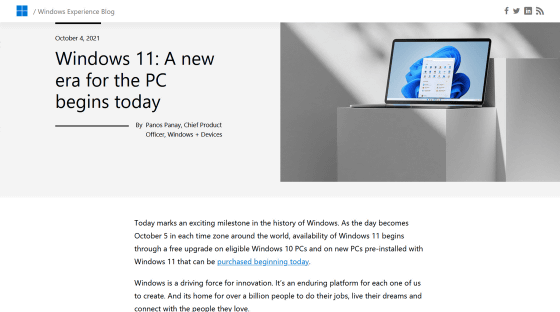 Windows 11 Starts Rolling Out to PCs Worldwide | PCMag
https://www.pcmag.com/news/windows-11-starts-rolling-out-to-pcs-worldwide
When Microsoft released Windows 10 in 2015, it said, '
Windows 10 will be the last version of Windows,
' and instead of releasing a separate new version in the future, it will regularly release already released Windows. It was supposed to be updated.
However, on June 25, 2021, Microsoft announced
the next OS 'Windows 11' with new functions and UI, and announced that it would be released in the latter half of 2021. PC Mag, a PC-related media, points out that Microsoft may have decided to change its strategy because
the Chrome OS developed by Google had a negative impact on the market share of Windows.
And, Microsoft has on August 31, local time, 'the official release date for Windows 11, October 5 days' to be
expressed
as previously, each time zone of the 2021 October to 5 days and at the same time Windows 11 countries Official release has started. You can get it by purchasing a PC with Windows 11 pre-installed or by doing a free upgrade from Windows 10. Upgrades from Windows 10 will be provided through the standard Windows Upgrade process from 2021 to mid-2022, and it seems that the timing of switching to Windows 11 will differ depending on the PC.
You can actually check if your PC can be upgraded to Windows 11 by opening 'Windows Upgrade Settings' on your PC and clicking 'Check for Updates'. If it is possible to upgrade, it will be displayed as 'You can run Windows 11 on this PC', but it is said that the specific delivery time will vary depending on the preparation.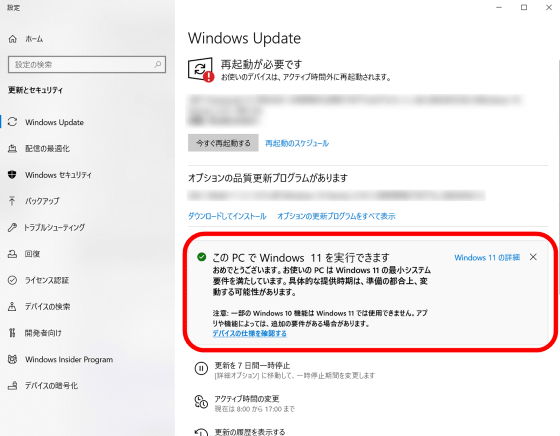 If you can't wait for the official upgrade, you can also install Windows 11 immediately, create installation media, or download the ISO from the following pages. However, Microsoft says, 'If you're upgrading from Windows 10, it's a good idea to wait until you see a Windows Update notification that your PC is ready to upgrade.'

Download Windows 11

https://www.microsoft.com/en-us/software-download/windows11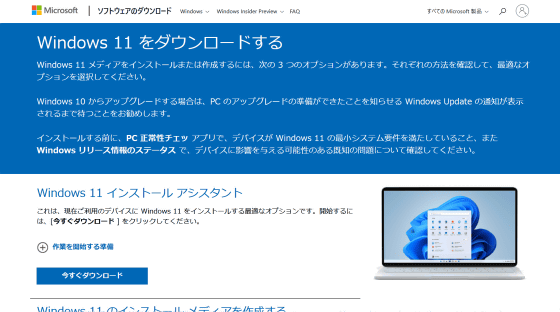 Windows 11 has minimum system requirements, and
you can use 'PC Health Check
' to check if your PC meets the deployment requirements. However, Microsoft acknowledges that the minimum system requirements apply only when upgrading from Windows 10 to Windows 11 via Windows Update, and that you
can install Windows 11 on a PC that does not meet the minimum requirements when using ISO files.
..
In a blog announcing the official release of Windows 11, Microsoft said, 'We are excited to launch Windows 11. The overall user experience brings you closer to what you like, making you more productive and creative. It will stimulate you. '
In Windows 11, the design of the start menu and taskbar has been changed from Windows 10 as follows ...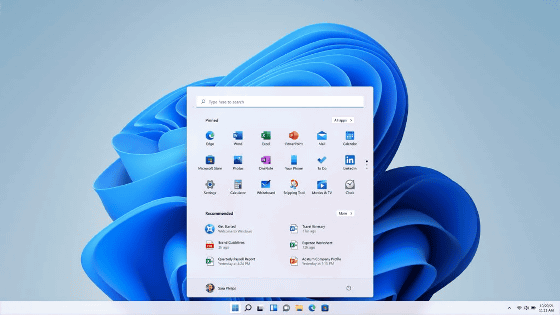 It will provide interesting content and information through personalized widgets using AI and the web.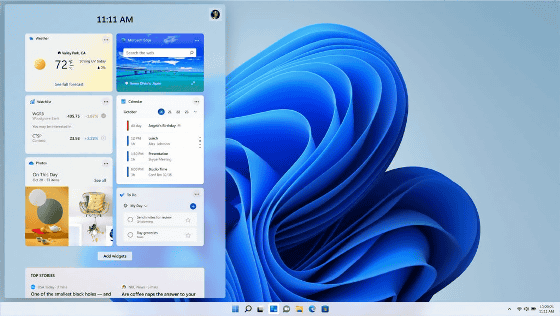 In addition, Windows 11 users will be able to access the new Microsoft Store.

11 things to know about the new Microsoft Store on Windows 11 | Windows Experience Blog
https://blogs.windows.com/windowsexperience/2021/10/04/11-things-to-know-about-the-new-microsoft-store-on-windows-11/

Microsoft is officially blogging, with a wealth of apps perfect for Windows devices, the new Microsoft Store not only has a sophisticated design, but also allows you to move and open pages 35% faster than before. In addition to claiming that the search experience has also improved. The new Microsoft Store will also be accessible to Windows 10 devices in the coming months.

In addition, Windows 11 will also be equipped with a function to install and execute Android applications, but it is said that Windows 11 at the time of release does not support Android applications .