Microsoft postpones office reopening indefinitely following the spread of the new Corona Delta strain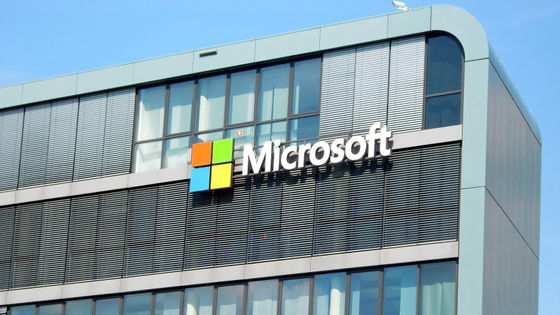 Microsoft announced on September 9, 2021 that it will postpone the full reopening of its office, which was scheduled for October 4, indefinitely. The company explained that the reason for not reopening the office was due to the epidemic of the Delta strain of the new coronavirus.

Microsoft and LinkedIn share latest data and innovation for hybrid work --The Official Microsoft Blog

https://blogs.microsoft.com/blog/2021/09/09/microsoft-and-linkedin-share-latest-data-and-innovation-for-hybrid-work/
To Thrive in Hybrid Work, Support Flexibility in Work Styles
https://www.microsoft.com/en-us/worklab/work-trend-index/support-flexibility-in-work-styles
Microsoft gives up predicting when its US offices will fully reopen --The Verge
https://www.theverge.com/2021/9/9/22664284/microsoft-office-reopening-plans-us
On March 22nd, Microsoft announced that it would reopen its office in a limited way from the 29th of the same month and introduce a 'hybrid workplace' that combines office work and remote work. Microsoft has positioned the resumption in March as 'Stage 4', which is a six-step process from full remote work to full office work.
Microsoft announces that it will lift the blockade of its headquarters, and also introduces a 'hybrid workplace' where you can choose between remote and office work --GIGAZINE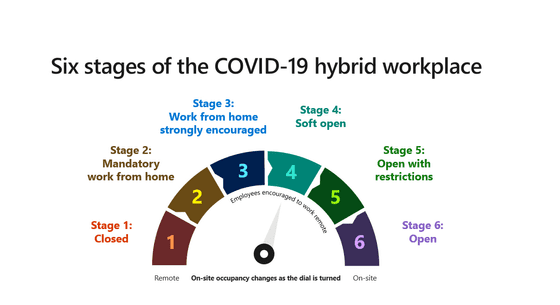 Microsoft then postponed
the full resumption of Stage 6, originally scheduled for July, to 'September 7 at the earliest.' It was postponed for another month in August, and was set as 'October 4 at the earliest'.
And Jared Spataro, Microsoft's Corporate Vice President of Modern Work, updated his official blog on September 9th, forgoing the full reopening of the office planned for October and setting a new reopening date. Announced not to set.
Regarding the re-postponement of office reopening, Mr. Staparo said, 'The expansion of Delta shares has forced many people to adjust their reopening plans, and I am keenly aware that this is a new normal. Considering the uncertainties associated with the new coronavirus, we have decided to postpone the reopening of Microsoft's headquarters and offices in the United States from October 4. No new dates have been set, based on public health guidelines. We plan to reopen when we can safely reopen our offices. '
In addition, Mr. Staparo revealed that he is reviewing work styles in response to changes in employees' awareness caused by the hybrid work that has been carried out so far.
Below is a graph summarizing the results of an employee awareness survey conducted by Microsoft. The yellow bar graph shows 'reasons for remote work' and the blue bar graph shows 'reasons for face-to-face collaboration.' .. According to this survey, many employees desire remote work from the viewpoints of 'work-life balance,' 'concentration on work,' 'commuting,' 'network connection,' 'collaboration with colleagues,' and 'social mutual.' It was found that many employees place importance on face-to-face work because of 'work' and 'convenience of the office'.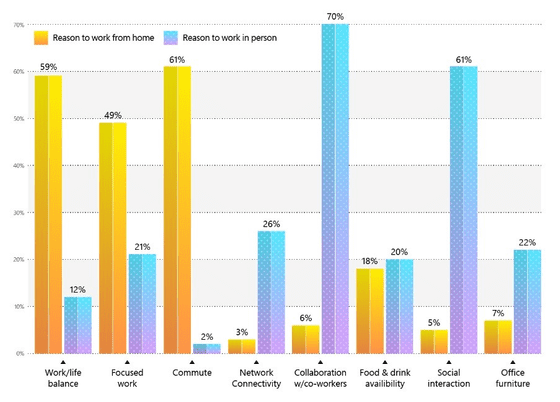 In a survey
conducted by Microsoft's business-focused social network LinkedIn, along with HR management system Glint, 87% of workers said, 'At least half want to work remotely when the workplace resumes. I found out.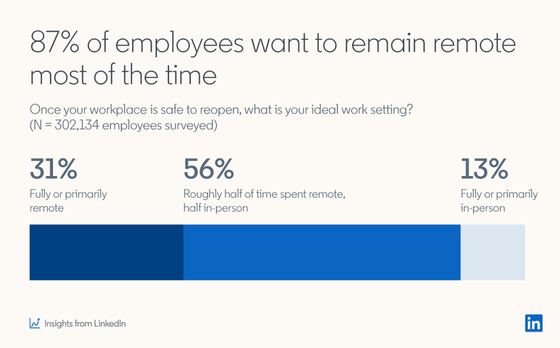 In response to these findings, Microsoft CEO Satya Nadella said, 'The majority of employees need more flexible remote work options, but they also want face-to-face collaboration with a post-pandemic look. This is the 'hybrid work paradox', 'he said , recognizing that it is necessary to balance remote work and office work.

According to Mr. Staparo, the change in the relationship between the company and employees due to the above-mentioned change in consciousness is called 'Great Reshuffle' by LinkedIn. Mr. Staparro plans to explore new ways of working based on these two things, the 'hybrid work paradox' and the 'major remodeling.'

in Note, Posted by log1l_ks