Completely wireless Google smart camera 'Google Nest Cam' review, I thoroughly checked the battery life and motion detection accuracy that I care about after using it for a week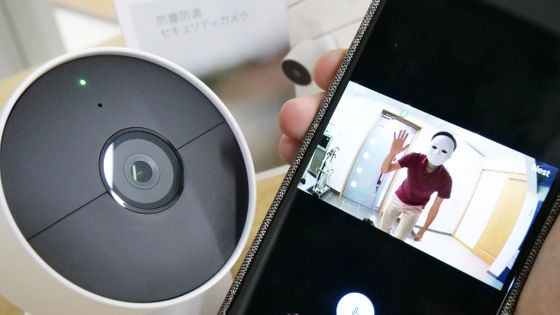 The 'Google Nest Cam (battery-powered) ', which is waterproof and dustproof and can be installed anywhere, and has a built-in battery that does not require power distribution, appeared on August 26, 2021. In addition to being used as a smart camera in the house, when using it as a security camera in a tough environment such as outdoors, I am concerned about the degree of battery consumption, the usability of linking with the cloud, and whether or not to detect unnecessary things one by one. Will be. So, I actually used 'Google Nest Cam' as a surveillance camera for a week and checked its performance.

Google Nest Cam (Battery) -Google Store

https://store.google.com/jp/product/nest_cam_battery
This time, we will review using 'Google Nest Cam (battery-powered)'. You can see the appearance of the device and how to set it up from the following articles.
I also looked at Google's smart camera 'Google Nest Cam' photo review that does not require a power supply and can be installed anywhere, a dustproof and splashproof cable that is OK outdoors & a dedicated stand that is convenient indoors --GIGAZINE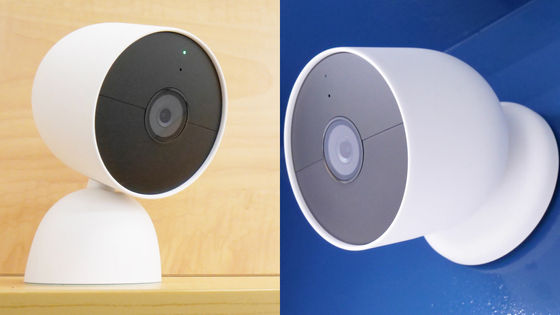 Google's smart camera 'Google Nest Cam' setup, after installing the smartphone app, you're ready to go crispy --GIGAZINE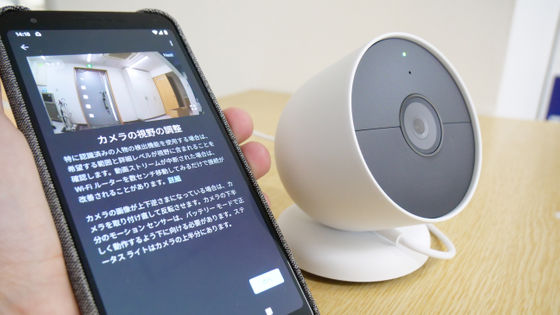 ·table of contents
◆ Check the delay of live video
◆ Nest Cam can detect motion and record automatically
◆ I checked the speaker performance of Nest Cam
◆ Summary of results and reviews after actually using it outdoors for 7 days
◆ Check the delay of live video
First, install it on the counter at the entrance and check the usability.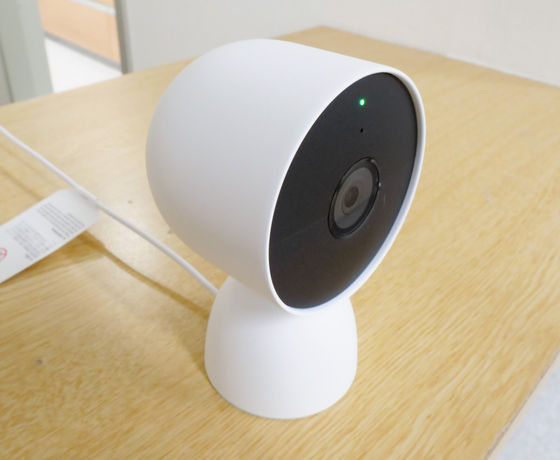 When you open the Google Home
app, the screen below will appear. Tap the 'Camera' or Nest Cam icon.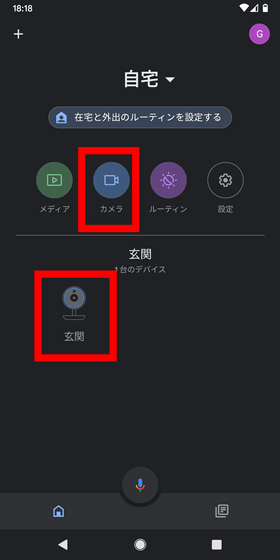 Then, the following screen will be displayed. To watch the live video, tap the button in the red frame.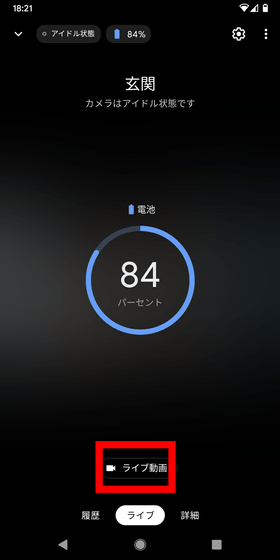 When you project a live video, it looks like this.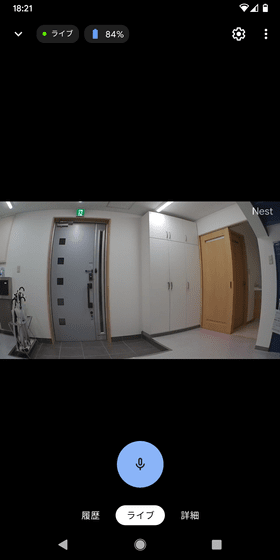 With smart cameras, problems such as 'the lag is too large to understand the other party's appearance in real time' and 'the image is too clunky to be frame-by-frame' often occur. So, I tried to find out how much lag would occur in the live video of Nest Cam.


I tried to verify the delay of the live video of Google's smart camera 'Nest Cam' --YouTube
First, I checked how many seconds the live video would start, assuming that it would be used to respond to visitors. To use live video, tap 'Live Video' in the app.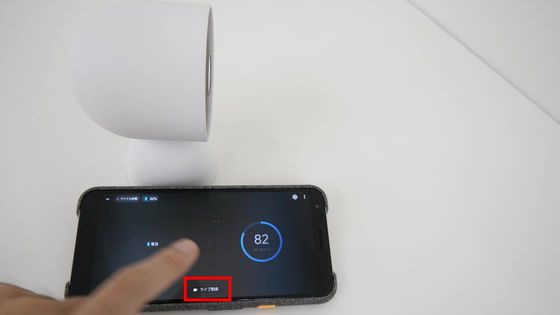 Six seconds after tapping, the Nest Cam video was displayed on the smartphone. You can't start immediately after noticing a visit, but in other words, you only have to wait 6 seconds for the other party.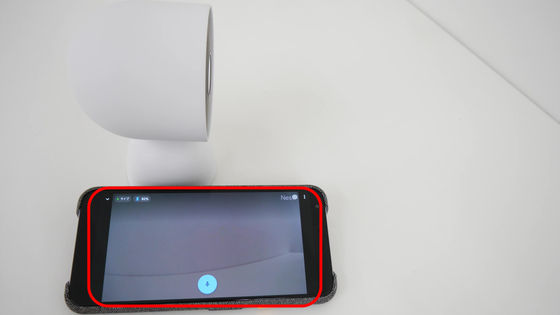 Next, close and open your hands in front of the camera to check for video delays and stuttering. The hand held in front of Nest Cam is closed 11 seconds after the video starts playing.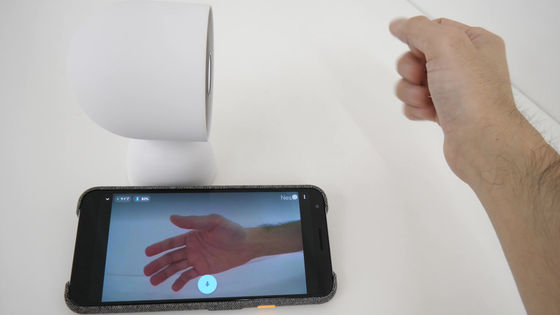 And the hand reflected on the screen of the smartphone is closed at 12 seconds. It was found that the delay time in the actual measurement was about 1 second, and the camera image could be viewed in almost real time. In addition, the image is smooth and you don't have to worry about stuttering.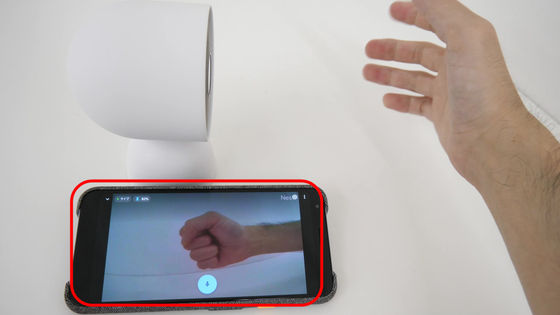 ◆ Nest Cam can detect motion and record automatically
In 'History' on the left side of the live, you can check the video of the latest activity automatically recorded by motion detection. To see other activities, tap Full History.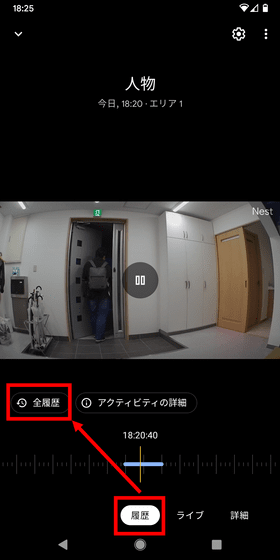 The thumbnails of this activity are like flipbooks, which is convenient because you can see the contents without playing them one by one.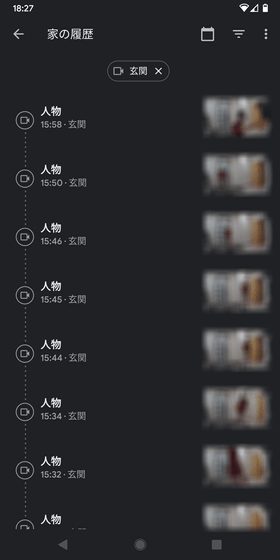 The activity disappears in 3 hours after saving, but you can go back 30 days by subscribing to
Google Nest Aware
for 630 yen including tax per month (6300 yen including tax per year). Double your price with Google Nest Aware Plus, which allows you to save up to 60 days of activity.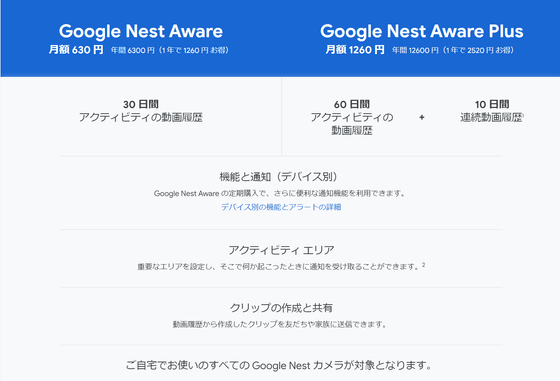 To see about an activity, select the activity from the history and tap Activity Details.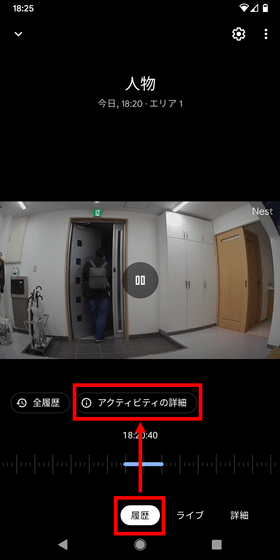 Then, it will be displayed whether the activity corresponds to 'People', 'Animal', 'Vehicle', or 'Other motion'. You can also download the recorded video to your smartphone by tapping the download button on the upper right.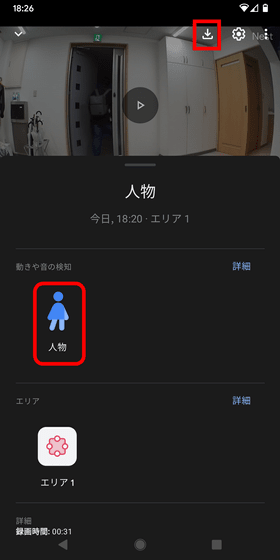 Nest Cam can shoot full HD quality with a resolution of up to 1080p and a frame rate of 30fps. Below is a video of what was actually recorded with Nest Cam and downloaded to a smartphone. Depending on the speed of the internet line, this 20-second video could be downloaded to the terminal almost instantly.


Google Nest Cam can automatically record full HD / 30fps video-YouTube
The angle of view of the camera is 130 degrees, which is quite wide. Looking at the door frame, it is distorted as if it was taken with a fisheye lens, but you can shoot a wider range.


The 'Details' tab to the right of the live allows you to turn the camera on and off.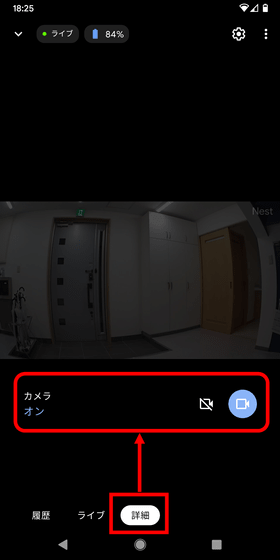 You can also change the settings by tapping the gear icon at the top right of each screen.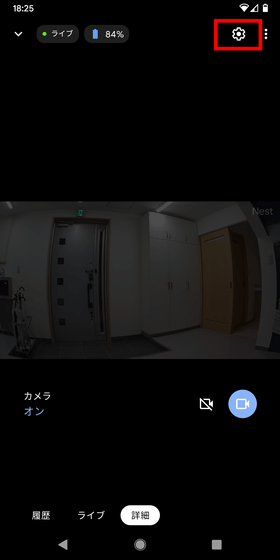 To check the battery level, etc., tap 'Battery'.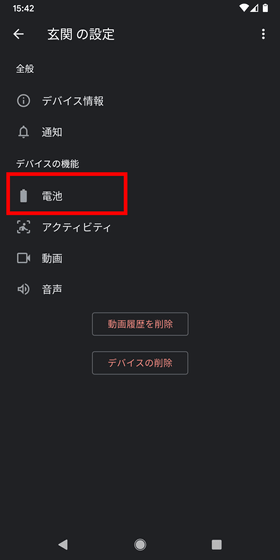 In addition to checking the remaining battery level, you can switch the 'automatic battery saver' on and off, and select 'battery usage'.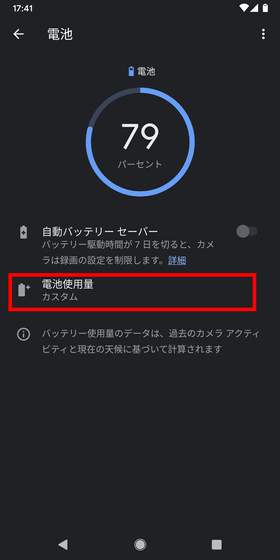 'Battery usage' is 'long recording time' that prioritizes recording time, 'default' that balances battery life with recording time and image quality, and 'battery lasts longer' that prioritizes battery life. In addition to the type, you can select 'Custom' that prioritizes individual settings for activity and image quality.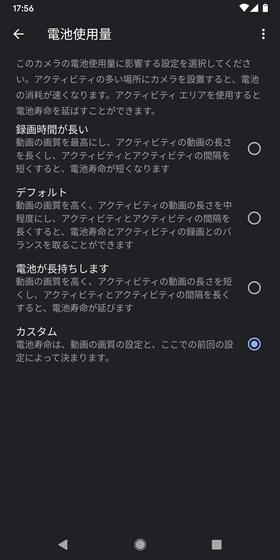 To check 'Activity', tap the part in the red frame.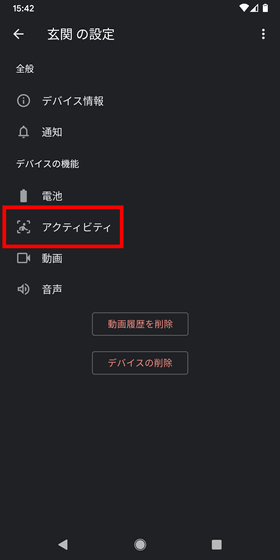 On this screen, you can make detailed settings such as what kind of movement detected by Nest Cam is recognized as an activity. First, set from the 'activity area'.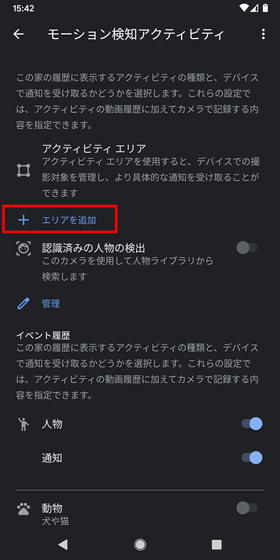 Then you can drag the eight vertices like this to specify the detection range. Since Nest Cam can fit a wide range in the frame, it will detect all the opening and closing of the sliding door on the right as it is. Therefore, if you specify only the doorway as shown below, you will not have to detect unnecessary movements and consume power, or the smartphone will not keep ringing due to notifications.



You can specify up to four activity areas, and you can set detection and notification for each.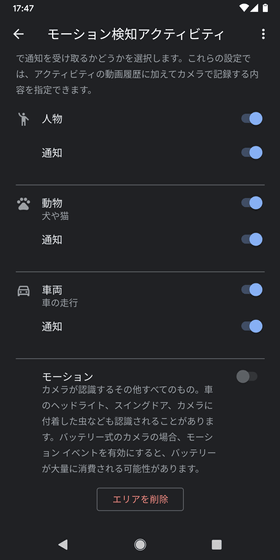 Therefore, as shown below, 'The area near the entrance / exit of the building (Area 1) detects all people and notifies the smartphone.' 'The entrance / exit so as not to detect passersby or people walking dogs. You can also make detailed customizations such as 'only the entry and exit of the car is detected in the place far from the area (area 2), and the smartphone is not notified.'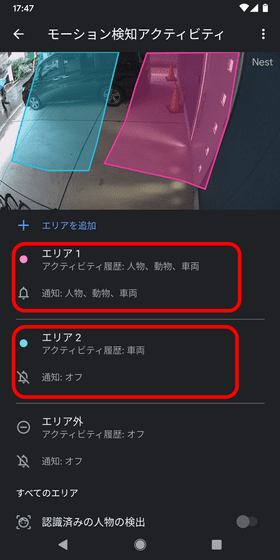 If Nest Cam detects activity with notifications turned on, you'll get a notification on your smartphone like this: This notification, like the activity history, is a flip book-like image.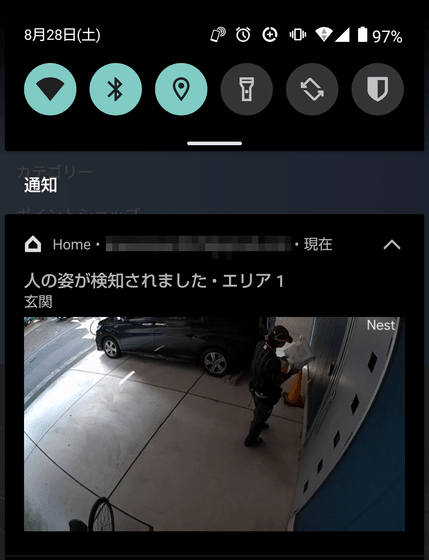 To change the image quality of the movie, tap 'Video'.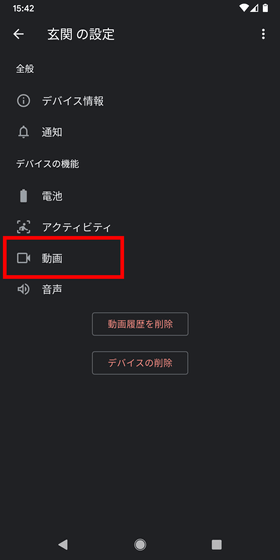 Here, in addition to the image quality, you can change the night-vision function and the brightness of the status light. The brightness of the status light can be set to 'Large', 'Automatic (default)', and 'Small', so the status light cannot be turned off.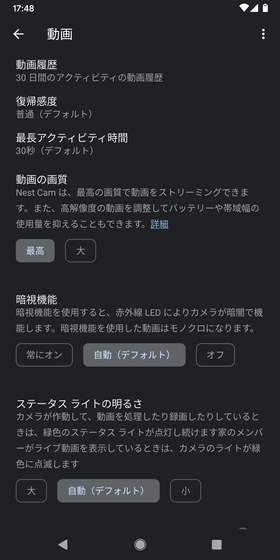 To change the microphone settings, tap 'Audio' in the red frame.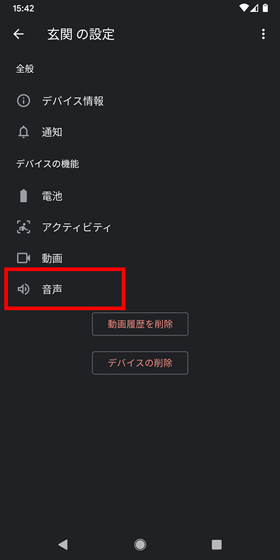 Here you can turn the microphone on and off and change the speaker volume while watching a live video.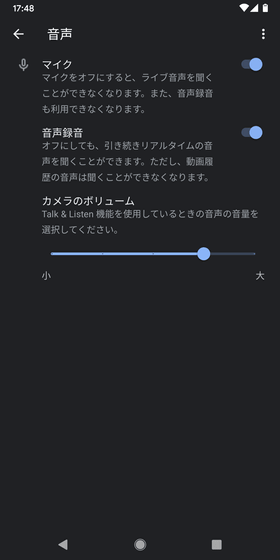 ◆ I checked the speaker performance of Nest Cam
For live videos, you can tap the button in the red frame to speak out from Nest Cam over your smartphone. Of course, you can also listen to the sounds picked up by Nest Cam, so you can use the live video function to respond to customers on the go.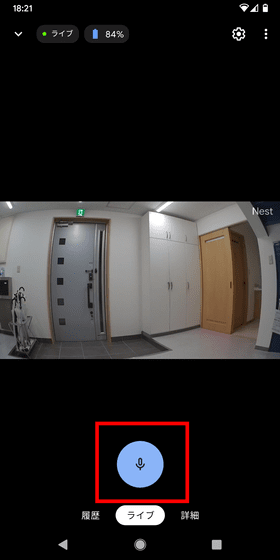 However, if the sound quality is poor, the conversation will not be smooth. So, I tried to check the sound quality by playing human voice and music from the Nest Cam speaker.


Check the sound quality of Google Nest Cam speakers-YouTube
Even if I changed the angle and distance while speaking out from Nest Cam, I could hear it without any problem. Therefore, there seems to be no problem such as 'I can't hear the voice well depending on the installation location'.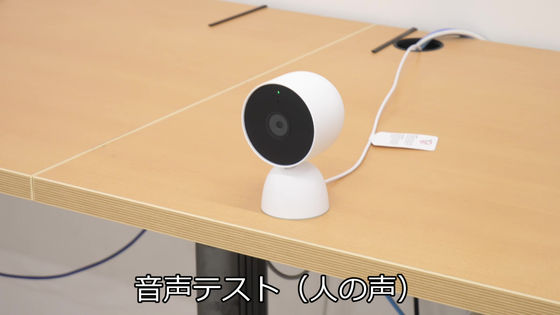 The speaker sound quality of Nest Cam seems to be specialized for human voice, and when I played music, the sound was so loud that I couldn't hear it properly.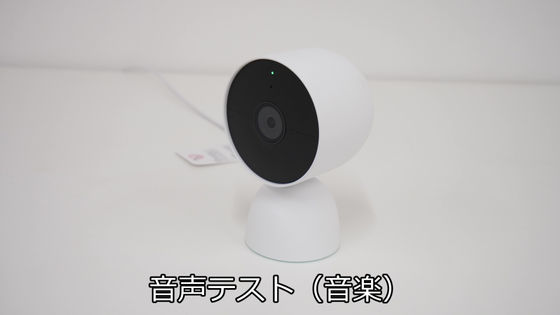 ◆ Summary of results and reviews after actually using it outdoors for 7 days
Finally, I actually installed Nest Cam outside the building and tested its abilities.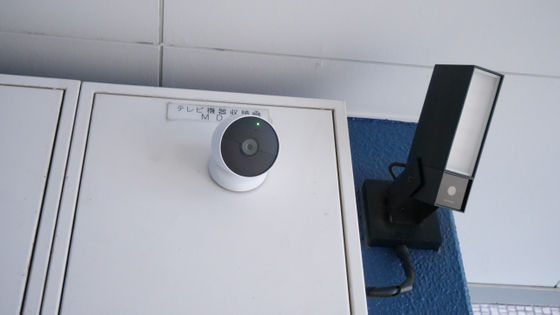 After 7 days of use, about 270 activities were recorded.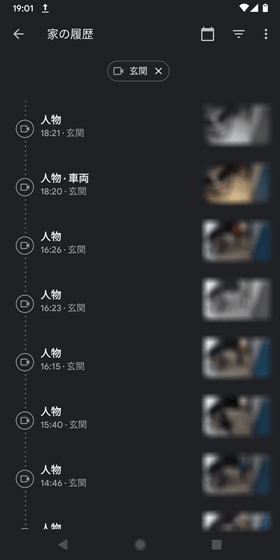 Even in a scene where a person and a vehicle are shown at the same time, both are detected firmly.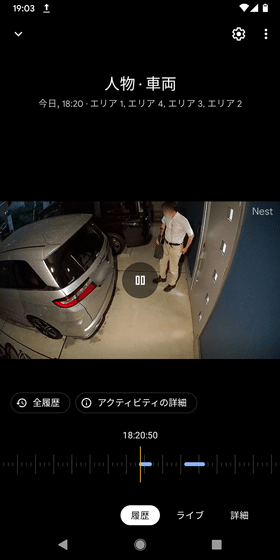 In addition, even after the sun went down, it was possible to see clearly with the night-vision function.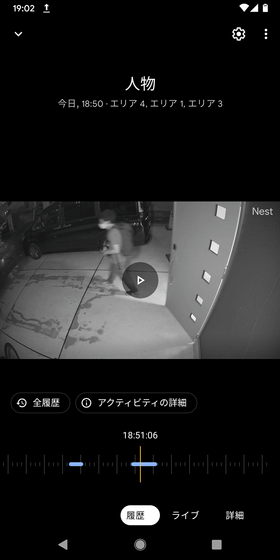 Perhaps the broom looked like a small dog connected to a lead, I once detected a person who tried to clean with a broom as a 'person / animal', but other than that, there was no false positive that seems to be a false positive. .. Therefore, it can be said that the accuracy of motion detection is quite high.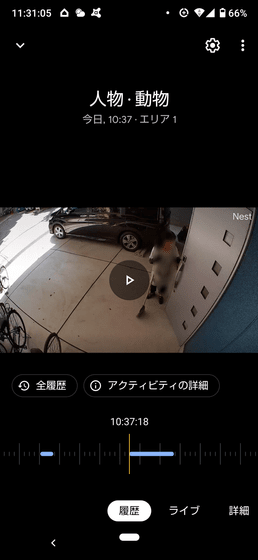 I used it quite hard as a security camera, recording a total of about 270 activities in a week with the highest image quality and watching live videos several times, but even so, the battery was only reduced by 24% from a full charge. bottom. Regarding battery life, Google said, '1.5 months for about 25 to 30 activity recordings per day', '3 months for about 9 to 12 activity recordings per day', and 'about 2 to 4 cases per day'.
Since it is explained
that '7 months for activity recording', it can be used for a considerable period of time in general usage.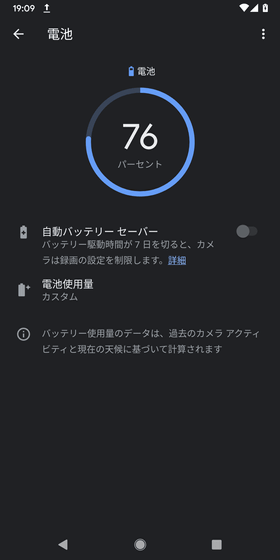 From the above results, it was found that Google Nest Cam is a smart camera equipped with high-quality live video without delay, high-precision motion detection, and speakers with sufficient performance for voice conversation. In particular, the recorded video provided by a stable cloud connection and the smooth cooperation with smartphones are of a quality that makes you want to call it 'Google'.

It can be used for a long time even if it is battery-powered, and it is also attractive that it can be attached to a metal wall or pillar as it is. Although it is necessary to make a hole in the wall, it can be fixed with screws, as well as an optional '
Nest Cam stand
' for indoor installation, a 'dust-proof / drip-proof cable
' with a maximum length of 10 meters, and an '
anti-theft mount
'. There are also accessories such as, so you can install it anywhere.


However, purchasing Nest Cam only saves your activity for 3 hours, so it's almost mandatory to subscribe to Google Nest Aware if you want to use it as a security camera. Therefore, if the subscription fee of 630 yen including tax per month (6300 yen including tax per year) can be divided as a necessary expense, I felt that it is a product that can be said to be 'if you do not want to fail with a smart camera'.

Google Nest Cam can be purchased from the official Google store and costs 23,900 yen.