Docker Desktop limits free plans to individuals and small businesses, sets new plans for large companies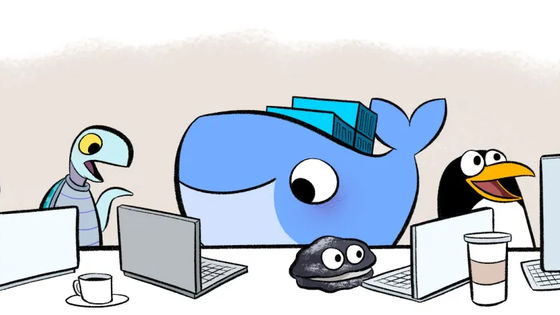 'Docker Desktop
' is a tool that makes it possible to use
'Docker
', a virtualization tool that reproduces the same environment anywhere and allows apps to run, on Windows and Mac. The product plan for Docker Desktop has changed significantly, and companies that meet either 250 employees or more and annual revenue of 10 million dollars (about 1.1 billion yen) or more are no longer able to use the free plan.
Docker is Updating and Extending Our Product Subscriptions --Docker Blog
https://www.docker.com/blog/updating-product-subscriptions/
Docker Desktop no longer free for large companies: New'Business' subscription is here • The Register
https://www.theregister.com/2021/08/31/docker_desktop_no_longer_free/
The major change this time is 'Free', which has been offered as a free plan for Docker Desktop. The name of the 'Free' plan will be changed to 'Personal', and at the same time, the conditions that can be used will be limited to 'Individual developers, education, workers in the open source community, SMEs'. Docker's definition of a small business is 'less than 250 employees and less than $ 10 million in annual revenue,' so any company will not be able to use Docker Desktop for free.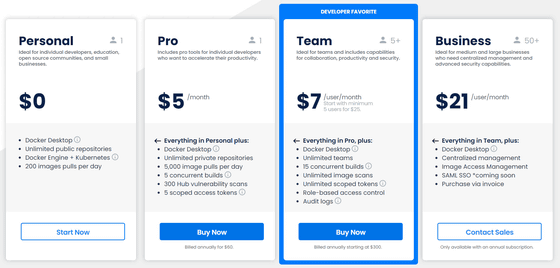 The $ 5 / month 'Pro' plan and the $ 7 / month 'Team' plan are still available, but are new for large companies. A $ 21 'Business' plan has arrived. The 'Business' plan is recommended for use by 50 or more people, and in addition to all the functions that can be used in the Team plan, centralized management functions and
SAML
, which is one of the
SSO
standards, will be available.
There are several components in Docker, and Docker Desktop is just one of them. Most of them except Docker Desktop are provided as
open source
under
Apache License, Version 2.0.
Docker Desktop, which has a paid plan, is a GUI tool for managing those components and functions.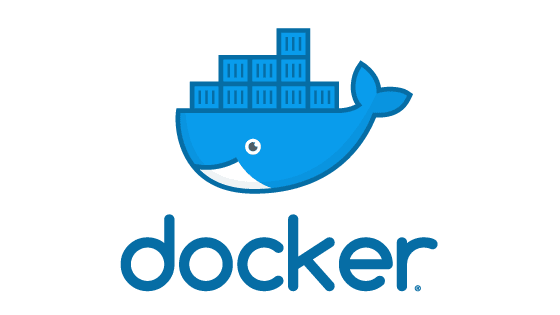 Docker CEO Scott Johnson said of the price revision: 'The developer market continues to grow. According to the latest statistics, the global developer population will increase from the current 18 million to 45 million by 2030. This is a sign that we need a sustainable and scalable business, 'he told The Register, an overseas media outlet.

CEO Johnson says that many Docker users have used Docker Desktop for free, and we hope that this price revision will increase the number of paid plan users. 'We estimate that this price revision will double the number of users who need to use a subscription plan, but it's still less than 10% of all Docker users,' said Johnson. While hoping that the number of users will increase, 90% of users still appealed that they can use the service for free.

In addition, The Register pointed out that the imposition of paid plans could cause Docker Desktop to move away, saying, 'The risk is not always zero, but companies that have already found a lot of value in Docker Desktop have a modest price. We have set up a paid plan of $ 5 to make it feel like a band, 'said Johnson. Companies that don't have access to the free plan have appealed that they can continue to use Docker Desktop by simply subscribing to the $ 5 / month plan.

Regarding the newly added 'Business' plan, CEO Johnson said, 'We are adding far more features to the $ 21 / month Business plan, the first of which is called the Secure Software Supply Chain. Users will be able to set what they want to allow developers to access in the control plane, and by delivering it to Docker Desktop, they will be able to apply that policy to their development environment. Also, CPU utilization. It also offers centralized SaaS management to control settings such as memory, port, and access to firewalls. SSO is another example of security features that will only be available in the Business plan. I will. '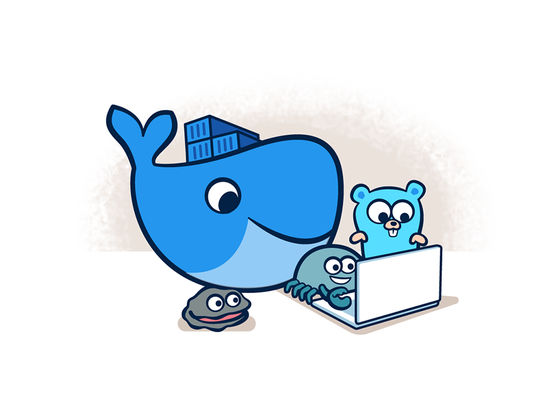 'The problem is that Docker Desktop doesn't support Linux,' The Register told CEO Johnson. 'Our estimate is that Linux makes up 20-25% of the development environment. We We want to have a consistent management control plane across all development environments, so stay tuned, 'suggests Docker Desktop for Linux.

In addition, The Register cited the use of Docker in remote development environments such as GitHub Codespaces as another issue, and CEO Johnson said, 'We plan to address some issues when we release the Linux version of Docker Desktop. I commented. However, he also said, 'The majority of users use Windows, Mac, and Linux in their local environment.'