What is the evaluation of overseas media for Intel's 'NUC 11 Extreme Kit' that can build a high-spec gaming PC by incorporating your favorite grabbo in an ultra-small body?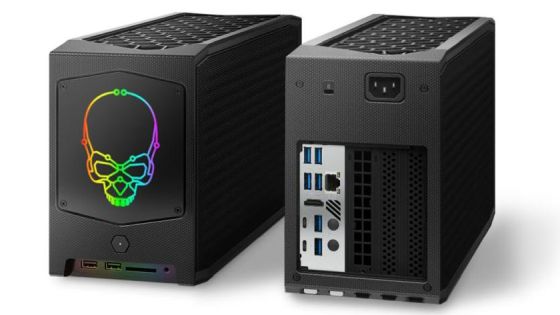 Intel announced the ' NUC 11 Extreme Kit (codename: Beast Canyon)
', a barebone kit
for gaming equipped with
the 11th generation Core processor
, on July 29, 2021. The overseas media that got such 'NUC 11 Extreme Kit' a little earlier published the review articles all at once, so I summarized the features and evaluations of 'NUC 11 Extreme Kit'.
Intel NUC 11 Extreme Kit Delivers High-End Gaming Experience
https://www.intel.com/content/www/us/en/newsroom/news/intel-nuc-11-extreme-kit-delivers-high-end-gaming-experience.html
intel-nuc-11-extreme-product-brief.pdf
https://download.intel.com/newsroom/2021/client-computing/intel-nuc-11-extreme-product-brief.pdf
The NUC barebone kit
developed by Intel is a small barebone kit that includes a CPU, motherboard, power supply, case, etc. Users can easily assemble a PC with their favorite configuration by adding a graphic board, storage, memory, and OS. can do. The 'NUC 11 Extreme Kit' announced this time
is equipped with the 11th generation Core processor 'Core i9-11900KB
' or '
Core i7-11700B
', and a large high-performance graphic board in a small case with a volume of about 8L The feature is that it can be installed.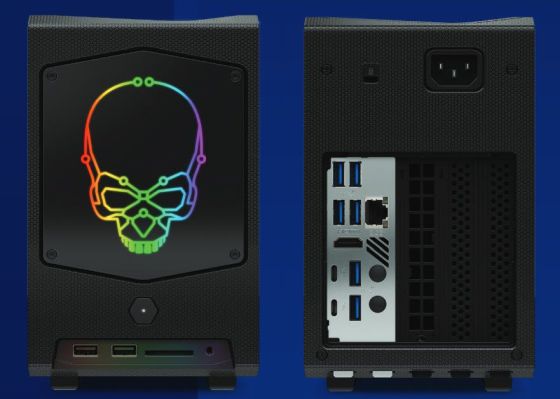 'NUC 11 Extreme Kit' to have been two types of line-up was equipped with a Core i7-11700B and was equipped with a Core i9-11900KB 'NUC11BTMi9,' 'NUC11BTMi7', is also equipped with a built-in GPU in both models Therefore, it is possible to draw the screen without preparing a graphic board. The detailed specifications of each are as follows.

Model number
NUC11BTMi9
NUC11BTMi7
CPU
Core i9-11900KB
Core i7-11700B
Built-in GPU
Intel UHD Graphics
Mountable graphic board
Up to 12 inches / 350W
Dual slot
Memory slot
Two DDR4 compatible SO-DIMM slots (up to 64GB)
storage
4 PCIe 4.0 compatible M.2 slots
wireless function
Wi-Fi 6E, Bluetooth 5.2
USB port
USB3.1 Gen2 Type-A 6 units
2 USB3.1 Gen2 Type-C
Other connection ports
HDMI 2.0b 1 unit
2 Thunderbolt4
2.5Gb Ethernet port
SDXC card slot
3.5mm headphone jack
Supported OS
Windows 10, Linux
Size
357mm x 189mm x 120mm (volume approx. 8L)
As mentioned in the spec table, the 'NUC 11 Extreme Kit' can be equipped with a graphic board of up to 12 inches (30.48 cm).
Technology-related media The Verge has released
a photo of the compact body of the NUC 11 Extreme Kit packed with an ultra-high performance graphic board that uses the
GeForce RTX 3080 Ti
.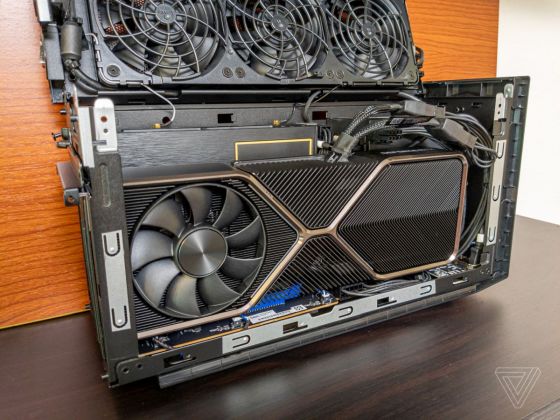 The 'NUC 11 Extreme Kit' that each media lent for review from Intel this time is the high-end model NUC11BTMi9, 'ASUS Dual GeForce RTX 3060 12GB GDDR6' for the graphic board, '
Sabrent 500GB rocket Nvme PCIe 4.0 M.2' for storage '2280
', 'Kingston HyperX KHX3200C20S4 / 8G (total 16GB with 2 cards)' was
installed in
the memory.
PC-related media of PCMag is, of the configuration of the above-mentioned 'NUC 11 Extreme Kit,' '
GeForce RTX 2070
was equipped with a' '
NUC 9 Extreme Kit
an average FPS of when you play the game in the'
measurement
has been.
Checking the FPS when running 'Far Cry 5
' on both PCs, the 'NUC 11 Extreme Kit' has 1920 x 1080 pixels (Full HD), 2560 x 1440 pixels (WQHD), and 3840 x 2160 pixels (4K). It has a higher FPS than the 'NUC 9 Extreme Kit' under all conditions. 'This result depends on the performance of the GPUs installed in both PCs,' said PCMag, pointing out that the difference in FPS this time does not directly represent the difference in specifications between the two PCs. The results obtained with the '11 Extreme Kit' are similar to the results obtained with a PC with similar specifications built using a large PC case. ' I praise you for pulling out enough.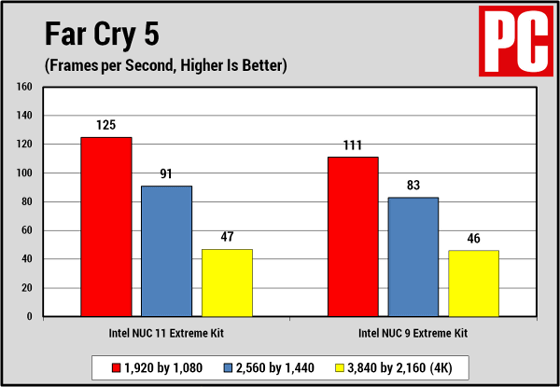 Tom's Hardware, who released the
procedure for actually disassembling the 'NUC 11 Extreme Kit', pointed out that due to the small size of the 'NUC 11 Extreme Kit', it is necessary to have tips for cable routing and graphic board installation. In addition, he said, 'This skeleton logo is very annoying' about the point that the skeleton logo located on the front part shines brightly, expressing dissatisfaction with the design.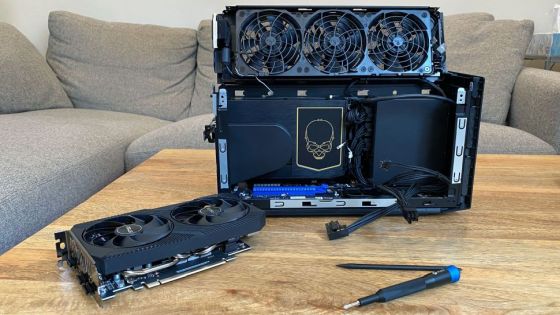 The reaction of overseas media who touched the 'NUC 11 Extreme Kit' provided for review by Intel this time was well received in that 'a high-performance graphic board can be mounted on a small body without degrading the performance'. However, it was rated low in areas other than performance, such as 'the price is too high' and 'I don't like the design'.

According to Intel, the 'NUC 11 Extreme Kit' will be launched in the third quarter of 2021. The price of the high-end model NUC11BTMi9 will be $ 1,350 (about 148,000 yen), and the price of the low-end model NUC11BTMi7 will be $ 1,150 (about 126,000 yen).