MSI booth that impresses 'MSI in the game', such as a full-size Grabo externally attached PC and a notebook PC equipped with a mechanical keyboard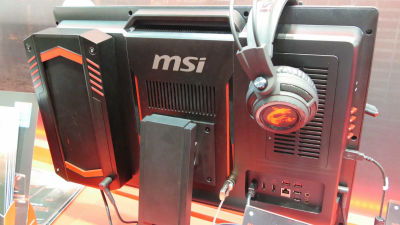 Asia's biggest IT trade fair held in Taipei, Taiwan until 6 June 2015 "COMPUTEX TAIPEI 2015"so,MSIAs usual, we developed a booth that pushed the gaming PC to the front. We released a high-performance gaming PC at once, such as NVIDIA's G-SYNC technology compatible gaming notebook PC and an integrated gaming PC that can "attach" a full size graphic board externally.

I arrived at MSI of image color black × red booth.



Speaking of MSI, a lot of gaming PCs were displayed as much as gaming.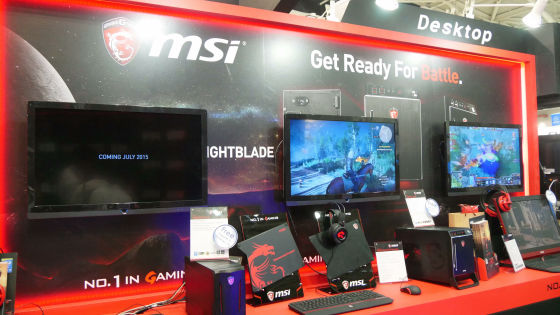 This is a gaming desktop PC "Nightblade B 85". Width 175.7 mm × depth 345.8 mm × height 277.3 mm, it is compact size for gaming PC.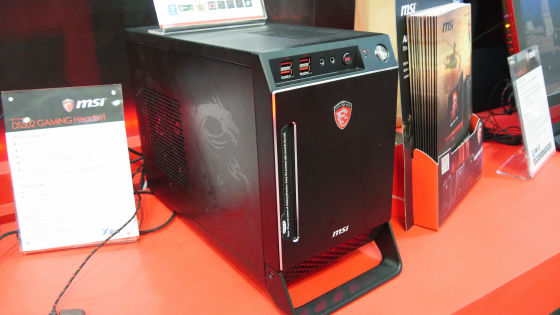 It seems to have a button that can overclock the CPU with one touch.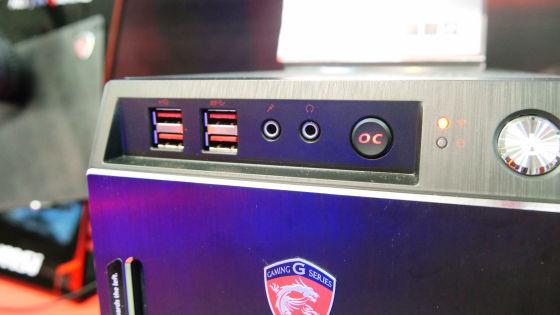 The 5th generation Intel Core i7 / Core i5 processor is mounted, and the memory supports up to 16GB.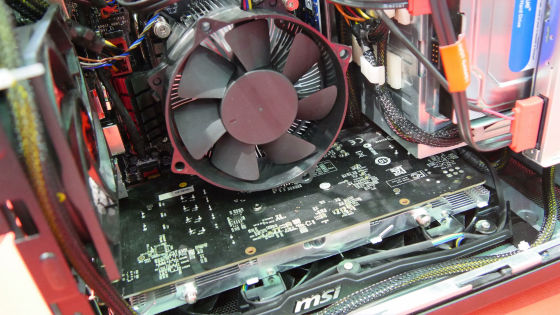 It is a small power source of 350 W, but because the GTX 970 of 290 mm or less in size can be mounted on the graphic board, the performance as a gaming PC is quite high. This space-saving 3.5-inch HDD and slim-type optical drive are equipped with stunning space layout.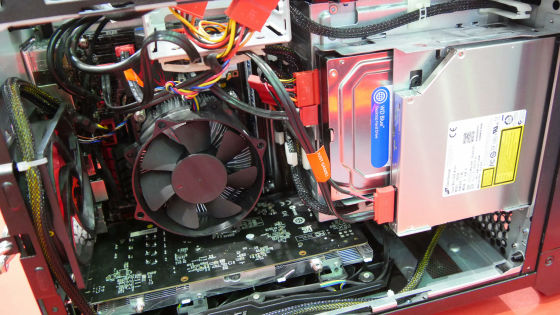 Display integrated gaming PC "Gaming 24"Is equipped with a 23.6 inch liquid crystal display with 4K (3840 x 2160) resolution. The CPU stripes the 5th generation Intel Core i7, GPU GTX 960M (2GB memory), mSATA SSD with RAID 0. OS is Windows 8.1, but of course it corresponds to free update to Windows 10.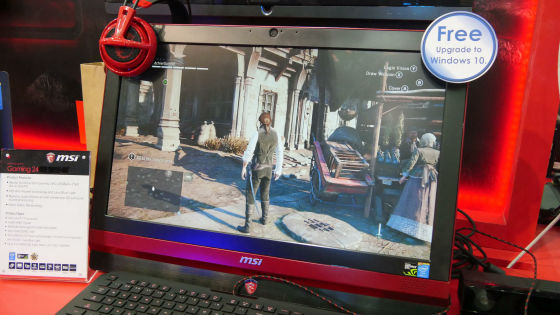 Also display integrated gaming "AX 24"Is somehow exhibited to show the back side.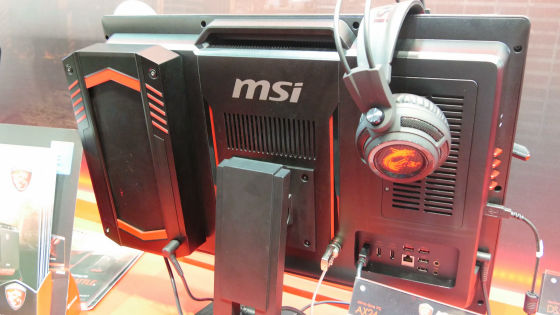 How, you can install a full size graphic board on the back side.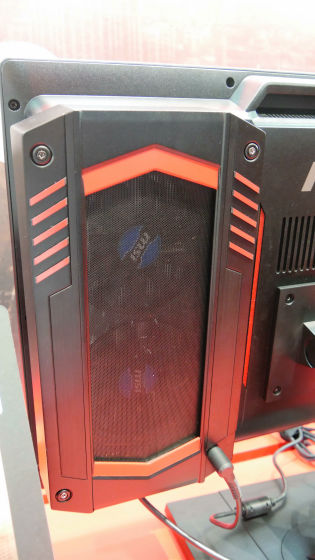 An optical drive was also installed between the liquid crystal display and the graphic board.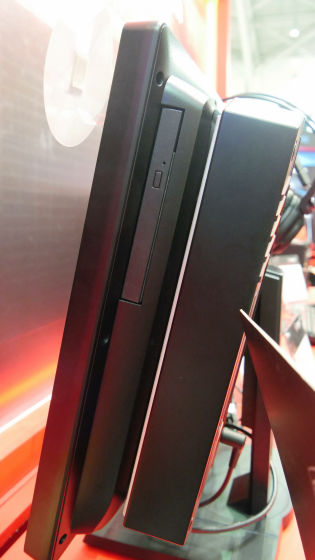 MSI's gaming offensive also spreads to notebook PCs. "GT72 2QE Dominator Pro G-SyncIs NVIDIA'sG-SYNC technologyCorresponding notebook PC.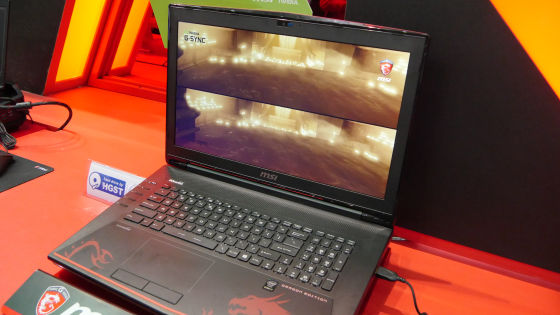 The keyboard shines gorgeously.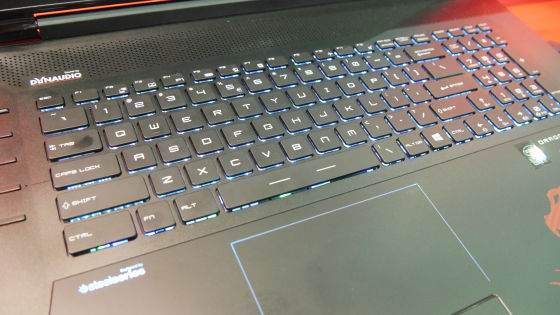 And a full-size graphic board can be attached externally to a transformation notebook PC "MSI GS 30 2M Shadow + G-Dock"To the new model"GS 30 2M Shadow / GamingDock MiniAppeared.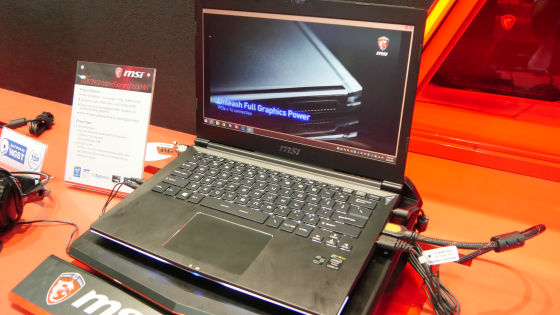 A transformation docking PC "MSI GS 30 2M Shadow + G-Dock" photo review - GIGAZINE which can add full size grabo to gaming notebook PC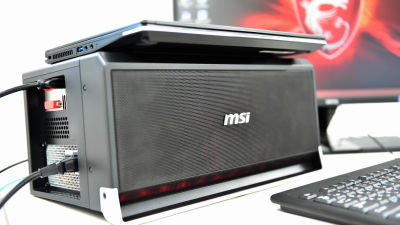 The docking station G-Dock which can attach the graphic board externally has greatly reduced the space saving.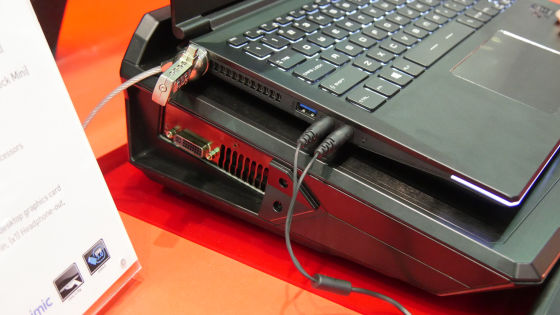 Showing the bigger body beyond the area of ​​the notebook is "GT80 ​​2QE TITAN SLI". Display size is amazing 18.4 inches (1920 × 1080).



It is the world's first notebook PC equipped with a mechanical keyboard like a desktop PC. The keyboard switch is made by Cherry and there is no pull out.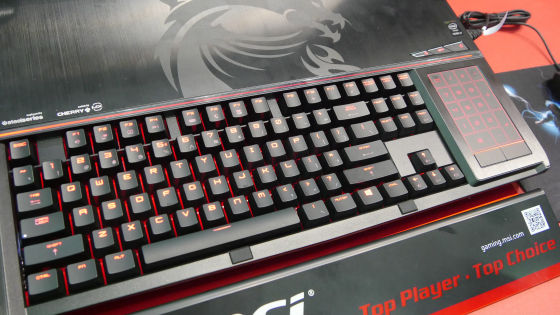 The CPU is scheduled to be renewed to the 5th generation Intel Core i7 processor. Using GTX 980 M as SLI for graphics, 4 high speed SSD of M.2 typeSuper RAID 3It consists of Killer 1535 in the networkMulti-User MIMOIt seems that it can be said that it is currently the strongest gaming PC without any complaints, with the specification that it corresponds to correspondence. The GT80 2QE TITAN SLI with the 4th generation Intel Core i7 4720 HQ (Haswell Refresh) is about 500,000 yen and is also being sold in Japan.