PayPal raises the purchase limit of virtual currency to 11 million yen per week, the annual limit will be abolished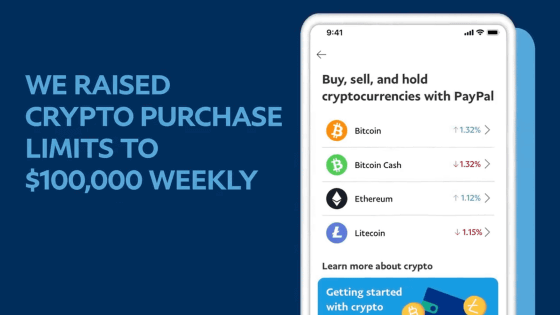 On July 15, 2021 local time, online payment service PayPal raised the purchase limit of crypto assets (virtual currency) to 5 times the conventional limit, and the weekly purchase limit was 100,000 dollars (about 11 million yen) Announced that. According to PayPal, this change will give you more options and flexibility when buying crypto assets.


We are pleased to announce that we have recently raised the purchase limits of

#Cryptocurrency for eligible PayPal customers in the US to $ 100,000 per week with no annual purchase limit. Learn more: https://t.co/5zTnnJ5LU4 pic.twitter.com / pG4pTGxUVz — PayPal (@PayPal) July 15, 2021


Press Release: Increased Purchase Limits for Crypto on PayPal
https://newsroom.paypal-corp.com/2021-07-15-Increased-Purchase-Limits-for-Crypto-on-PayPal

PayPal ups weekly crypto purchase limit fivefold to $ 100,000
https://www.cnbc.com/2021/07/15/paypal-ups-weekly-crypto-purchase-limit-fivefold-to-100000-.html

PayPal in October 2020, the United States users will be able to make the buying and selling of encryption assets in the platform announcement was. After that, in March 2021, we started 'Checkout with Crypto', which enables not only the buying and selling of crypto assets but also the actual payment using Bitcoin and Ethereum.

Launched 'Checkout with Crypto' that PayPal can settle with crypto assets, making it possible to pay with Bitcoin and Ethereum via PayPal --GIGAZINE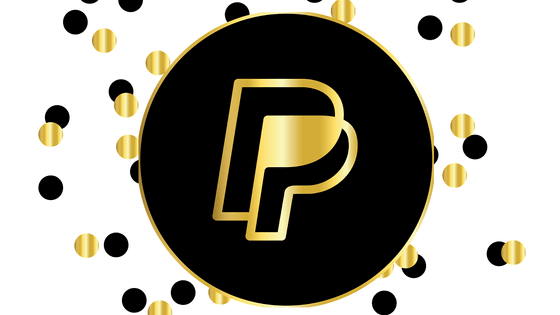 In addition, the mobile remittance service 'Venmo ' under PayPal, which is being developed in the United States, also started buying and selling crypto assets in April.

PayPal launches crypto asset service with remittance app 'Venmo' | coindesk JAPAN | Coindesk Japan
https://www.coindeskjapan.com/106369/

On July 15, PayPal, which has been promoting support for crypto assets for American users in this way, raised the purchase limit per week, which was previously limited to 20,000 dollars (about 2.2 million yen). Announced a five-fold increase to $ 100,000. In addition, the annual purchase limit was previously set at 50,000 dollars (about 5.5 million yen), but this limit has also been abolished.

Jose Fernandez da Ponte, Vice President of Blockchain, Cryptocurrencies and Digital Currencies at PayPal, said, 'As part of our efforts to meet the ever-changing needs of our customers, PayPal users' cryptocurrencies targeted in the United States. We will raise the asset purchase limit to $ 100,000 per week and remove the annual purchase limit. This change will give our customers more options and flexibility in purchasing crypto assets on the platform. ' Said.

PayPal will continue to update in-app guides and educational materials that explain crypto assets to help users learn about crypto assets. It will also provide Q & A on frequently asked questions and insights into the situation of crypto assets to help resolve misunderstandings about crypto assets.