The Apple Store follows the trend of 'no mask required after the completion of the new corona vaccination', but some point out that 'there is a possibility of entering the store with a lie'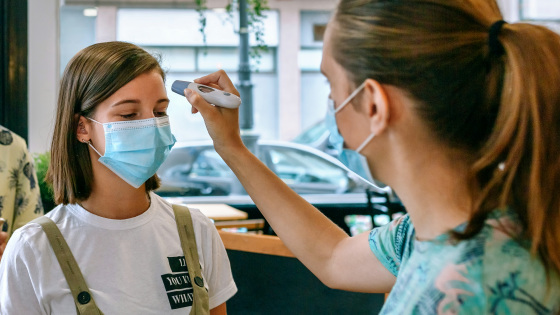 It was reported that the actual store operated by Apple, the Apple Store, will soon adopt a policy that 'visitors who have completed vaccination with the new coronavirus will not be obliged to wear masks.'

Apple's US Stores, Offices to Start Dropping Mask Requirement --Bloomberg

https://www.bloomberg.com/news/articles/2021-06-13/apple-sus-stores-offices-to-start-dropping-mask-requirement
US Apple Stores dropping customer mask requirement on June 15 | AppleInsider
https://appleinsider.com/articles/21/06/13/apple-set-to-drop-customer-mask-requirement-for-apple-store-visits
Bloomberg, an overseas media outlet, reported on June 13, 2021, that the Apple Store in the United States will switch to a policy of not imposing masks on vaccinated visitors from June 15. thing.
On May 14, 2021, Apple issued a protocol for COVID-19, 'wearing a mask', 'checking body temperature', 'keeping a social distance' for employees and visitors, and 'health check' for employees. 'Cleaning the product' is
obligatory
. This was in contrast to
Wal-Mart
and Costco's policy of 'only certain stores allow vaccinated customers to come to the store without a mask.'


After that, on May 15, 2021, the
Centers for Disease Control and Prevention (CDC)
revised the 'Guidelines for Behavior of People Vaccinated with the New Corona Virus Vaccine' and 'No
mask required even on the premises of the complex after vaccination is completed.
We have set out a policy of. This change in Apple's policy follows the revised guidelines of the CDC. According to Bloomberg, Apple is announcing to its employees that 'as progress has been made in responding to COVID-19 in the United States, many sites will move to the next phase. In the next phase, vaccination There will be no obligation for completers to wear masks, and physical distance restrictions will be relaxed. '
Apple's policy shift is believed to be aimed at increasing the number of visitors to physical stores and regaining sales. However, Apple also said that it is not necessary to confirm whether employees have vaccinated customers, and overseas media such as Apple Insider said that 'visitors who have not been vaccinated' He points out the danger of entering the store with a lie.