'Anker Nano ll 45W' review that is compact and can be charged from smartphones to laptops with a maximum of 45W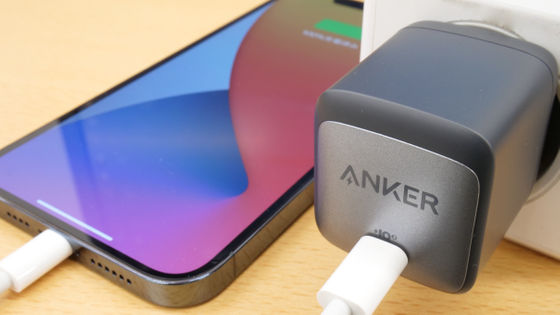 Anker released the USB Type-C charger ' Anker Nano ll 45W ' on May 25, 2021
that supports Programmable Power Supply
(PPS) , which is a fast charging standard for
USB Power Delivery (USB PD).
Anker's new USB charger, which uses next-generation semiconductor
GaN (gallium nitride)
to replace silicon, is said to have the power and wide range of support that can be charged three times as much as a standard charger in spite of its compact size that is easy to carry. That's why I actually used it and checked it.
Anker Japan Official Website
https://www.ankerjapan.com/topics_detail.html?info_id=288
This is the package of 'Anker Nano ll 45W'.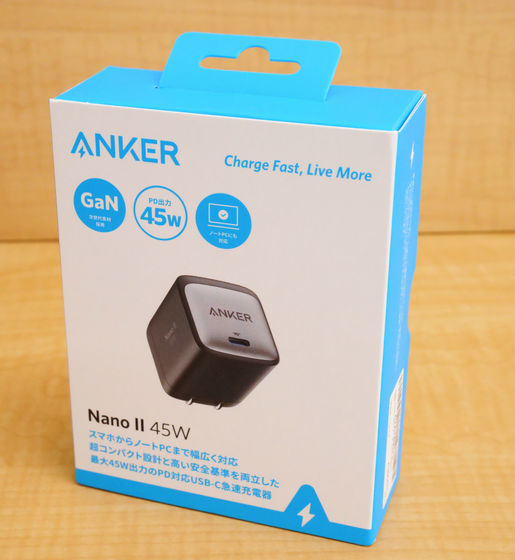 On the back side, it was stated that it was a 2nd generation GaN-equipped USB charger and that it was compatible with charging a wide range of models. In addition, although only Apple products such as iPhone and iPad are listed in the package, according to Anker's announcement material, a wide range of devices from smartphones to laptops such as
Dell's XPS 15
as well as major Android models such as
Pixel 5
and
Galaxy S21.
It is said that it corresponds to.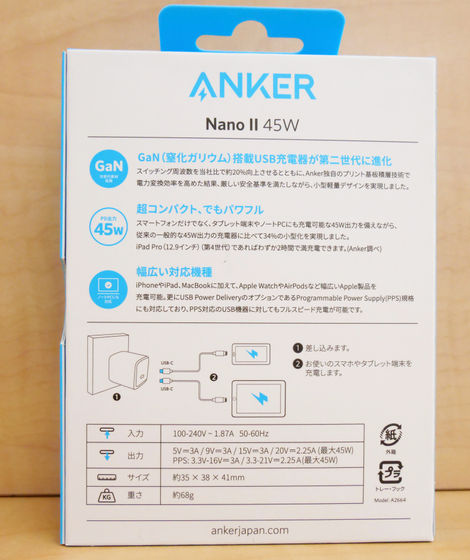 So, open the package.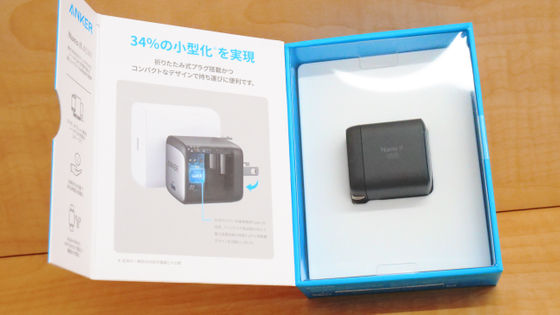 The contents are the starter guide and the Anker Nano ll 45W body.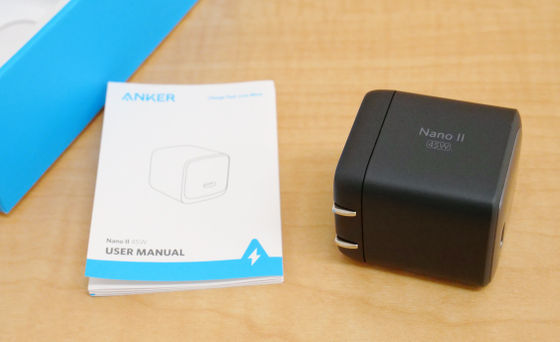 The Anker Nano ll 45W is a size that fits comfortably in the palm of your hand. The dimensions are 35 mm x 38 mm x 41 mm, and it has a shape close to a rectangular parallelepiped.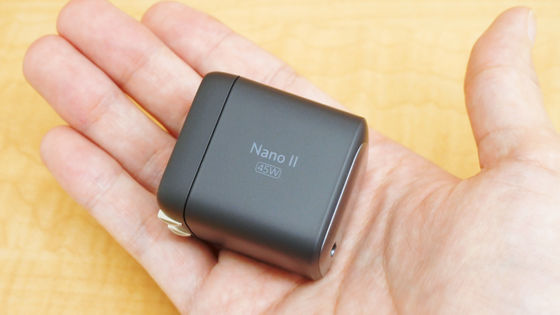 On the front, there is one USB Type-C socket of Anker's original standard,
Power IQ 3.0
, which is compliant with USB PD and Qualcomm Quick Charge.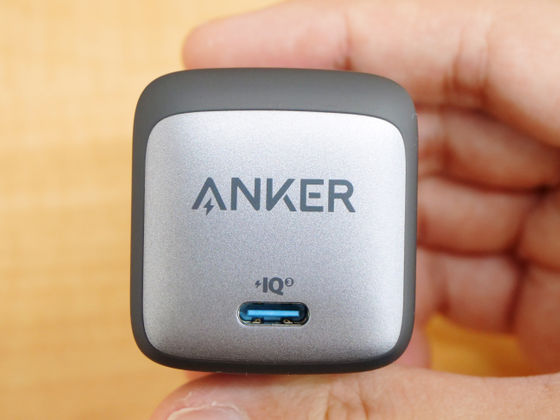 On the back where the outlet plug was stored, it was stated that a maximum output of 45W was possible.



The outlet plug can be easily pulled out with your finger.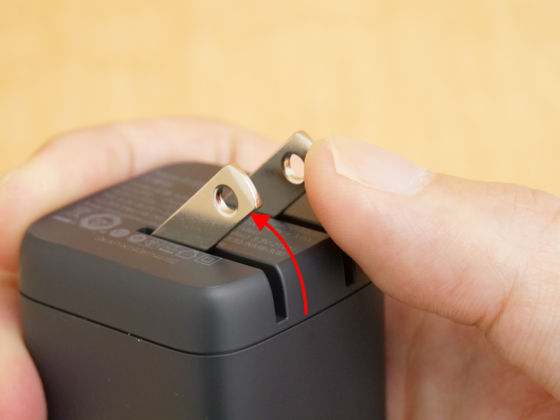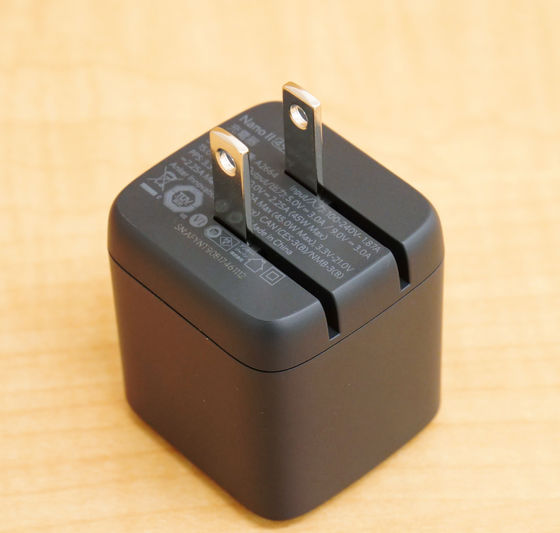 From the left, Apple's genuine
5W USB power adapter
, Anker Nano ll 45W, 20W USB-C power adapter
, which is a quick charging adapter for iPhone 12 series, looks like this ...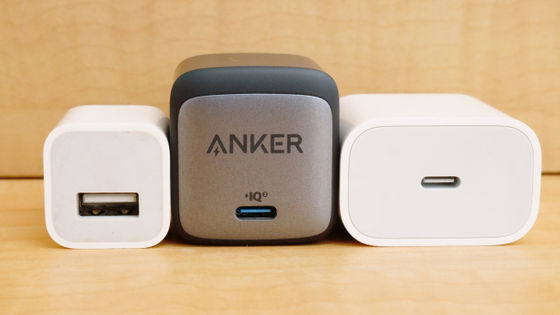 Compared from the side, it looks like this. The Anker Nano ll 45W was just the middle size, one size larger than Apple's 5W USB power adapter and smaller than the 20W USB power adapter.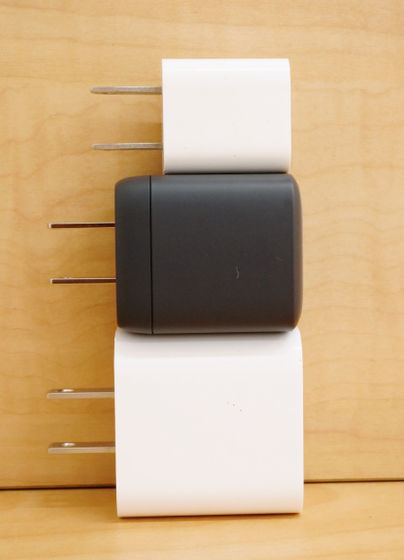 The actual weight is 68g.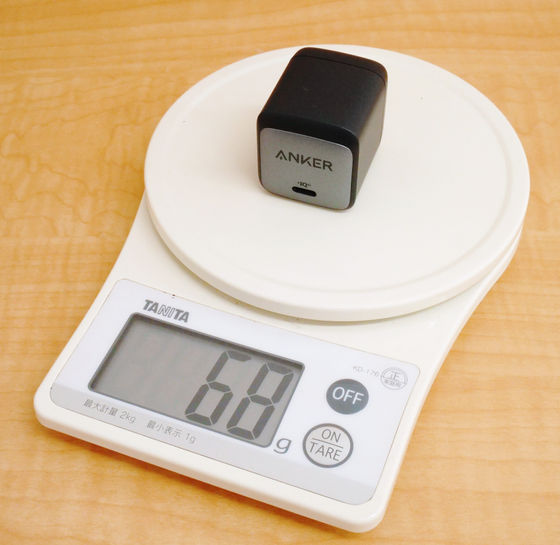 I will use it immediately. First, insert the Anker Nano ll 45W into an outlet and connect the USB Type-C cable ...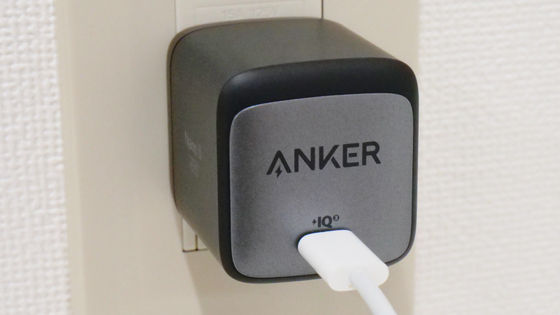 Connect the other end of the cable to the device. This time, I decided to charge
the iPhone 12.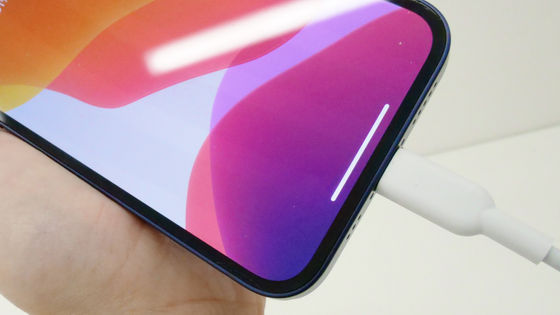 The following is the history of the remaining battery level during charging with an application called
NK Battery.
It only takes about 15 minutes to charge about 30%.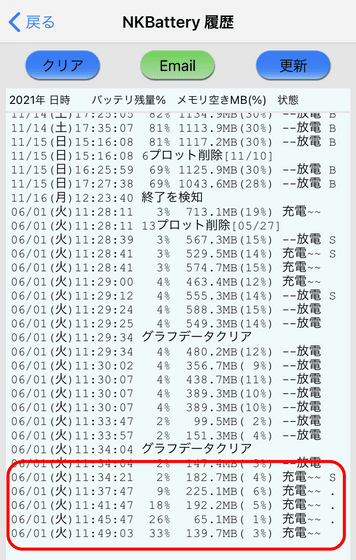 The graph of the remaining amount transition is as follows. A nearly vertical graph is drawn from 2% to 33%.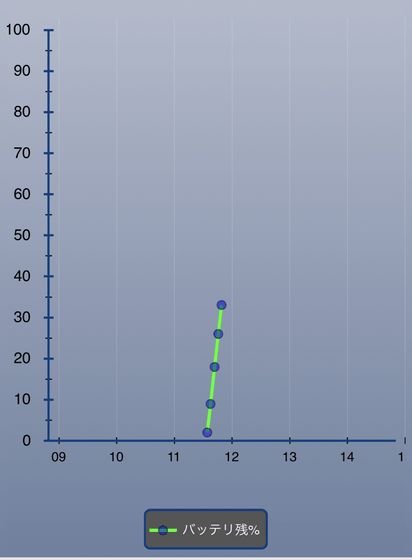 For comparison, I also tried charging with a 5W USB power adapter.
Apple no longer
includes a power adapter with the iPhone 12 series etc. in order to achieve the environmental goal, so like this 'I bought a new iPhone but I am using a conventional model power adapter' There should be many people who say.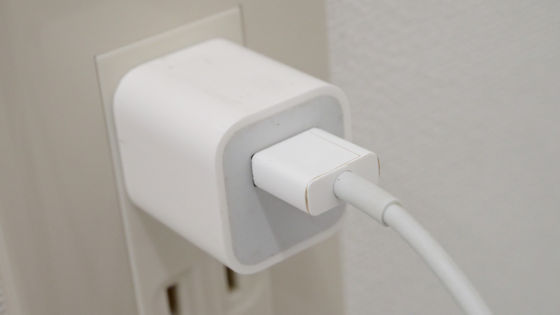 The resulting graph is below. You can see that the slope is gentler than the graph above.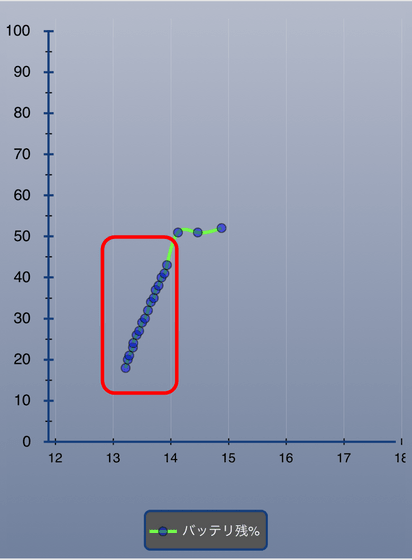 Looking at the record, it took less than an hour to charge the remaining amount from 18% to 51%, which was more than three times as long as the Anker Nano ll 45W.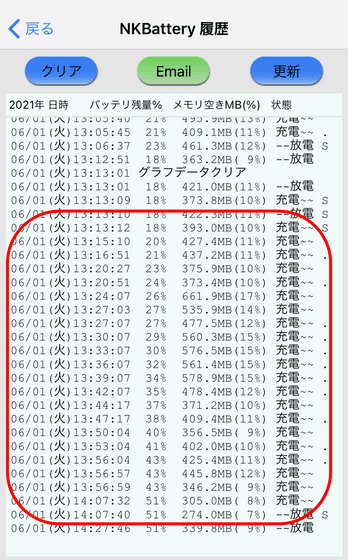 Next, let's check the output of Anker Nano ll 45W. When I first tried it with Anker Nano ll 45W and
8th generation iPad
, the output was '14.7V x 2.23A = 32.8W'.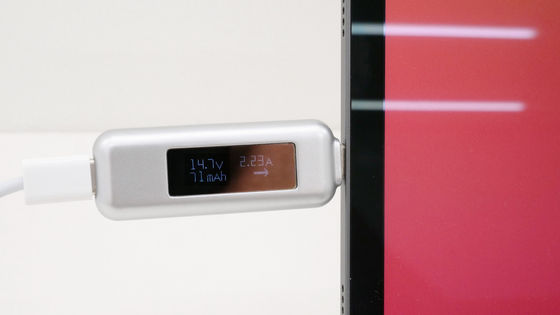 For comparison, when I checked with Apple's genuine 20W USB-C power adapter, it was '8.69V x 1.99A = 17.2W'. Although it did not reach the theoretical value of over 30W, it means that the Anker Nano ll 45W could be charged with nearly double the output of the genuine product.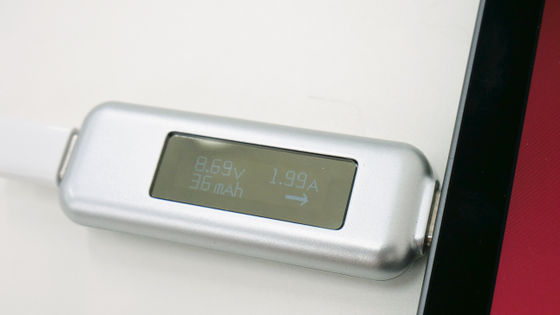 In the Pixel 3 XL, although it was displayed as 'quick charge', there were cases where the output was not as expected as '8.97V x 1.53A = 13.7W' ...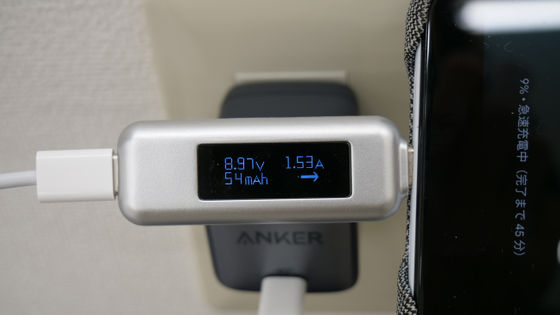 When I used it on my notebook PC, the editorial staff output almost the theoretical value of '19.9V x 2.26A = 44.974W'. In this way, although there are differences depending on the device, the Anker Nano ll 45W can be said to be a power adapter that can charge from smartphones to laptops at high speed while being compact, which is almost the same as genuine Apple products.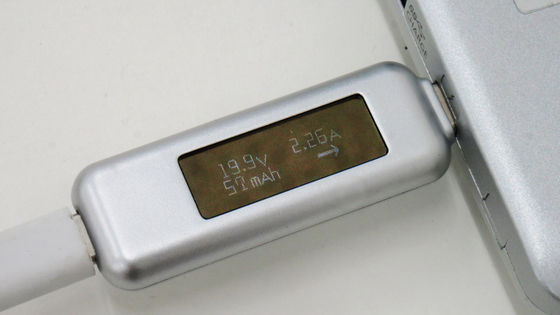 'Anker Nano ll 45W' appeared on Amazon.co.jp and Rakuten Ichiba's Anchor Direct Rakuten Ichiba store from May 25, 2021 for 3390 yen including tax, but it was sold out at the time of article creation. thing and do not stand even the prospect of re-stock. 30W and 65W models will be released in the summer, so it's a good idea to start considering after the lineup is complete, except for those who need it right now.

Amazon | Anker Nano II 45W (PD Charger USB-C) [Original technology Anker GaN II adopted / PD compatible / PPS standard compatible / PSE technical standard compliant / foldable plug] MacBook PD compatible Windows PC iPad iPhone Galaxy Android smartphone Notebook PC Compatible with various other devices (black) | AC charger mail order <