In iOS 15, it is predicted that the notification function will be enhanced and the food tracking function will be added.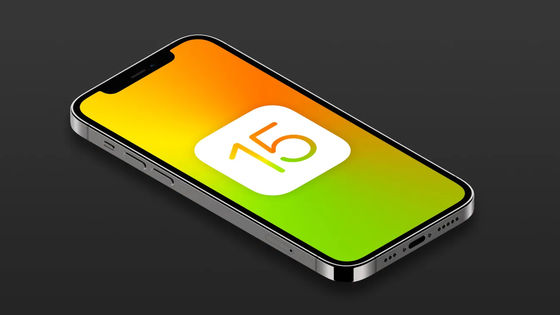 Apple plans to deliver the developer event 'WWDC21 ' from June 8, 2021 Japan time. The latest version of the OS for iPhone ' iOS 15 ', which is expected to be announced in this, has enhanced notification function and added 'food tracking function' to record what the user ate. It is reported that.

Sketchy rumor suggests iOS 15 will have enhanced notifications, food tracking features, more ―― 9to5Mac
https://9to5mac.com/2021/05/25/sketchy-rumor-suggests-ios-15-will-have-enhanced-notifications-food-tracking-features-more/

WWDC will announce the latest versions of Apple-provided operating systems such as iOS, macOS, watchOS, and tvOS, but even at the time of the upcoming article creation, few details about the update have been leaked. However, some leak information about iOS 15 is popping up.

Connor Jewiss leaked about new features in iOS 15. According to his tweet, iOS 15 will have four changes: 'Dark Mode UI Enhancement', 'Messages App Enhancement', 'Health Food Tracking Function', 'UI Change', and 'New Notification Settings and Lock Screen'. thing.

When I said I'd seen some iOS 15, I'm not going to disappoint:

◼️-Dark Mode UI tweaks
????-Messages app tweaks
????-Food tracking and other new features in Health
????- Confirmation of UI changes from previous screenshot rumor
????-New notification settings and look on lockscreen

— Connor Jewiss (@connorjewiss) May 25, 2021


Apple-related media 9to5Mac reports that Bloomberg's report confirms his leak information, saying 'Jewiss has no track record of rumors and leaks about Apple.' According to Bloomberg reports, the new notification feature will allow you to customize the notification method according to the activity you are doing, such as driving, working, or sleeping. This is Jewiss's 'new notification settings and lock screen'.

In response to Jewiss's leak information, Bloomberg reporter Mark Garman tweeted, 'Don't forget to update the notification banner.'

Don't forget updated Notification banners

— Mark Gurman (@markgurman) May 25, 2021


In the past, Apple has investigated 'Are you monitoring your eating habits?' For Apple Watch users, and it has been rumored that a blood glucose measurement function will be added to Apple Watch, so about the food tracking function 9to5Mac points out that it is a 'possible feature.' In addition, it seems that the food tracking function will be added to the iOS health application.

In addition to the information leaked by Jewiss, Bloomberg predicts 'a new home screen for the iPad' and 'adding multiple privacy options.'