I tried Imuraya 'Yawamochi Ice Fruits Mango & Mango & Mango' where triple mango of pulp & sauce & sorbet produces flavor like ripe mango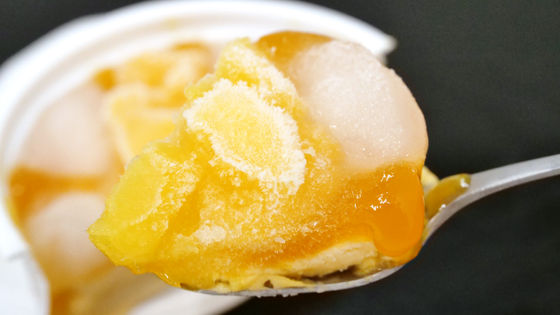 'Yawamochi Ice Fruits Mango & Mango & Mango ', which is a triple of mango pulp, mango sauce, mango sorbet and mango elements, has appeared in
Imuraya's 'Yawamochi Ice Series
', which is familiar in Chinese steamed buns and Azuki bars. .. It is said that you can enjoy the taste of Alfonso mango, which is in season from spring to summer, so I actually tried it.
Yawamochi Ice Fruits Mango & Mango & Mango Information | News Release | Imuraya Co., Ltd.
https://www.imuraya.co.jp/news/2021/details221/
This is 'Yawamochi Ice Fruits Mango & Mango & Mango'. An ice cream with a mango-like color is drawn in a clear blue color reminiscent of the blue sky.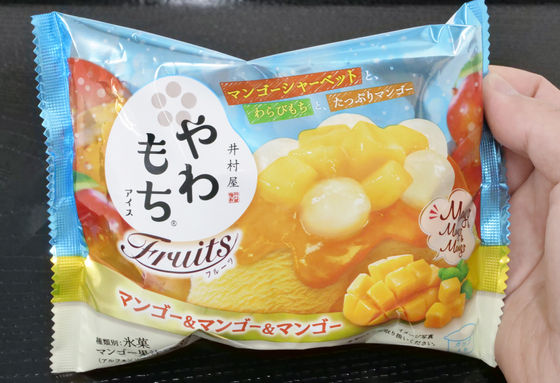 Each calorie is 158 kcal.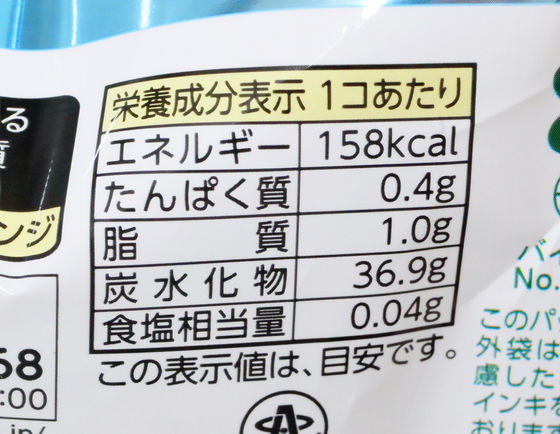 The type of ice cream
is ice cream, and the raw materials are mango syrup pickled (made in Thailand), mango sauce, mango puree and mango. In addition, it contains genuine bracken starch and Western liquor that make up Yawamochi.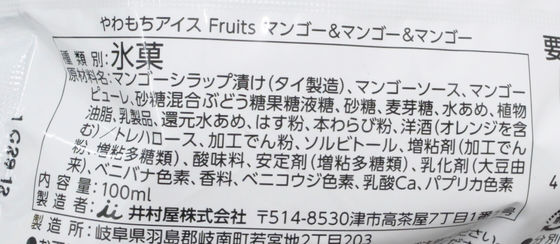 Opened. The upper surface of the main body is topped with sugar-pickled mango pulp and soft rice cake. In the Yawamochi series, there are 'Omochi' that uses Shiratamako as a raw material and 'Warabimochi' that uses Hasu powder and genuine warabi powder, but this time 'Mango & Mango & Mango' Warabimochi is used.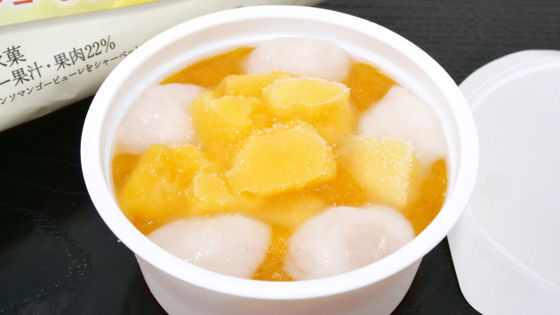 Insert a kitchen knife and look at the cross section. 'Mango & Mango & Mango' is 'Mango Sauce' with 30% Alfonso Mango Puree on the upper side and 'Mango Sherbet' with 20% on the lower side. The sauce, sorbet, and topping pulp are combined to form 'Mango & Mango & Mango'.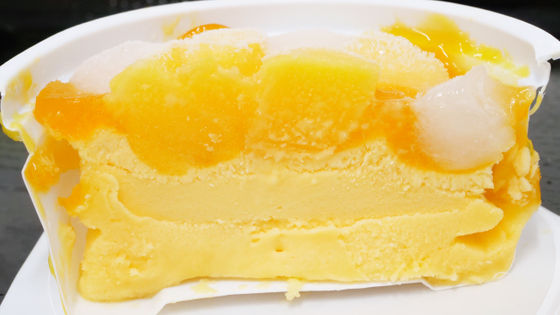 When you actually eat it, you will feel an overwhelming mango feeling as if you were eating the ripe mango itself. Yawamochi has a punipuni kunekune texture, but the taste of mango is so overwhelming that it gives the impression of an accent only on the texture. The upper part is the sauce and the lower part is the sorbet, but the sauce is rather crispy and the sorbet is smooth. The sherbet on the side that comes into direct contact with the tongue had the advantage of melting in the mouth when placed in the mouth.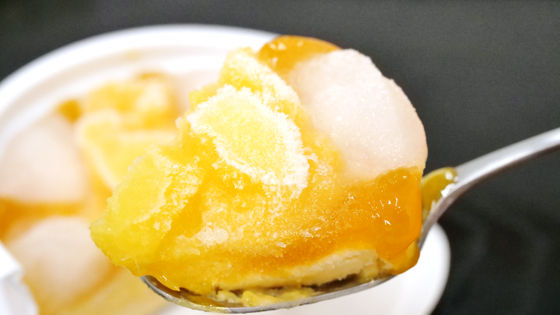 Imuraya 'Yawamochi Ice Fruits Mango & Mango & Mango' will be available only at convenience stores on May 3, 2021 (Monday). General sales such as supermarkets will be from May 24, 2021 (Monday). The suggested retail price is 226 yen including tax.