I tried 'Aisu Manju Zunda Mochi' which is a milky zunda ice cream with edamame flavorful zunda bean paste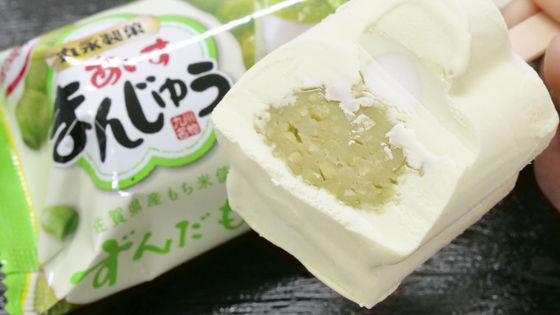 Mashed regional cuisine of northeast edamame
Zunda
sweets brand that specializes in '
Zunda Saryo
' was supervised by
'ice bun Zunda mochi'
has emerged from MaruHisashi confectionery. It is said that the milky zunda ice cream is filled with a lot of zunda with a grainy texture, so I actually tried it.
Supervised by 'Zunda Charyo', a popular confectionery store in Sendai, a new product 'Aisumanju Zunda Mochi' with Japanese-style ice cream will be on sale nationwide from November 10 (Tuesday) in advance of convenience stores | Marunaga Confectionery
https://www.marunaga.com/news/764
This is Marunaga Confectionery 'Aisu Manju Zunda Mochi'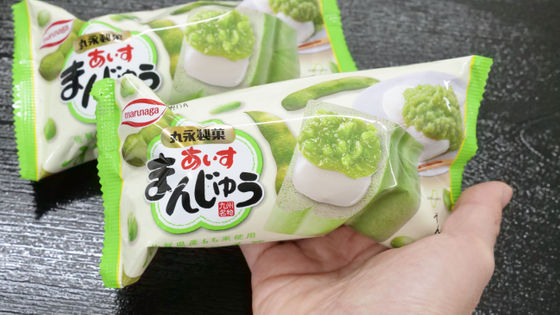 There are various types of
'Aisumanju' series such as 'PREMIUM Aisumanju' and 'Aisumanju Yame Matcha', but this time it is called 'Zunda Mochi' supervised by Zunda Charyo, so edamame is the raw material of Zunda. Is drawn on the package.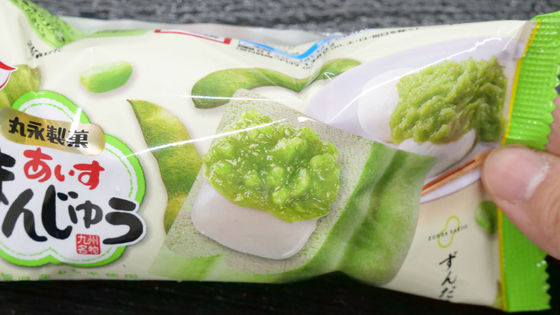 As for the raw materials, you can see that edamame such as edamame bean paste (made in Japan) and edamame puree contains rice cakes such as shiratama-ko and rice cake rice flour.



The calorie is 201 kcal per bottle.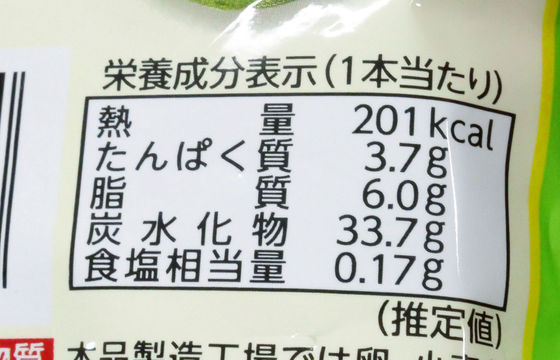 Opened. Marunaga Confectionery, also known as ' Shirokuma, ' is headquartered in Kurume City, Fukuoka Prefecture, and Aisu Manju is shaped with the motif of Fukuoka's prefectural flowers and plums.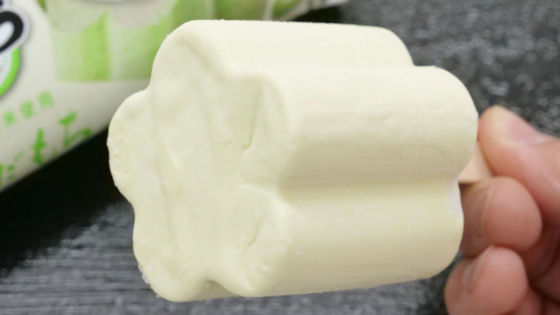 The cross section cut with a kitchen knife is as follows. Next to the zunda bean paste, where the mashed edamame grains remain, you can see the mochi that was cooked by our own method.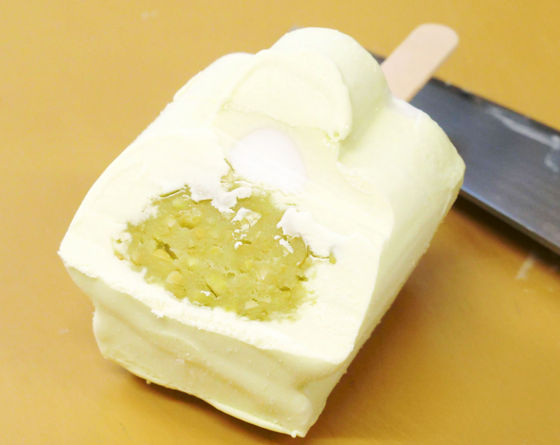 When I try to eat it, I can feel the rich flavor of edamame in the milky zunda ice cream. Zunda is associated with the green odor of edamame, but I don't feel the green odor at all, and the flavor of edamame and the taste of milk are the main flavors, which makes it quite easy to eat. Not only does it have the elasticity to push back when you bite the toy part, but it also feels like a real rice cake when it melts with the heat of the mouth. Zunda bean paste is said to have a 'crushed texture', but there was almost no difference from the mochi texture of the zunda ice cream.

Marunaga Confectionery 'Aisu Manju Zunda Mochi' will be available for pre-sale at convenience stores from November 10, 2020 (Tuesday), and will be on sale from December 7 (Monday). The suggested retail price is 160 yen excluding tax.