Facebook's fake news measures point out that there is a big gap between the United States and Europe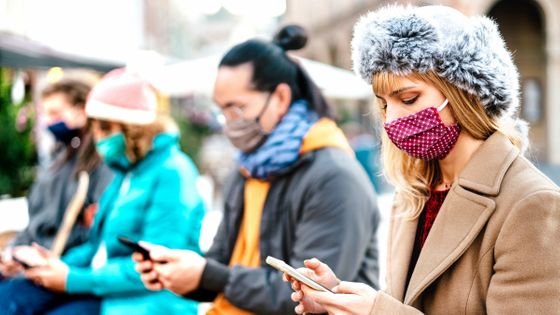 With the spread of fake news about the new coronavirus infection (COVID-19) on social media as a problem, Facebook has taken measures such as
removing anti-mask groups and removing
fake news and conspiracy theories about vaccines.
I am taking it.
However, Avaaz
, an American online activist network, accused Facebook of responding, saying that 'Facebook's countermeasures against fake news have a big gap between the United States and Europe.'
Avaaz --Left Behind: How Facebook is neglecting Europe's infodemic
https://secure.avaaz.org/campaign/en/facebook_neglect_europe_infodemic/
Facebook stumbles again on tackling COVID-19 misinformation – POLITICO
https://www.politico.eu/article/facebook-covid19-misinformation-europe-united-states/
Facebook Said It'd Stop COVID Anti-Vaxxers, But It's Letting Them Run Wild
https://www.vice.com/en/article/y3dz5w/facebook-is-failing-miserably-at-stopping-covid-conspiracy-teh
The spread of fake news about COVID-19 is a serious public health issue, and Facebook is working with an independent fact checker to check content in 60 languages around the world, 'detecting and deleting fake accounts' and 'fraud. It is said that it is taking measures such as crackdown and labeling of the spread of fake news in good faith.
What is Facebook actually doing as an 'effort to prevent false information'? --GIGAZINE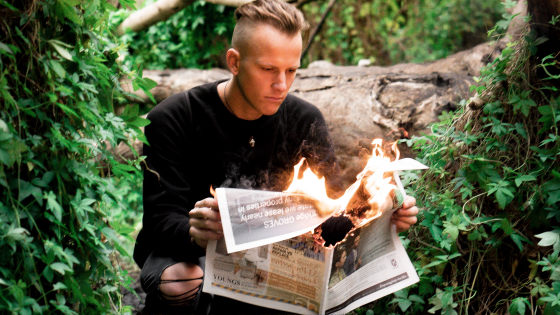 Avaaz investigated the response to fake news posted on the platform to see how well Facebook's fake news protection works. The research team focused on 135 COVID-19-related content that was flagged as 'contains false information' by an external fact-checking group. These contents were posted in languages such as English, French, Italian, Spanish and Portuguese, and some of the content was translated into multiple languages and shared across countries.
When we looked at how much fake news posted was deleted or labeled, Facebook took action in 74% of cases where fake news was posted in English by users in the United States. On the other hand, when fake news was posted in French, Italian, Spanish and Portuguese, Facebook dealt with only 44%. In addition, even if the content was in English, only 50% of the fake news was dealt with when posted by users in the UK and Ireland.
The graph below shows the percentage of fake news posted in each language exposed to the user's eyes without being dealt with by Facebook. Only 29% of English (EN) posts, including those in the US, UK, and Ireland, are not dealt with, while 69% are not dealt with in Italian (IT) and 58% are in French (FR). , Portuguese (PT) is 50%, and Spanish (ES) is 33%.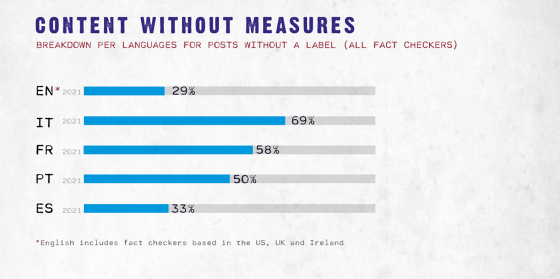 Below is a graph showing the percentage of posts by American users in English (US), English posts by UK and Ireland users (UK & IRELAND), and posts by non-English speaking users that Facebook has left untouched. .. With 26% of fake news content in the US, 50% in the UK & IRELAND, and 56% in non-English speaking countries, European users are at high risk of being exposed to fake news related to COVID-19.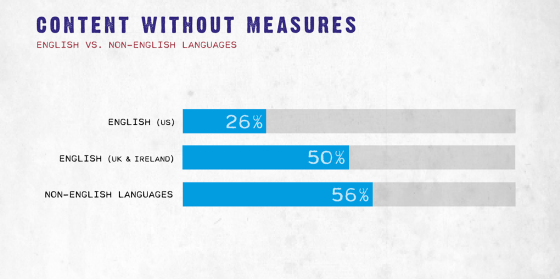 In addition, we know that there is a difference between English content and non-English speaking content in terms of 'the period between the posting of fake news and the removal or labeling.' As shown in the image below, 'ENGLISH CONTENT (English content)' took an average of 24 days from posting to action, but 'NON-ENGLISH CONTENT (non-English speaking content)' took an average of 29 days. That thing.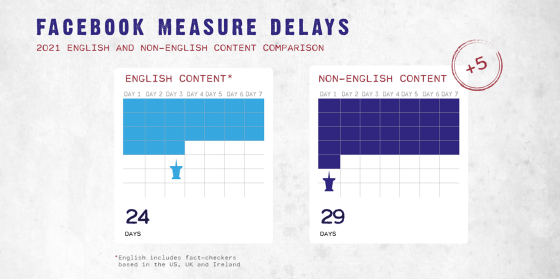 The most common fake news identified by the research team was 'vaccine side effects' with 36 cases, followed by 'false official statements and warnings' with 16 cases, and the third most common. There were nine fake news reports that the mask was ineffective or dangerous. The research team has also reached the highest number of people found in this analysis, presenting six fake news that have caused public health problems and distrust of health authorities.

False alarm 1: Bill Gates said, 'The COVID-19 vaccine can kill nearly 700,000 people.'
The post claims in an Italian article that Gates said during an interview with US news broadcaster CNBC that nearly 700,000 people could be affected by the vaccine, including death. What links to. Of course, this information has been confirmed to be fake news.

◆ False alarm 2: Doctor explains that 'COVID-19 vaccine changes DNA'
The post, written in Spanish, said a doctor named Chinda Brandolino, who lives in Argentina, said, 'The COVID-19 vaccine is a genetically modifying substance that kills most men who have been vaccinated.' Of course, this information has also been confirmed to be fake news, and the mRNA vaccine developed by Pfizer and Moderna does not rewrite DNA .

◆ Misinformation 3: The reason why wearing masks is obligatory is that 'the government has ordered too many masks.'
The fake news, posted in German, claims that 'people are obliged to wear masks because the government has ordered too many masks.' However, fact-checking organizations have shown that this is not true.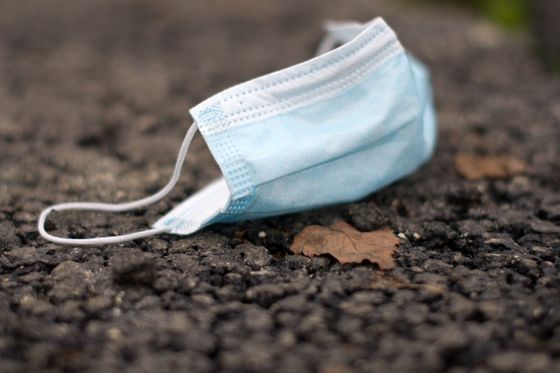 ◆ False alarm 4: World Health Organization (WHO) says 'you don't need to wear a mask'
The fake news, posted in English, claimed that 'in a statement released by WHO on January 22, 2021, there was no medical reason for healthy people to wear masks outside the hospital.' Link to the blog to do. Of course, this post is fake news, and WHO does not give any advice such as 'you don't have to wear a mask outside the hospital.'

◆ False alarm 5: 'Green breast milk' produced by mothers diagnosed with COVID-19 protects babies from infection
The image attached to this Portuguese post shows two bags, one filled with white milk and the other filled with green milk. In this post, 'The'green breast milk'published by mothers diagnosed with COVID-19 contains antibodies that mothers made to protect their babies, and breastfeeding protects their babies from infection. You can protect it, 'but this is also fake news . The color of breast milk can change due to factors such as diet, but infection with the new coronavirus (SARS-CoV-2) and antibody production are not related to the color of breast milk.

False alarm 6: Asymptomatic people do not infect others with COVID-19, a Chinese study found
The fake news, posted in French, states that 'symptomatological COVID-19 patients do not infect others and the government is lying to continue to scare them.' This has also been confirmed to be fake news, and it is known that SARS-CoV-2 spreads even in asymptomatic infected persons.

Experiments with more than 1800 Navy recruits reveal that the new coronavirus spreads among 'asymptomatic infected people'-GIGAZINE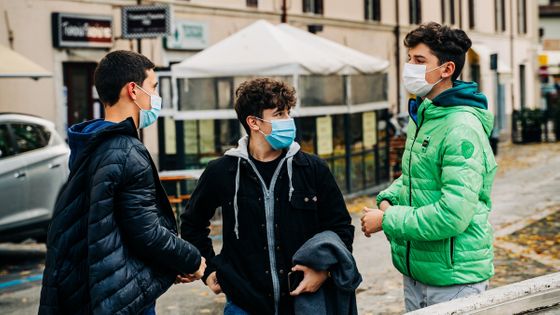 Facebook argued that Avaaz's findings were 'based on a small data sample and did not reflect the work Facebook did to provide people with reliable information,' and COVID in dozens of languages- He said he is taking proactive steps to combat 19 harmful fake news. Avaaz, meanwhile, argued that Facebook's lack of transparency was due to Facebook's restrictions on data collection, arguing that the dataset was small.

Luca Nicotra, Avaaz's campaign director, said the EU should have an independent regulator to monitor fake news on social networks, as platform self-regulation hasn't produced the desired results. Insisted.