A movie in which a robot autonomously runs on a full-discrete CPU using 1738 transistors is very popular.
A full-discrete 'CPU1738' consisting of MOSFETs (metal oxide semiconductor field effect transistors)
and diodes including LEDs without using any ICs is combined with the robot chassis to automatically change direction and run around. It has a good reputation on Twitter.
It seems that some people have bought a hellish kit that makes a whole CPU by soldering 1738 transistors. Thank you!
It took me 7 days to make it myself (if I didn't do any other work).
Please assemble the chassis of the robot part to make a 'running CPU'. https://t.co/wKYtabGXHO pic.twitter.com/2X6WYbc1mp

— Linear Tech Nobuko Beppu (@linear_tec) April 18, 2021


This tweet is by Nobuko Beppu, the representative of Linear Technology. As you can see in the tweet, there was a person who bought a kit to make 'CPU1738' by himself, and he said, 'Please assemble the chassis of the robot part and make a' running CPU '.'

The kit is this, 55,000 yen including tax.

CPU assembly kit (with robot parts) CPU1738 Made by Marutsu Elek | Marutsu for electronic parts and semiconductor mail order
https://www.marutsu.co.jp/pc/i/1633082/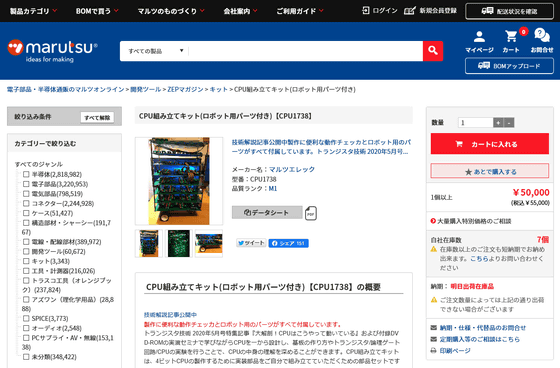 This was originally
published in the May 2020 issue
of Transistor Technology as a special feature 'Large dissection! The CPU works like this-Attracting with a 1738 stone full-discrete arithmetic circuit-'. On YouTube, Chapter 1 and Chapter 6 included in the DVD of the magazine's appendix are all released.
[Tiger technique May 2020 issue] CPU works like this [Chap1-1] How to make an appendix board [Seminar] --YouTube
The state of operation of CPU1738 is like this.
All-transistor 4-bit computer 'CPU1738'-YouTube
And the mobile robot made by adding the motor drive circuit and the sensor input circuit to the CPU1738 was a movie that became a hot topic.
Autonomous sending robot made with all-transistor 4-bit computer 'CPU1738' --YouTube
Each time the robot hits a wall, it turns and moves forward and backward. It shows that even a simple CPU can process while judging the conditions by itself.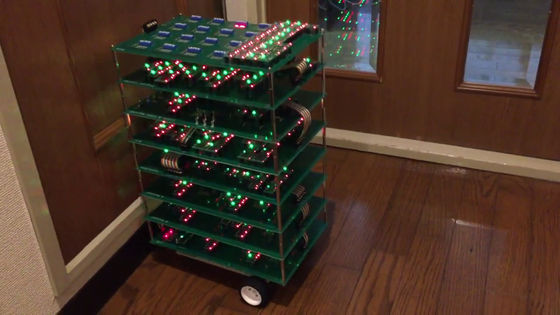 Detailed explanations and information are available on the ZEP Engineering website, so if you are interested, please read it.

Manufacture of all-transistor 4-bit CPU and FPGA development [Vol.1 Design of von Neumann CPU]
https://www.zep.co.jp/nbeppu/article/mz-cpu1738-da1/