Report on 'Model Journalism Plastic Depth' reporting the plastic modeling and design of 'A Holy Warrior Dan Bain' enthusiastically with designer · Hikawa Hikawa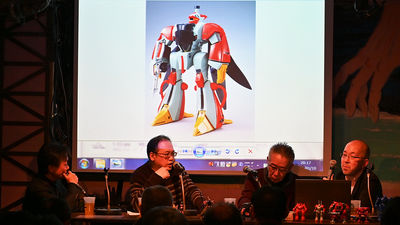 A talk event " Model Journalism Plasticodeatari " was held at Asagaya Loft A on Thursday, January 10, 2019 (Thursday) for "Plastic Model, Model, Modeling, Telling Characters". Of the freelance writer was on stage Hirota Keisuke 's, figure prototype production company, Emuaishi of Tetsuro Akiyama, animation expert Koji Igarashi, and "Aura Dunbine" "Xabungle" "Space Runaway Ideon" character design, etc. Takeshi Hikawa who worked on.

Talk about modeling and design was developed mainly on the plastic model of "Aura Butler of A Holy Warrior Dan Bain", using the real thing of the model, the material which was distributed at the time, the magazine's magazine, and so on.

Model Journal Plastic Models - LOFT PROJECT SCHEDULE
https://www.loft-prj.co.jp/schedule/lofta/106141

The seat is free seat, and there is no vacant table before opening.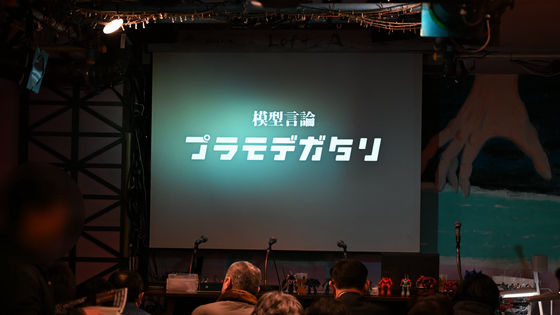 Mr. Akiyama from the left, Igarashi san, Mr. Hirota. First of all, a talk entitled "The era when Takuro Akiyama's figure was loose" was held.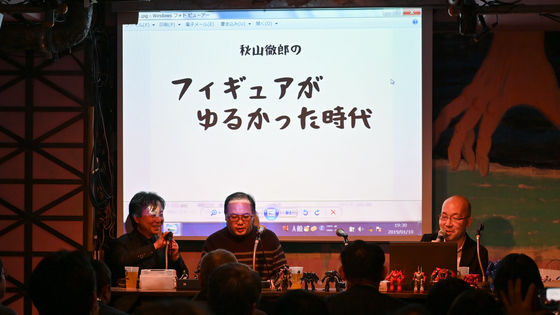 This is a page of "Anime figure beginner" by Mr. Akiyama on " Zabungle Dugram Plamo Great Book ". At that time, the robot's plastic model was increasing in score, but the character's figure was very scarce, especially "Battle Mecha Xabongle" was almost none. So this is Mr. Akiyama's own work, this Elch.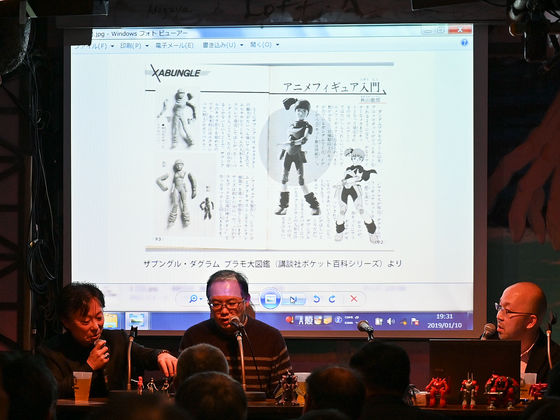 Also Mr. Akiyama's work "A Bisha Dan Bain" Cham Fa Woo.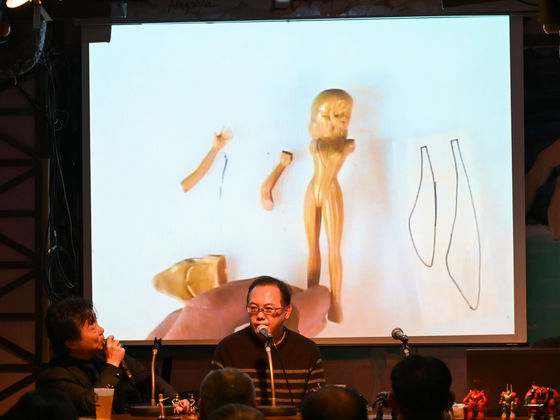 An example of Yumi Kaida , known as an illustrator, detailing that Chum was posted in "Model Information" issued by Bandai. According to Mr. Akiyama, Mr. Kaeda says that he was almost "detailed" to draw. In the lower part of the article is posted information on "1/24 Dan Bain Battle Clothing First Public".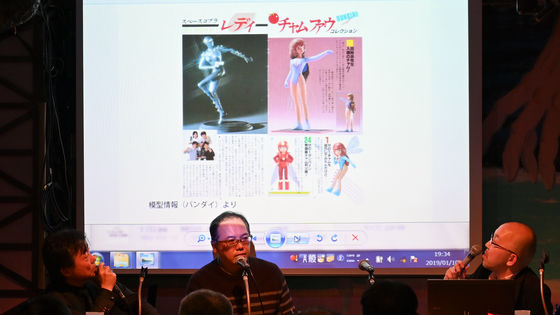 It is an extremely big point that these individual works were carved into molds. 1/24 Dan Baine also followed Cham Fau that matched the scale, but its size was about 2 cm. At the end of the index finger on the left is Cham Faow, attached to the 1/24 Dan Bain liner. Colored wear battle chim put on the right side is 1/5 scale.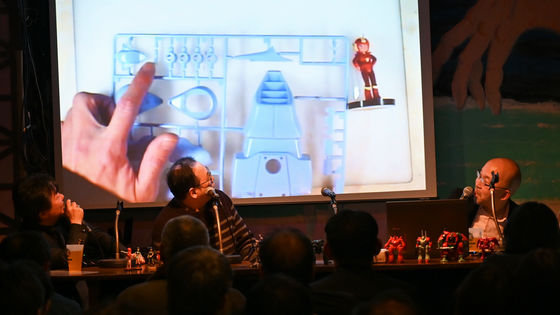 Heroines produced by Mr. Akiyama decorated on the table. Most owned works are owned, but only the kitchen / kitchen of the legendary giant Ideon was one point and he said that he did not own it.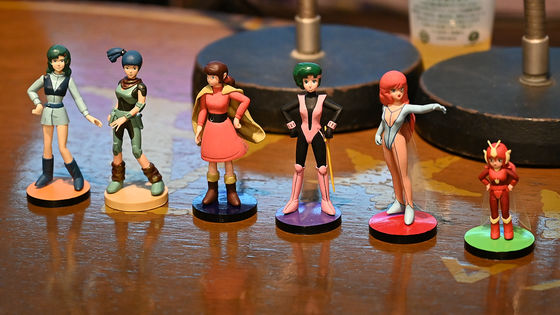 Mr. Yukiko Hikawa created the character of "Battle Mecha Zabangle" and "A Holy Warrior Dan Bain". Mr. Hikawa who entered as a guest said, "Is not it good if the rug is a little more expensive?" "If this is Cham?" Then why are the feet so smart? "Then ask questions to Mr. Akiyama I was bumping. The character's leg seems to be the point that Mr. Hikawa stuck, "It is not good if it is more atomic," he told me.

Four people gathered, the story to the topic of what anime was broadcasted in 1983. As a robot animation, the following works including "Skyward Operation Slangle" were broadcasted, among them "Saint Seiya Dunbine", "Armored Trooper Votoms" and "Galaxy Drifting Bifam" were produced by Sunrise.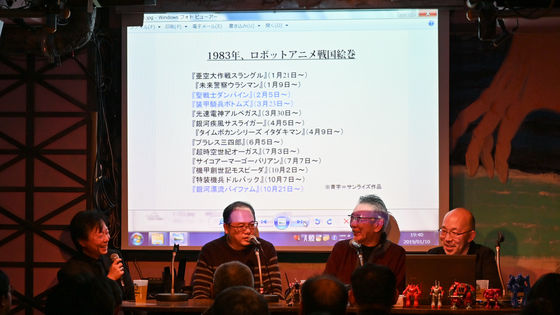 It was said that theatrical animation released in 1983 was a civil war era with three powers of "Phantom World", "Crusher Joe" and "Space Battleship Yamato Complete Edition". Mr. Hikawa said he spoke for three hours with Ms. Yoshiyuki Tomino after watching "Phantom World war."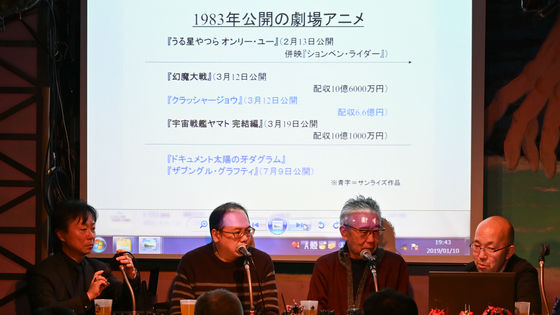 One of the makers making robot animation toys was "Clover" at this time. Originally I was dealing with toys for girls, but I am also a manufacturer who began to extend hand in the direction of super alloys and others. Igarashi says that "Invincible Superman Zanbot 3" "Invincible Steel Divert 3" "Unbeatable Robot Trider G 7" was selling quite a bit, but after that it fought hard and went bankrupt in August 1983.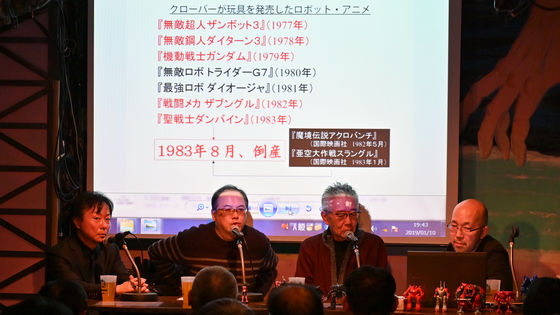 Both the "Battle Mecha Bubble" of the 1982 broadcast and the "Saint Seiya Dunbine" of the 1983 broadcast are robot animations by Director Yoshiyuki Tomino, but the design of the robot is very different. Hirota pointed out "novelty" about the design of Danbainn in particular. It first appeared in color, whilst Zabungle is "blue / white" and it is painted with a color that seems to be robot in general, Dan Bain is purple in its whole body. It does not coalesce or deform.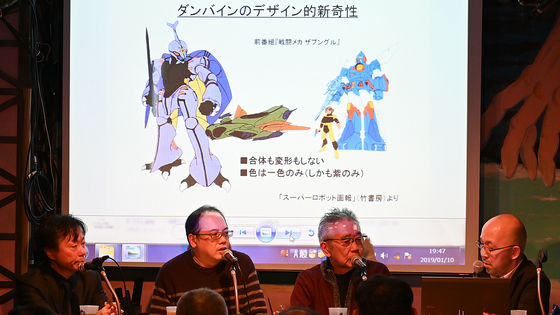 This design was compatible with other aura butler ... ...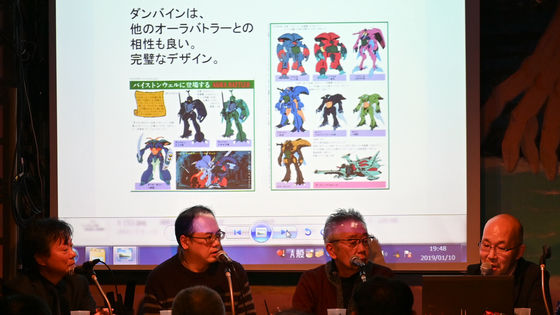 Bilbain who appeared in the second half of the work is painted with the classic robot color called red, blue, white, yellow, and since it can be deformed, Mr. Hirota asserted that "he broke down." Mr. Hikawa also said that he likes Danbain design better, "I hear that Bilbain is more popular than Danbain, but why?" I questioned.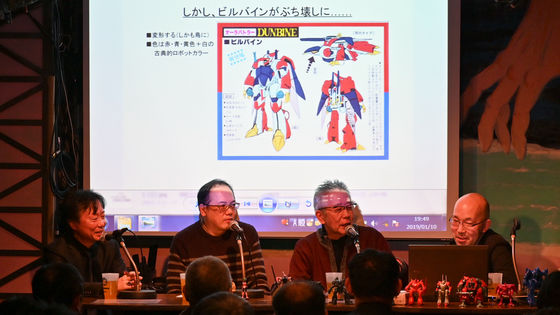 There is a pattern of the royal road in "How to paint differently" of color. That is to arrange a dark color from the upper body, the elbow to the tip, the knee to the front. The Dan Bain that I saw was indeed out of this pattern.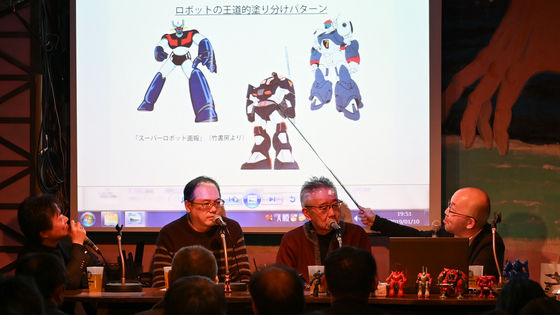 Valkyrie also appeared in the "Super Dimension Fortress Macross" also had pattern breaking coloring. However, Armored Valkyrie will return to a reclaimed paint.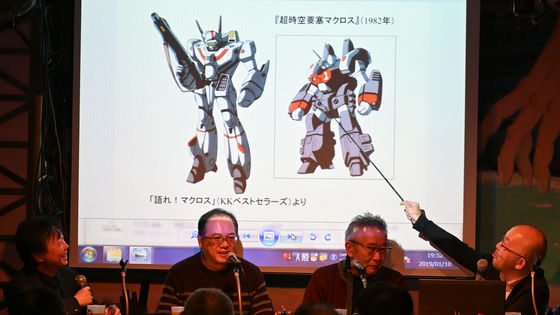 "Mobile Suit Gundam" is also innovative when the lower body is completely white. Although originally it was planned to have a dark color in the lower half of the body, Yoshihiko Yoshihiko says that it was changed due to an indication that "This will be the same as before". However, it will be similar to "Previous" in MSV conversion here as well.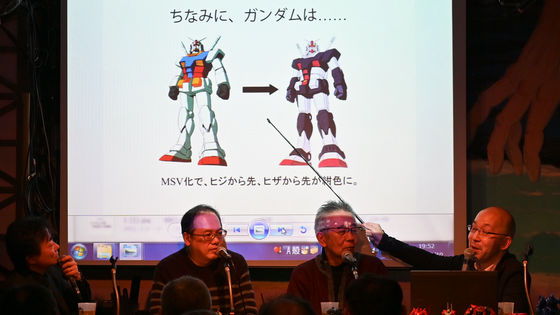 It was Mr. Kazuki Miyatake who worked the foundation of Dan Bain's innovative design. In its design concept, there were three keywords "brave Rydine", "mask rider" and "small robot". "Brave Raideen" is mysterious. "Masked Rider" is a design that is fascinated by the form without unioning and deforming. "Small robot" is because it is difficult for a robot that is too large to have a conversation with a person on the ground.

Concept picture by Director Yoshiyuki Tomino posted " Roman Album Extra Holy Warrior Dunbine ". Originally it was a "big demon" -like design, it will shift to "insects"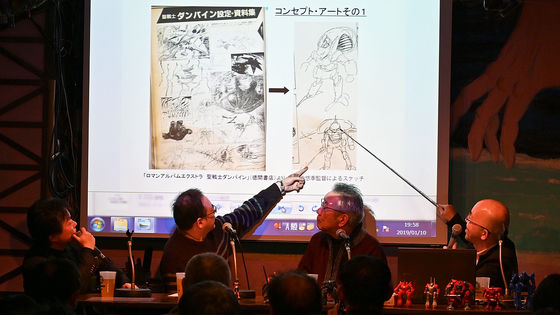 Mr. Hikawa called Miyatake who was in charge of mechanical design in Dunbine with "Miyatake" by abandoning it, but this was my passionate affection, and originally I thought that the other party is older than each other Although it seems that it was the same age when examined. In Danbain, Mr. Miyatake's mechanic design is clinching with Mr. Hikawa. Mr. Hikawa talked about the coolness of Dan Bain, "There are lots of things that are meaningless now, should a smart one be better?"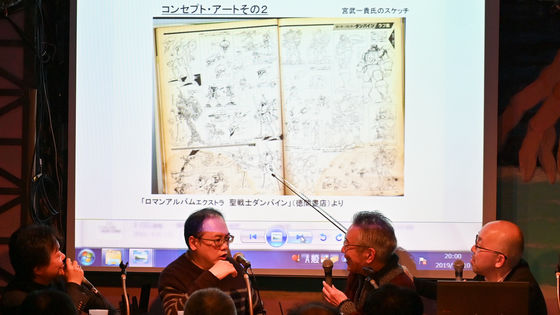 The sketches by Mr. Hikawa in this "Roman album extra" collection were all drawn with a fountain pen. Incorporating that "I wanted a slightly strange design", Lempra Khann's "gimmick" to store the sword in the shield. Those strange designs are based on Mr. Hikawa's idea that "There is no use in putting out what is in the past". In the "legendary giant Ideon" that Mr. Hikawa cooperated with Director Tomino, suddenly Mr. Tomino told "I want you to do the color" and twisted my head, because I used too much color on the soloship side, Buff Clan It seems that it was decided to use "white" unavoidably by the side.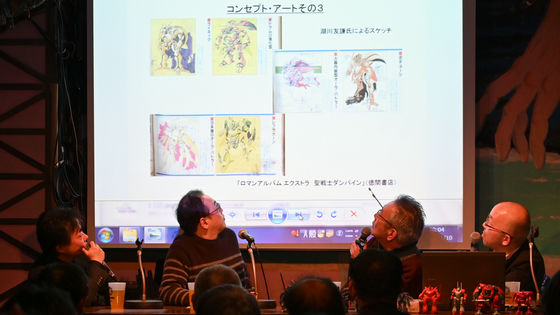 Mr. Hikawa talked about Bilbain's design "I am not cool and I do not like it much," but I showed that I like the leg design as "I do not think it's cool". However, Director Tomino did not like this design so much.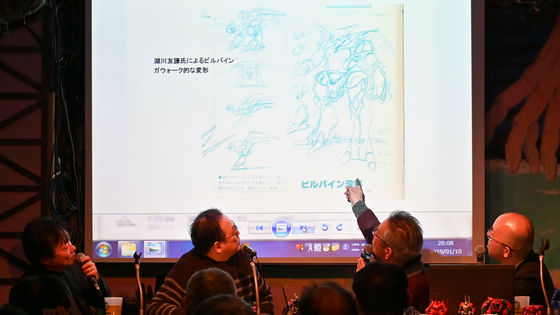 Igarashi showed Clover's "SF Fantasy Figure" series. The main item was "1/46 Dan Bain", and some die casting was used. Mr. Hikawa from this photograph is Tsukkomi, "Is the hole in the middle of the face a nose hole?" It seems that the attached aurashot was diverted from Zabangle.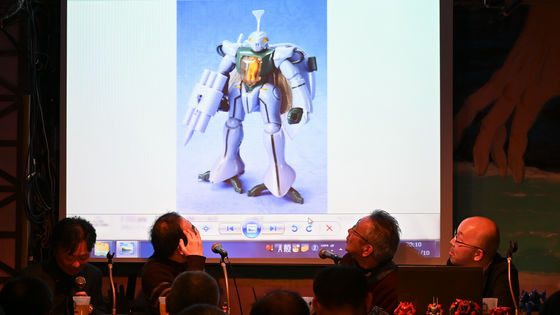 Here is Dororo, Bilanbie, Dana Osie, all of which were three-dimensionalized by Miyatake design by the Tsukuda original. It was released in broadcasting by the fact that broadcasting of the program starts from February.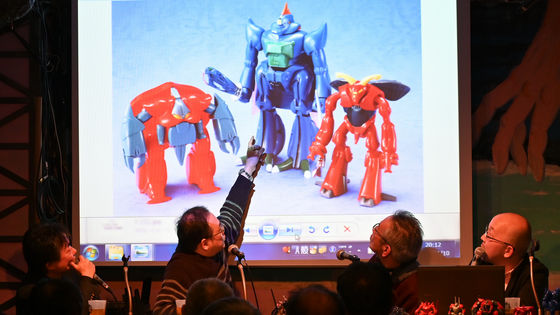 In the toy show catalog, examples using diorama instead of toy main were taken up largely.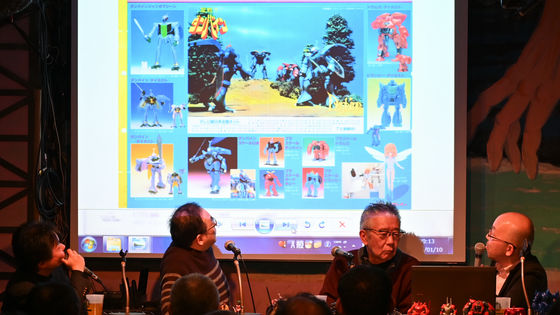 Bilbain also published in the catalog. However, "There are images but there is no explanation," Igarashi pointed out.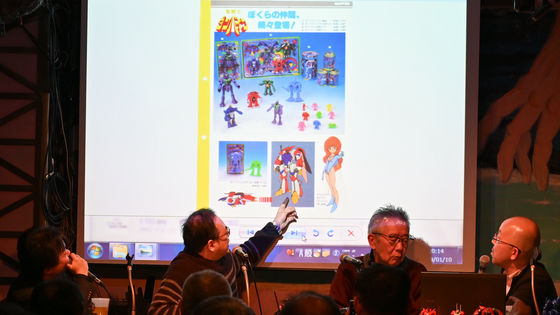 According to Igarashi-san, this 1/32 Bilbaine was able to do well, and the cockpit said that Show Zama was on board.



Also reproduce the deformation exactly.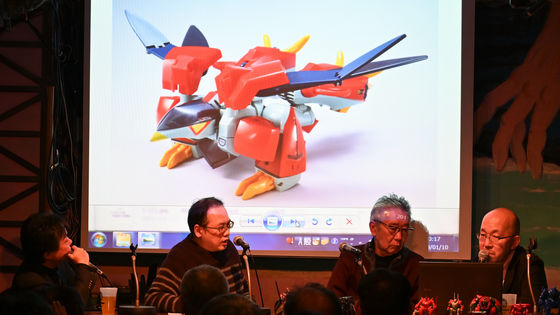 Looking at the proportions of the Danbain published in the catalog and saying, "It's not a danbain, no matter how you think," Mr. Hikawa said. What is pointed to by Igarashi-san is a package of Danbain called so-called "black box". It was a white box at the actual release of the Plamo, and it was a story whether this "black box" was for Dan Bain Ice's prize.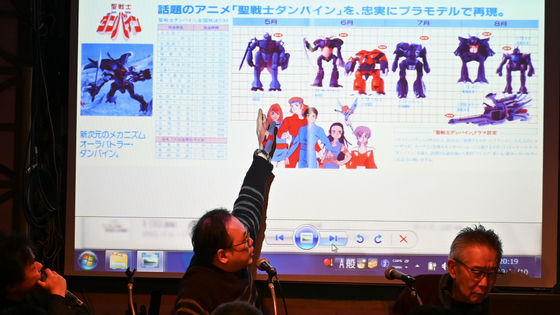 By the way, Mr. Hirota pointed out that Bandai was deploying MSV at that time, and his rival was MSV. Even in "Model Information", articles on which Dan Bain's plastic model development was reported and articles on MSV were lined up.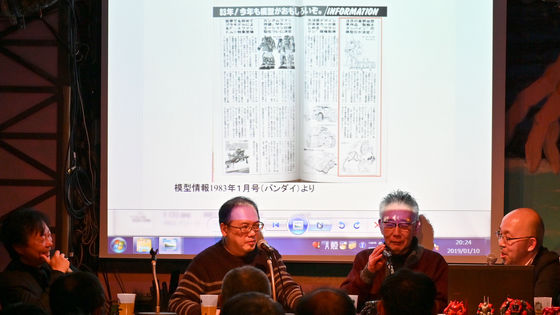 Dunbine was published as a new product in "model information" of May 1983. However, MSV is Zak dessert. In other words, it shows that product development was progressing ahead of Dan Bain. And this Dan Bain is a silent monster with ...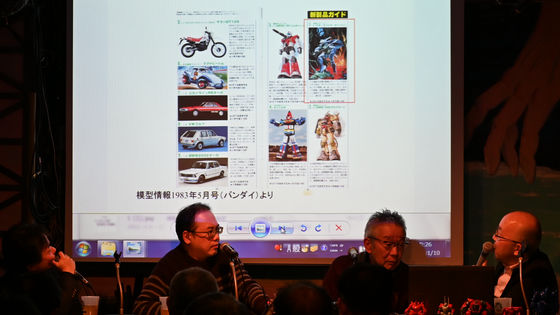 An article is posted in "model information" in October 1983, "I was taken to a fan and I am repairing the mold of Danbain." To remodel the mold of the released product is unusual, "If you call me before making ..." is Mr. Hikawa's valve.



Mr. Hikawa is responsible not only for character design but also design for some heavy machinery mechanics when "legend giant idea". At that time, it was said that Rog · Mac and Ganga · Rub created a five-sided map, thanks to which the plastic model was completed just like a design. Especially, Ganga Rubu seems to have recognized Mr. Hikawa himself as "design as it is", and there are scenes where Mr. Igarashi praises the manufacturer as "awesome Aoshima!"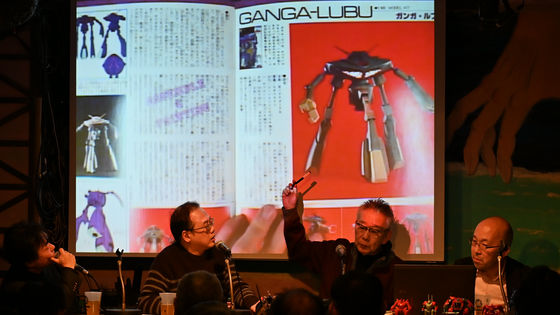 When returning to Dunbine, Bandai repaired the mold and responded because the modeling of the face was unpopular. Mr. Hirota bought the real thing at the auction this time, but he brought in with the head after the renovation, so it is possible to compare in this way. After being repaired that is pinched by the fingertip of the left hand on the screen, the lower right part is the head part before collection. You can also see the difference in modeling from shadows.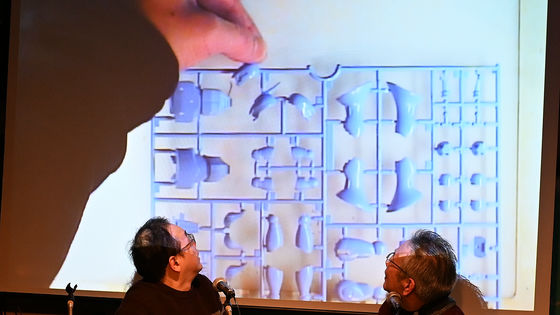 The nail of the leg has also been changed to somewhat biological design.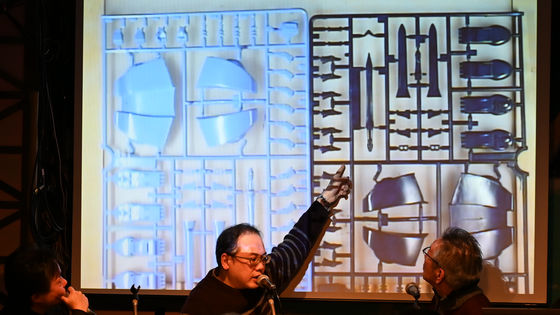 Although it is a rare case that the mold was repaired so far in just one year, the badness of Bandai itself is noticeable enough that the Danbain renewal method is posted in the article "3D Jam" in "Model Information" It might be that. By the way, when modeling, it was a policy to "make the best use of mobility", Mr. Hikawa commented that he might have managed to have managed to kill a little bit more mobility.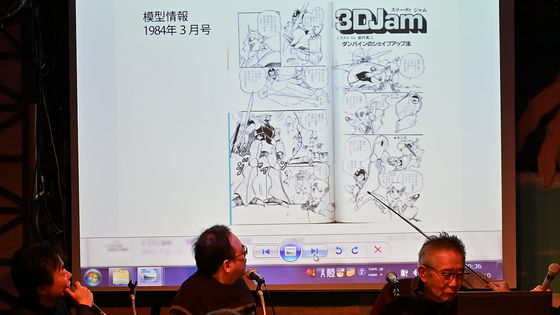 The aura Butler 's Plam has led to the bad shape of the silhouette that the width of the body is wide. So, why Mr. Hirota showed that the width of the body is wide is 1/72 Dunbine Assembly Instructions. Dan Bain had a structure in which joints are axially movable, not joints, and are sandwiched between the front and rear divided bodies. Part splitting of the fuselage back and forth also means that the front becomes wider. This was the same for Zaku II that was released at the time.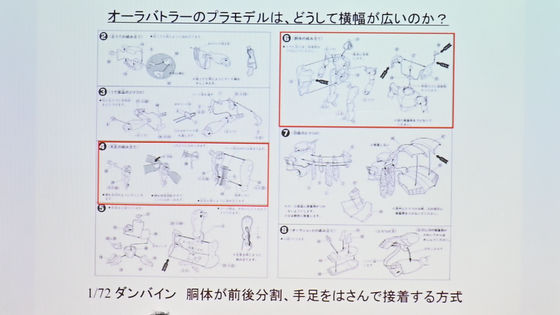 However, in 1984, the Aura Butler 's 20th Plamo Leprechaun and the 21st Zwers took the approach to split the fuselage to the left and right. Mr. Hirota pointed out that it was split right and left to pursue the form.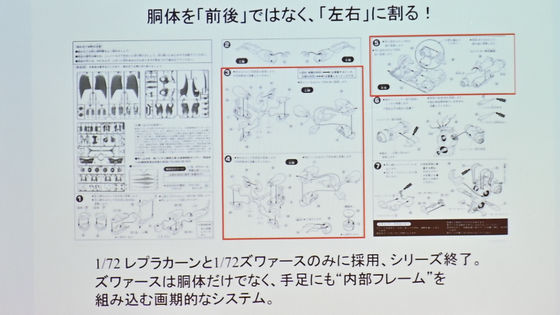 As a price, Leprechaan could not stand upright if I installed the back part ... ...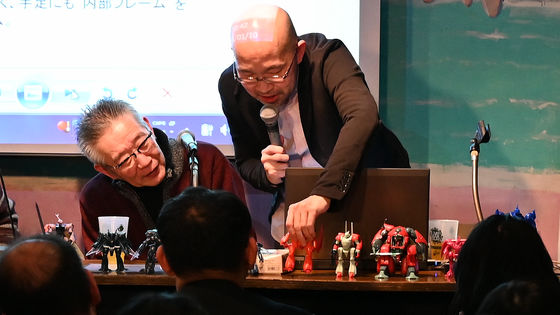 I got a form which is said to be sexy.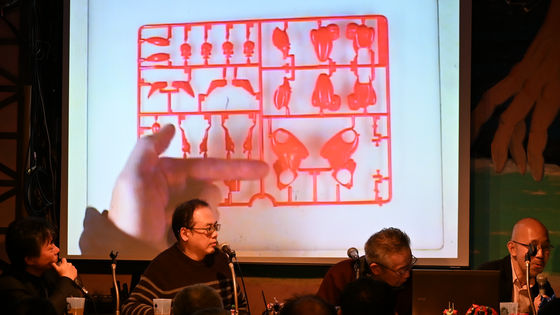 Furthermore, because of the movement of the arm part and the leg part, adopting the inner frame penetrating inside the fuselage. Frame parts are pointing.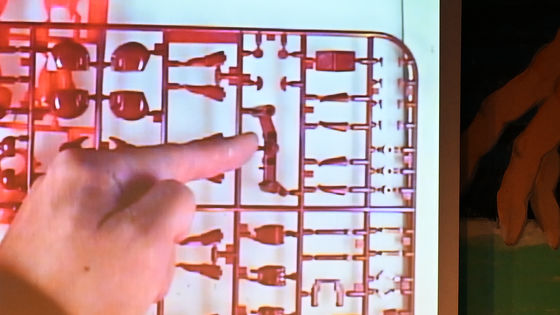 In the "heavy fighter El Gaim" and "armored war dragner" later than Dan Binh, there is a setting of a movable frame in the work itself, but in Dunbine it does not exist as a setting, but in order to manage the form of the plastic model An internal frame has been created.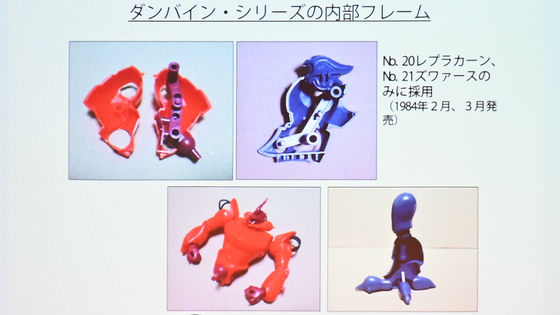 The 1/144 ergyme, which was released in April 1984, has a movable frame inside the fuselage, but the exterior was a front and rear split.



Mr. Hikawa who heard a series of stories commented, "Maybe it was because there were not five drawings." Actually, even in Ideon, when it is Zanza Lub, it is a bit meaningful and "Mr. Five-sided drawing is not made," Mr. Hikawa himself does not draw, and when it is "fighter mechabangle" and "a saint warrior Dan Bin" It seems he could not do it. Mr. Hikawa who spilled "I had a hard time not wanting Bandai ..." I think that it was because there was another mechanical design work "I think that Mr. Tomino (director Tomino) is bad "I made the venue excitement.

In addition, Mr. Hikawa who made a complaint saying "It is not a good idea to make your head smaller and make your legs longer" for comments on recent robot designs, comments that legs should be short and like a drumlo. Although he seems to have been concerned when he was young, he took off his episode that a cool silhouette was created as a result of incorporating it at the time of Danbain.

The 2nd "Model Journalism Plamodegatari" is from February 21 (Thursday) at 19:30, "Directed by model Kaguchiba Susakuni" to read in the model, "In some corners of this world" And that.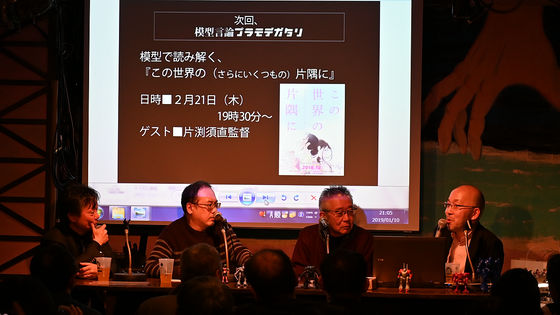 The first was a successful event where 81 people gathered against Mr. Hirota 's expectation of "About 30 people". Those who are considering participation next time, please check Mr. Hirota's Twitter.


【Model Journal Plastic Model】 It was a great success with the first visitors, 81 people. thank you very much.
The second time is scheduled to start advance from 1/19 (Sunday) noon. Please wait for a while until official announcement. https://t.co/O0XSiDfjFp pic.twitter.com/UR3FWQjkNf

- Keisuke Hirota (@ hirota_kei) January 10, 2019